Herbed Roast Beef is a delicious and beautiful center piece to any Sunday dinner or special occasion meal. Stuffed inside with an herb-mixture full of flavor, it is also coated on the outside with an herbed butter that melts into the seasoned meat. What's even better is this recipe is perfect for dressing up a cheaper cut of beef, saving you money.
The roast is sliced into horizontally and opened like a book. Now before you start slicing, make sure you orient your piece of meet so that you are slicing 'with' the grain for this step. When you're ready to serve this roast, you will want to slice 'against' the grain so it will be extra tender. A mixture of Thyme, Parsley, shallot, Olive oil and Dijon mustard is spread out all over the inside and the meat is 'closed' and tied with kitchen twine. Be sure to leave at least 1/2 inch of meat to act as a 'hinge'; don't slice all the way through. Then the meat is seasoned well with salt an pepper. At this point it's already looking good and it hasn't even been roasted yet!
The prepared roast will need to marinate for at least an hour, but I would recommend overnight to really let all the delicious flavors permeate the meat. Before placing it in the oven, the roast is seared in a pan to create a delicious crust and hold in all the juices as it cooks. It's slow roasted at a low temperature to your desired level of doneness, usually between 1 1/2 to 2 hours.
After removing the roast from the oven, spread the herb butter all over the top of the roast and let it melt in while the roast 'rests' for about 20 minutes. This will allow the juices to settle into the meat so your roast is nice and moist. (I moved mine from the carving board to a serving platter for the photos, leaving the juices behind. Trust me, this roast is juicy!)  This roast will make a beautiful center piece for any occasion. Enjoy!
Equipment Needed: Kitchen twine and a roasting pan with a V-rack that fits inside.

Print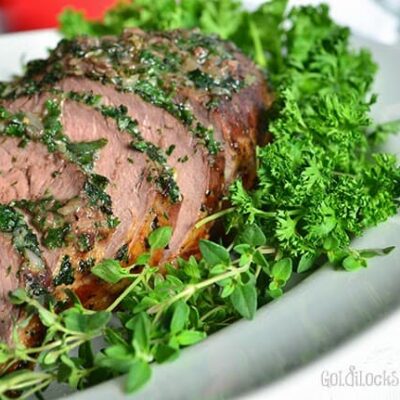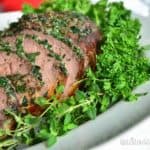 Herbed Roast Beef
---
Author:

Emily

Prep Time:

24 hours

Cook Time:

2 hours

Total Time:

26 hours

Yield:

10

1

x
Description
The name says it all; this beef is flavored with fresh herbs and ingredients that make this roast recipe simply the best.
---
1/3 cup

finely chopped fresh parsley

2 tablespoons

minced fresh thyme

1

shallot, minced

1 tablespoon

Dijon mustard

2 tablespoons

olive oil

4 tablespoons

unsalted butter, softened

1

(4 lbs) beef roast, fat trimmed

1 tablespoon

salt

1 tablespoon

pepper
---
Instructions
Combine the chopped parsley, thyme and shallot in a bowl. Scoop out two tablespoons of the herb mixture and transfer them to another bowl; adding the mustard and 1 tablespoon of olive oil. Stir to combine. Add the softened butter to the first bowl of herbs and stir with a fork to combine.
Combine the salt and pepper in a small bowl. Following the photos above, slice horizontally through the roast to butterfly it. Sprinkle about half the salt and pepper inside. Spread the herb mustard mix on one interior side of the meat. 'Close' the meat, and tie tightly with kitchen twine. Sprinkle the rest of the salt and pepper all over the top, bottom and sides of the roast, rubbing it in a bit if necessary. Cover and refrigerate overnight.
Move an oven rack to the middle position and set your oven to heat to 275 degrees F. Set a large skillet over medium high heat and add the remaining oil. Remove the roast from the fridge and pat dry with paper towels. When the oil is just to smoking, place the roast in the skillet and brown well on all sides, using kitchen tongs to rotate the roast. Then place the roast in a V-rack set in a roasting pan, and roast in the oven for 1 and 1/2 hours (for medium-rare) or 2 hours for medium.
Transfer the roast to a cutting/carving board, spread the herb butter mixture on top, cover with foil and let it rest for about 20 minutes. Remove the kitchen twine and slice roast crosswise with the grain into thin slices (1/4 inch) and serve.
Category:

Entree

Cuisine:

American
Free ebook for all Subscribers!
What will you stuff in your sopapillas? Subscribe now to receive your free copy of Sopapilla Fiesta! today with six recipe combinations of stuffings and chili sauces. Bonus dessert recipe included!