Special thanks to The Hatch Chile Store for sponsoring this post. All thoughts and opinions are my own. This post also contains affiliate links wherein I earn a small commission if purchases are made. Thanks for your support!
A fantastic Hatch Chile Recipe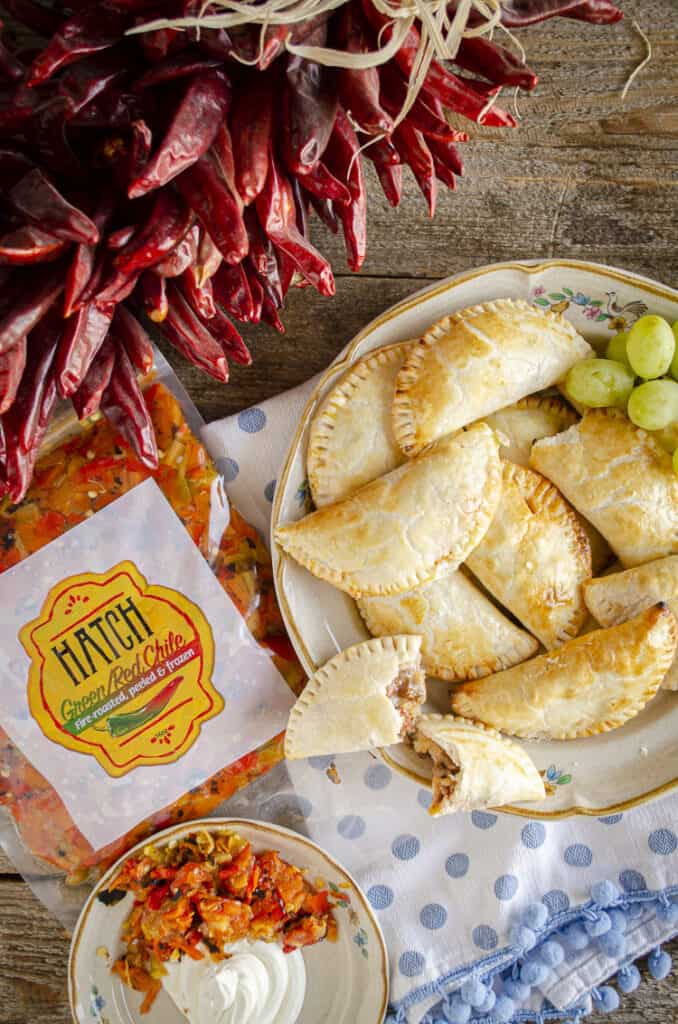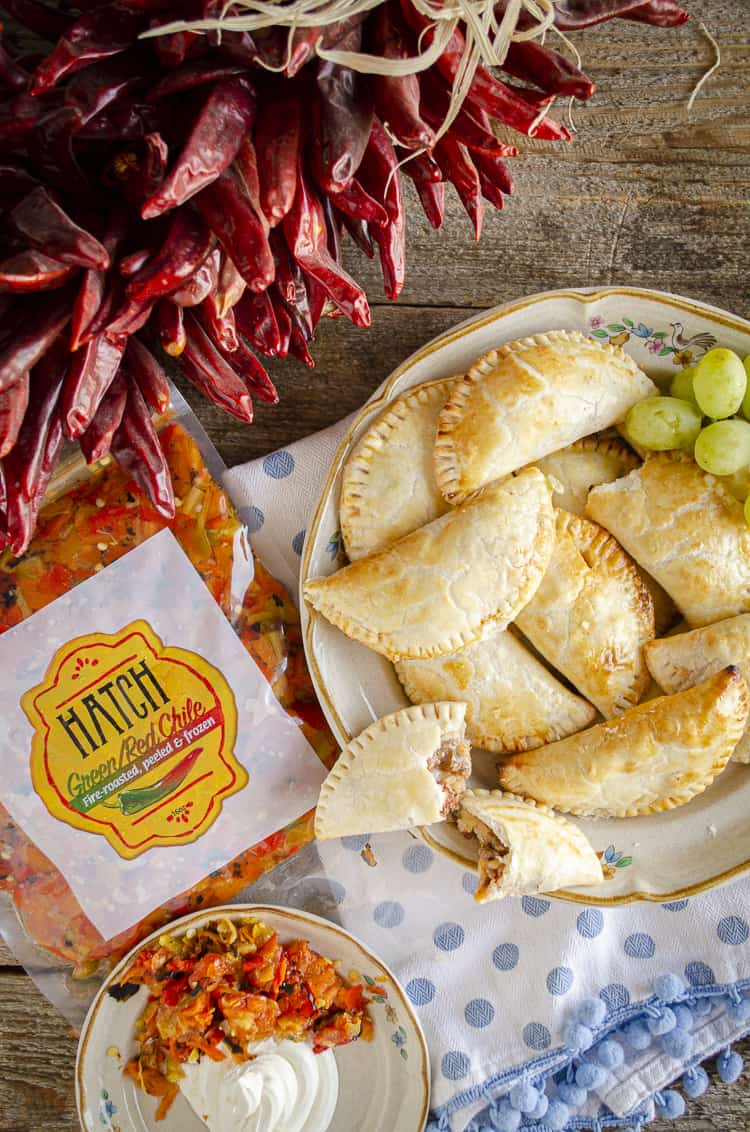 When you hear the words "Hatch chile peppers" what comes to mind? If you've never spent a few days in the state of New Mexico, you may simply think of the last time your mouth was set on fire by some spicy food you ate. Think again. Hatch New Mexico grows the world's best tasting chile peppers in many varieties- just as Bordeaux is known the world over for its many fine wines.
If you haven't tasted this world-famous chile yet, try it in these special baked Empanadas stuffed with my recipe for Hatch Green Chile Beef Picadillo from my new cookbook: New Mexican Food Made Easy. Plus, It's easier now than ever to get authentic Hatch Chile delivered right to your door thanks to The Hatch Chile store!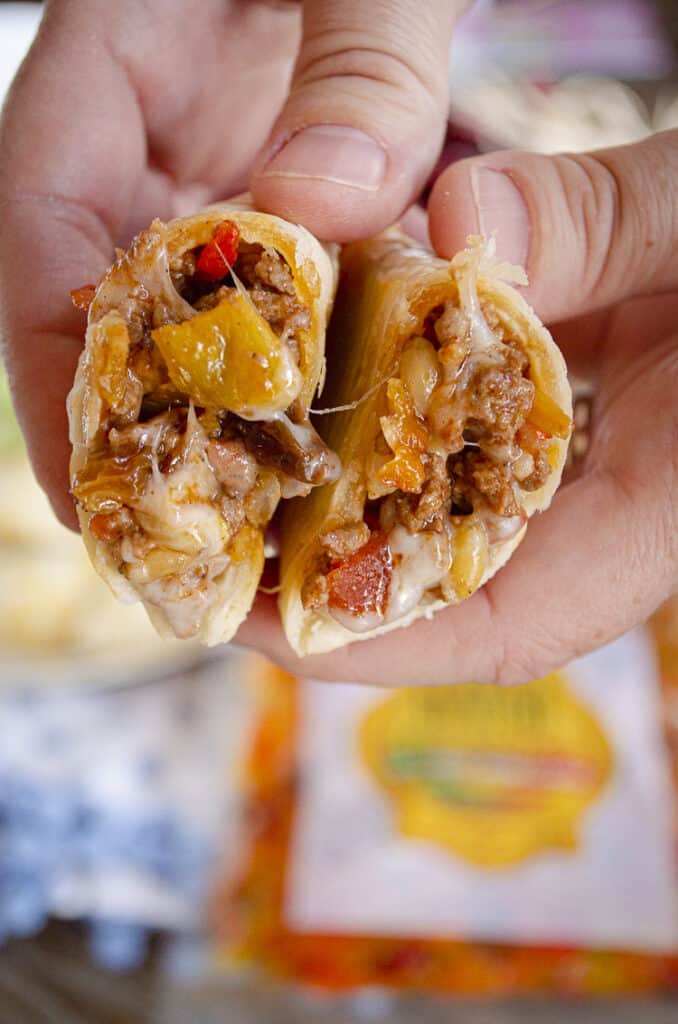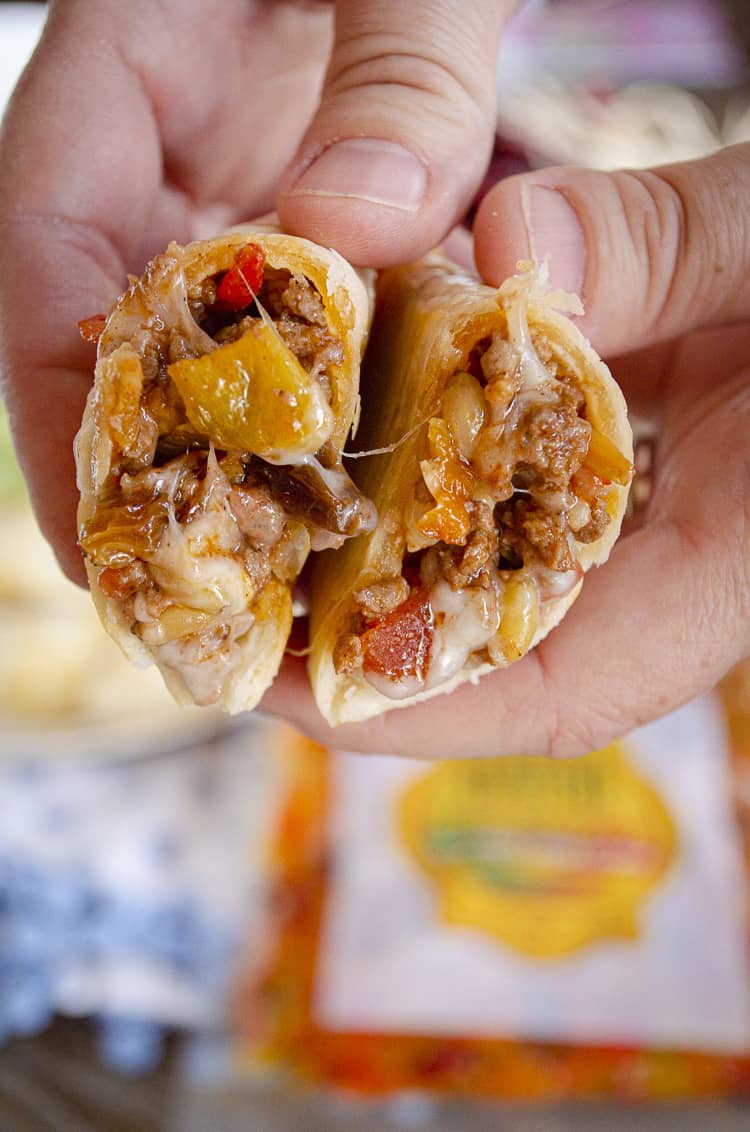 What is Hatch Green Chile?
Authentic Hatch green chile, (In New Mexico chili peppers are spelled with an 'e') are chile peppers only grown in the state of New Mexico along the Rio Grande river in the Hatch valley. The unique climate conditions and soil composition come together to grow the world's best-tasting chile peppers. Seriously.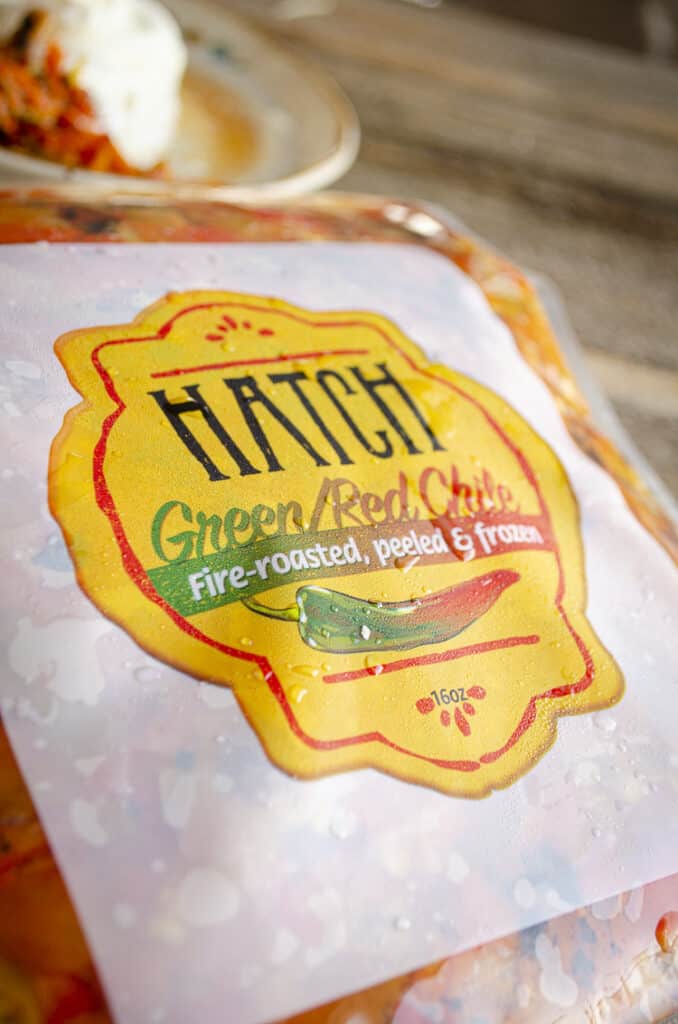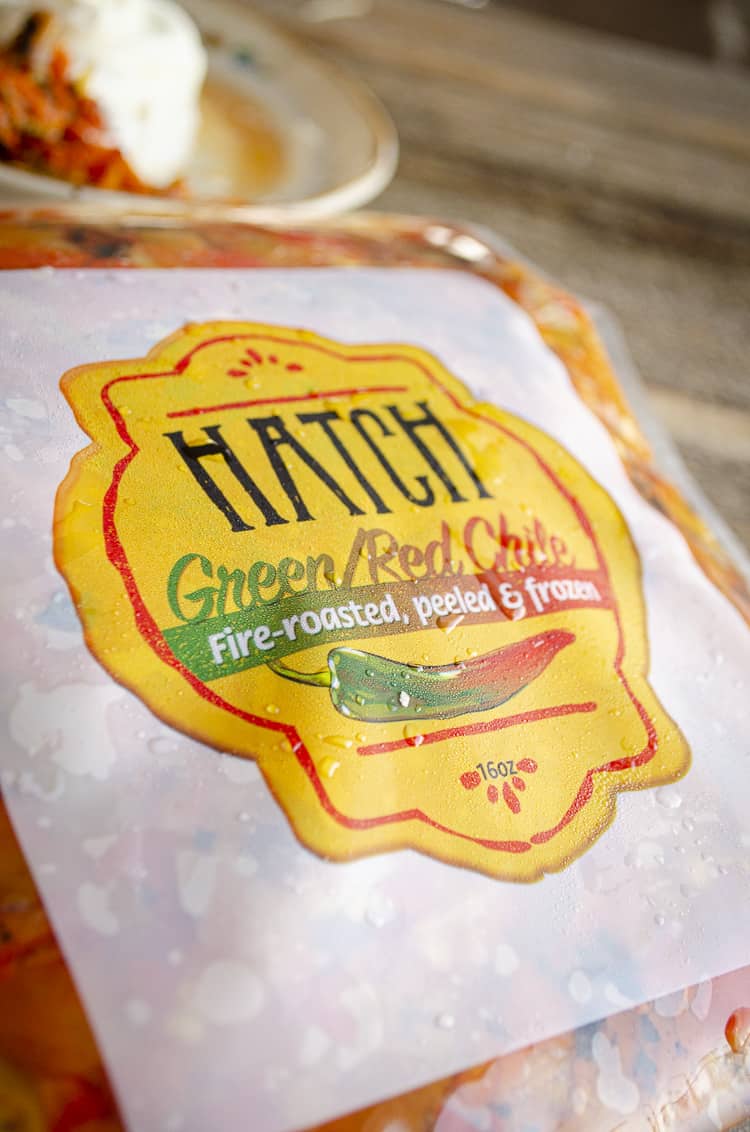 Its popularity outside New Mexico has grown tremendously over the last 30 or so years and in 2016 Hatch chile was finally trademarked, literally making it illegal for chile grown outside the valley to be labeled as "Hatch" chile.
This year I chose to order frozen roasted chile online from The Hatch Chile Store and have it shipped to my home, saving me from going through the hassle of roasting and prep myself. Roasting the chiles removes the tough outer layer making them easy to eat. The Hatch Chile Store ships whole fresh chiles (when in season) or roasted diced chile that is flash frozen to your door in just a couple of days! It's a truly amazing service that will deliver REAL Hatch chile to your door.
When you make Baked Empanadas with Hatch Chile Beef Filling, you will want to use real Hatch Chile. The flavor is just unbeatable! Order your shipment here.
What are Empanadas?
Empanadas, a Latino Heritage Recipe, are handheld meat pies either baked or fried. They are filled inside with savory meet fillings like pork, chicken or beef seasoned with savory spices, tomatoes, and vegetables like potato and sometimes cheese.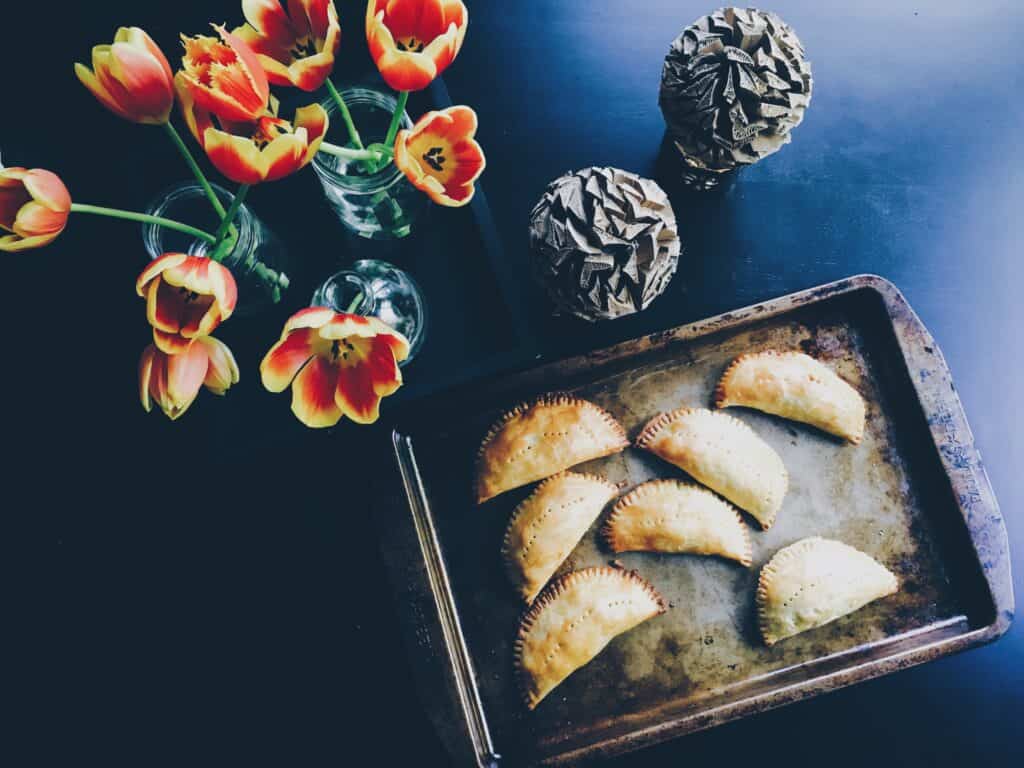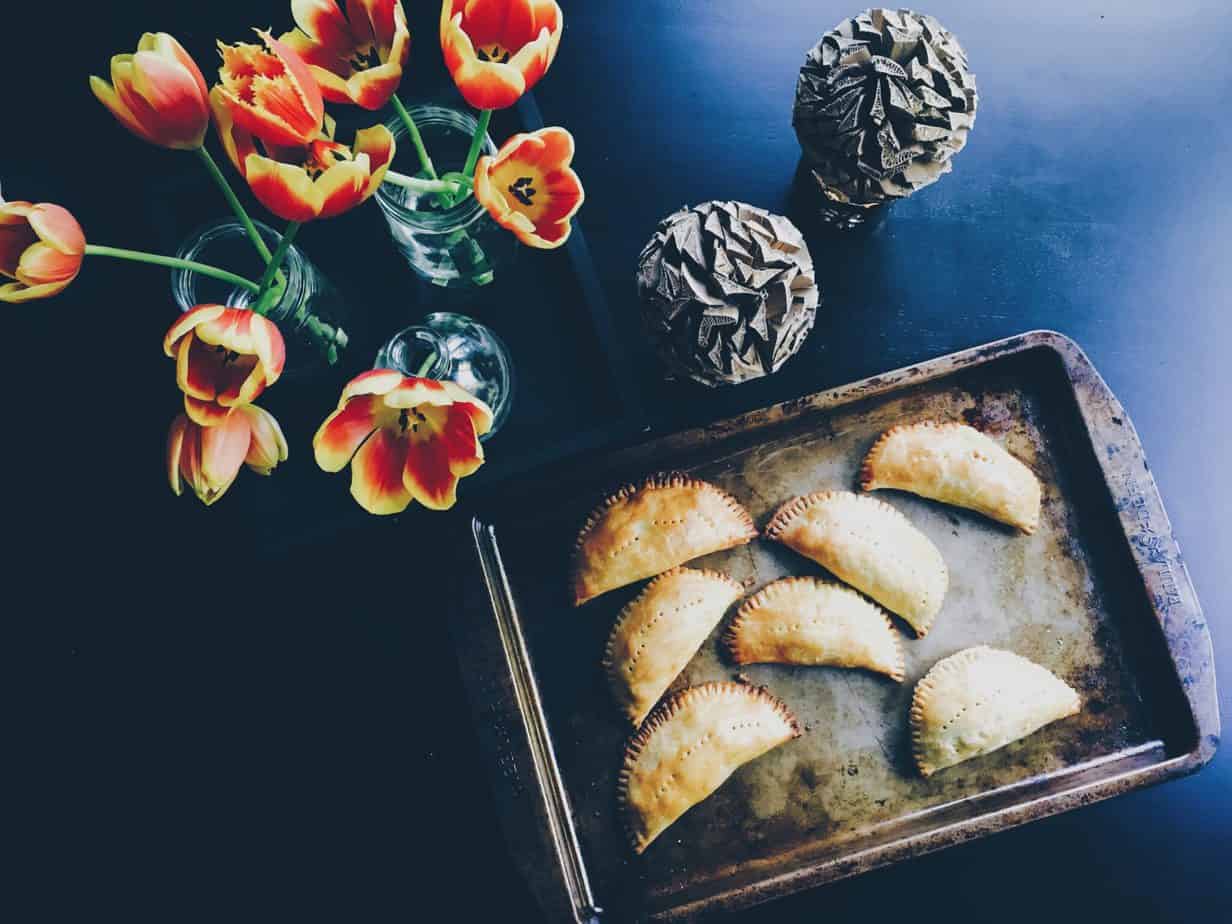 This recipe for Baked Empanadas with Hatch Chile Beef Filling checks all the boxes when it comes to flavor, texture, easy prep, and pure deliciousness! Roasted Hatch chile, seasoned ground beef, piñon nuts, diced tomato, raisins, cinnamon, and ground coriander create a savory sweet-hot filling, (called a "Picadillo") all wrapped up in flakey-buttery pastry crust.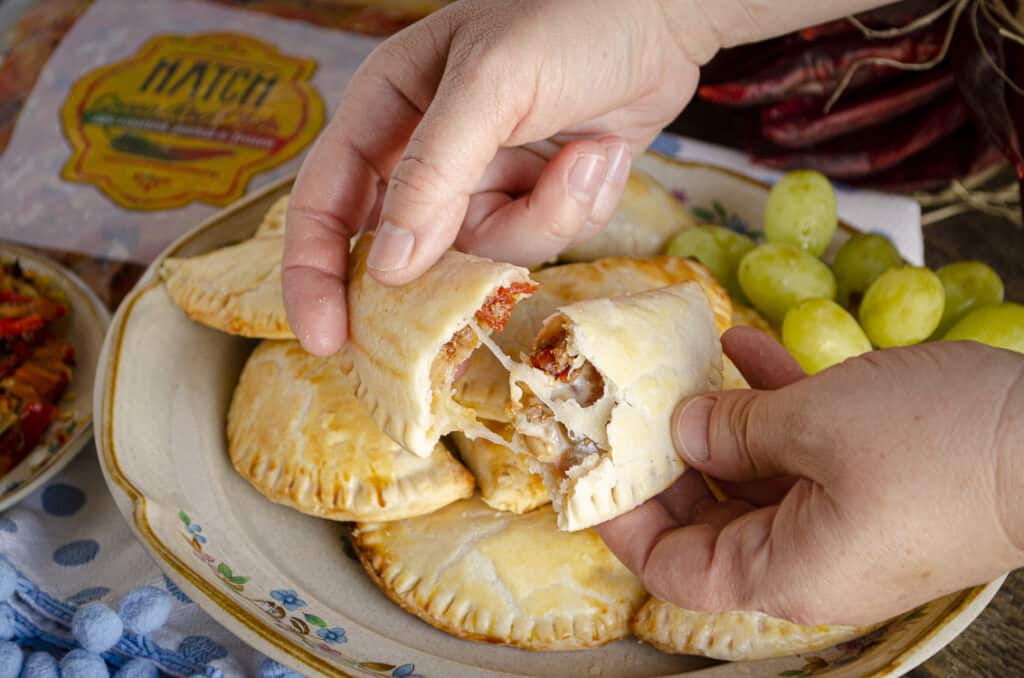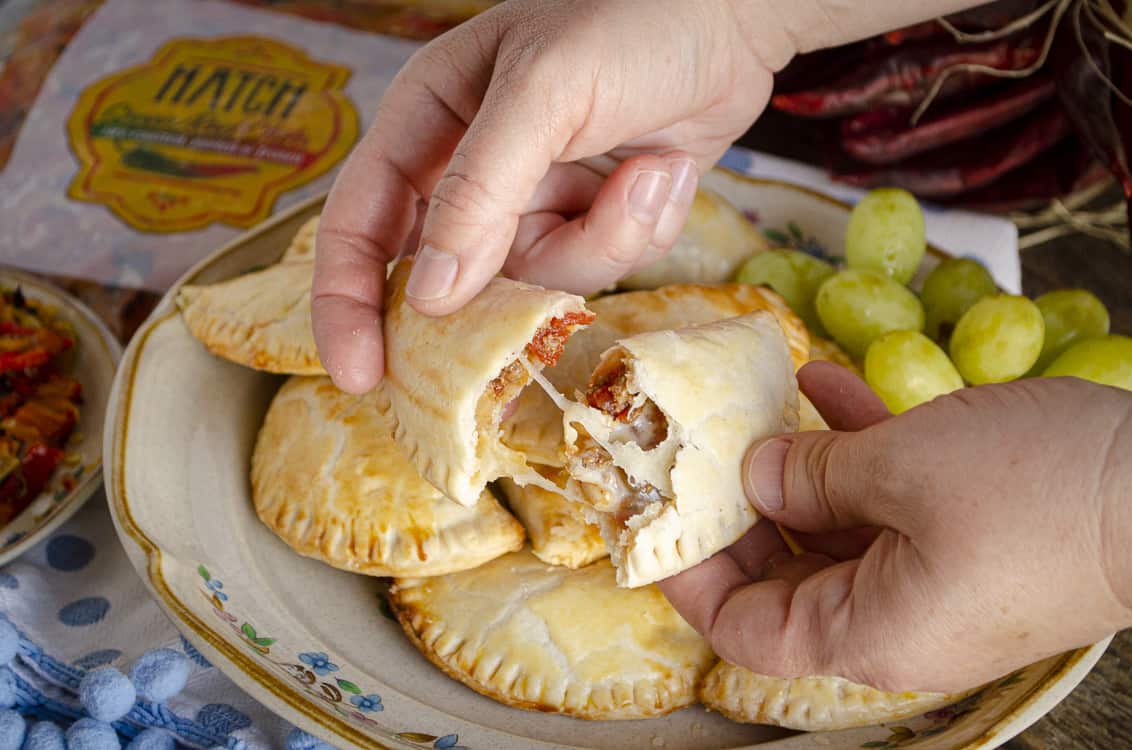 Important tips for making Baked Empanadas with Hatch Chile Beef Filling
I love eating this Hatch Green Chile Picadillo filling just spooned into a tortilla, but stuffing it into Empanadas is easy when you use rounds of store-bought pie dough. And if you like cheese, add-in some shredded Monterrey Jack and you'll create the most delicious melty-gooey savory meat pies ever.
To make the pasty crust:
Making Beef Empanadas with Hatch Green Chile picadillo filling is really easy when you skip making empanada dough from scratch and just use store-bought pie dough. Remove it from the freezer to thaw while you cook the filling. Some folks also like to use wonton wrappers for their Empanadas -OR- do as the New Mexicans do and fry up a batch of hollow Sopapillas recipe here, and stuff this picadillo mix inside (which is also extremely delicious).
To make the filling:
Slowly simmer a mixture of onion, ground beef, diced tomatoes, garlic, cinnamon, cumin, cloves, salt, vinegar, brown sugar, Hatch Chile, and raisins. Use your skillet to first toast the pinon nuts and stir them in last after the filling has finished cooking.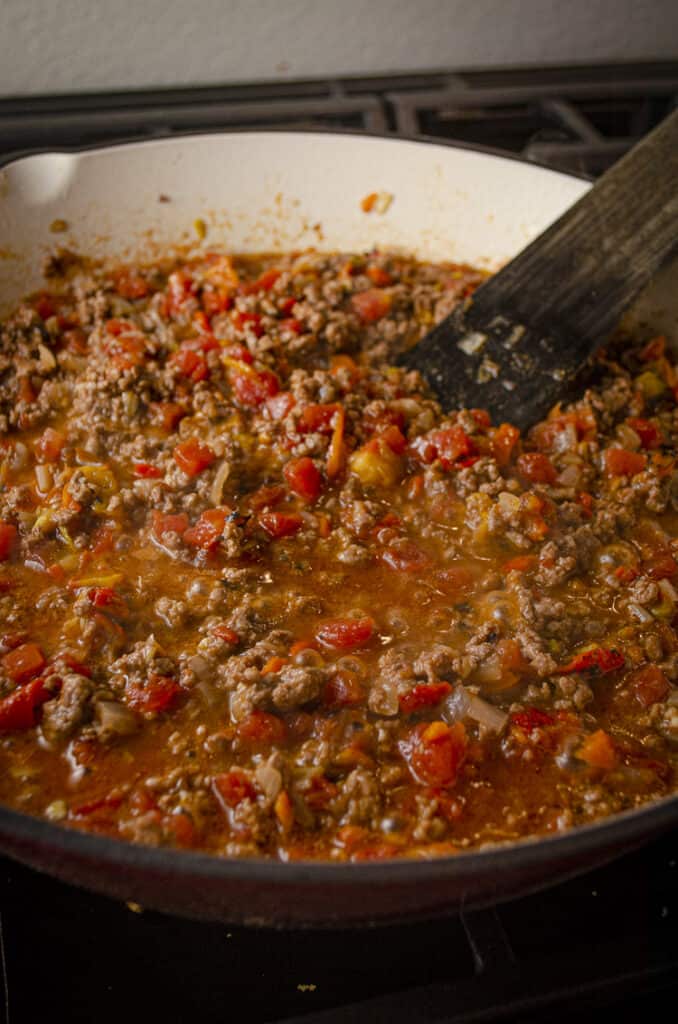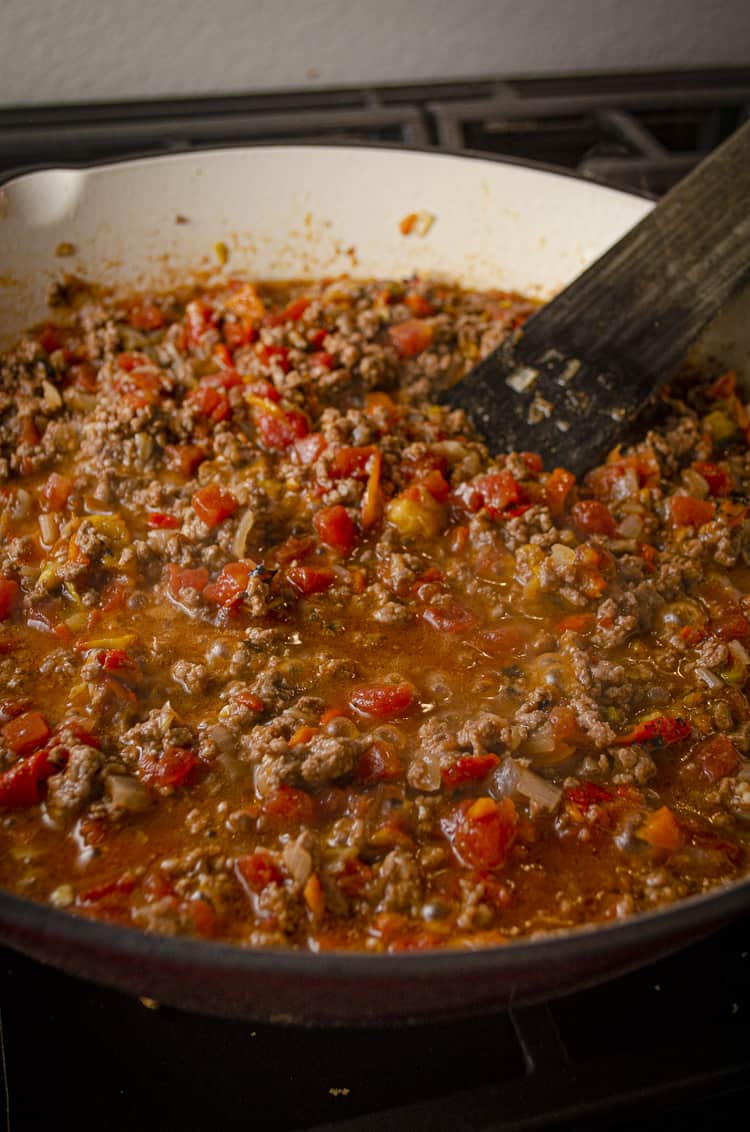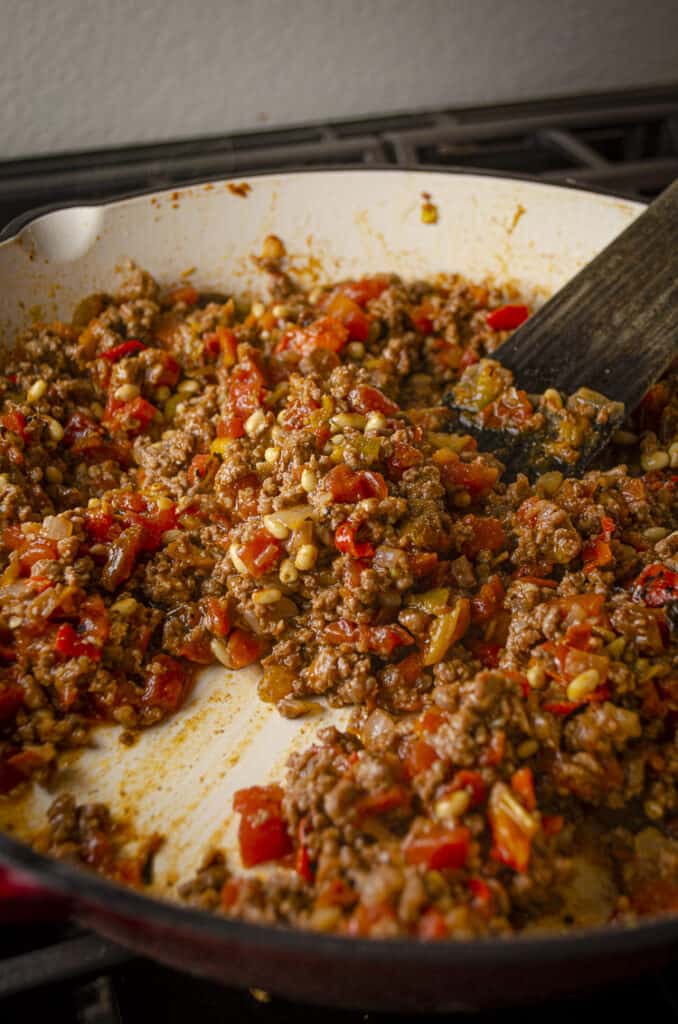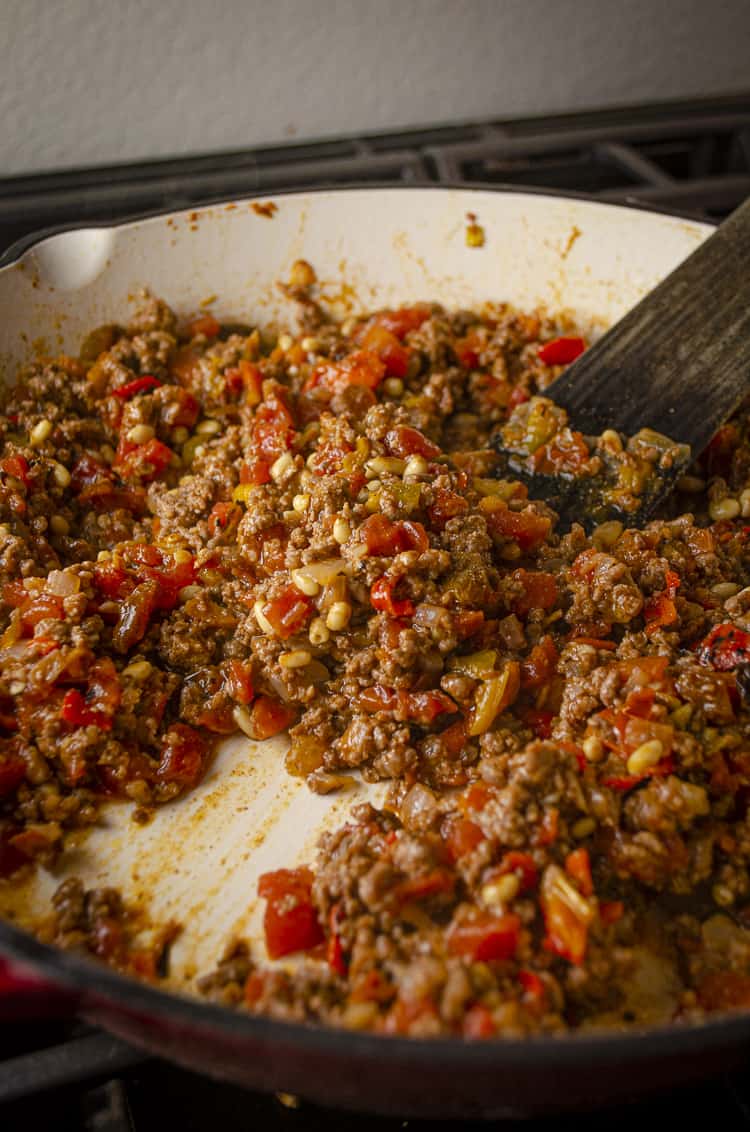 No need to buy a special cutter. A flour sifter like the one below is the perfect diameter for cutting Empanada rounds out of thawed pie crusts. You could also use a large plastic lid. No need to get fancy :0)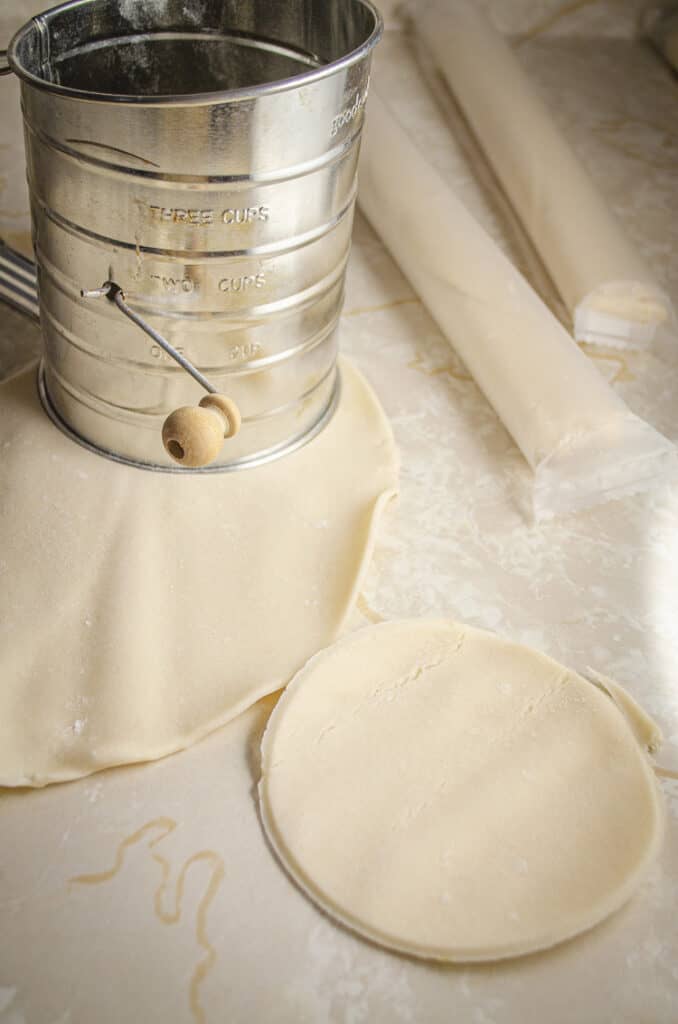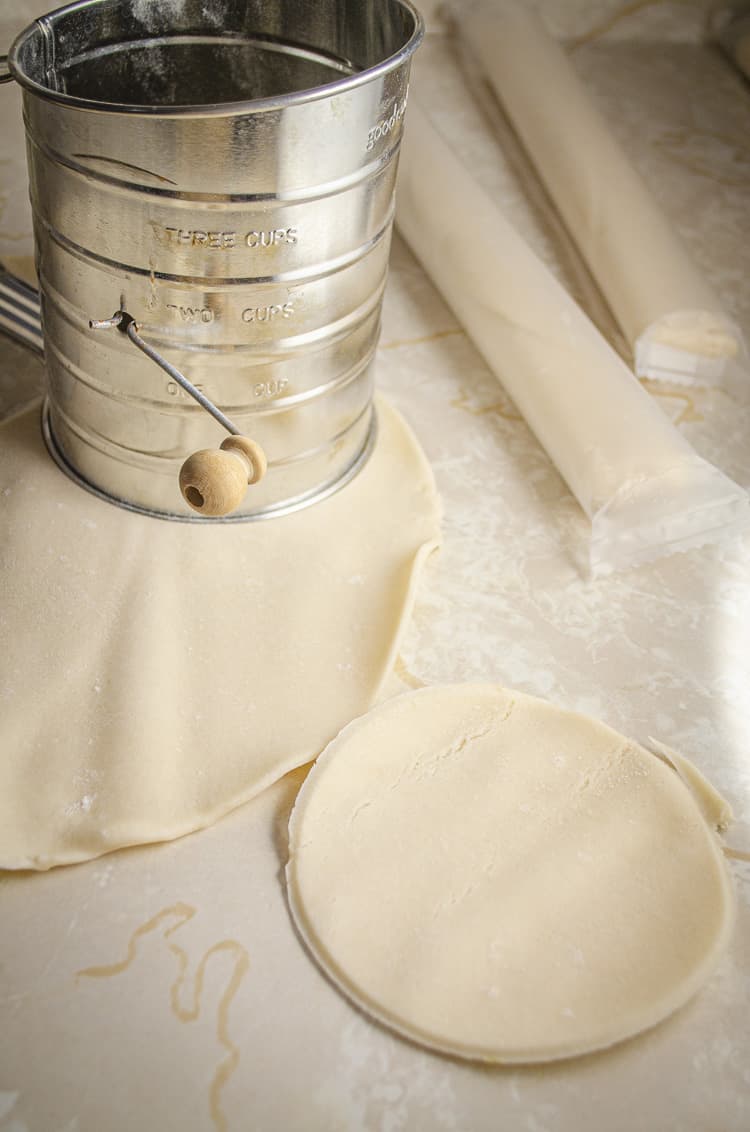 Wet the edges of each dough round by dipping your finger into ice water and just running around the edge. This will "glue" the dough together, keeping your filling inside.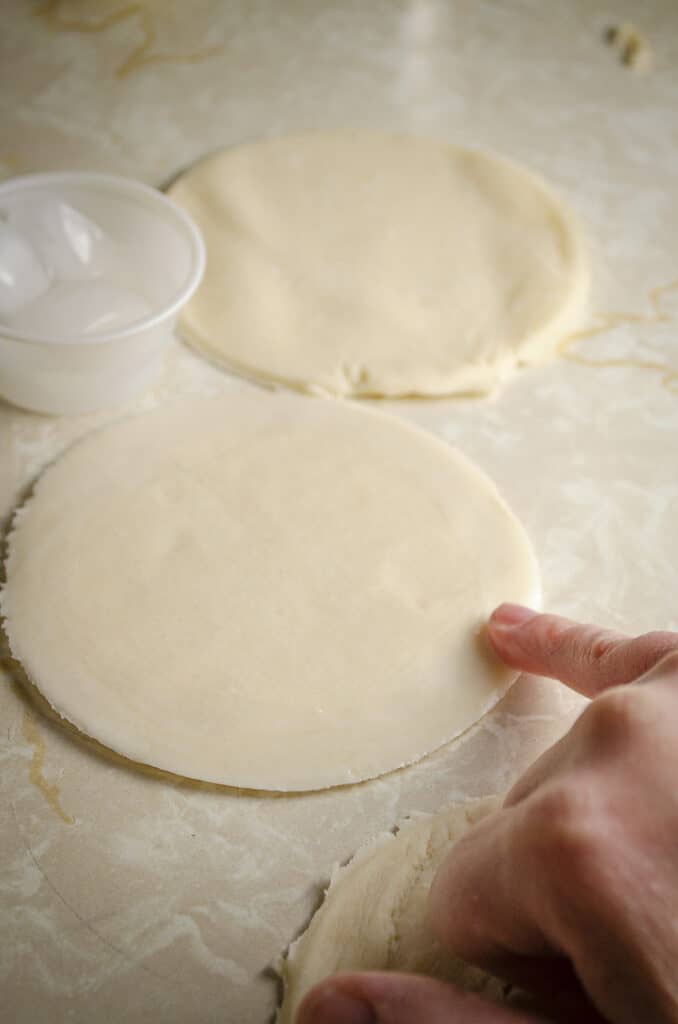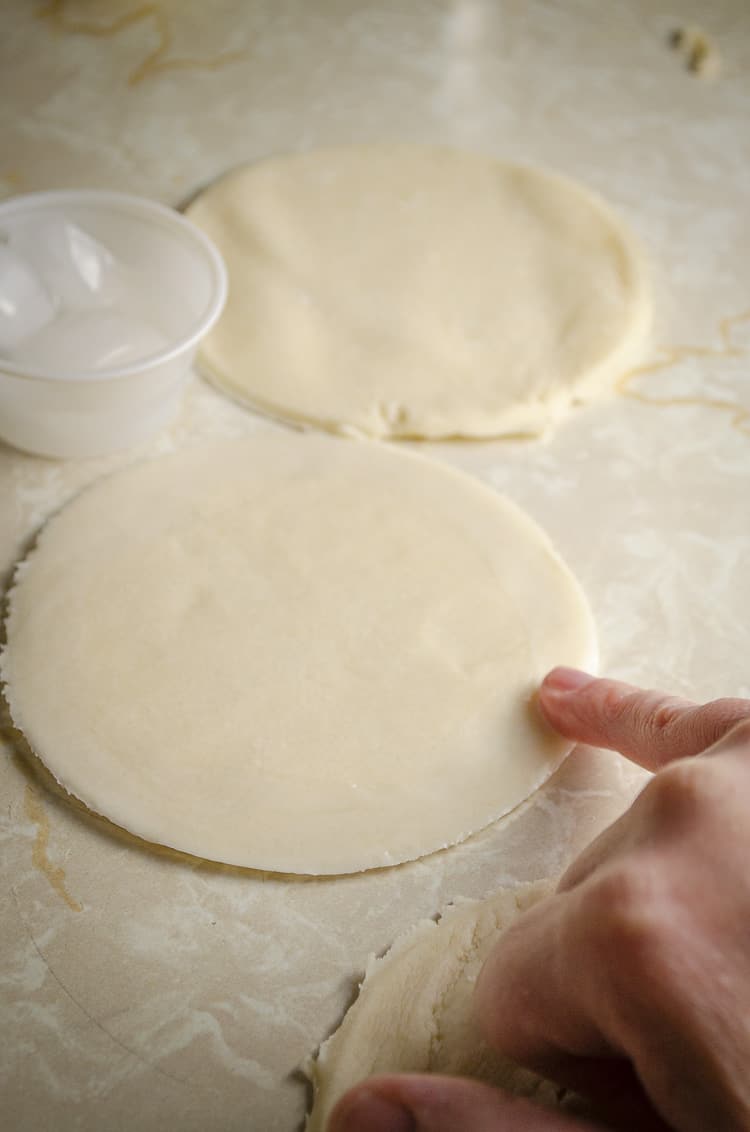 Place a couple spoonfuls of Picadillo into the center, and top with Monterey Jack cheese, or leave the cheese out if preferred.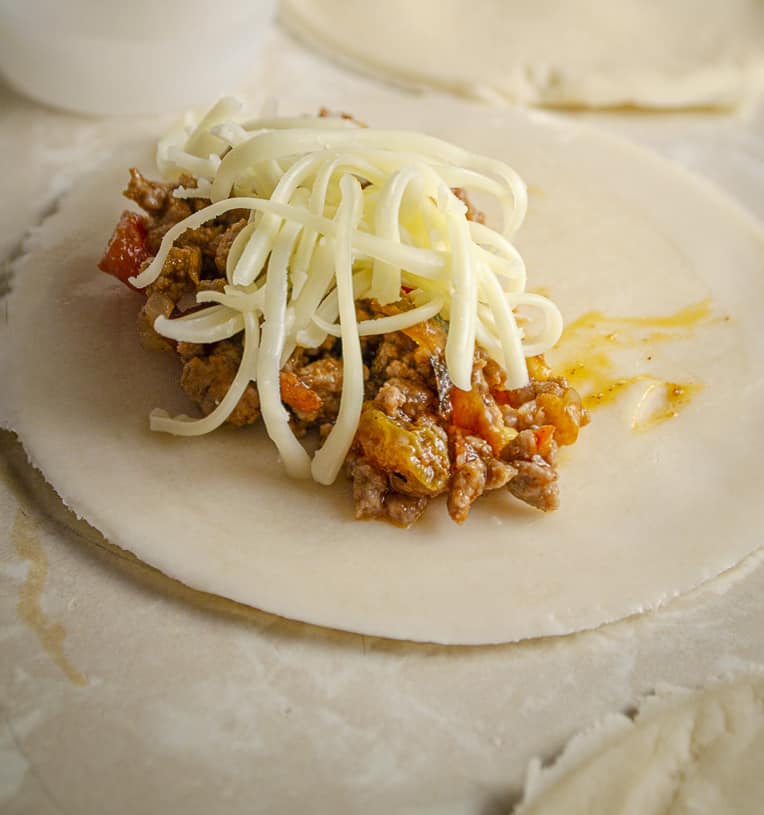 Fold and crimp the edges together lightly with a fork to seal in the filling.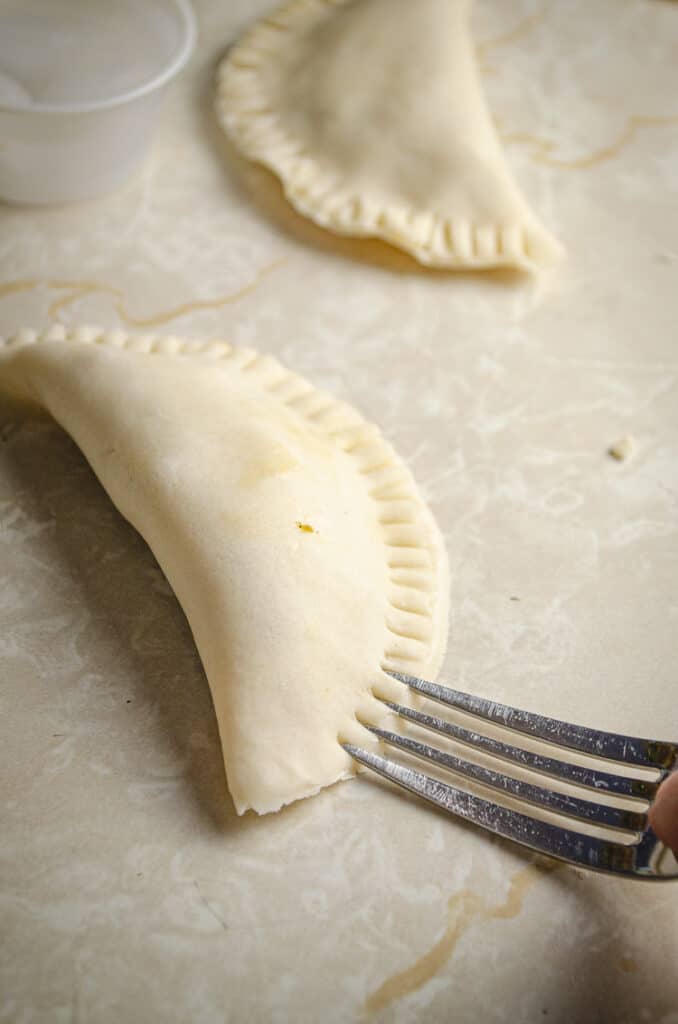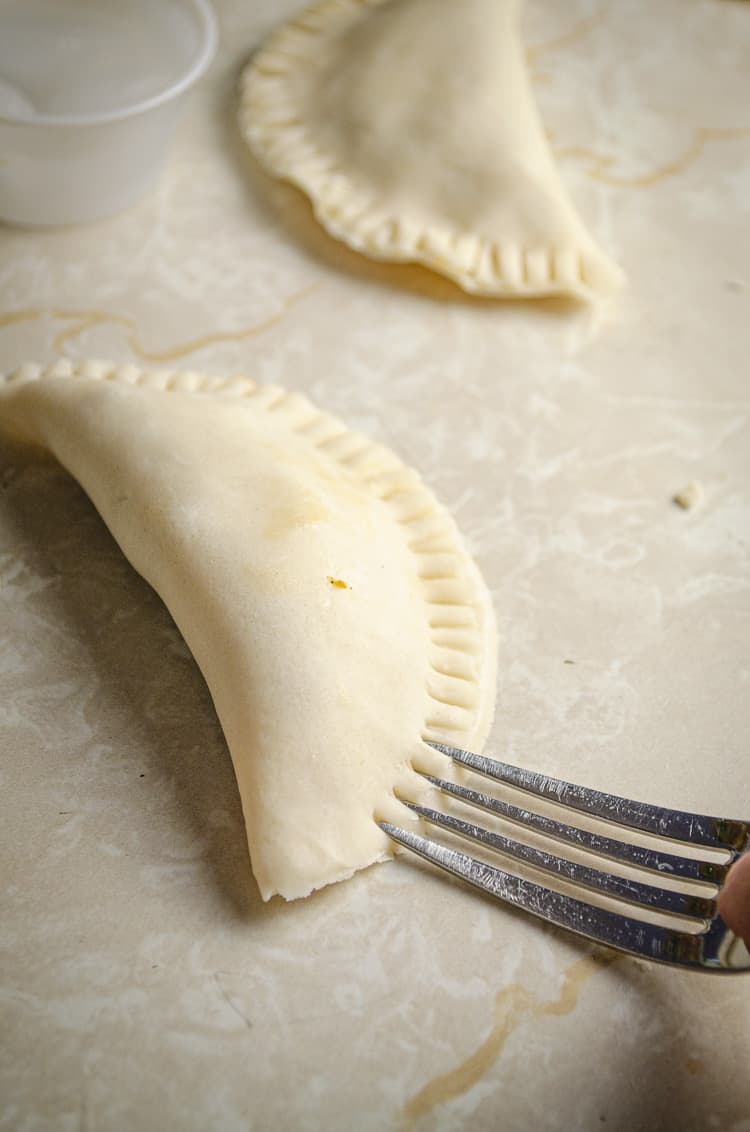 Brush each side of the Empanada with an egg wash (just a beaten egg).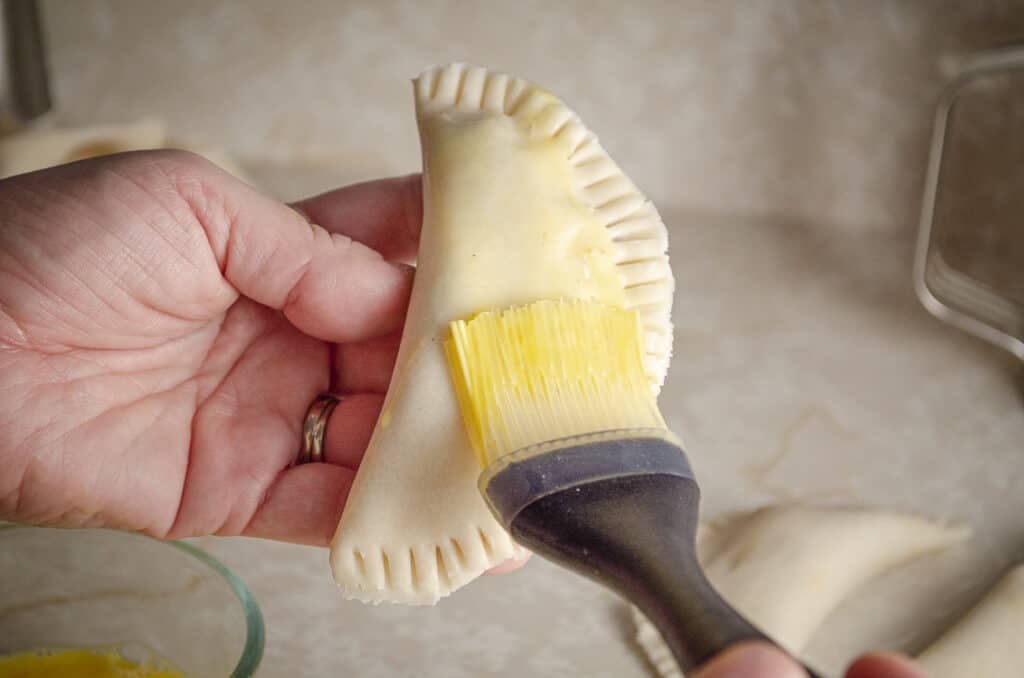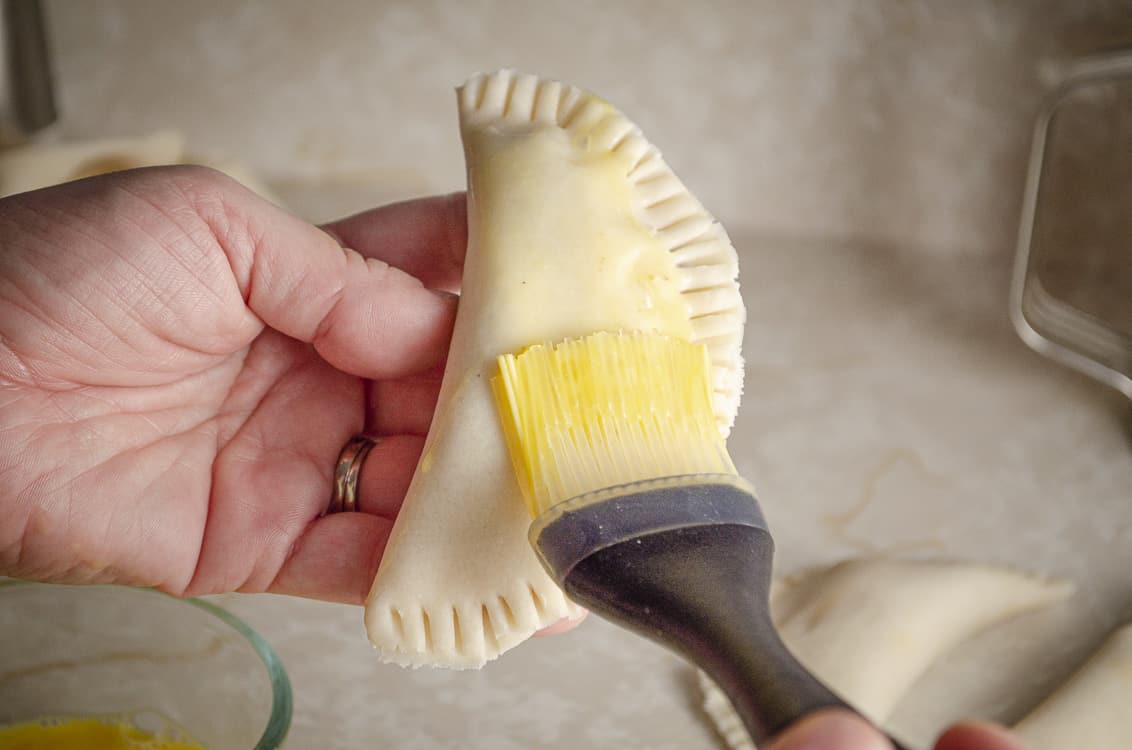 Place onto a rimmed baking sheet lined with parchment paper. My new oven happens to have an "air fry" option and came with an air fryer basket that is perfect for making these Beef Empanadas with Hatch Green Chile. Bake until golden, about 20 minutes.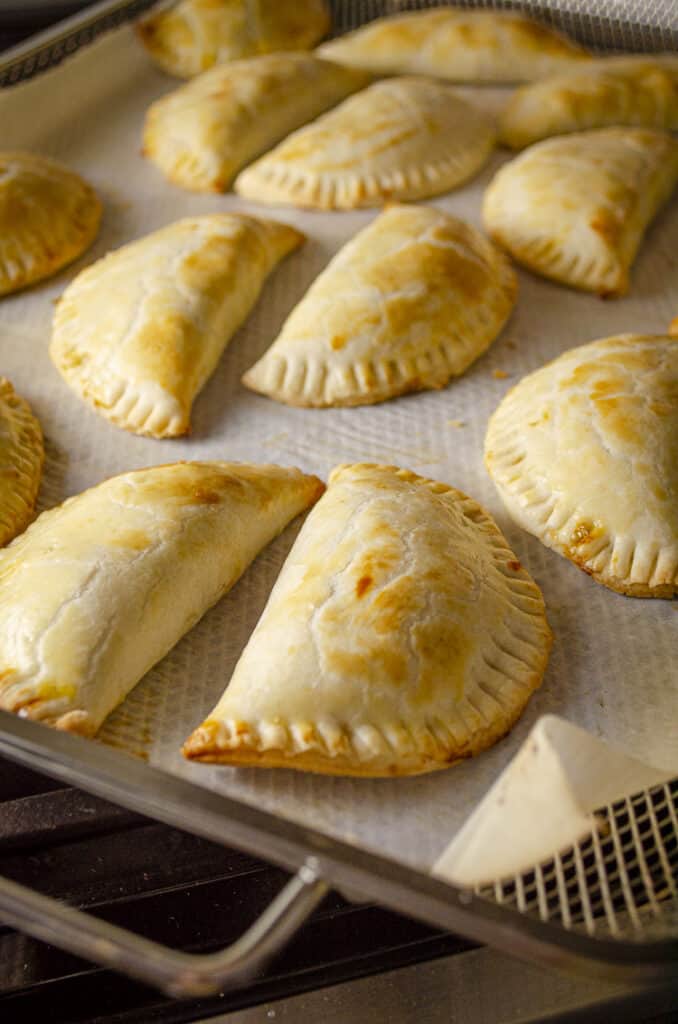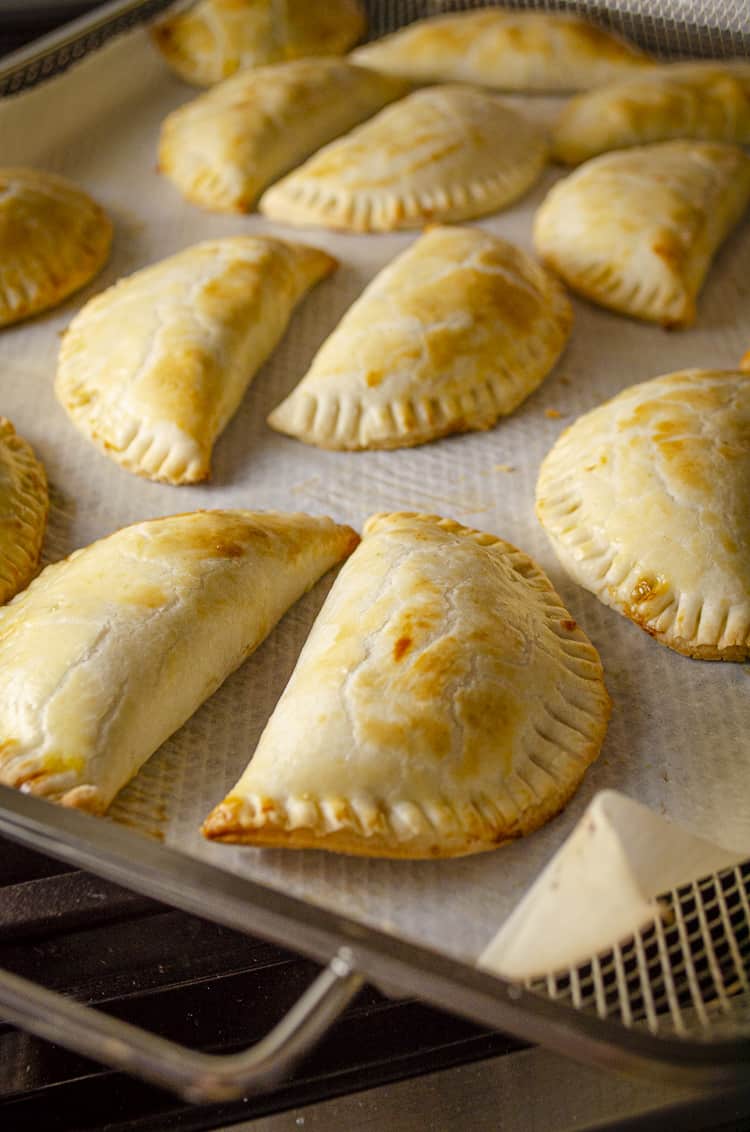 Serve your Baked Empanadas with Hatch Chile Beef Filling hot-from-the-oven with sour cream, guacamole or both. They also go great with a side of beans and a salad if you intend to serve them for dinner!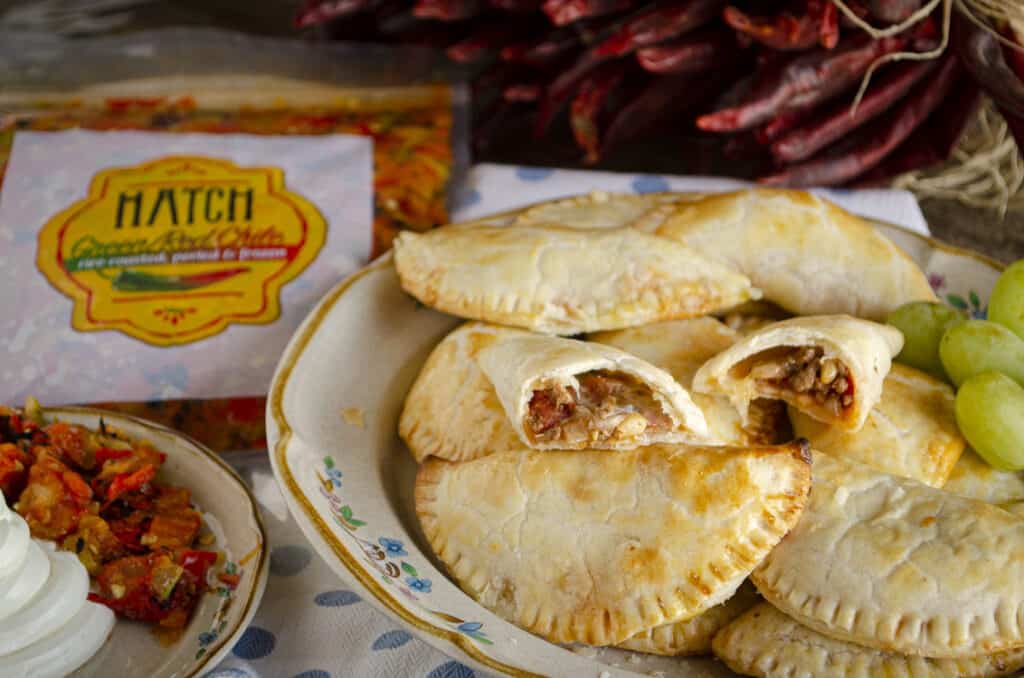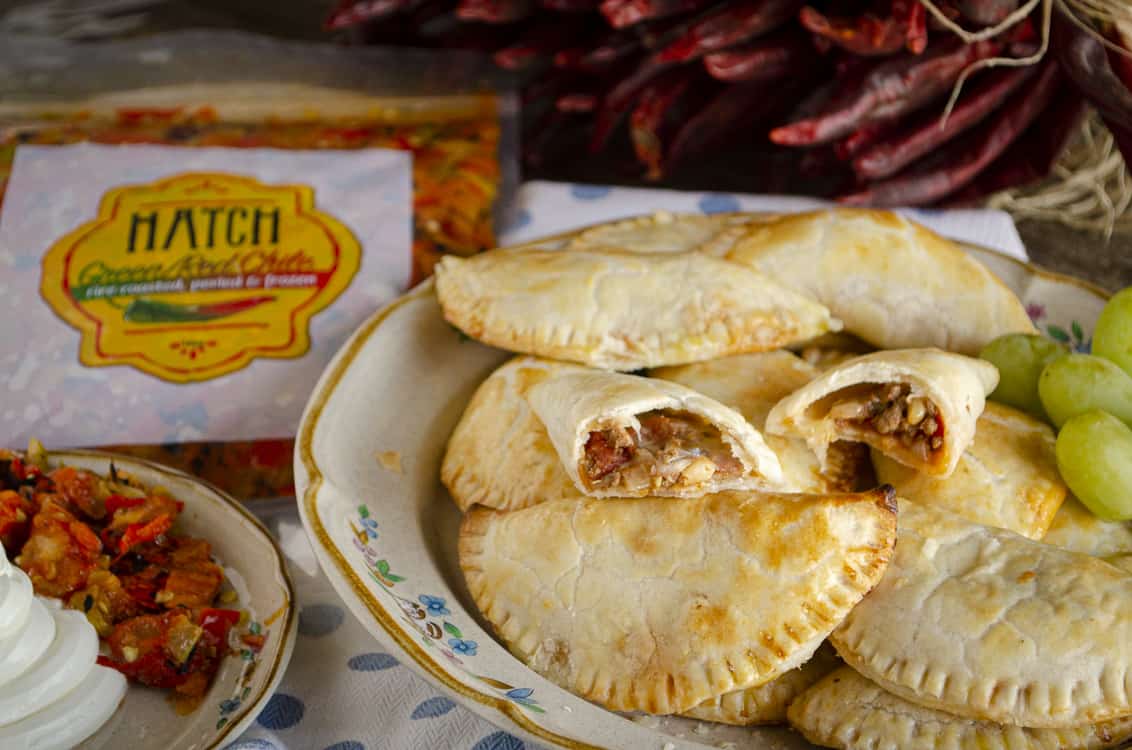 There are many more delicious New Mexican recipes like this one in my latest cookbook New Mexican Food Made Easy. Pair this book with an order from The Hatch Chile Store here to make a dynamite combination for anyone who loves chile peppers, or New Mexico, or both!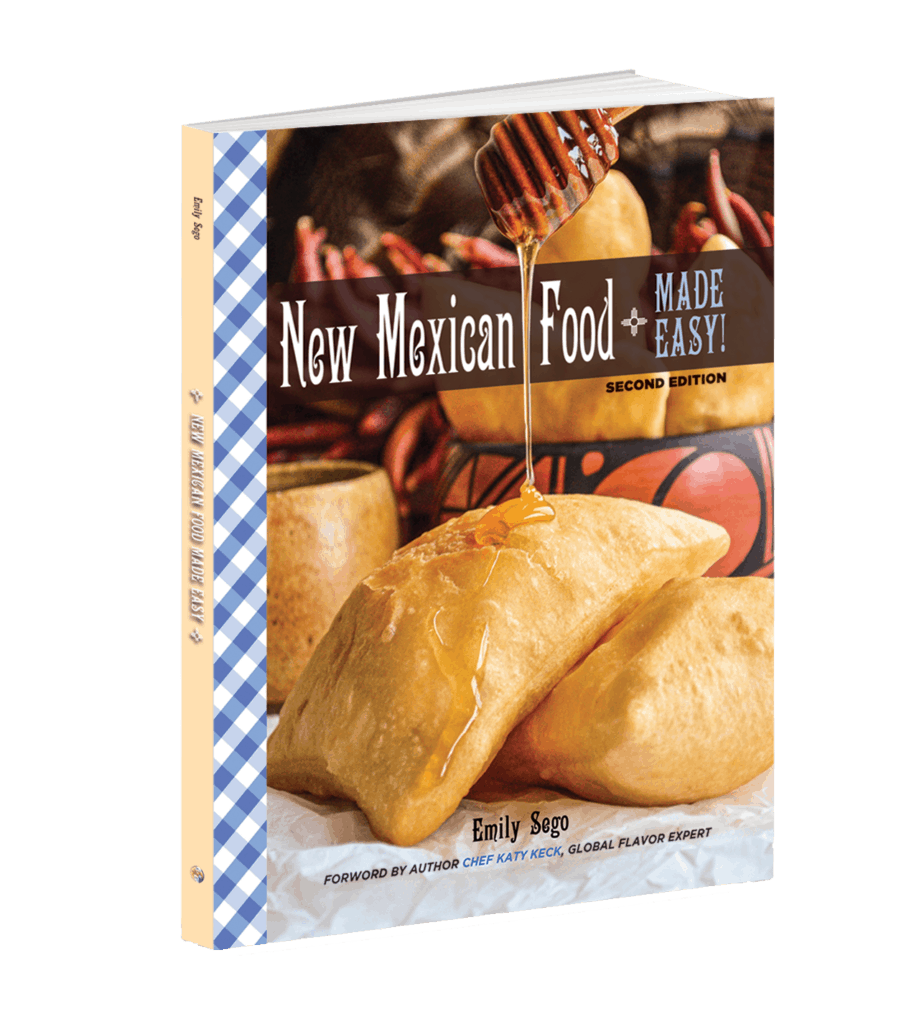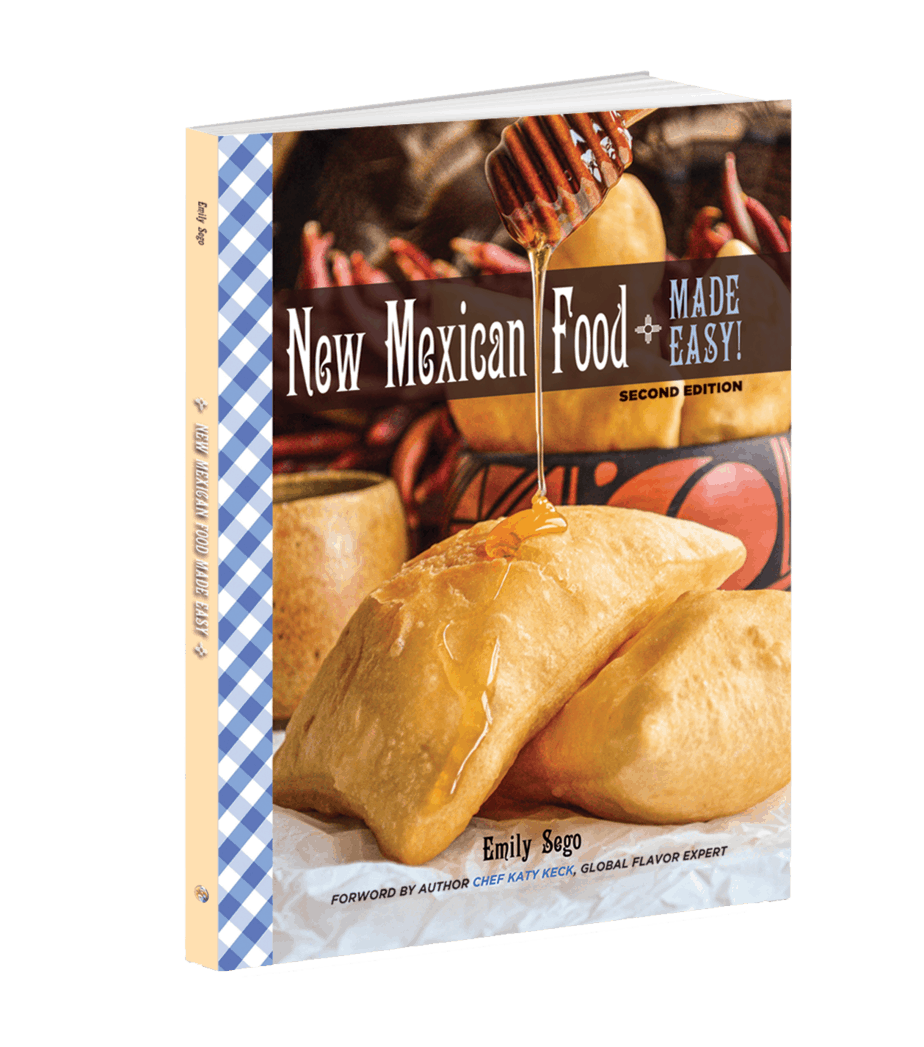 New Mexican Food Made Easy is full of amazingly unique recipes and beautiful full-color photos from the state of New Mexico and is available in Hardback, Paperback and eBook editions so you can choose which one is right for you. It also makes a great gift for New Mexicans that have been transplanted elsewhere in the US! Click the orange Buy Now button below to get your copy today.
My friends and family raved about how delicious these little meat pies are and I hope you enjoy them as much as we did! If you like this recipe please tell Google by giving this recipe a comment and star rating below! Ratings tell the Google algorithm to show this recipe to more people. Thank you for your support!
Print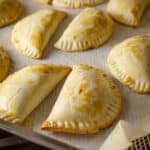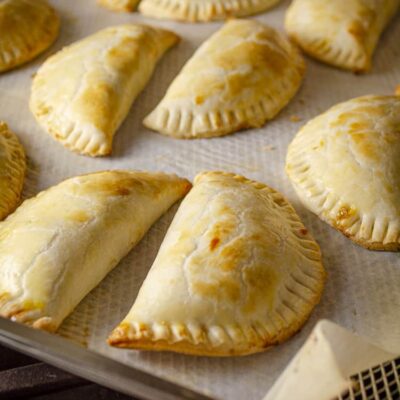 Baked Empanadas with Hatch Chile Beef Filling
---
Author:

Emily

Prep Time:

10

Cook Time:

45

Total Time:

55 minutes

Yield:

4

–

6

servings

1

x
Description
This delicious Hispanic heritage recipe for Baked Empanadas with Hatch Chile Beef Filling checks all the boxes for flavor and fun! Ground beef is simmered with Hatch Green Chile, piñon nuts, raisins, tomatoes and sweet savory spices. 
Support The Goldilocks Kitchen by simply giving this recipe a comment and star rating in the comments section below; your comments and ratings are greatly appreciated by me AND the Google algorithm. Thanks for your support!
---
1/3 cup

shelled piñon (pine) nuts

2 tablespoons

vegetable oil

1/2

onion, minced

1

pound ground beef

2

cloves of garlic, minced or pressed

1 teaspoon

ground cinnamon

1/2 teaspoon

cumin

1/4 teaspoon

ground cloves

1/2 teaspoon

salt

1 cup

diced, canned, tomatoes

1 tablespoon

vinegar

1 tablespoon

brown sugar

1/2 cup

roasted, chopped Hatch Green Chiles

1/3 cup

raisins

1 cup

shredded Monterey Jack Cheese (optional)

2

boxes of store-bought pie crust dough (

two

crusts each)

one

egg
---
Instructions
Remove frozen pie crusts from the fridge to soften at room temperature and prepare a rimmed baking sheet by lining it with parchment paper. Heat a large skillet over medium-high heat. Place the

piñon

nuts in the skillet for about 5 minutes, stirring frequently to toast them. Remove the nuts and add the vegetable oil and onion. Cook until the onion is soft and translucent, about 3-5 minutes. 
Add the ground beef and cook until no pink remains. Stir in the garlic, cinnamon, cumin, cloves, and salt. Cook for 30 seconds. Stir in the tomatoes, vinegar, brown sugar, and Hatch Green Chile. Cover and cook over low heat, stirring often, for 10 minutes.
Uncover and turn off the heat. Stir in the raisins,

piñon

nuts, and optional Monterey Jack cheese.
Set your oven to 400 degrees F. Cut and fill dough rounds with filling, wet the edges, fold and crimp with a fork to close. Beat the egg and brush onto both sides of each Empanada. Place onto a baking sheet lined with parchment paper. Bake for about 20 minutes or until the crust turns light golden brown. Serve warm with sour cream and/or guacamole.
Notes
Serve as is or use as a filling in an empanada recipe, stuff into freshly fried sopapillas, or stuff into chile rellenos.
Category:

Dinner

Method:

stovetop

Cuisine:

Southwestern American
Nutrition
Serving Size:

1/6th the recipe

Calories:

288

Sugar:

7.4

Sodium:

395

Fat:

14.5

Saturated Fat:

3

Carbohydrates:

14.3

Fiber:

1.9

Protein:

24.6

Cholesterol:

68
Keywords: Empanada Recipe, Picadillo, Hatch Green Chile, Stuffing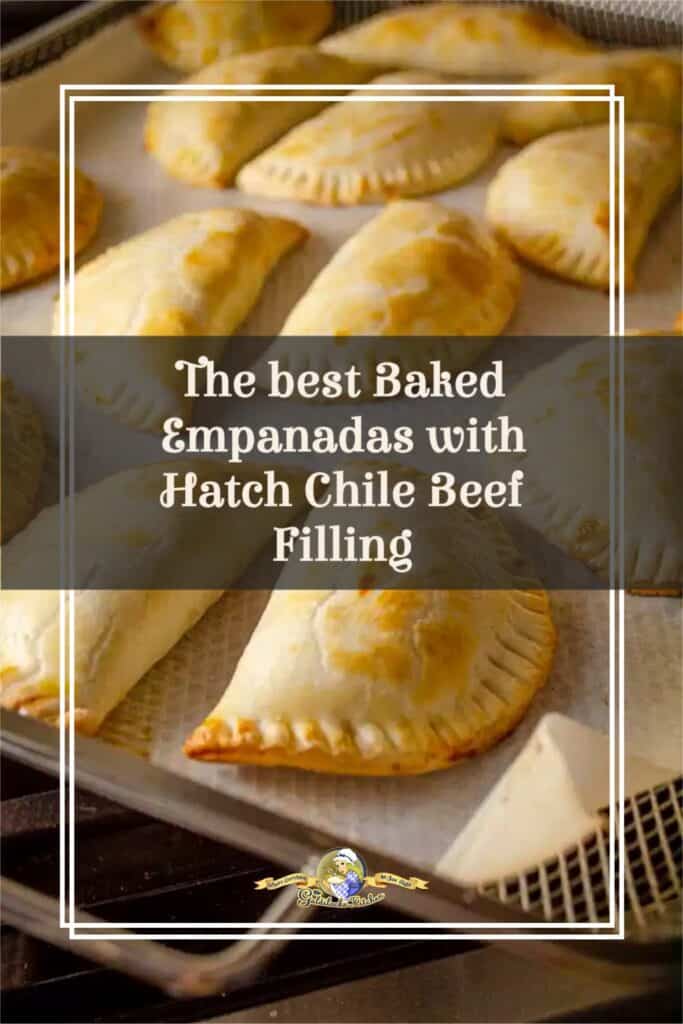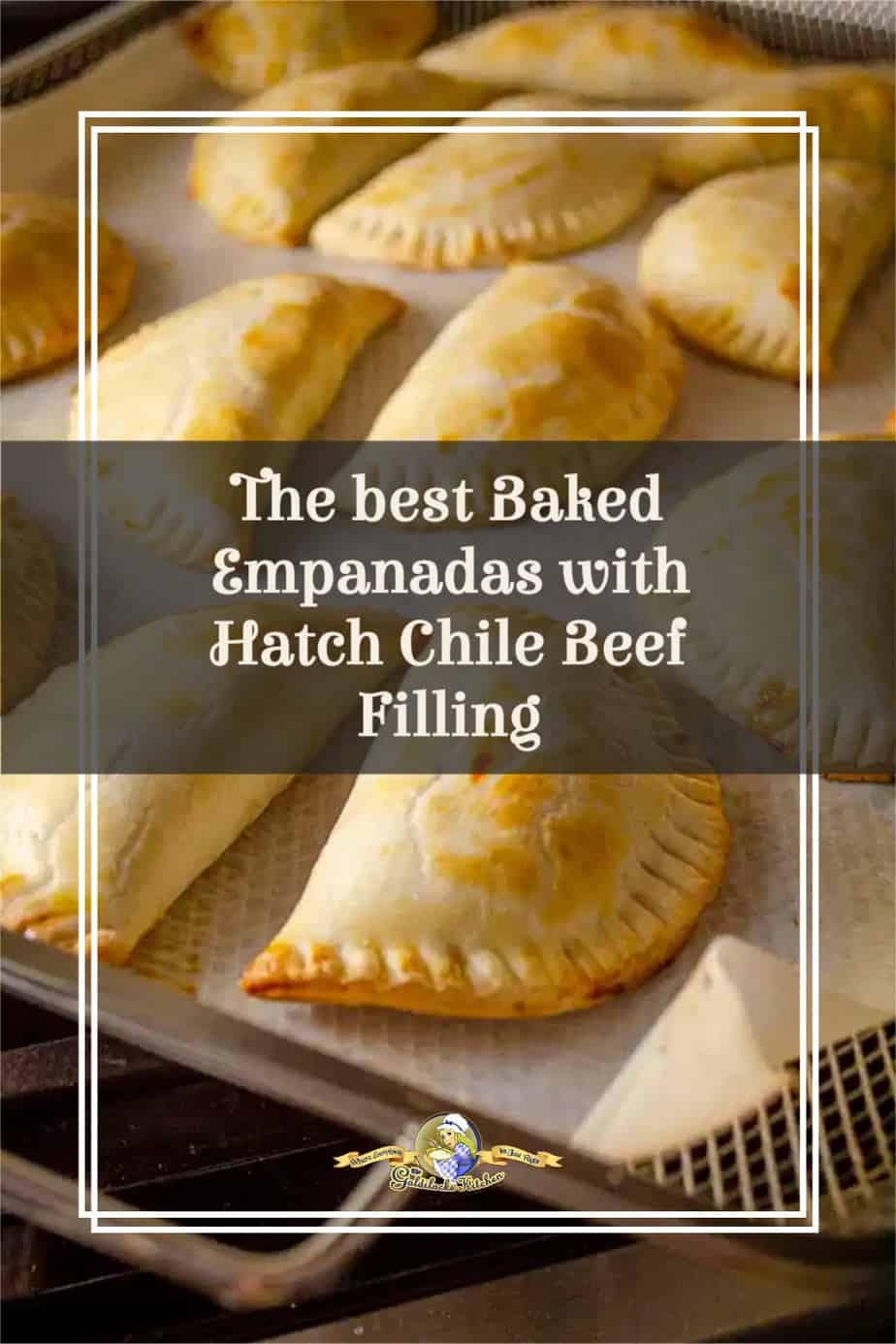 Free ebook for all Subscribers!
What will you stuff in your sopapillas? Subscribe now to receive your free copy of Sopapilla Fiesta! today with six recipe combinations of stuffings and chili sauces. Bonus dessert recipe included!