Red Chile Sauce From Powder Recipe
This post has kindly been sponsored by The Hatch Chile Store. All thoughts and opinions are my own.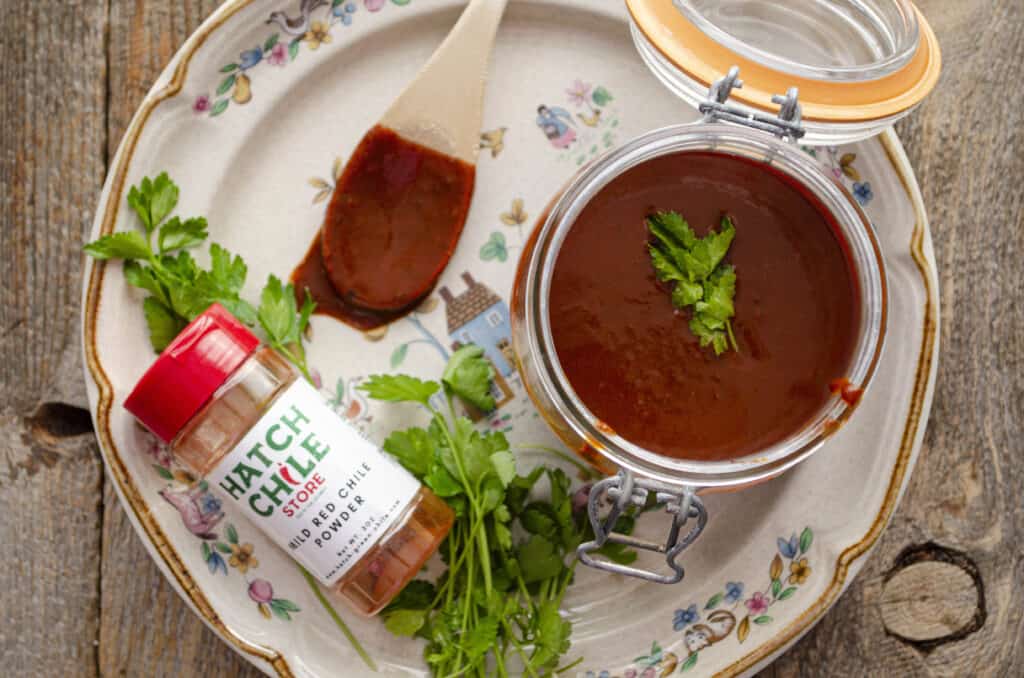 After creating countless batches of red chile sauce from powder, I have learned a thing or two. Creating your own homemade red chile sauce from powder is very satisfying, easy, a handy skill, and money saving! Skip the work of preparing dried chile pods and use the chile powder that most people have stocked in their pantry. Plus making chile sauce at home is like getting a big hug from your abuela and will fill your home with the delicious smell of chile!
I specifically developed this recipe to create the most delicious and flavorful batch of red chile sauce possible with red chile powder. May recipes use onion and garlic powders; however, the taste of using fresh onion and garlic is so much better, because (science) you can use the 'Maillard' effect of browning in a hot pan to deepen and intensify flavors.
While researching this article, I also ran into some recipes that added raw flour into the recipe and then didn't cook it long enough to get rid of the raw flour taste! That is definitely a no-no and will contribute to your sauce tasting bitter.
What chili (or chile) powder is best when making red chile sauce from powder?
There are as many chile powders in the world as there are varieties of chile peppers. The taste of your homemade chile sauce will depend on what chile powder you decide to use.
When deciding what type of chile powder to use, consider what is best for you- do you like it mild, medium or hot? This is an important consideration, because if your chile sauce is TOO HOT you certainly won't be able to enjoy it much.
Chile pepper 'heat' is measured by Scoville heat Units (SHU). Bell peppers (which have virtually no capsaicin) would rank at 0 Scoville Units. Comercially available chile powders sold across the country fall between 500 and 1500 SHU, which would be considered mild/medium heat. I personally use mild Red Hatch Chile powder at home. The flavor is phenomenal, and I like that I can order it directly from the company in mild, medium, or hot- so I know exactly what I'm getting.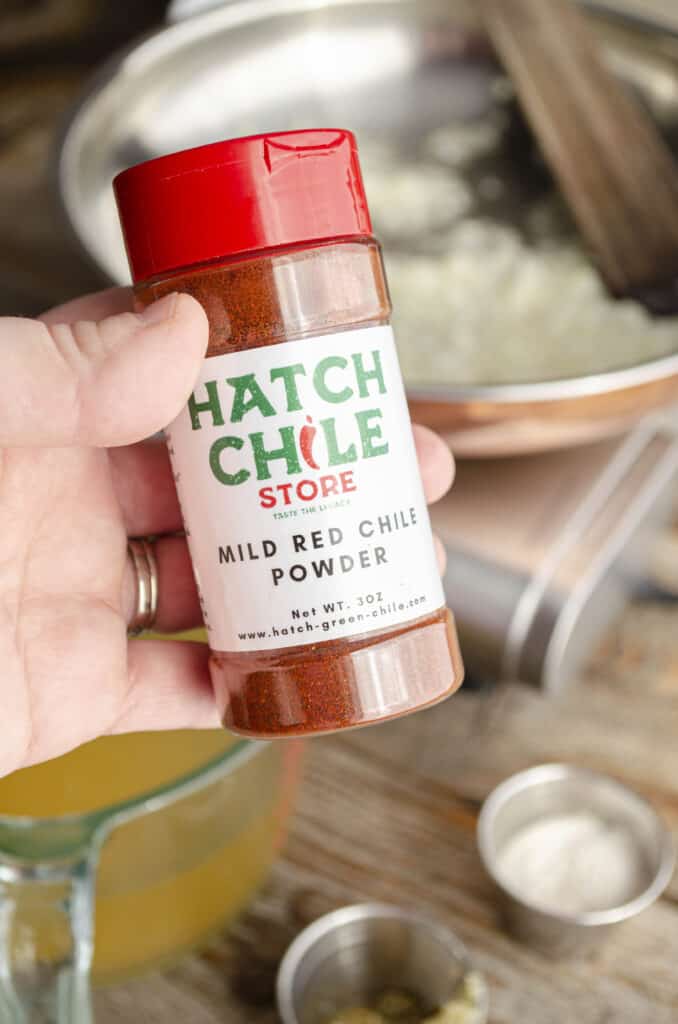 Chile peppers contain a chemical called capsaicin in their inner ribs or veins (ironically NOT the seeds) that gives them their spiciness. The seeds rub up against the ribs when the chiles are being handled and often get covered in capsaicin, making them 'hot' as well.
Capsaicin is a very interesting chemical. When it's eaten (or comes into contact with ANY tissue) it tricks your brain into thinking that it's really burning you, causing our bodies to react just as if we had touched a hot stove. We sweat, our heart rate increases, even endorphins are released! The endorphin part (endorphins make us feel good) is why many people LOVE their chile peppers, and enjoy eating spicy foods.
Cayenne powder is not interchangeable with chili powder. Although it is 'technically' ground, dried, chile, it tastes much different from chili powder and packs a whopping 30,000 to 50,000 SHU and is considered a medium hot chile pepper. So think twice before substituting cayenne powder if you run out of chile powder!
For contrast, crazy hot peppers such as Ghost peppers rank at approximately 1,000,000 SHU and Carolina Reapers a whopping 2,200,000 SHU!
How do you get the bitterness out of red chile sauce?
People often complain that their homemade red chile sauce from powder has a bitter taste. Using Honey and sweet onion in the recipe will get rid of bitterness in red chile sauce and add more depth of flavor. Also making sure you properly cook the flour for a couple minutes before adding water or broth will help get rid of bitter flavors. I have written all this into my recipe below.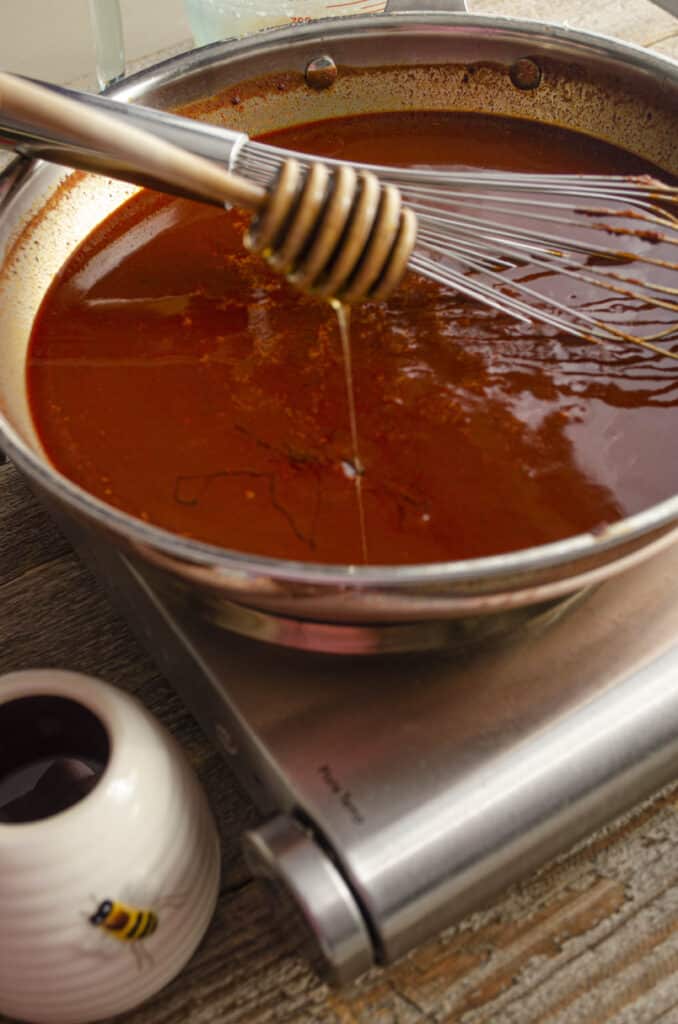 Adding a touch of honey or agave nectar (about a tablespoon) at the end of every batch of red chile sauce I make (about 3 cups of sauce) counteracts the slightly bitter taste that comes from making chile sauce with powder. Also using cooked diced sweet onion instead of onion powder in your recipe will help counteract the bitterness too.
What is New Mexico chili powder used for?
New Mexico chili powder is primarily used by New Mexicans to make red chile sauce and red enchilada sauce. But of course, it can be used in any culinary way that you fancy- from flavoring a pot of chili stew (the kind Texans love with beans), to blending into a spicy rub for grilling meat. I personally LOVE using green chile powder along with a mixture of herbs to rub all over my steaks before I grill them. It's my secret ingredient to fabulous-tasting steak!
Famous New Mexico chili powder (also spelled 'chile') tastes different from the normal 'chili powder' blend most people purchase at the store. Chili powder purchased at most grocery stores is a bend of chile powder and spices, such as cumin and garlic powder. New Mexico chili powders contain nothing more than dried and ground chile pods.
Most folks (including me) will add broth, cumin, onion, garlic and other herbs and spices when cooking up chile sauce at home. There are some chile purists out there who believe these other flavors compete with the chile, so they just make their sauce with powder and water.
New Mexico chiles have a unique yet delicious flavor that makes them famous among chile pepper enthusiasts. (See below.) The small towns of Hatch and Chimayo are the most famous places to grow chile peppers in the state. Something about the soils and weather conditions in those places gives the chile a special flavor.
Containers of chili powder commonly seen at grocery stores everywhere are usually a blend of several dried red chiles, including paprika, and cayenne, and other red chile varieties not grown in New Mexico. Different companies will feature different blends that are not always clearly labeled in the ingredients list on the back.
It's actually really easy to get your hands on Hatch chile in all its varieties by ordering direct from The Hatch Chile Store! That's where I get all my chile products because they just taste the best and the quality is top-notch!
What are Hatch Chile Peppers?
Hatch Chile peppers are world famous for their delicious flavors, produced by the unique climate and soil composition that exists only in the Hatch Valley of Southern New Mexico. These factors combine to grow exceptional-tasting chile peppers with smoky, sweet, and hot flavor notes. More people discover Hatch Chiles each year, and their popularity continues to grow.
Growing up in New Mexico where chile peppers are an integral part of the culture, I know that Hatch chiles have earned a reputation for being the best of the best. I personally only use authentic Hatch in all my cooking because it simply tastes amazing. You should be able to find canned Hatch chile in any supermarket these days, or you can order it directly like I do. Frozen chile is much, much better tasting than canned!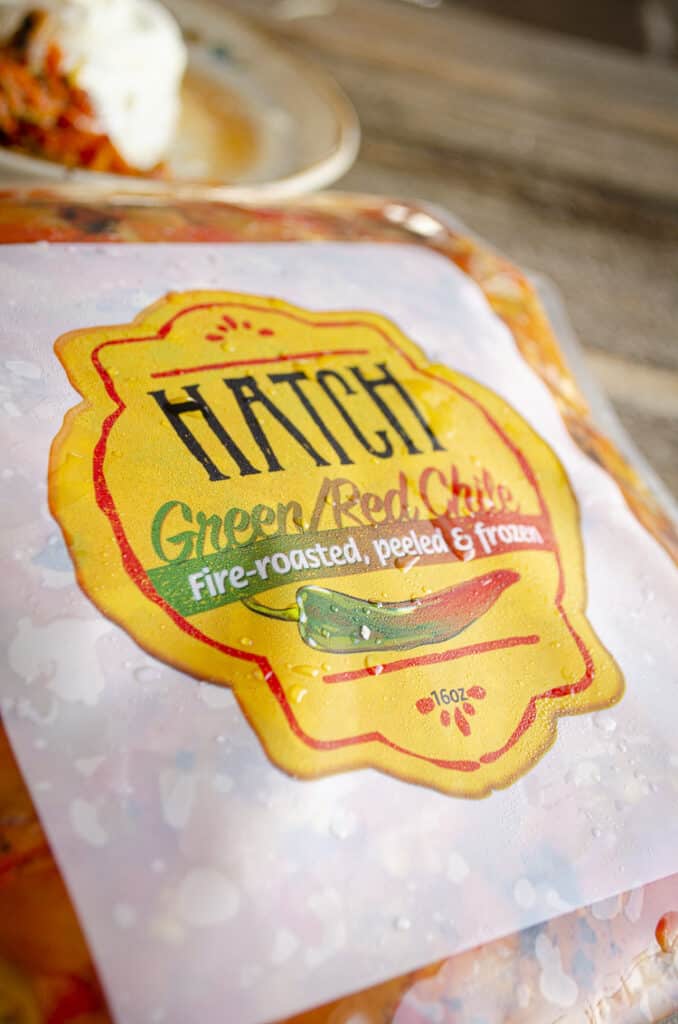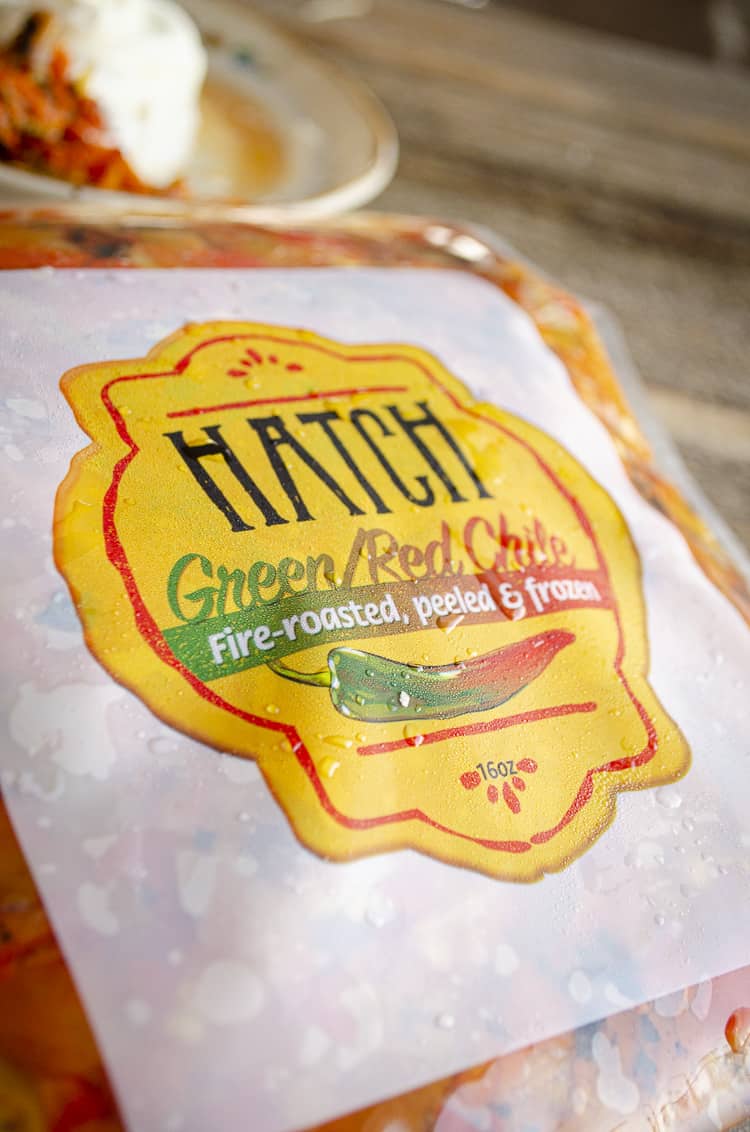 The Hatch Chile Store is the premiere website for ordering your Hatch chile– they are incredibly good at shipping fresh authentic chile right to your door, whatever variety and hotness lever you prefer. It's where I get all my Hatch Chile, and I must say the flavor really does stand out above any other chile pepper variety.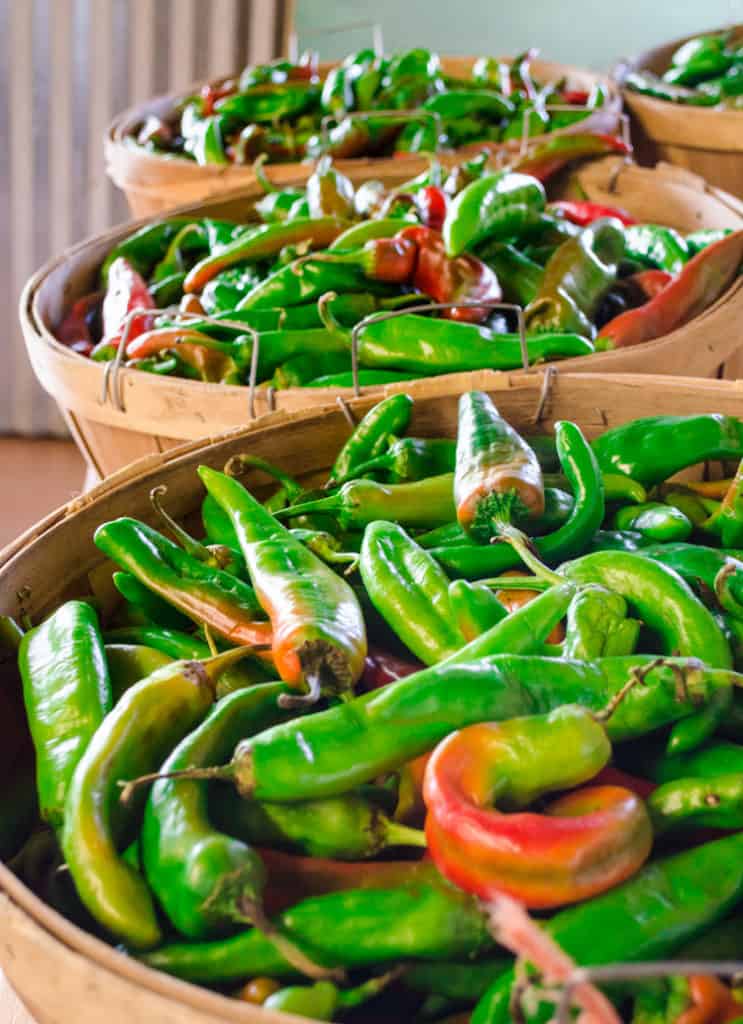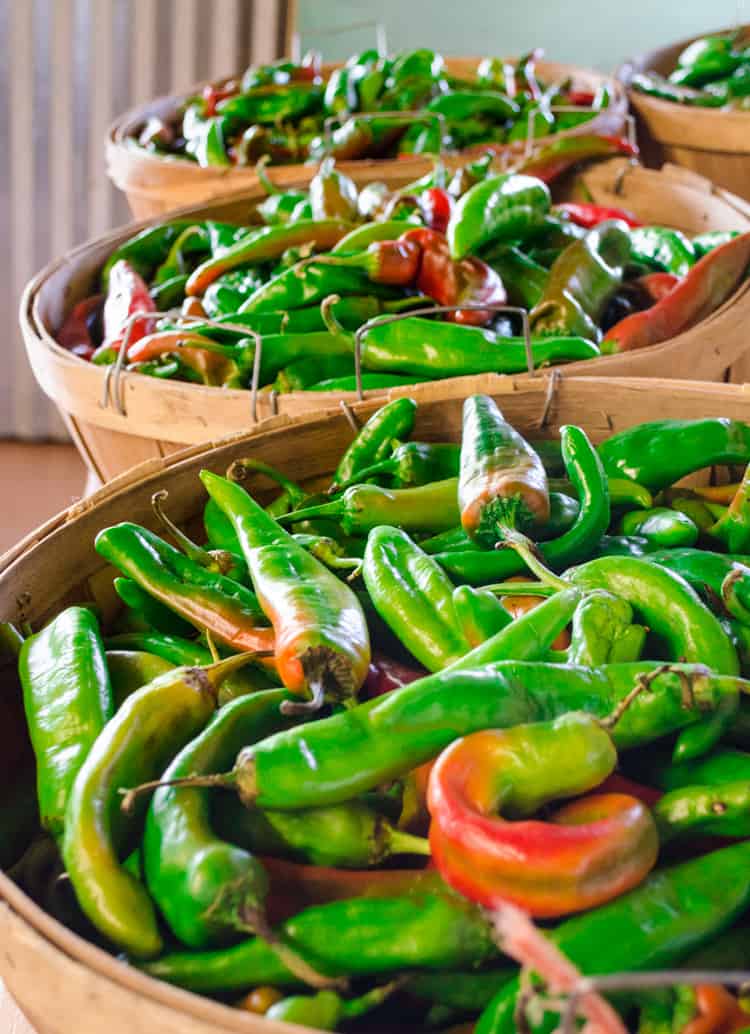 Head on over now to The Hatch Chile Store to stock up on the most delicious Hatch chile you can buy anywhere- they've always got great deals on your favorite products!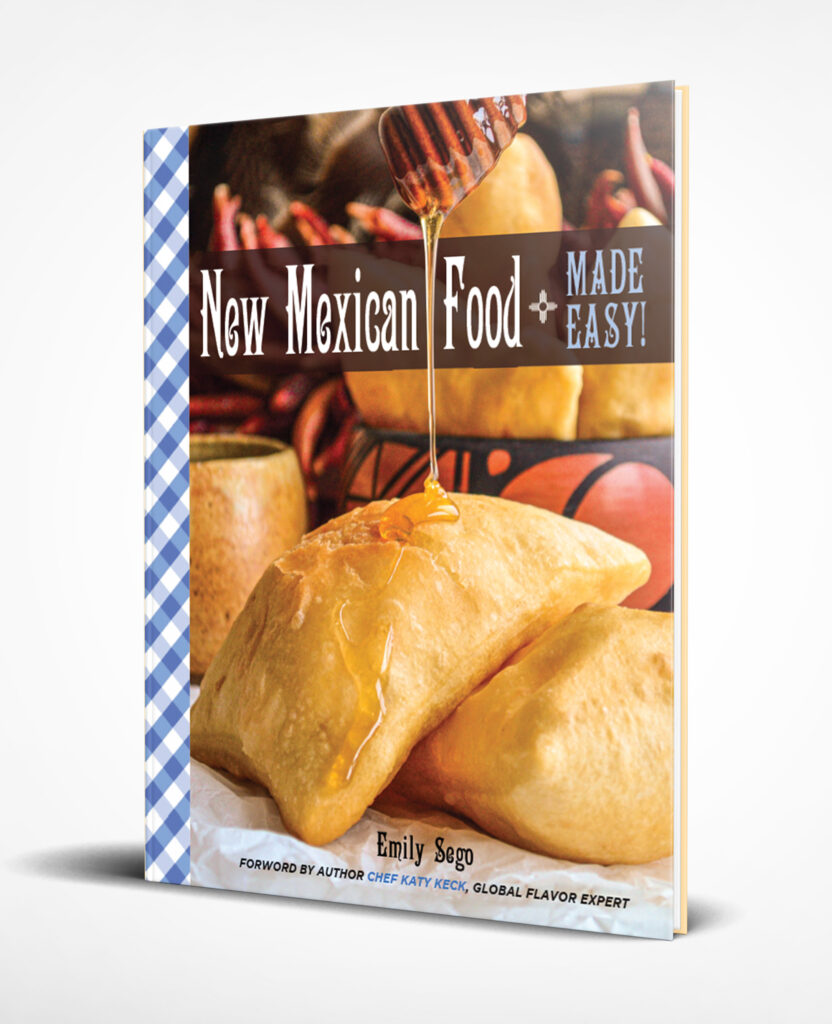 Did you know I have a full-color cookbook with lots more easy and delicious New Mexican recipes? You can learn more about it here!
Can I use Red chile sauce for enchiladas?
Definitely yes! Some of the very best enchiladas are made with simple red chile sauce. Don't have any canned enchilada sauce? No problem! Just make this red chile sauce from powder recipe and use it instead. If you want your homemade sauce to taste more like storebought red enchilada sauce, add in a few spoonfulls of tomato sauce and a splash of vinegar.
Commercially made enchilada sauce tastes different from homemade red chile sauce becasue it is blended with tomato and vinegar to adjust the pH so the sauce will be shelf-stable in a can and still taste good. Red chile sauce on its own is unsafe to can.
Remember, red chile sauce is a condiment, like ketchup. It's something that you use to make food taste better or different. It's not something that you just eat alone. (Although I wouldn't put it past some people to straight up eat chile sauce on its own).
Is red chile sauce the same as enchilada sauce?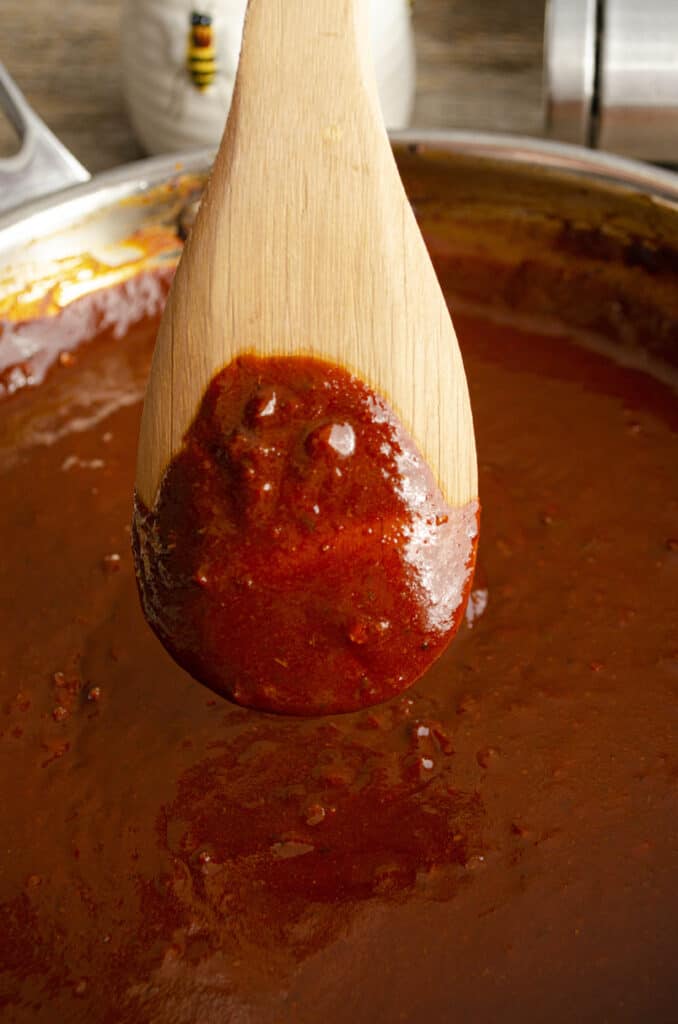 Red chile sauce is not the same as enchilada sauces made commercially; however, they are very similar in that each uses chile sauce as its main ingredient and each can be used to make enchiladas. Enchilada sauces originally were simply various chile sauces made regionally in Latin America before commercialization.
So red chile sauce or enchilada sauce can be used interchangeably to make enchiladas. The same goes for enchiladas verde, or enchiladas made with green chile sauce.
How do you thicken red chile sauce?
If your red chile sauce is too thin, the fastest way to fix it is by mixing 1 tablespoon of cornstarch into 1/4 cup of cold broth or water. This is called a 'slurry'. Bring your red chile sauce up to a gentle boil over medium heat, then whisk in the cornstarch slurry. Cook the chile sauce for 1-2 minutes, stirring often, until thickened. This amount of slurry will thicken approximately 3 cups of sauce, so adjust the slurry to the amount of sauce you have.
You can also thicken your sauce by simply allowing it to simmer for several more minutes, until the sauce reduces to your desired consistency. This method takes longer then adding cornstarch but will not dilute the flavors in any way. (It will actually deepen the flavors of your chile sauce.)
Looking for more information about Red Chile Sauce or new recipe ideas? Check out the gallery below!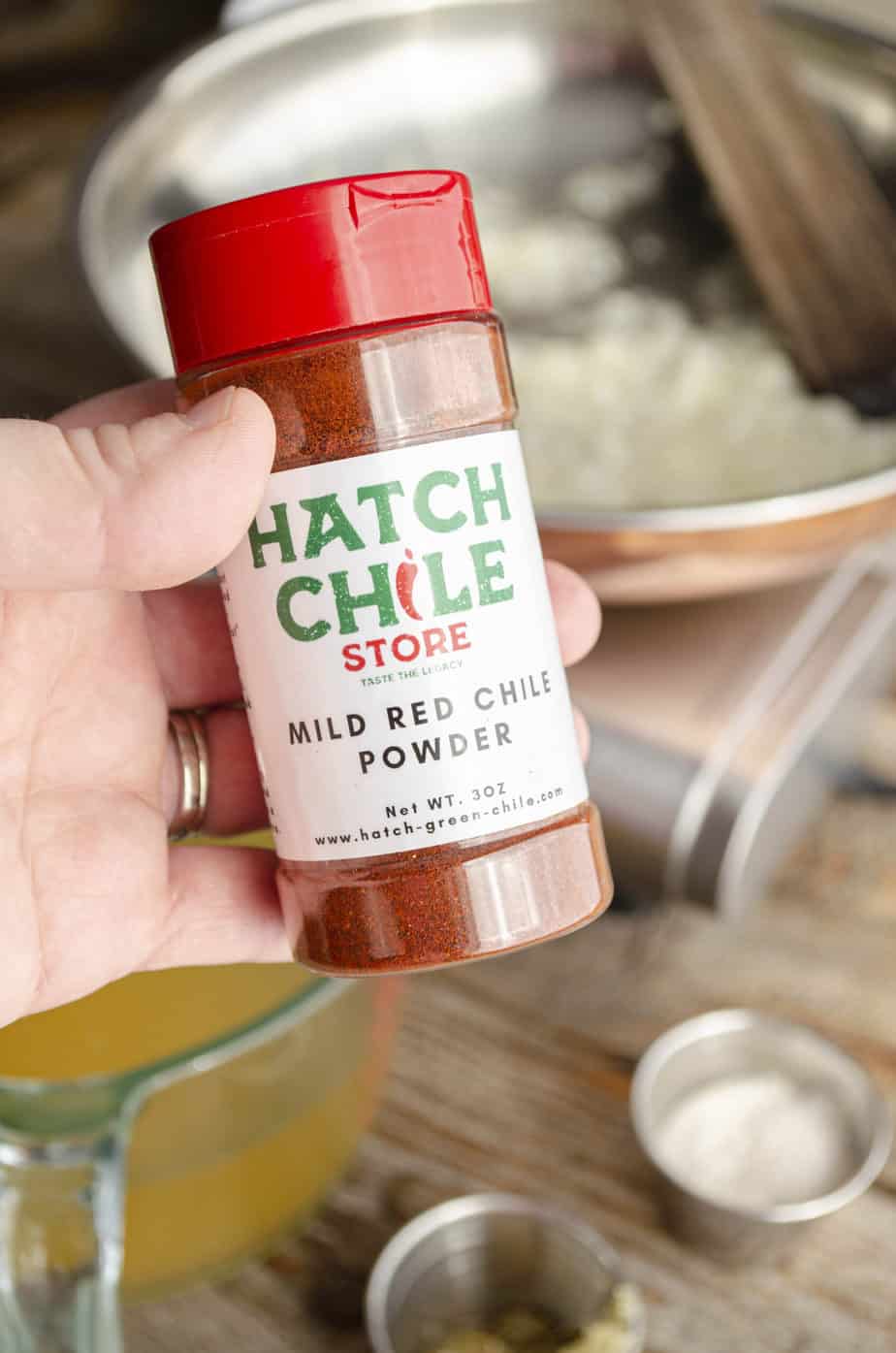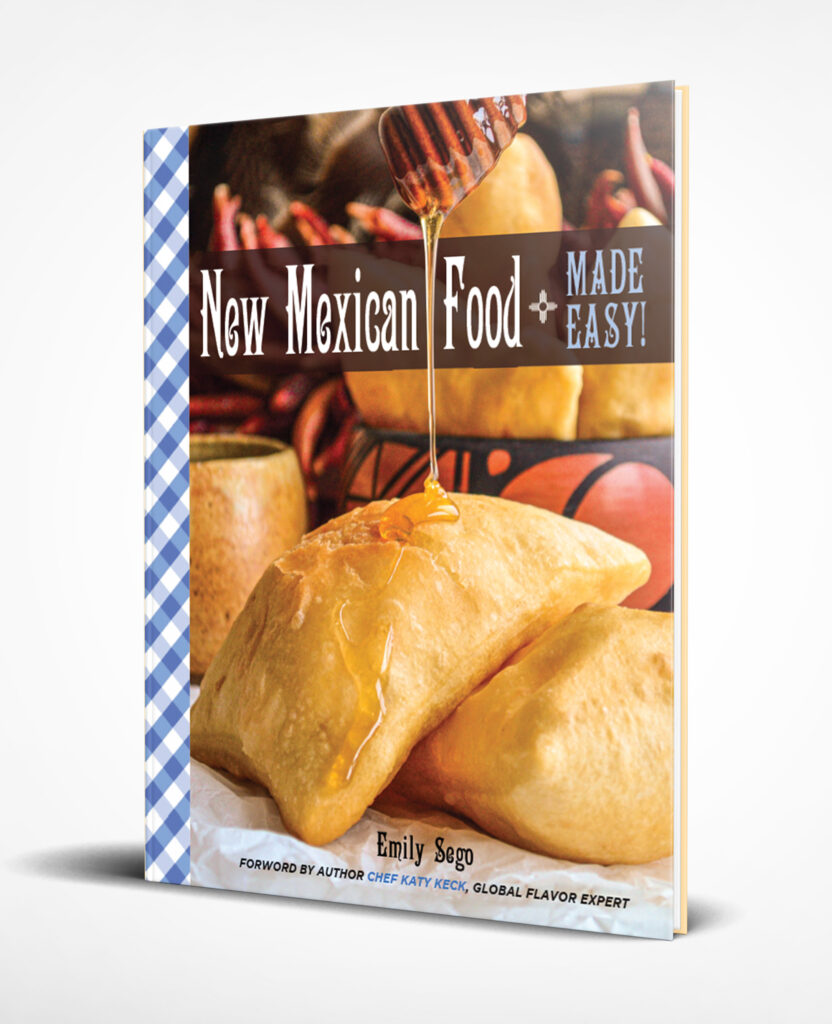 Did you know I have a full-color cookbook with lots more easy and delicious New Mexican recipes? You can learn more about it here!
You know what else is fantastic? Simply giving this recipe a star rating and a comment below! Your comments and ratings are greatly appreciated by me AND the Google algorithm. Thank you!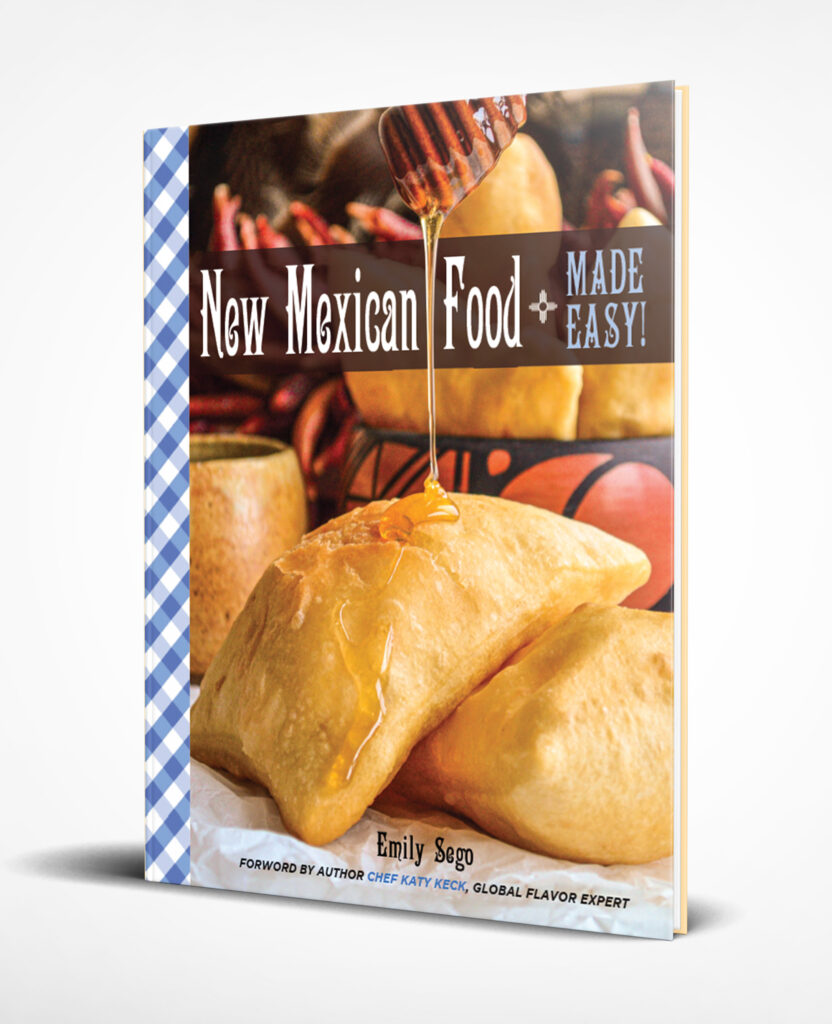 Did you know I have a full-color cookbook with lots more easy and delicious New Mexican recipes? You can learn more about it here!
Print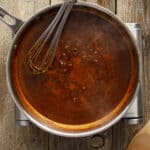 Red Chile Sauce From Powder
---
Description
Cook up a full-bodied, deeply flavored, and not-bitter sauce that is excellent tasting on any food.
---
1/4 cup

saved bacon drippings* (or vegetable oil) + one additional tablespoon

1/2 cup

minced yellow sweet onion

3

garlic cloves, minced or pressed through a garlic press

1

pinch of chipotle chile powder

1 teaspoon

dried Mexican oregano

1/2 teaspoon

ground cumin

1/2 teaspoon

ground coriander

2 tablespoons

all-purpose flour

1/2 cup

ground New Mexico Hatch red chile powder

2

and 1/2 cups chicken or beef broth* 

1 tablespoon

of honey (can also use agave nectar)
---
Instructions
Place large skillet over medium heat and add 1/4 cup bacon drippings or vegetable oil to heat. Add the onion (it should sizzle when added). Stir the onion around frequently, until it is translucent and lightly browned, between 5-10 minutes. Stir in the garlic, oregano, cumin, coriander, and salt. Cook, stirring frequently, for two additional minutes.
Stir the additional oil or bacon drippings into the pan, then sprinkle the flour over the contents of the pan. Stir and cook for another two minutes. Now stir in the red chile powder, then slowly whisk in the broth, scraping up any browned bits that may be stuck to the bottom of the pan.
Turn the heat up to medium high and bring to a boil. Once boiling, reduce the heat to maintain a low simmer, and cook for about 20 minutes (stirring occasionally), or until the sauce is thick enough to 'nape' (or stick) to a spoon. Remove sauce from heat and serve or proceed to optional step 4.
*Optional* To puree the red chile sauce, carefully ladle or pour the sauce into a blender. Remove the stopper from the blender lid (usually in the center of the lid) to allow steam to escape. Place the lid on the blender and cover the opening with a kitchen towel. Blend until sauce is pureed. 
Notes
*Bacon drippings, or fat, leftover from cooking bacon is incredibly tasty when used as a base oil for sautéing. Bacon drippings can be combined with vegetable oil to get to the 1/4 cup + 1 tablespoon need for this recipe.
*I always use bouillon cubes to make broth because they are easy to store in the cupboard for a very long time, and I can make as much or as little broth as I like. I use bouillon cubes every day and highly recommend them!
*Taking the extra step to puree your red chile sauce is optional, but I know that many folks prefer a smooth red chile sauce, as opposed to chunky green chile sauce. This recipe will not taste as good if you pass over the real onion and garlic and use powders instead to skip having to puree the sauce. The choice of course, is up to you.