The Hatch Chile Store has kindly supported this post. All thoughts and opinions are my own (and highly persuasive). This post also contains Amazon affiliate links in which I earn a small commission for any sales. Thanks for your support!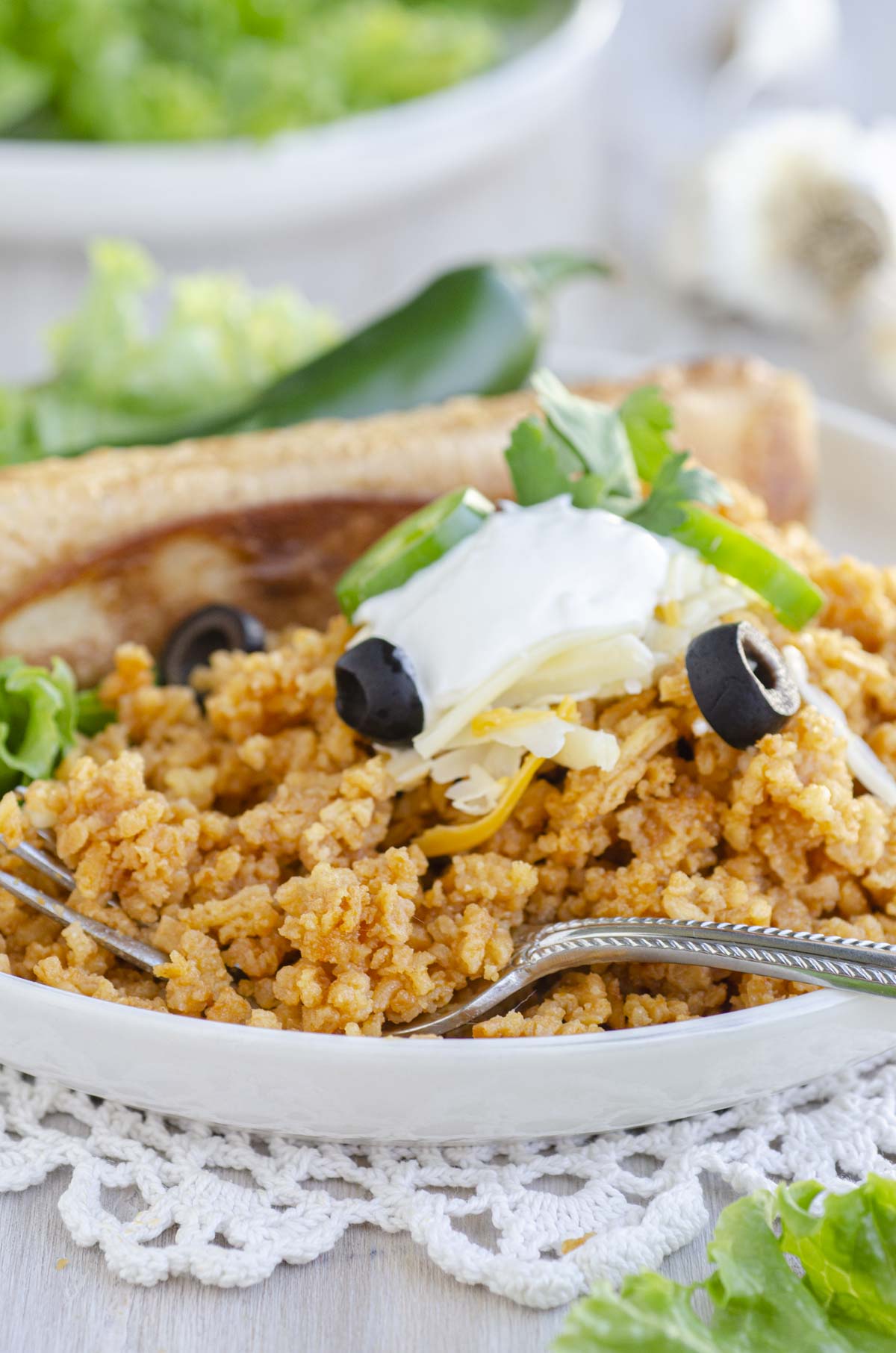 Why this recipe works:
Cooking Mexican rice the traditional way, by gently toasting it first, deepens its flavor compounds- adding an additional layer of flavor.
Mexican Rice is steamed in a puree of fresh vegetables, spices, and chicken broth, giving the rice a superior, fresh, and zesty flavor.
I don't usually pay much attention to side dishes, however, Mexican rice is one of those side dishes that, if done right, can outshine the main course!
If you are wanting to serve a delicious Mexican dinner with all the sides, or just have a craving for Mexican rice, I'm here to help you make the best Mexican rice you've ever had!
What's in Mexican rice?
Have you ever wondered what exactly is in Mexican rice that makes it taste so good? The tomato component is fairly obvious, but there are more than just ingredients that make it so delicious; there are some smart cooking techniques used to make this rice I need to tell you about.
So what's in Mexican rice? Mexican rice is made by steaming toasted long-grain rice in a pureed mixture of fresh tomato, onion, garlic, salt, spices (turmeric, cumin, oregano, annatto, coriander), and chicken broth. Sometimes a whole chile pepper is nestled into the rice to steam as well.
Toasting the rice gently over medium heat to a beautiful golden color before steaming it is one of two important components to making outstanding Mexcian rice.
Toasting takes advantage of the Maillard effect, where when food is browned it releases or creates new flavor compounds on a molecular level. I know, it's above my head too. Just know that toasting or browning stuff in a skillet makes it taste better, including rice!
What are Hatch Chile Peppers?
Hatch Chile peppers are world famous for their delicious flavors, produced by the unique climate and soil composition that exists only in the Hatch Valley of Southern New Mexico. These factors combine to grow exceptional-tasting chile peppers with smoky, sweet, and hot flavor notes. More people discover Hatch Chiles each year, and their popularity continues to grow.
Growing up in New Mexico where chile peppers are an integral part of the culture, I know that Hatch chiles have earned a reputation for being the best of the best. I personally only use authentic Hatch in all my cooking because it simply tastes amazing. You should be able to find canned Hatch chile in any supermarket these days, or you can order it directly like I do. Frozen chile is much, much better tasting than canned!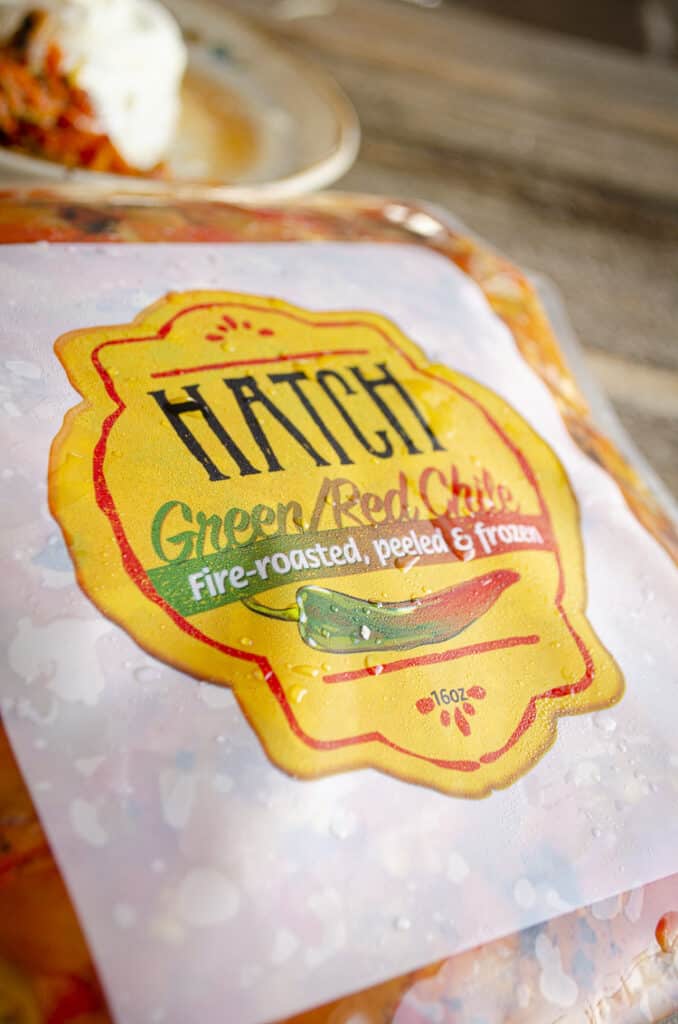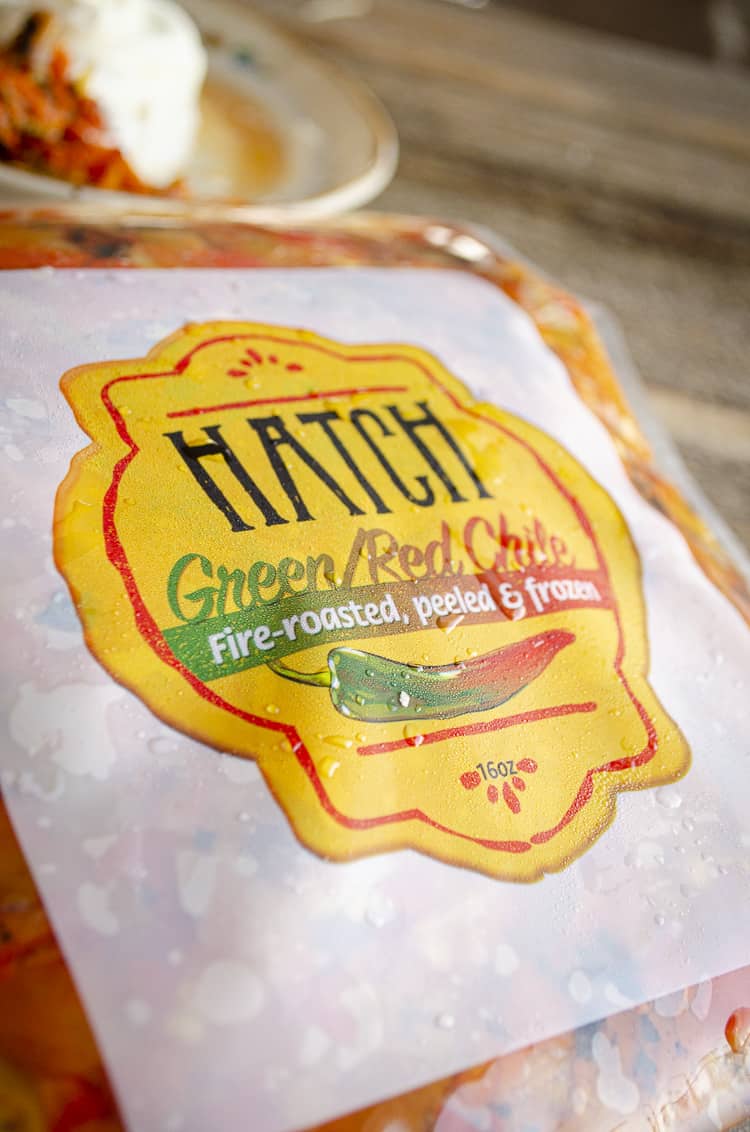 The Hatch Chile Store is the premiere website for ordering your Hatch chile– they are incredibly good at shipping fresh authentic chile right to your door, whatever variety and hotness lever you prefer. It's where I get all my Hatch Chile, and I must say the flavor really does stand out above any other chile pepper variety.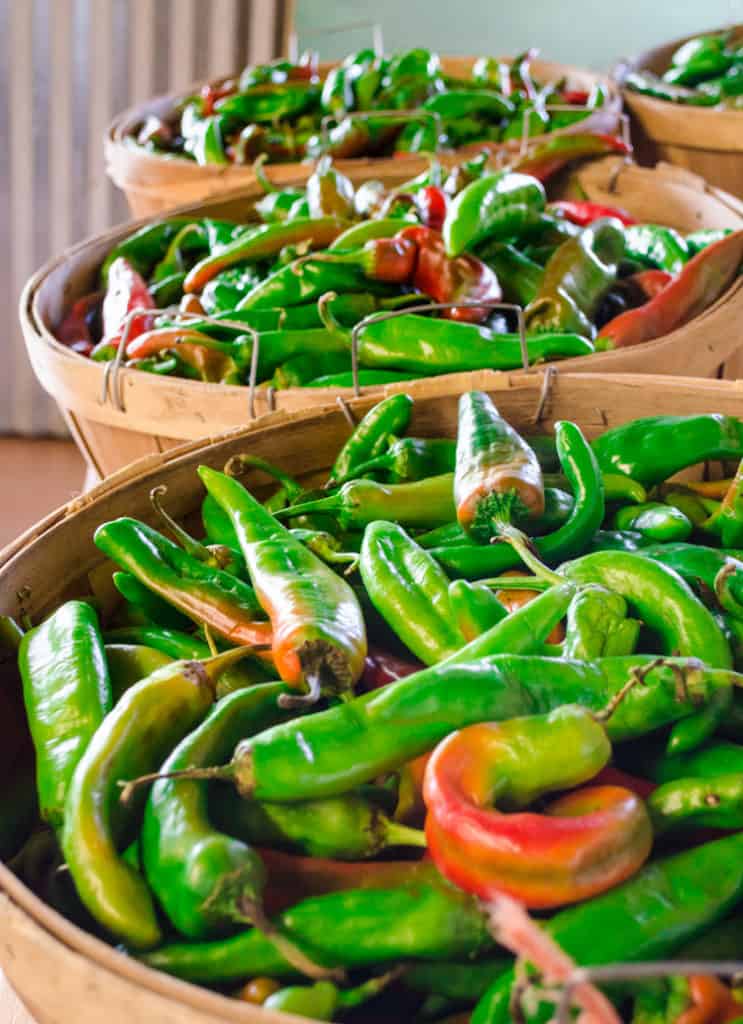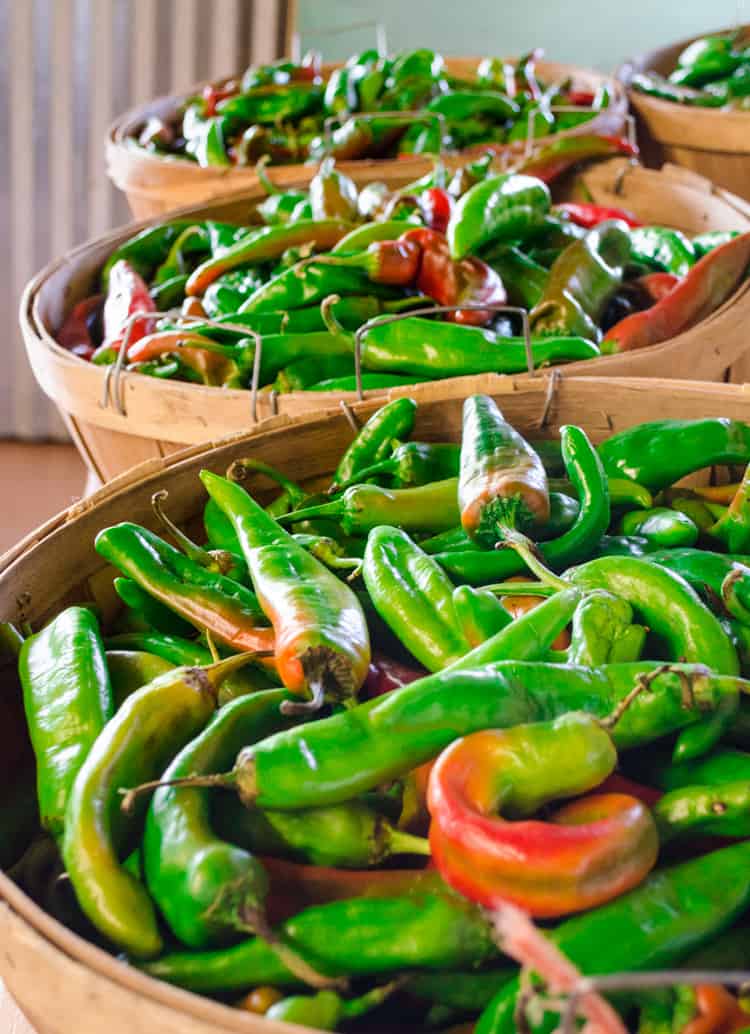 Head on over now to The Hatch Chile Store to stock up on the most delicious Hatch chile you can buy anywhere- they've always got great deals on your favorite products!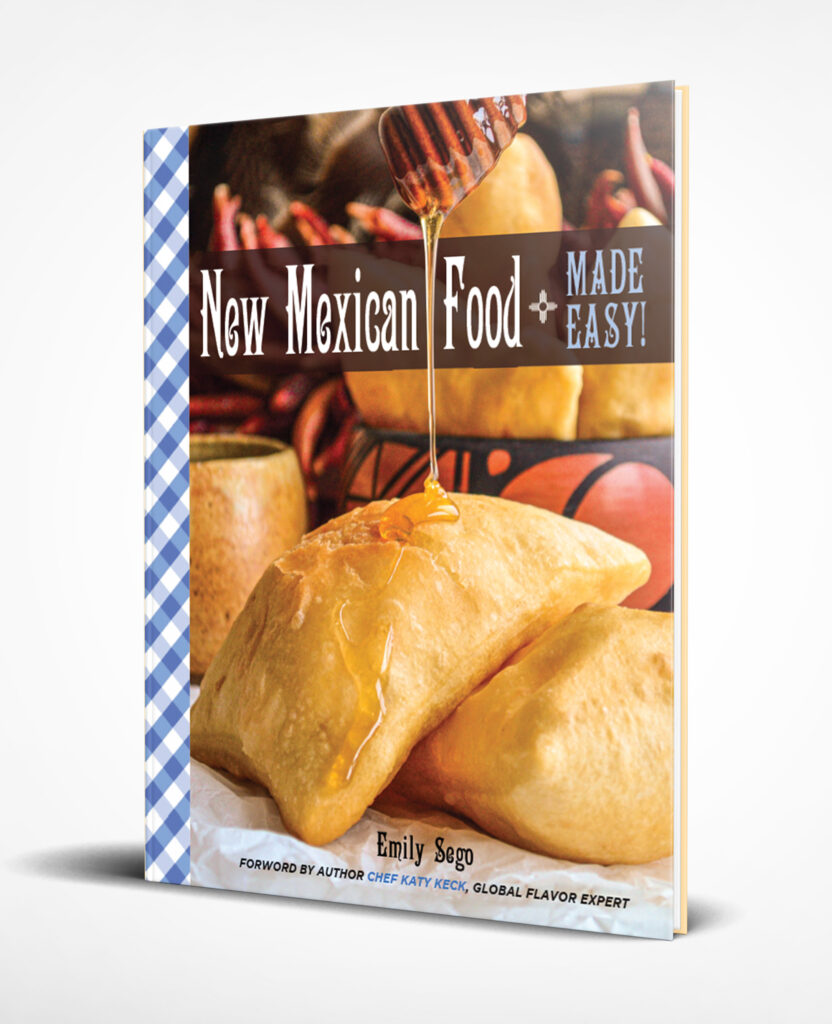 Did you know I have a full-color cookbook with lots more easy and delicious New Mexican recipes? You can learn more about it here!
How do you make Mexican rice fluffy and not sticky?
Have you ever made Mexican rice at home, only to open the lid and find your rice has set like one giant concrete puck? If so, I have the fix for you!
Ok so here's the other important step to making fluffy Mexican rice. To obtain that lovely fluffy texture you'll need to do two things: rinse the rice thoroughly with water to remove excess starch, AND, ensure the vegetable puree you're adding to the rice is warm to hot in temperature. Do not add cold tomato puree to this rice. Read on to learn more about why.
You should always wash your rice
Washing the rice rinses away extra starch that sits on the surface which causes the rice to stick to itself when it is cooked. If you want sticky rice, don't rinse it. Ever heard of Asian sticky rice? The starch isn't washed off so it can be picked up by chopsticks in big clumps!
In case you haven't heard, rice does contain small amounts of the naturally occurring element Arsenic, which is toxic in large amounts. Washing rice helps removes some of this arsenic, but not all. You can learn more about Arsenic in rice here.
Adding hot liquids to a hot pan
Adding hot liquids to an already hot pan ensures you don't lose the heat energy that you have built up over the last several minutes of cooking. If you add cold liquid to the pot it's going to take some time to reheat that before you can continue with the recipe.
Substitutions/FAQ for Mexican Rice
Can you substitute canned tomato for fresh in Mexican rice? The answer is Yes! I have done it many times, and it tastes just fine. I would recommend using fresh if possible, but about half a can of diced tomato or whole tomatoes works just fine.
Can you use chicken and tomato bouillon cubes instead of chicken broth? The answer is Yes! This is a trick that many Mexican cooks use to give another layer of tomato flavor to their rice.
I don't have all these spices in the recipe. Should I wait to make Mexican rice until I have them all? The answer is No! The spices used for Mexican rice vary from cook to cook. Some hate the idea of adding cumin, and some add a little oregano. You can make great Mexican rice as long as you have tomato, onion, garlic, and salt. Add whatever spices you do have. It will be yummy!
Can I freeze Mexican rice? The answer is Yes! Spread freshly steamed rice out on a rimmed baking sheet (let it stay fluffy, don't smash it down). Freeze for about 30 minutes, then scoop into freezer bags and label it. To reheat: place the desired amount into a microwave-safe bowl, cover tightly, and microwave until just heated through. Fluff and serve immediately.
Spanish rice vs Mexican rice
Spanish rice and Mexican rice are names used interchangeably, which is understandable because they are quite similar. However, Mexican rice and Spanish rice do have some distinct differences, and it comes down to the history of the spice trade.
To Mexicans, rice was introduced to them from the east by the Spanish, along with Eastern spices like saffron. The Spanish sailors cooked the rice with saffron, along with broth, onion, other spices, and often vegetables and even meats. Wherever the sailors went in 1600 to 1800s, so did 'Spanish rice'.
However, through the passage of time, saffron and Eastern spices were replaced by locals in the Americas with flavorful Central American ingredients, such as tomato, annatto, cumin, and chile peppers, creating a new recipe: Mexican rice.
So the difference between Mexican rice and Spanish rice is that Mexican rice uses a slightly different spice blend than Spanish rice; Mexican rice uses anatto and sometimes cumin and chile powder, while Spanish rice uses saffron and turmeric. Some also say that Spanish rice is heavier and stickier than Mexican rice.
So even though the two recipes are cooked in a similar fashion, with toasted rice steamed in a blend of vegetables and spices, the difference between the two is in the spices and the history of the spice trade. Interesting side note- Spanish traders introduced chile peppers to Eastern Oriental countries and it's now an integral part of their cooking, just as rice is to Central America!
How to make Mexican Rice
When making Mexican rice, first we need to make the flavorful tomato puree to cook it in. Add all the ingredients for this puree into your blender and blend away. Place the puree into a microwave-safe container so you can reheat it later for the recipe.
Next, thoroughly rinse your rice and allow excess water to drip out. While the rice dries, prepare your pot by setting it over medium heat and adding a little oil to toast your rice.
I like to infuse my cooking oil with garlic when I make Mexican rice. So I'll gently smash a garlic clove, keeping it intact, and stir it around the pot into my oil for a couple of minutes. I find I really love the way this garlic flavors the rice!
Toast the rice slowly by stirring it constantly over medium heat in the infused oil. This step usually takes several minutes to get a golden brown color. Don't do it too fast or you will burn the rice!
Now is the time to reheat the tomato puree. There is no specific temperature, just add it to your rice hot so you can maintain the heat in your pot. When you add it, it should boil. Stir the rice and puree together and cover with a well-fitting lid.
Set the temperature to low and cook for about 20 minutes. If you have a transparent lid, it makes this step easy because you can actually see when the rice is cooked. If you don't (like me), 15 minutes on low heat does the trick. Remember, don't open the lid when you're steaming rice! You'll let all the steam out!
When the rice has cooked, I will let it sit off-heat for another 15-20 minutes before I open the lid, to soften it even more and ensure that all the liquid is absorbed.
Fluff the rice and serve!
I hope you find joy in making this recipe and please give me a shoutout if you post a pic of the recipe on social! Follow me on Instagram @TheGoldilocksKitchen, Facebook page The Goldilocks Kitchen, or Pinterest @GoldilocksKitch. Don't forget to rate the recipe and leave a comment- I want to hear your feedback! (This is a blog after all and that's the whole point right?!)
Print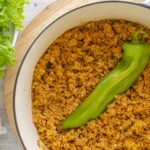 Mexican Rice with Hatch Green Chile
---
Author:

Emily

Total Time:

1 hour

Yield:

6

servings

1

x
Description
Authentic Mexican rice accented with the bright zesty flavor of Hatch Green Chile.
Equipment needed:
Blender
Cast iron skillet with a lid or heavy-bottomed pot with a lid
Cutting Board
Sharp knife
---
1/4

small onion

2

small, fresh Roma tomatoes, or

1/2

a can of whole tomatoes

2

and 1/2 cups chicken broth, divided

1 tablespoon

tomato paste

2

whole garlic cloves

1/4 teaspoon

turmeric

1/8 teaspoon

cumin

1/4 teaspoon

coriander

1 tablespoon

Hatch Green Chile Powder

1/2 teaspoon

salt

2

–

3

tablespoons vegetable oil

1

cup

long-grain rice, thoroughly rinsed with water and drained
---
Instructions
In a blender, place the onion, tomatoes, 1/2 cup of chicken broth, tomato paste, one whole garlic clove, turmeric, cumin, coriander, Hatch chile powder, and salt. Blend until smooth, about 30 seconds to 1 minute.
Place a cast iron skillet or heavy-bottomed pot over medium heat and add just enough vegetable oil to coat the bottom. When it is heated, add the second clove of garlic and gently press on it with a wooden spoon to break it open and release its juices. Stir the broken garlic clove around in the hot oil for about a minute to flavor the oil. Remove and discard.
Transfer the tomato blender mixture to a microwave-safe bowl or large measuring cup and heat it in the microwave for about 3-5 minutes. Set aside.
Add the rice to the pot and, while stirring constantly, toast it to a light golden brown color. (This step can take anywhere from 5 to 10 minutes.)
Stir in the blended tomato mixture and cook, stirring constantly, for about 3 minutes. Stir in the remaining chicken broth. Bring to a boil, then cover with a well-fitting lid. Turn the heat to low and cook for 15 minutes. Do not remove the lid.
Remove from heat, without removing the lid, and allow the rice to sit for 20 minutes. Open the lid and fluff the rice with a fork. Serve.
Notes
If you don't have access to Hatch green chile powder, you can substitute roasted green chile instead. Place 4 ounces of green chile into the blender with the tomatoes in step 1.
Prep Time:

15 minutes

Cook Time:

45 minutes