The Ultimate Mexican Sandwich: Easy Tortas Ahogadas- For Weeknights
Why this recipe works: Traditional tortas ahogadas take hours to make. To help this recipe be less intimidating, I've slimmed down the time to about 30 minutes without sacrificing flavor so anyone can enjoy these sandwiches!
The Hatch Chile Store has kindly supported this post. All thoughts and opinions are my own (and highly persuasive). This post also contains Amazon affiliate links in which I earn a small commission for any sales. Thanks for your support!
What are Tortas Mexican?
In this post, we're diving head first into a Mexican cuisine that, surprisingly, most folks in the United States don't know about- Tortas. So what are Tortas Mexican?
Tortas Mexican is Spanish for 'Mexican Sandwiches'. These sandwiches are made with bread, usually sourdough, and filled with a variety of Latin foods such as refried beans, cheese, chile pepper salsas, vegetables, fruits, and savory meats.
Did you know that folks south of the border eat sandwiches on slices of bread as well, and not just burritos or tacos??? I'm curious as to how many Americans even know about Tortas since they don't show up on Mexican restaurant menus here in the States (that I've ever noticed). Leave a comment down below with your thoughts…
What is Tortas Ahogadas?
There are quite a lot of delicious Mexican/Latin American sandwiches I'd love to talk about, but one of the most famous of them all is the Tortas Ahogadas, which originates from the city of Guadalajara Mexico.
Tortas Ahogadas translates to 'drowned sandwich' in Spanish. This sandwich consists of refried beans, carnitas, and pickled onions served on a Mexican sourdough bread roll called a salted birote. The sandwich is served smothered with cooked tomato sauce and spicy salsa. Tortas Ahogadas are often served with other fixings and garnishes like avocado, raw onion, lettuce, lime wedges, sliced radishes, pickles, and cilantro.
This recipe made traditionally from scratch (including making the salted birotes) takes hours. The meat is slow-cooked, the bread has to bake, and the beans need to be softened, then refried. A labor of love for someone who has time to make a special meal, but who has that kind of time??
Most of us just do not have this kind of time. So in this recipe for Easy Tortas Ahogadas, we will be substituting most of the 'from scratch' elements with store-bought ones to get this recipe on the table fast. However, I have some tricks up my sleeve to share with you on how to make these store-bought items taste a whole lot more like scratch!
The spicy salsa traditionally served with Tortas Ahogadas is made with chile de arbol, spicy little red chiles. For a real treat, I used red Hatch chile pepper sauce in place of the chile de arbol sauce because I love the flavor of Hatch chile, I'm from New Mexico, and I've always wanted to try it with my Tortas Ahogadas!
What are Hatch Chile Peppers?
Hatch Chile peppers are world famous for their delicious flavors, produced by the unique climate and soil composition that exists only in the Hatch Valley of Southern New Mexico. These factors combine to grow exceptional-tasting chile peppers with smoky, sweet, and hot flavor notes. More people discover Hatch Chiles each year, and their popularity continues to grow.
Growing up in New Mexico where chile peppers are an integral part of the culture, I know that Hatch chiles have earned a reputation for being the best of the best. I personally only use authentic Hatch in all my cooking because it simply tastes amazing. You should be able to find canned Hatch chile in any supermarket these days, or you can order it directly like I do. Frozen chile is much, much better tasting than canned!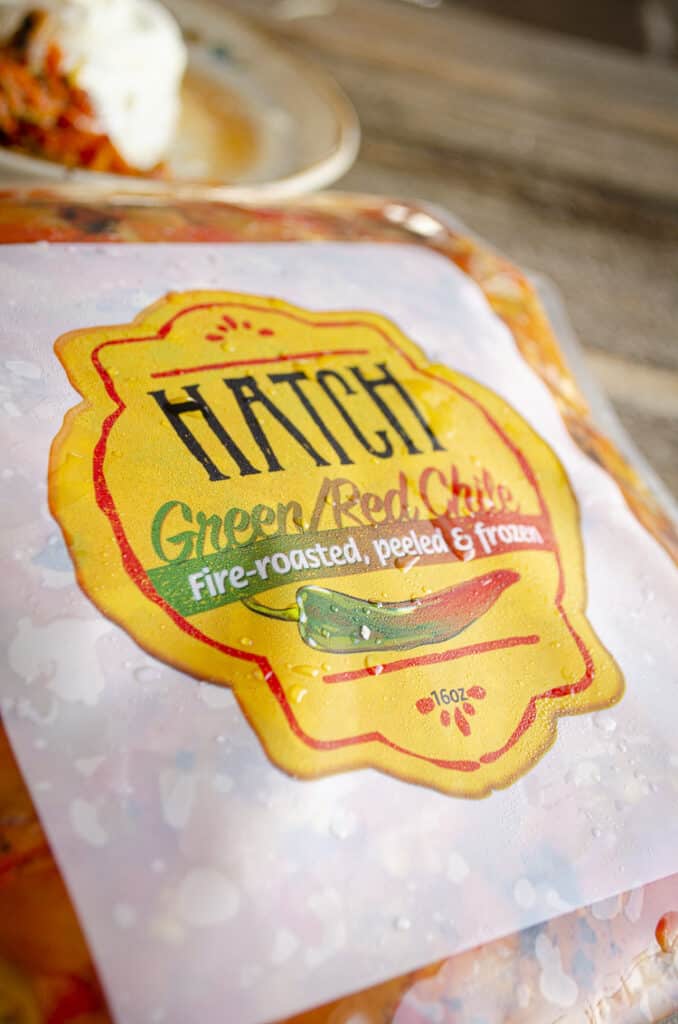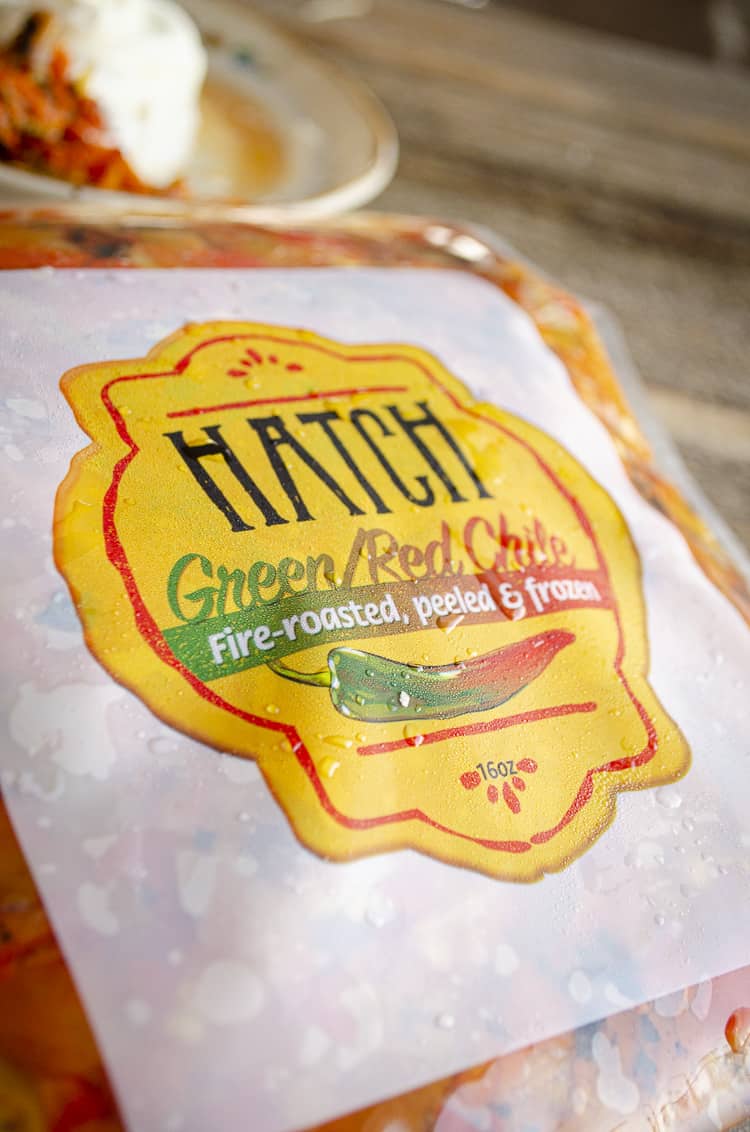 The Hatch Chile Store is the premiere website for ordering your Hatch chile– they are incredibly good at shipping fresh authentic chile right to your door, whatever variety and hotness lever you prefer. It's where I get all my Hatch Chile, and I must say the flavor really does stand out above any other chile pepper variety.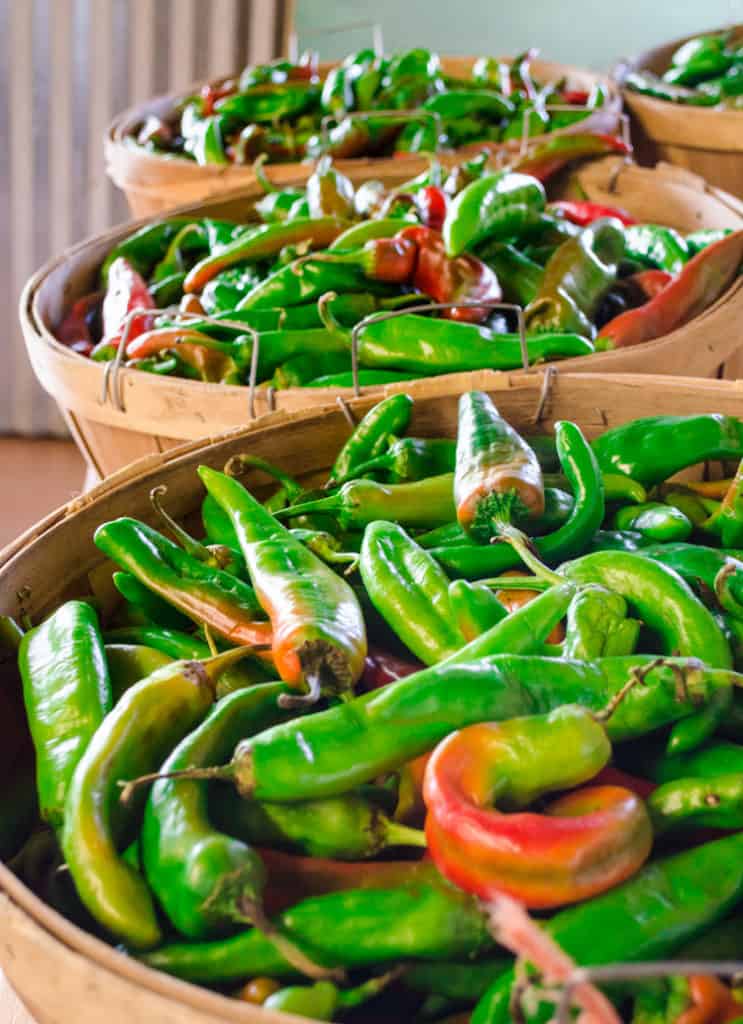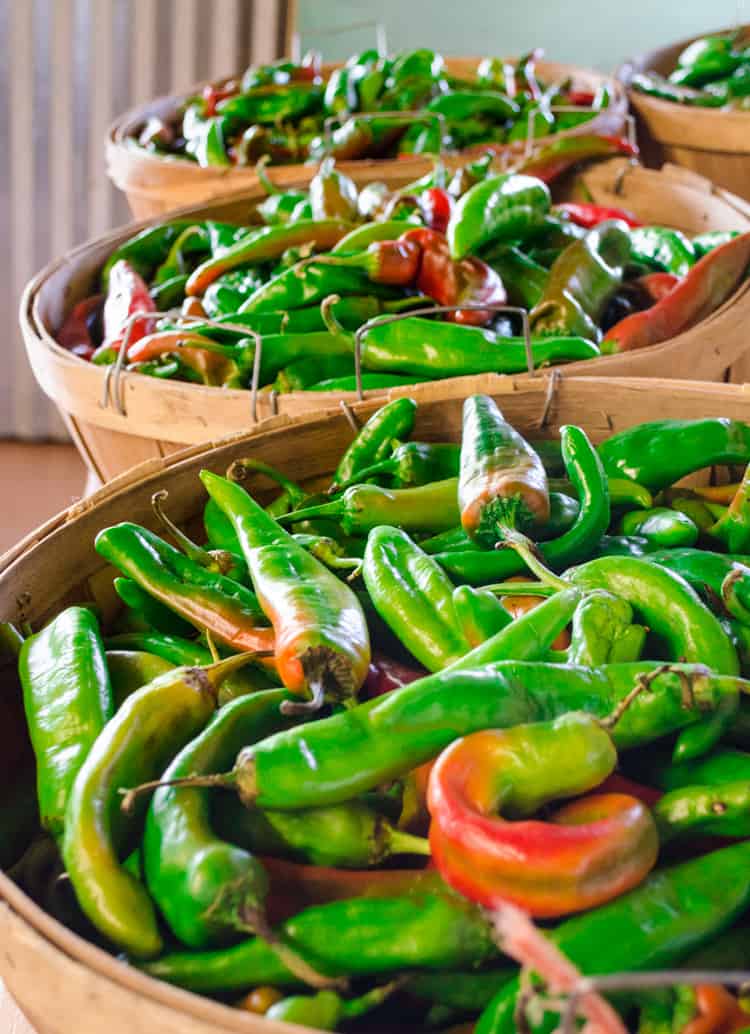 Head on over now to The Hatch Chile Store to stock up on the most delicious Hatch chile you can buy anywhere- they've always got great deals on your favorite products!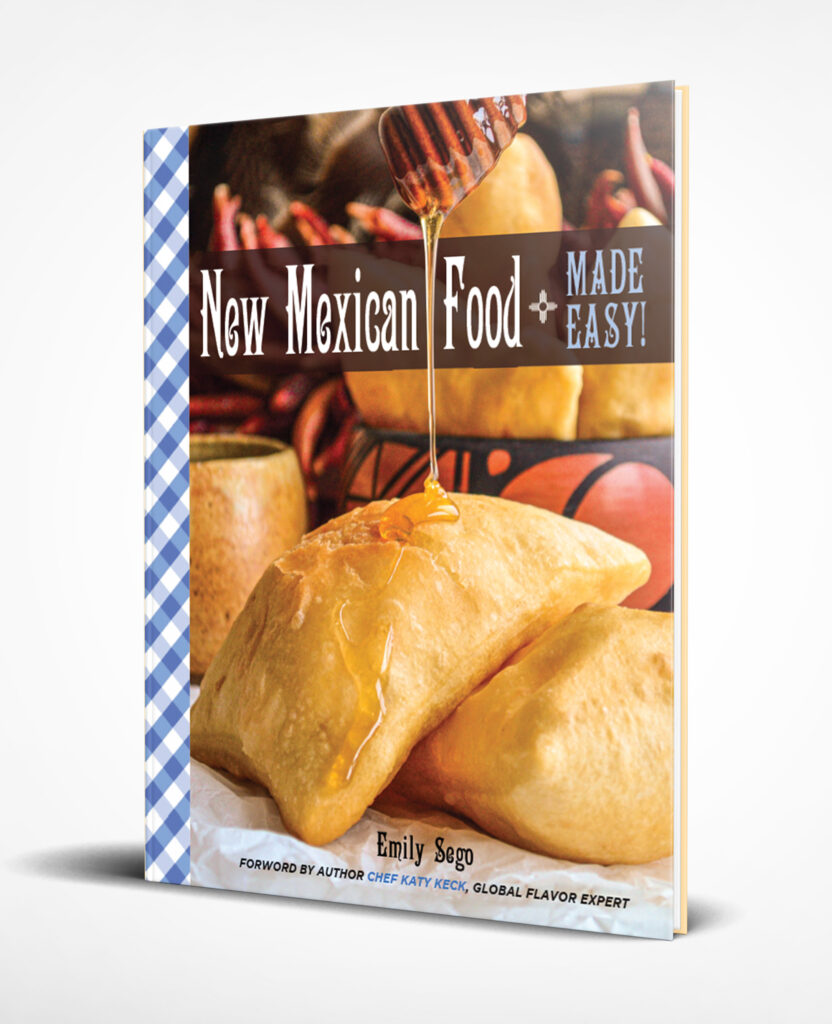 Did you know I have a full-color cookbook with lots more easy and delicious New Mexican recipes? You can learn more about it here!
How do you eat Tortas Ahogadas?
From my experience, if the bread is nice and toasty/crunchy most people pick up a Tortas Ahogada with their hands and eat it just like any other sandwich (because it's not soggy). However, if the bread you used happens to be soft, it will soak up all the sauce and become very soggy. In that case, you'll need a fork to eat it.
Easy Tortas ahogadas recipe guide and FAQ
Tortas ahogadas 'drowning' sauce recipe
I chose to focus the majority of the cooking in this recipe on the pureed tomato sauce that smothers the sandwiches. It's the one component of this recipe that can't be store-bought and brings such a fresh delicious flavor to this dish.
The sauce is a simple combination of tomatoes, garlic, and spices that are cooked to meld flavors, then pureed smooth in a blender. You can take it one step further and pour it through a strainer for a thinner, soup-like consistency. Your preference.
All the other ingredients for these fabulous tortas should be tasty enough when storebought, but the secret is in the sauce for this one :0)
Which bread to use?
Salted Birotes are the perfect choice of bread for Torta Ahogadas because they are very crusty on the outside and soft on the inside. The crustiness is what allows this sandwich to hold up to being drowned in the tomato sauce without getting too soggy.
After browsing around my market for a while, I wasn't able to find any salted birotes; you will probably have a hard time finding this specialty bread as well unless you have a handy Mexican market nearby.
So what to do? Grab some sub sandwich rolls and toast them in the oven at 350℉ for about 10 minutes to form the crunchy crust needed for these sandwiches!
Using store-bought Carnitas
Storebought carnitas are a very convenient way to get that delicious carnitas flavor without the hours and hours of slow cooking. To make this meat taste really fresh, my trick is to warm the meat up in some freshly squeezed orange juice. I swear it tastes just like homemade when I do this.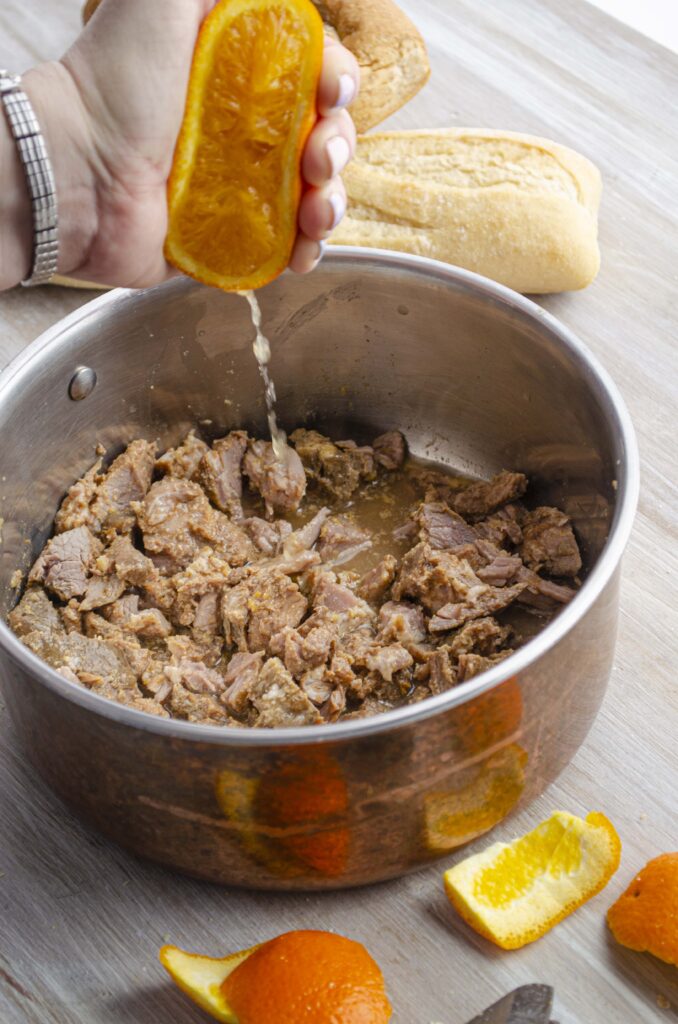 I can't talk enough about these shredding scissors! I use them constantly to shred meat, especially in instant pot recipes because they are so quick and so much easier to use than two forks. I don't have to remove any meat- I can just shred it right in the pot. I love them and Highly recommend them!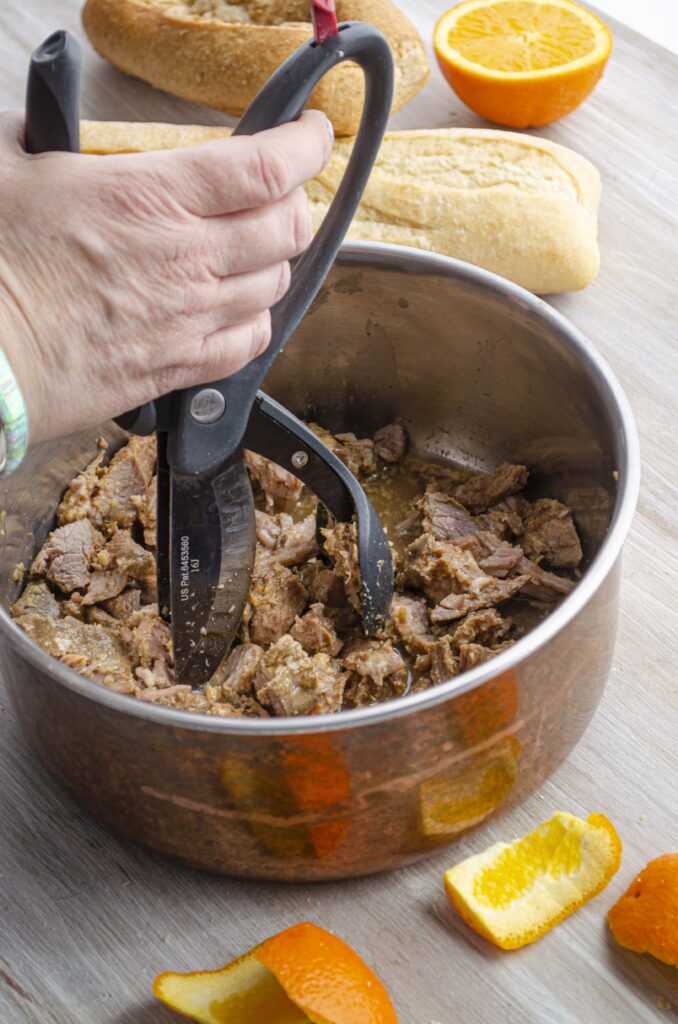 Which onion to use?
Pickled onions are a necessary part of building a Tortas Ahogadas sandwich. You can pick up a jar at the grocery store or quickly 'pickle' them yourself in about 10 minutes. You can use either white or red onion, that's your personal preference :0)
White diced onion is an option as well as an additional topping.
Assembling the Tortas Ahogadas
Follow these handy step-by-step photos to make and assemble your Tortas Ahogadas!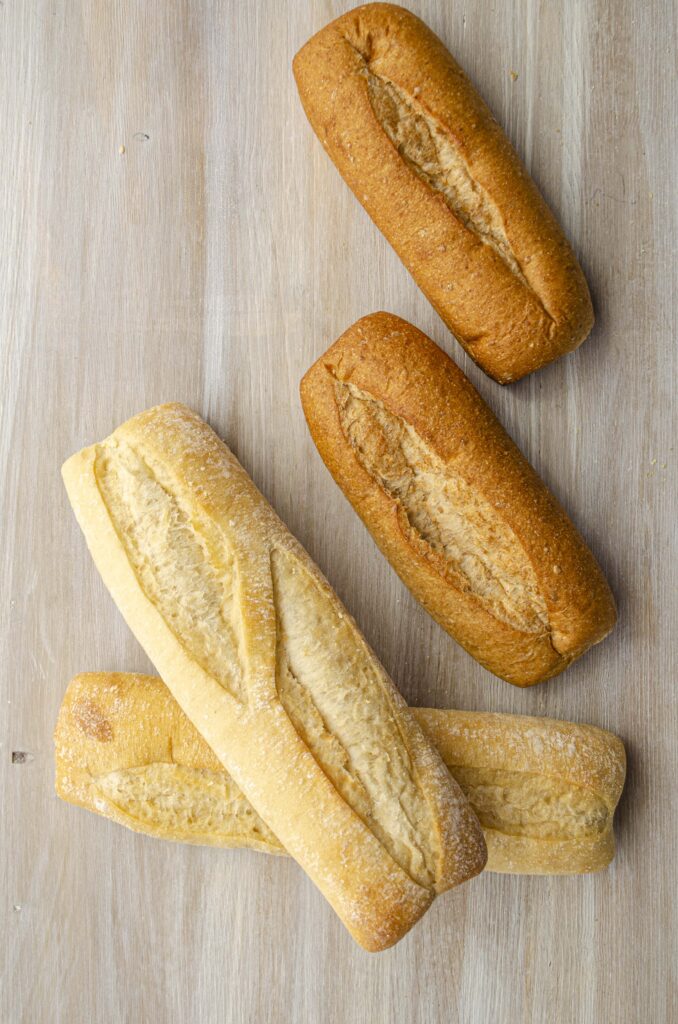 I hope you find joy in making this recipe and please give me a shoutout if you post a pic of the recipe on social! Follow me on Instagram @TheGoldilocksKitchen, Facebook page The Goldilocks Kitchen, or Pinterest @GoldilocksKitch. Don't forget to rate the recipe and leave a comment- I want to hear your feedback! (This is a blog after all and that's the whole point right?!)
Print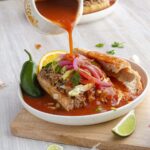 Easy Tortas Ahogadas
---
Author:

Emily

Total Time:

35 minutes

Yield:

4

sandwiches

1

x
Description
Enjoy the flavors of this Mexican specialty sandwich as a weeknight dinner- including the refried beans, carnitas, pickled onions, and sauces, in about 30 minutes.
Equipment needed:
sauce pot
blender
---
1

(28oz can) of diced or whole tomatoes*

1

clove of garlic, crushed

1/2 teaspoon

cumin

1/2 teaspoon

coriander

1 teaspoon

onion powder

1

–

2

teaspoons red Hatch Chile Powder

1 tablespoon

vinegar*

1 teaspoon

dried Mexican oregano

4

sub rolls (or

2

demi (mini) French baguettes sliced in half *

1

pound

fully cooked store-bought pork or beef carnitas (about 2 and a half cups)
Juice from

1/2

an orange

3/4

cup

refried beans

1

jar of pickled onions

1

jar Hatch red chile sauce
optional toppings: diced white onion, fresh avocado, lime wedges, fresh cilantro, pickles, sliced radishes, crema
---
Instructions
Set your oven to heat to 350°F. In a medium saucepan, combine the can of tomatoes, 1 cup of water, crushed garlic clove, cumin, coriander, onion powder, red chile powder, vinegar, and oregano. Set the pot over medium heat and bring it to a low simmer. Cook for 10 minutes. Place into a blender and remove the stopper in the center of the blender cover. Place a kitchen towel over the opening and puree until smooth, about 30 seconds. Pour through a strainer if desired. Set aside.
When the oven reaches temperature, place your rolls directly on a wire rack and bake for 8-10 minutes, or until the crust is very crispy. Remove from the oven and set aside to cool.
While the sauce is simmering and the rolls baking, add your carnitas to a separate clean pot and squeeze the juice out of the orange half over the meat. With a sharp knife, cut some large pieces of the orange peel off and add them to the pot with the meat. Set the pot over medium heat, stirring occasionally, until the carnitas are fully reheated. Discard the orange peels, set the carnitas aside, and cover them to keep warm.
Warm the refried beans as desired, either in the microwave or in a small saucepan.
Assembly
Slice toasted bread to open like a book. Spread the insides with refried beans. Fill sandwiches with carnitas, then top with pickled onions and any optional toppings.
Pour prepared warm tomato sauce over the meat and toppings, then over the top of the bun to fully coat. Garnish with a dollop of Hatch red chile sauce (more or less for desired heat). Serve immediately.
Notes
* Rolls: If you manage to find traditional birote rolls, skip toasting them in the oven. They already have a great crunchy crust.
*Tomatoes for the sauce can be either fresh or canned. I used canned for convenience, but if you'd like to make this sauce using fresh tomatoes, simply core 5-6 Roma tomatoes and add them whole to the pot instead of using the 28oz can of tomatoes. Add the water, garlic, and spices, and continue with the recipe as written.
* Vinegar can be white, apple cider, or red wine vinegar.
Prep Time:

5 minutes

Cook Time:

30

Cuisine:

Mexican
Keywords: Torta, Mexican Sandwich, Carnitas, Hatch chile, red chile peppers