If you're not from The Great White North, then chances are you've never heard of a Butter Tart. Well let me introduce you to the most popular pastry of Canada! They are so simple and really deliciously sweet. Butter Tarts are mini-pies you hold in your hand that are filled with a sweet and creamy mixture of butter, brown sugar, cream and eggs. It's all held together with a light and flaky pastry crust. Many have a surprise in the filling~ either raisins or chopped nuts can add a delightful extra bit of tastiness. Or you can just make them plain. (That's the way I like them best!)
I was almost immediately introduced to these lovely treats when I arrived in Toronto. I do have to say, after eating many Butter Tarts I learned that they should be enjoyed fresh and warm.
If you're the kind of person that really likes the taste of cookie dough, you'll love these little delights. I think the best thing about cookie dough is the creamy, sugary butter taste. And these 'tarts' are essentially that, unsalted butter and brown sugar are creamed along with eggs and half and half. But you get that sugary butter taste after they're cooked, so no worries about eating raw egg :0) They are really simple to make, especially if you purchase ready made pie dough for the crust. I used my recipe for foolproof pie dough, and they were light, flaky and perfectly delicious. I had to make a second batch because we ate too many and I didn't have enough to photograph!
As you can see in the pictures, they are fallen in the middle, and this is the normal look for any butter tart. The filling will rise up quite a bit when they are baked, and will be domed up above the rim of the pie crust. Once they are removed from heat they cool and collapse a bit.
Print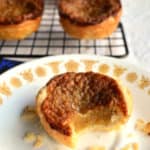 Canadian Butter Tarts
---
Author:

Emily

Total Time:

43 minutes

Yield:

18

tarts

1

x
Description
Don't let the name fool you- these are deliciously sweet mini-tarts with hints of caramel and maple in their smooth filling, reminding you of a pecan pie without the pecans. A staple found in most bakeries in the Great White North, Butter Tarts are sadly underutilized in the US and around the world. 
---
1

package of refrigerator pie crusts (double crusts)

1/3 cup

unsalted butter, room temperature

3/4 cup

light brown sugar

2

large eggs

1 teaspoon

vanilla

1 teaspoon

real maple syrup

1/3 cup

light cream
optional: 1/2 cup raisins or chopped nuts like walnuts or pecans
---
Instructions
1. Place pie crust on the counter to come to room temp. Cut into 4 inch rounds using a 4″ cookie cutter (or small bowl or large lid). Gently press pastry rounds into the cups of a greased or sprayed mini-muffin tin. Knead remaining dough and roll and cut again until you fill all twelve cups. Place in the refrigerator and continue with the filling.
2. Set an oven rack to middle position and set oven to heat to 375 degrees. In the bowl of a stand mixer, whip butter at medium speed until light for about a minute. Scrape down the bowl if needed. With the whisk on medium, add in the brown sugar and mix until fully incorporated. Scrape down bowl if needed.
3. Next add each egg one at a time, then vanilla and maple syrup, then the half and half. Run the mixer on high for about 30 seconds. Scrape down bowl (especially the very bottom) and mix on high again for another 30 seconds.
4. Transfer filling to a two cup measuring cup (or something easy to pour filling from). If raisins or chopped nuts are desired, sprinkle a few in the bottom of each pastry cup. Fill each pastry cup 2/3 full with filling. Try to fill each cup as evenly as possible.
5. Place in the oven and bake for 17-20 minutes. The filling will puff way up and should be slightly browned at the edges, along with the pastry dough. Remove the butter tarts and cool on a wire rack for 10 minutes. Gently remove them by running a knife around the edges. Push the knife underneath and lift them out. Place on a wire rack to cool for 15 additional minutes. Repeat recipe with the remaining dough and filling. Serve warm or room temperature.
Prep Time:

20 minutes

Cook Time:

18 minutes

Category:

dessert

Cuisine:

Canadian