Authentic New Mexican Sopapillas
A True Southwestern Dinner isn't Complete Unless You Include a basket of Authentic New Mexican Sopapillas
Anyone who has ever lived in New Mexico knows what Authentic New Mexican Sopapillas are; 'little pillows' of a very simple flour dough that puff up hollow when fried. And I do mean puff up! All it takes to make them is flour, warm water, baking powder, salt, sugar, and vegetable oil.
Many people who have grown up in NM believe that sopapillas are a local creation. Well, yes and no. (plz no hate mail). Our Nuevo Mexico version has been influenced by all the native fry bread that is eaten in the region, and is certainly unique to the Southwest. But no, it wasn't invented by anyone in New Mexico. I may ruffle a lot of feathers for writing about this, but all I have to say is "don't kill the messenger"!
Where did Sopapillas come from?
The sopapillas we enjoy today originated with Spanish influence, which permeated all throughout south America and of course, into north America as well several hundred years ago. People in Peru, Argentina, Chile, and even Uruguay have their own form of sopapillas. The Spanish may not have invented it either, because the name sopapilla or sopaipilla, or sopaipa, originates from the word Xopaipa, an Arabic word for bread soaked in liquid! Remember in history class when you learned that the Arab world controlled Spain for a while? Yeah, me neither. But it did, and left us all to enjoy sopapillas today (and you have something interesting to think about next time you bite into one).
Anyway, back to food talk 😋
You talk about being full of hot air, the pocket inside is the perfect cavity for filling with all sorts of delicious things like honey, frijoles con carne (refried beans and meat), or even ice cream. Sopapillas can be eaten as an appetizer, main course, or dessert!
Are Beignets and Sopapillas the same thing?
Beignets (pronounced: Ben-yay's) and Sopapillas ARE NOT the same thing. Beignets are a deep fried dough consisting of yeast, sugar, flour, eggs, milk, and butter. They do not puff up hollow when fried. New Mexican Sopapillas puff up hollow like a balloon when fried and have a much simpler dough consisting of just flour, baking soda, salt, vegetable oil and a touch of sugar. Beignets are served with a generous dusting of powdered sugar, New Mexican Sopapillas are served just with honey, or are stuffed with beans or meat as an entrée.
Next to Hatch Green Chile, the Sopapilla is the iconic symbol of New Mexican food and can be found in just about every regional fare restaurant!
What is the difference between Fry bread and Sopapillas?
In the state of New Mexico, Sopapillas and fry bread have two main differences: Sopapilla dough is rolled out thick and cut into pieces about the size of your hand. The thickness of the dough allows steam to fill the inside puffing the dough up like a balloon when placed into the hot oil. Native or Indian Fry bread is larger in size, about the shape and size of a personal pizza, shaped only by hand (never rolled out with a rolling pin), and does not completely puff up when placed in hot oil. Rather, it has sporadic puffy spots throughout.
One of the amazing things I love about the Southwest is the rich history and culture of the area. The integration of Hispanic and Native American traditions permeates everything from architecture to food. Take a drive by one of the Pueblos on a summer weekend and you'll probably be able to buy fresh fry bread roadside. Make sure you stop and try some; I love it!
Can Sopapilla dough be made ahead?
According to my experiments, the answer is yes, although there are limitations. Sopapilla dough can be refrigerated overnight, but that's as long as I'd let it stay there. After the dough is made it will slowly oxidize, turning a not-so-appealing color of grey. After you get it out of the fridge, it will be VERY sticky, so kneading in more flour will be necessary, then follow that step with another 20-minute rest to allow the gluten in the dough to relax so it can be rolled out into the proper thickness. You may also notice that not as many sopapillas will puff up properly; approximately 25% of my dough didn't puff up properly. But it will still taste good!
I had little success freezing sopapilla dough. By the time it had thawed out on my counter it was like trying to work with taffy it was soooo sticky. And it fried up weird also. I would not recommend freezing sopapilla dough.
How do you eat Sopapillas?
There are two ways New Mexicans eat sopapillas; the first bite of a fresh warm sopapilla is always the corner- then we drizzle honey inside, via the hole created by the missing corner. The other way to eat them is to stuff them with refried beans, taco meat, or shredded meat (like chicken or pork), then smother them in red or green chile sauce, as is the traditional New Mexican way. Oh the joys of sopapilla eating, how I love thee…… 😁😁😁😁
I have never been served sopapillas at any restaurant in The Land of Enchantment (NM) that were sprinkled with powdered sugar. I think sometimes out of state chefs still treat them like beignets, even though they are quite clearly, not beignets.
Why do Sopapillas puff up?
When that moist dough hits hot cooking oil, two things happen: steam fills the inside of the sopapilla like party balloons for your birthday AND the baking powder in the dough begins to produce carbon dioxide. It's a mixture of these two factors that puffs up this crazy dough into all kinds of fun shapes!
There is no secret ingredient sauce or technique for making sopapillas, they are actually quite simple. The most important thing to remember is to keep the dough moist. If it dries out, it will lose its elasticity and fry up as a really big tortilla chip. If the dough is over-kneaded, too much gluten will form and you won't be able to roll the dough out to the proper thickness either. If you follow my instructions they should turn out just right every time! And thank you so much to my friend Genevieve who taught me this recipe so long ago.  :0)
Print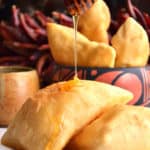 Authentic New Mexican Sopapillas
---
Author:

Emily

Total Time:

30 minutes

Yield:

12

sopapillas

1

x
Description
Puffy, golden and hollow, Sopapillas are the hallmark of New Mexican food. Their crispy yet soft texture is delicious and is simply amazing when drizzled with honey, or stuffed with a delicious hearty filling.
---
4 cups

flour, sifted

1 tablespoon

baking powder

1 teaspoon

salt

1 tablespoon

sugar

2 tablespoons

vegetable oil + 2 2/1 cups for frying (shortening or lard can be used instead of vegetable oil)

1 1/3 cups

warm water
---
Instructions
In a large mixing bowl whisk the flour, baking powder, salt, and sugar together. Create a small depression in the center and pour in 2 tablespoons of vegetable oil. Whisk the oil around in the dry ingredients until little clumps form.
Gently pour warm water into the bowl and stir with a wooden spoon just until the dough just comes together. Dump the dough out onto a clean work surface and continue to knead the dough by hand until it becomes smooth. Divide the dough in half, and seal each half in a zipper-lock bag while you proceed with step 3.
Heat frying oil in a stove-top dutch oven or a heavy-duty frying pan to around 350 to 375 degrees. The oil should be at least 2 inches deep. When the oil comes to temperature remove a bag from one portion of dough and roll the dough to a thickness of 1/8 inch. Using a pizza cutter, cut the dough into squares approximately 4 X 4 for a nice restaurant look. (You can also fry up the extra triangles that are left if you like.)
Place a sheet of plastic wrap over the rolled and cut dough; it's very important the dough stay moist and not dry out while you fry each piece, or it won't puff. Gently lift up one square of dough and slide it into the hot oil. It should begin to puff up within about 5-10 seconds. Use a large spoon or tongs to carefully splash oil over the top until the underside is golden brown, about 30 – 60 seconds.
Flip and fry the other side until both sides are light golden brown. Remove from oil and place in a large bowl lined with paper towels. Repeat with the remaining dough. Serve immediately with honey or stuffing and chile sauce.
Prep Time:

10 minutes

Cook Time:

20 minutes

Category:

Side

Cuisine:

New Mexican
Keywords: sopapilla, sopaipilla, New Mexico