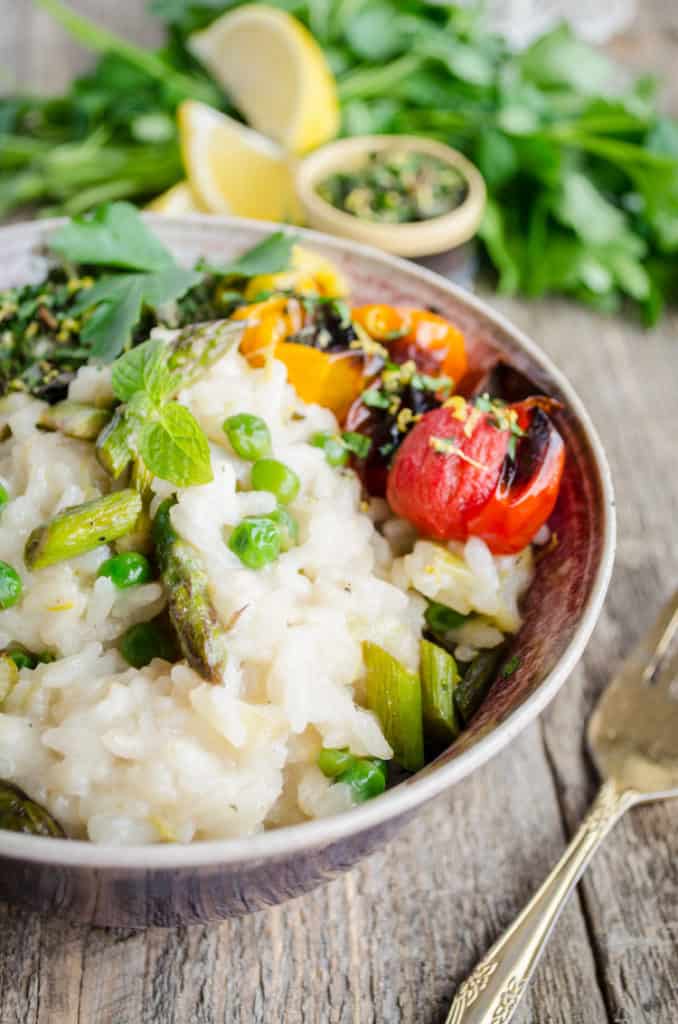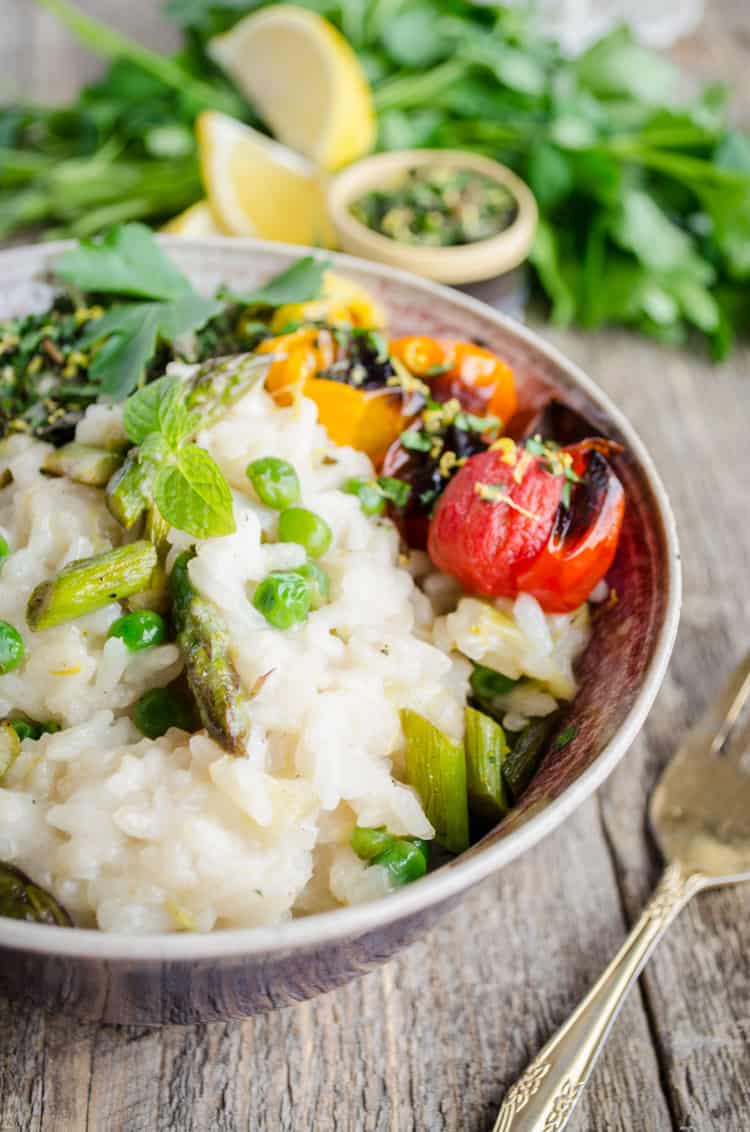 Say 'Hello' to Spring Vegetable Risotto! A carbo-licious classic Italian dish that I can't seem to get enough of.  (This risotto recipe is número tres for me now.) To welcome spring and the fast approaching Easter holiday, treat yourself to a bowl of this Spring Vegetable Risotto with asparagus, peas, and leeks topped with a lovely garnish made from parsley, mint and lemon zest called Gremolata. This recipe easily converts to vegetarian by switching out the chicken broth in the recipe for vegetable broth instead.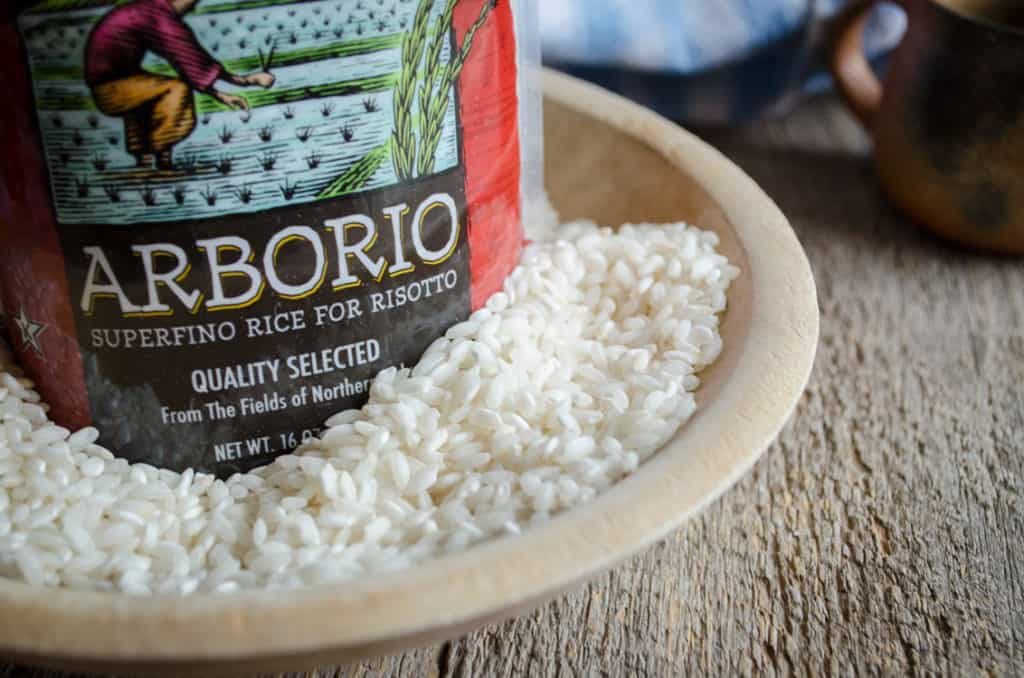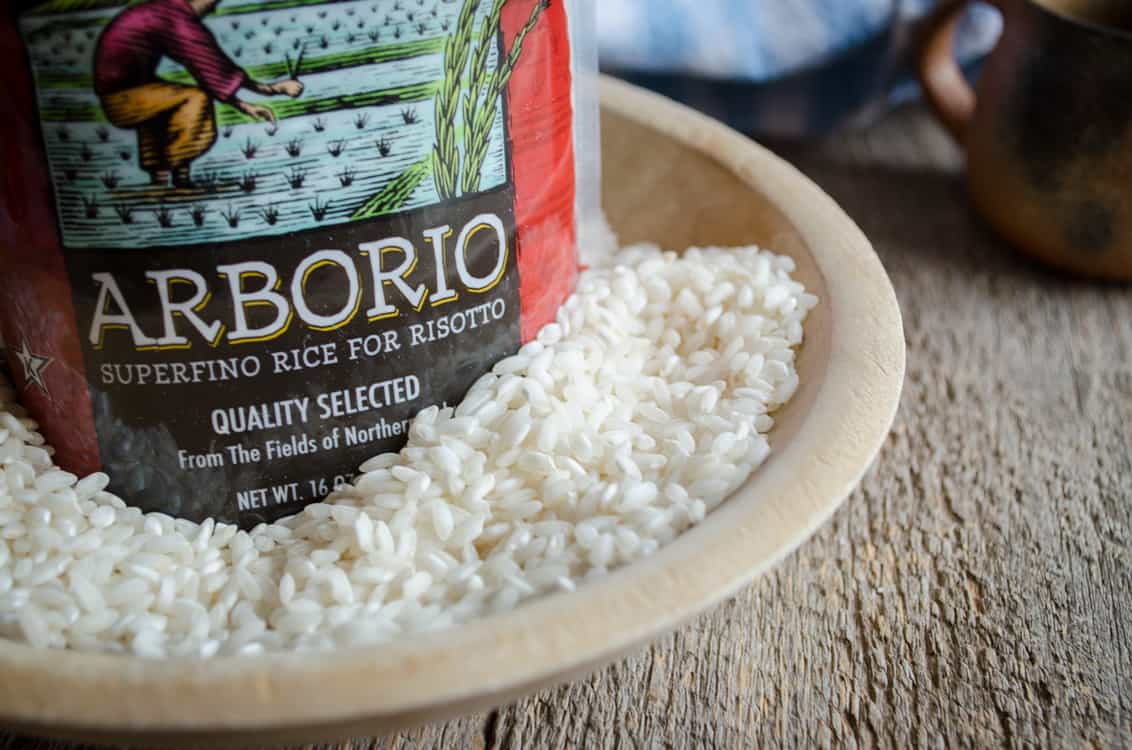 If you've never heard of or had a chance to try a Risotto dish, it's oh so delicious. A specific rice is used, called Arborio rice, that cooks up super creamy and rich when cooked in broth and parmesan cheese.  You can check out my other recipes here and here. Arborio rice isn't too hard to find, I've always been able to find it in the rice section of any grocery store. Traditional Risotto recipes can be quite laborious~ once again I have used some techniques picked up from watching America's Test Kitchen to cut time, not flavor, when creating this recipe.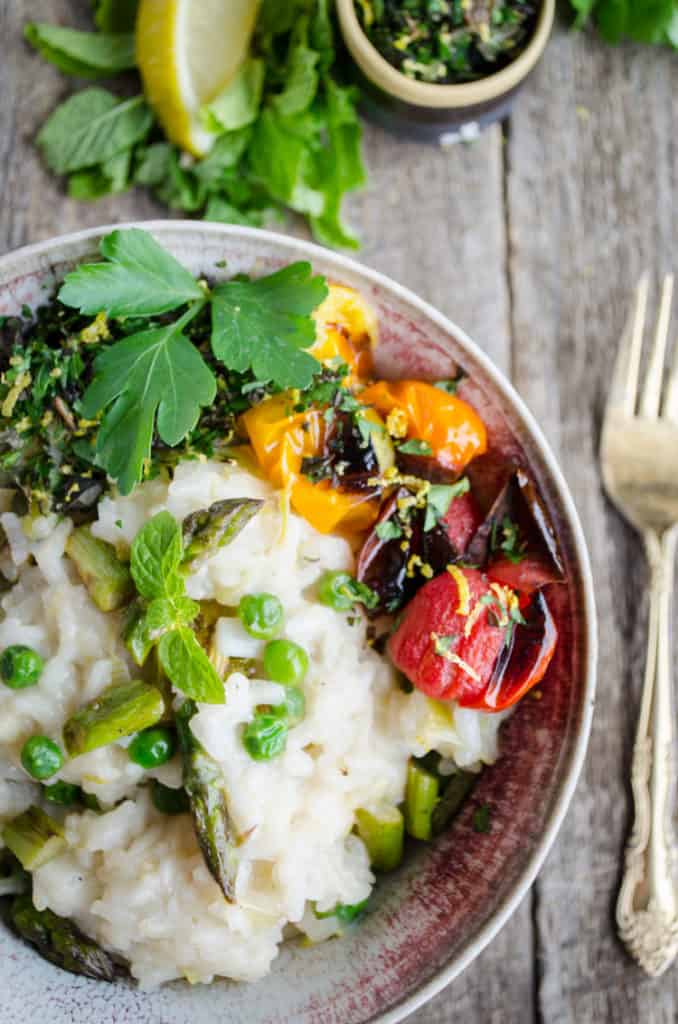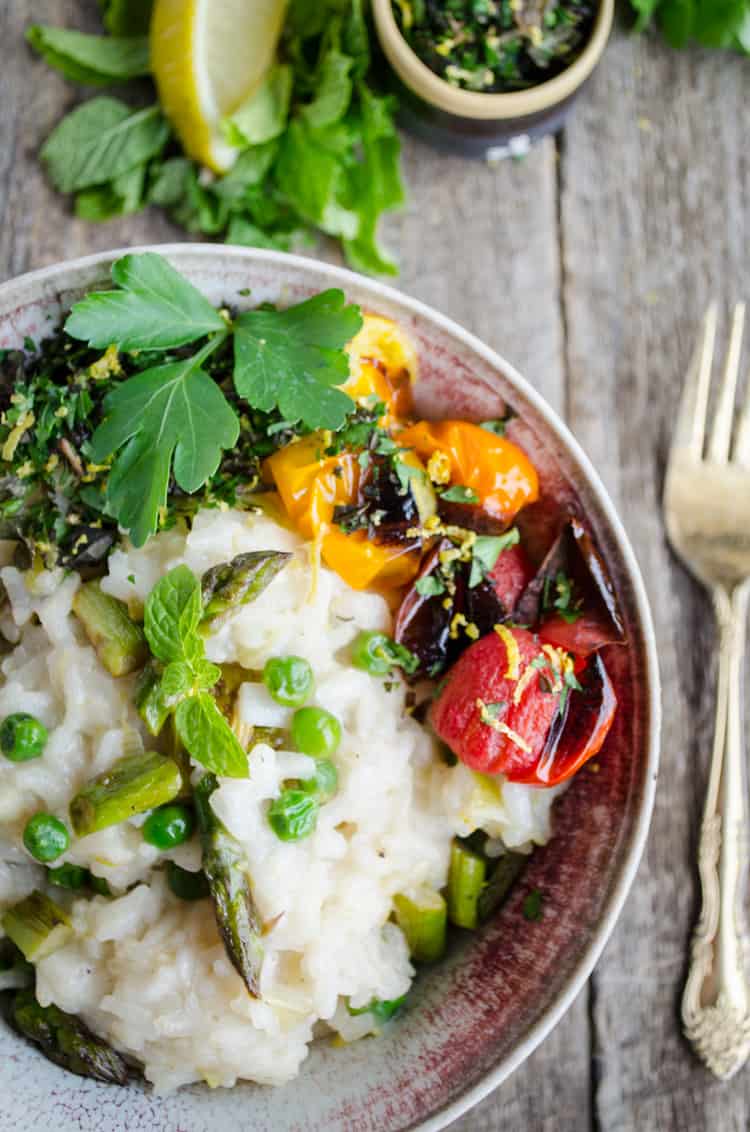 Do you have a home vegetable garden? I super enjoy gardening even though I royally stink at it. I love being able to feed myself without going to the grocery store, or at least save some money not having to purchase so much fresh produce. This recipe for Spring Vegetable Risotto is a lovely way to incorporate some of those spring vegetables you may have growing in your garden into a beautiful dish to present to your family for an Easter feast or other springtime celebration!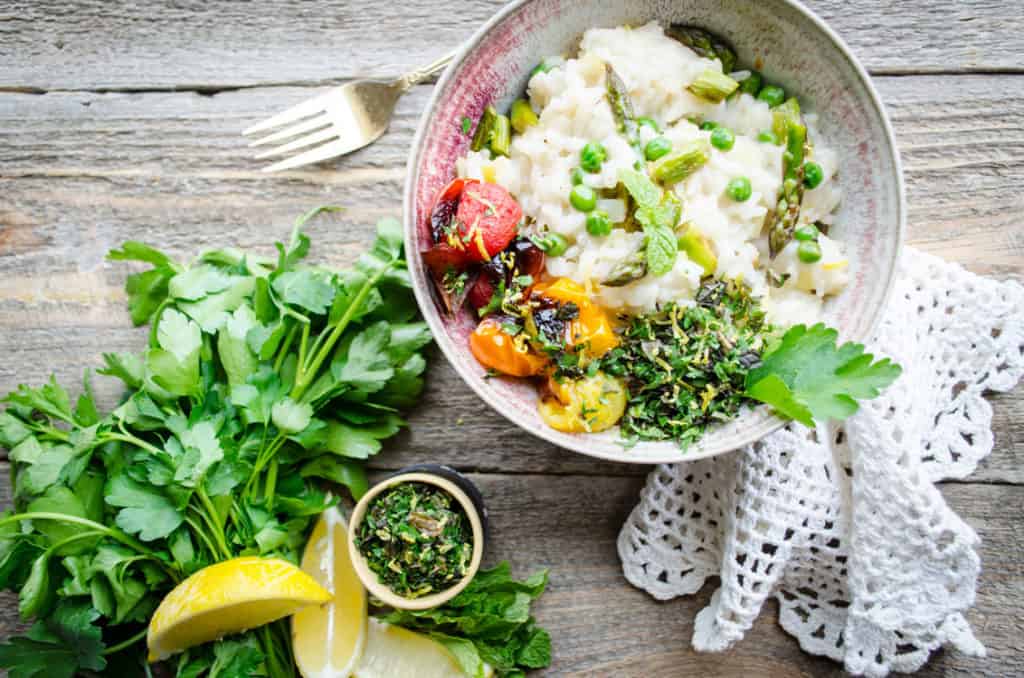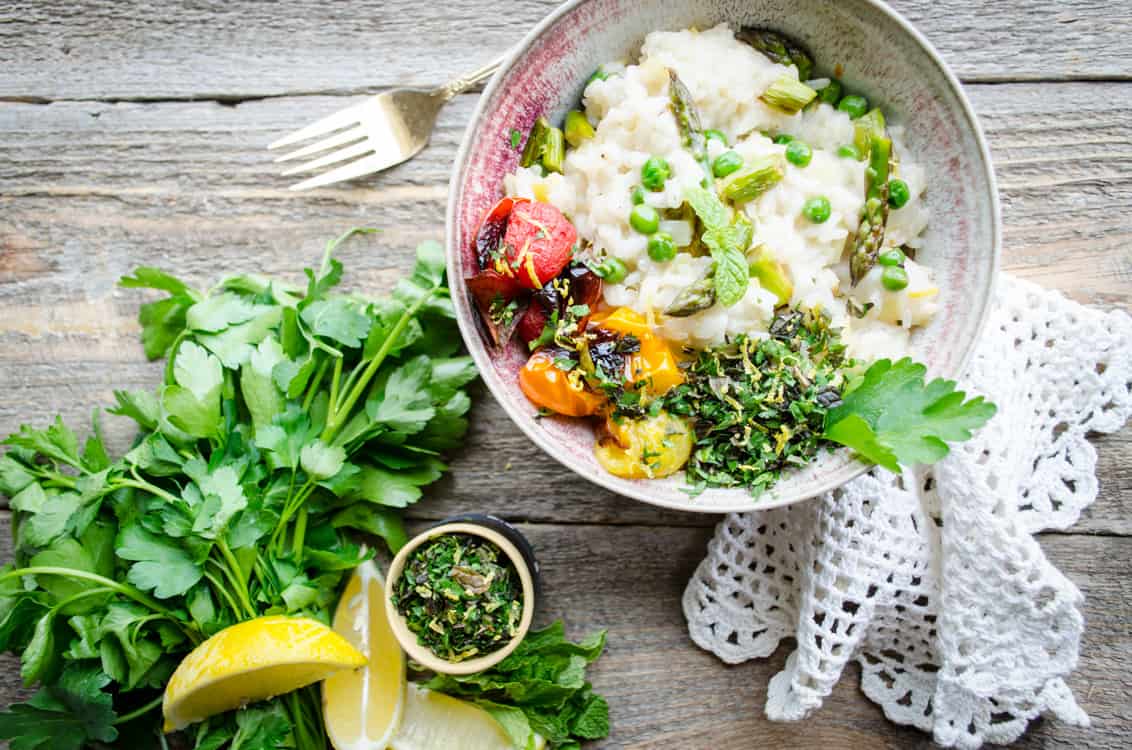 This Spring Vegetable Risotto Recipe will make a huge batch, so be prepared. I use my large 12 inch cast iron skillet when I make risotto, but a large stovetop Dutch oven will do just fine too. It will serve about 12 sides or 6-8 main courses for a vegetarian meal. Hopefully you're feeling the warmth of spring where you live ~ if not hopefully it will come soon! In the mean time, eat lots of Risotto :0)
Print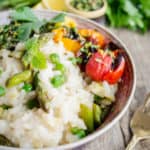 Spring Vegetable Risotto
---
Total Time:

1 hour 10 minutes
Risotto
1

bunch (about a pound) of asparagus spears, tough lower ends discarded; upper ends chopped into

1/2

inch pieces

2

medium sized leeks, white and light green parts halved lengthwise, sliced thin and rinsed thoroughly

4 cups

chicken broth

4 cups

water

1 Tablespoon

white wine vinegar

5 Tablespoons

unsalted butter
Salt and Pepper for seasoning

1/2 cup

peas (frozen is ok)

2

cloves of garlic, pressed or minced

1

and 1/2 Cups of Arborio Rice

1 cup

grated Parmesan cheese

2 Teaspoons

of fresh lemon juice
Garnish (Gremolata)
2 Tablespoons

minced fresh Italian flat leaf parsley

2 Tablespoons

minced fresh mint leaves

1/2 teaspoon

lemon zest
---
Instructions
First prepare Gremolata garnish by combining all ingredients in a small bowl and set aside.
Set the chicken broth and 3 cups of water in a saucepan over medium low heat and cover.
Heat 1 tablespoon of butter in a large stovetop Dutch oven or 12 inch cast iron skillet and sauté the asparagus over medium high heat, seasoning lightly with salt and pepper. Cook for about 5 minutes, then add the peas and cook for about a minute longer. Transfer the vegetables to a container and set aside.
Add 3 more tablespoons butter to your pan and the chopped leeks. Season lightly with salt and pepper, sautéing leeks for about 6 minutes or until soft. Add garlic and cook for 30 seconds. Add the rice and cook, stirring frequently until the ends are translucent, about 3 minutes. Add in 1 cup of water and the white wine vinegar and continue to stir frequently until the water is absorbed, about another 2 to 3 minutes.
Add 3 more cups of hot broth to the rice, stirring frequently until the broth is absorbed and the bottom of the pan is just barely wet, about 12 minutes.
Add in 1/2 cup more broth and simmer, stirring constantly for about 3 minutes. Repeat, adding 1/2 cup of broth about every 3 minutes until the rice is al dente (mostly cooked; chewy texture). Remove from heat.
Stir in 1 Tablespoon of butter, 3/4 cup of the Parmesan cheese and lemon juice, then gently fold in the asparagus and peas. Garnish with Gremolata and what's left of the parmesan. Serve immediately.
Prep Time:

25 minutes

Cook Time:

45 minutes
Nutrition
Serving Size:

12 sides or 6 main course