Norwegian Lefse (Potato pancakes)
Move over pancakes and crépes, Norwegian Lefse is a fun and delicious breakfast alternative!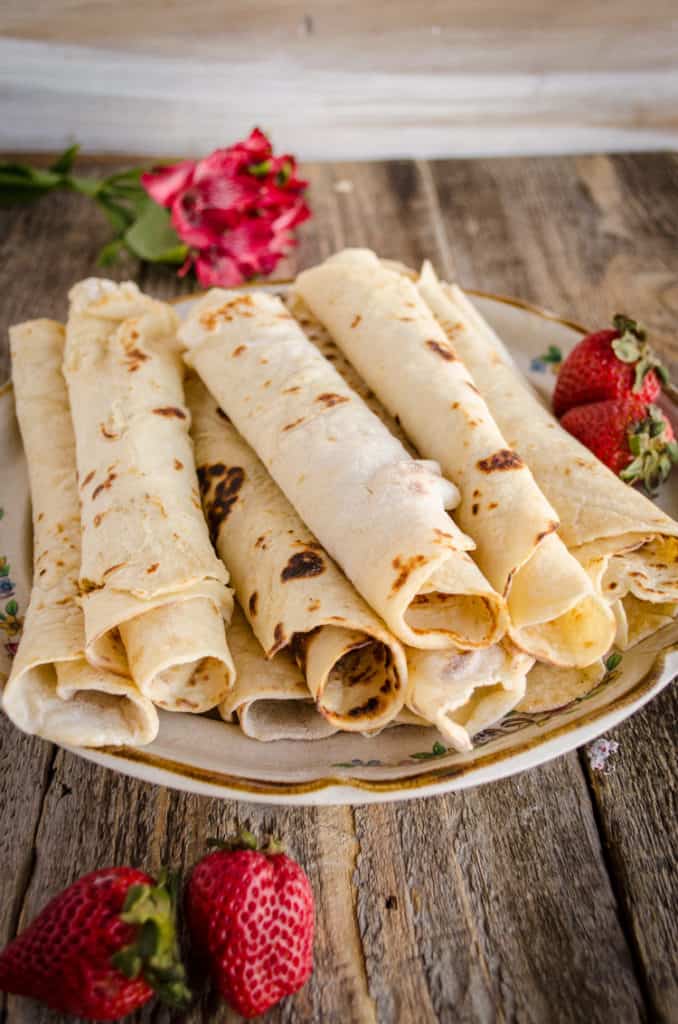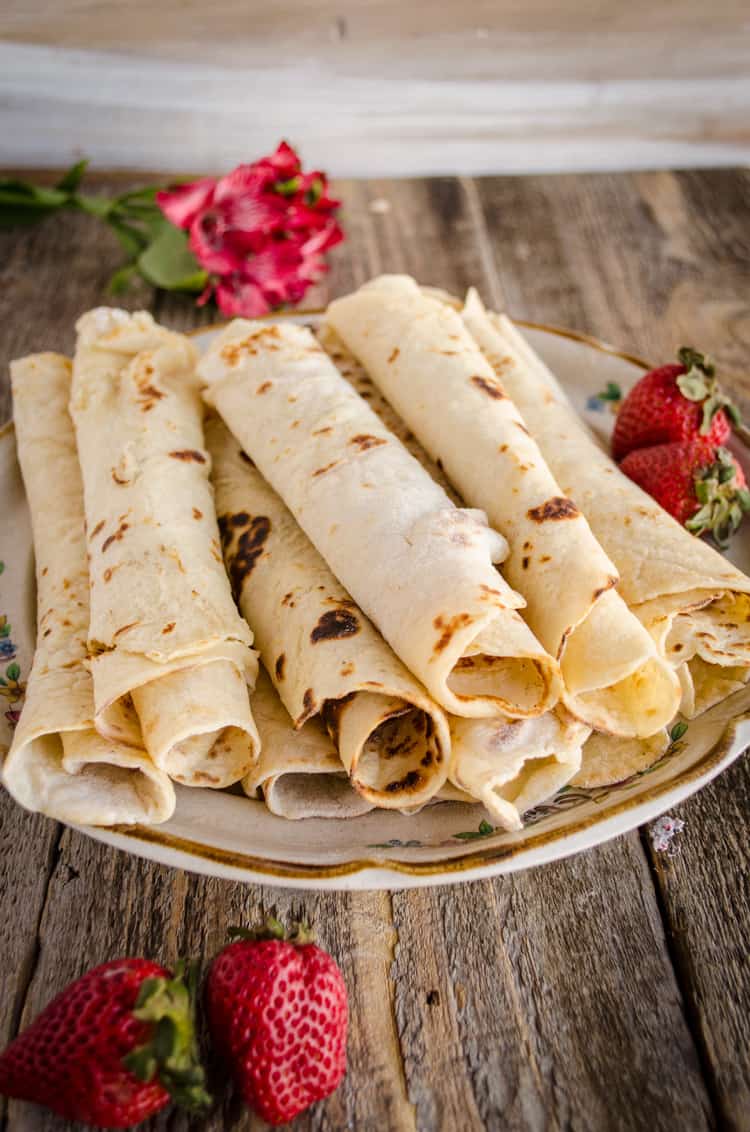 Norwegian Lefse is a cross between a fluffy loaf of potato bread and a tortilla, yet sweeter. It's eaten with various combinations of sweetened butter, bacon, or jam fillings rolled up inside on holidays or special occasions in Norway. My Norwegian grandfather came to the US when he was just 8 years old in 1920's, and his heritage is an important part of my family identity!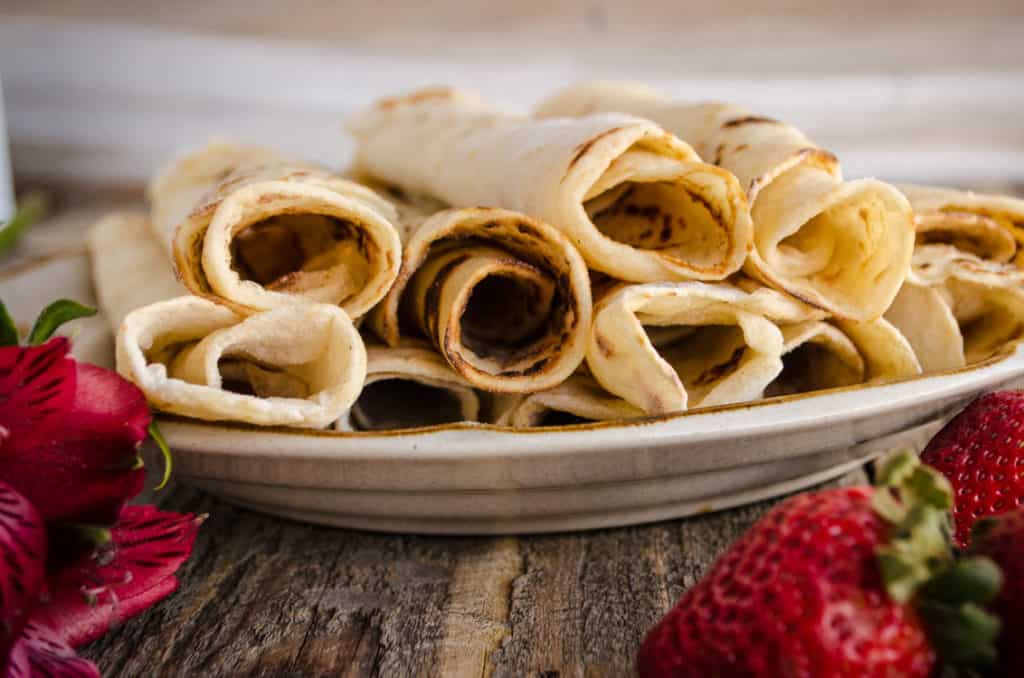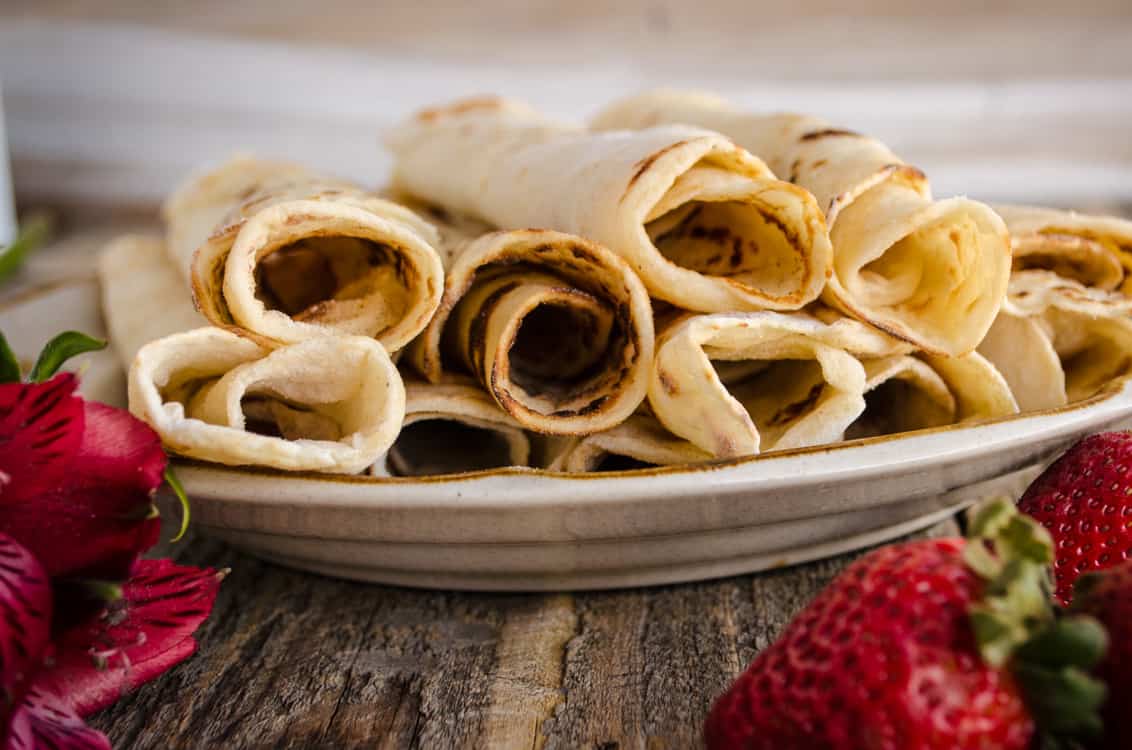 How to make Norwegian Lefse
Traditionally, Norwegian lefse is made with boiled potatoes pressed through a ricer (like a giant garlic press) rolled out very thin with the aid of a pastry board and a rolling pin both covered in cotton cloth and lots flour to keep it from sticking. Then it's cooked on a special large round griddle. Well, I don't have any of that special equipment, and you don't need it either, thanks to a few tricks up my sleeve that I'll share with you to get the job done in any kitchen!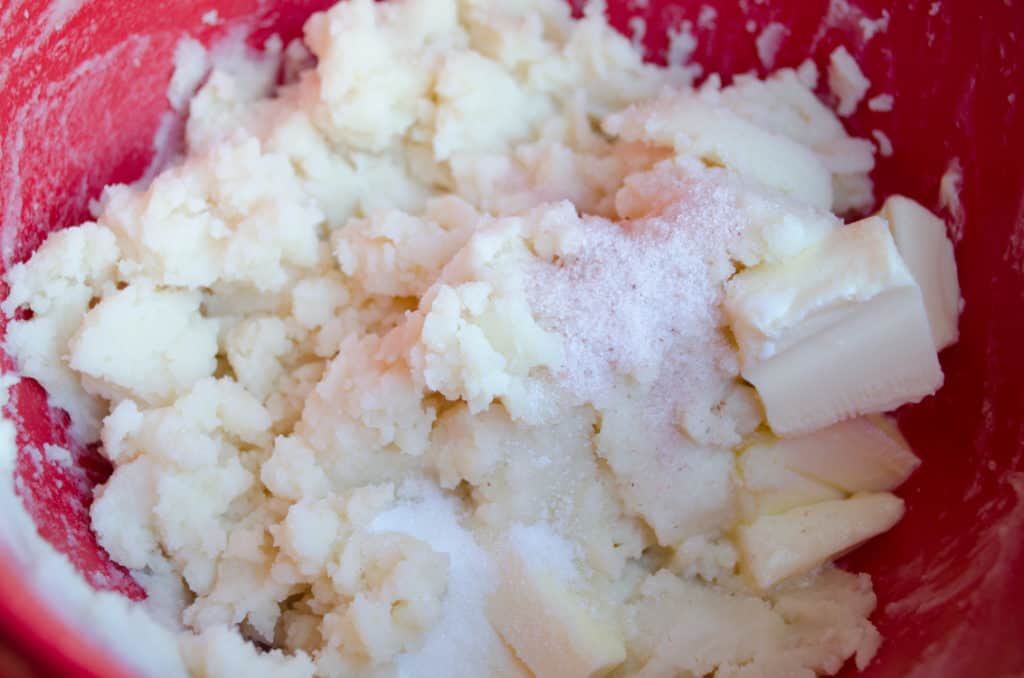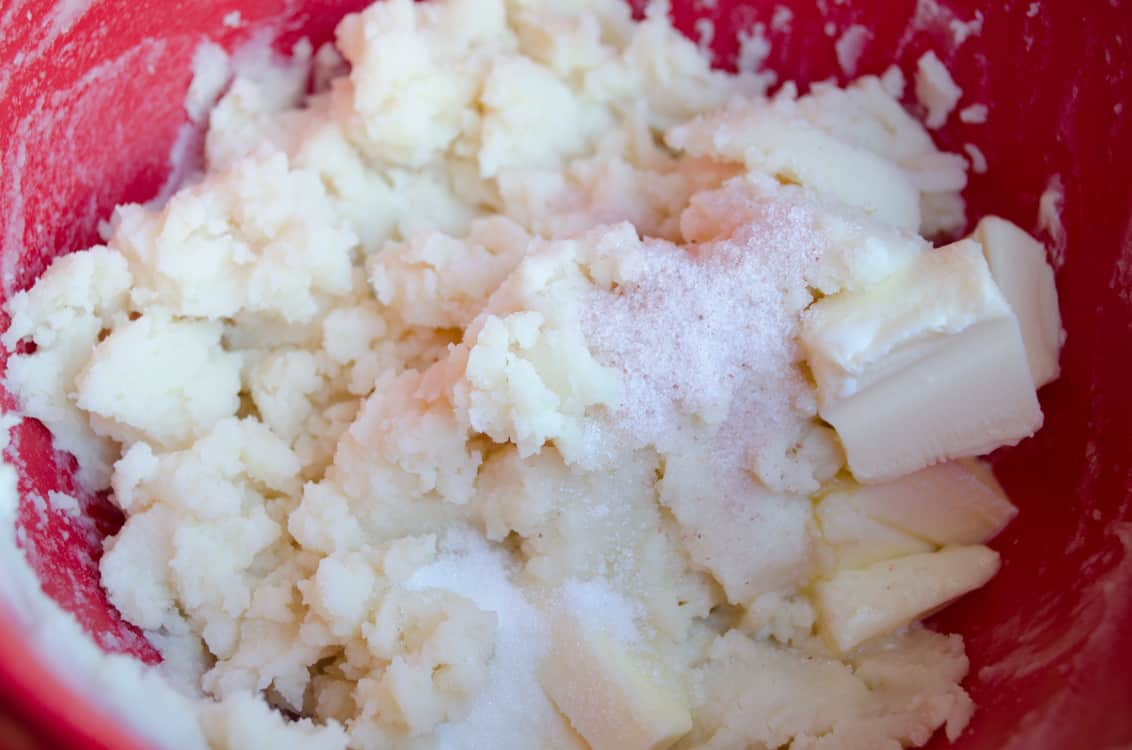 Cut the time of peeling, cutting, boiling, draining, mashing and ricing your potatoes; just use instant potatoes! I only go through the hassle of cooking real potatoes when we're going to eat mashed potatoes as a side to dinner. Anyway, whip up a batch of instant potatoes and mix in butter, heavy whipping cream, sugar and salt (I used my pink Himalayan salt in the photo above). Then stick those taters in the fridge to cool.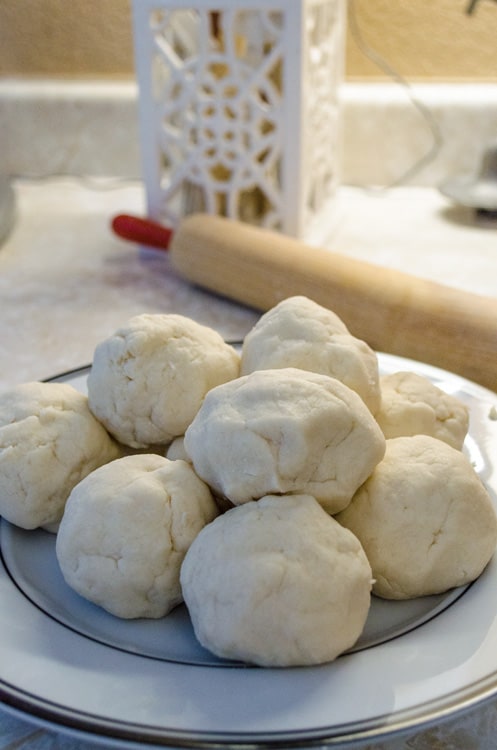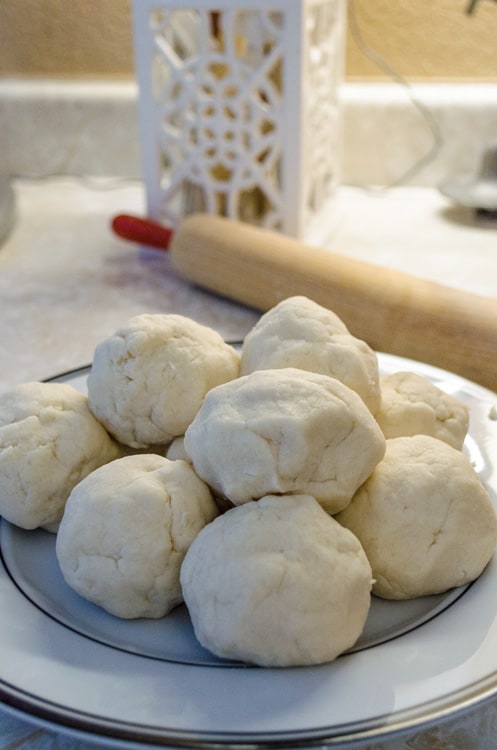 Once cooled, mix in some all-purpose flour to create a very soft dough. Roll the dough into large, tennis ball shapes. Store them in the fridge, taking one ball out at a time to work with.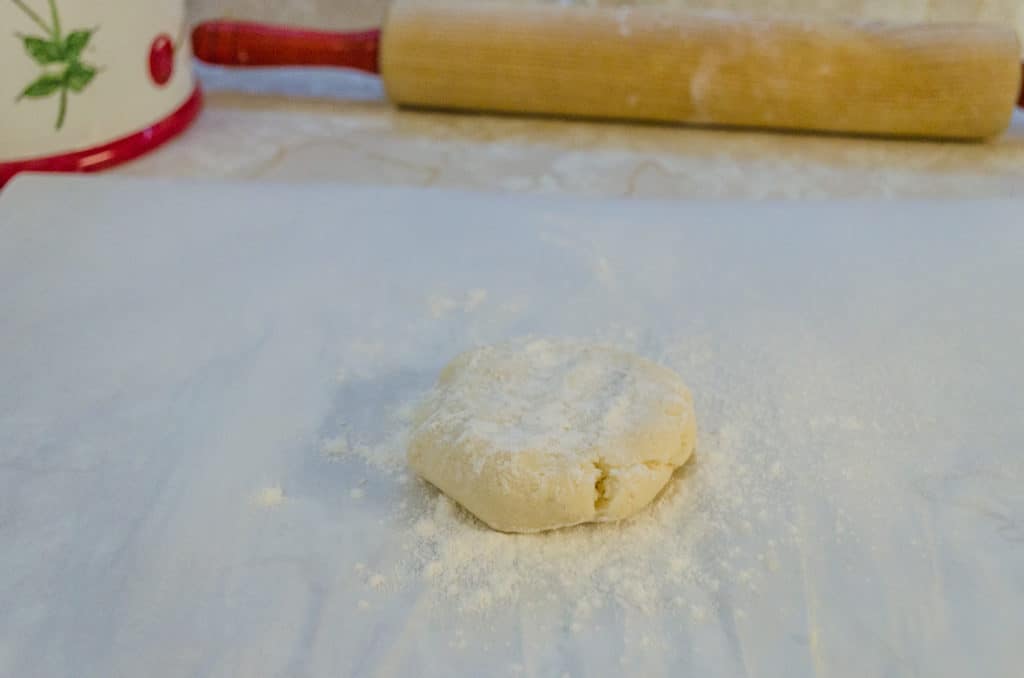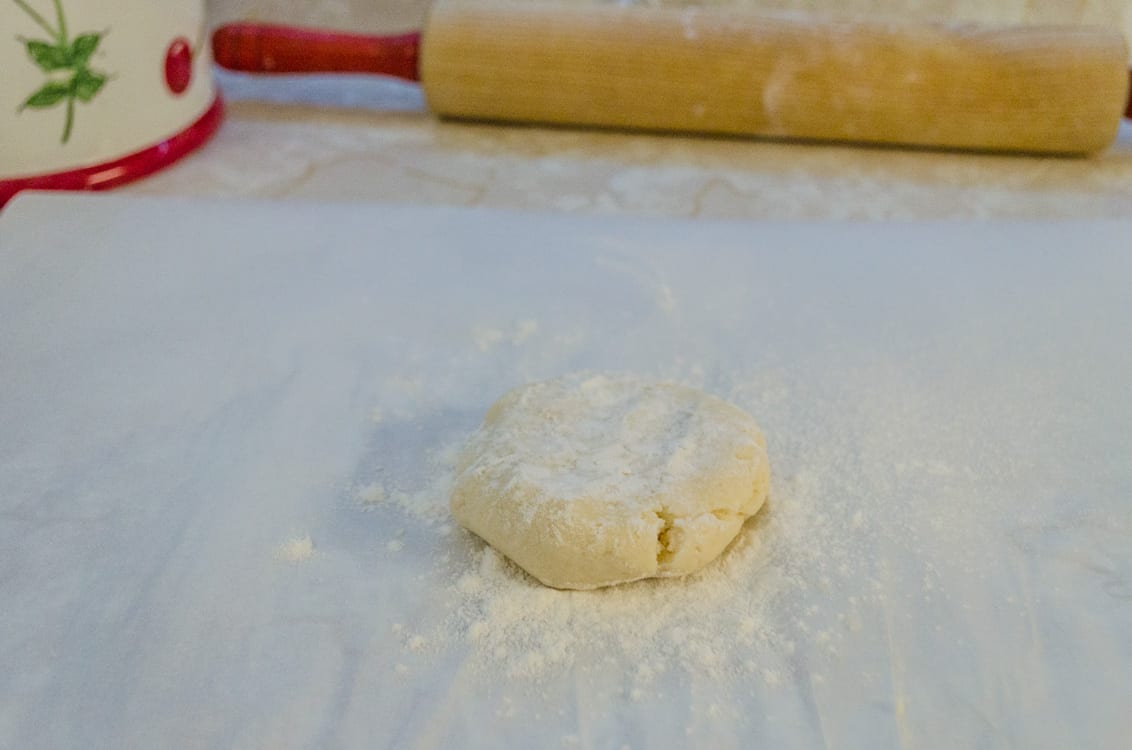 Place a large piece of parchment paper on your counter, and the a dough ball in the center. Coat the dough ball in flour, then sprinkle flour underneath and on top of it. You'll need lots of flour, trust me! Press into a 'hockey puck shape' and cover with a second large piece of parchment paper. Gently roll out the dough between the two pieces of paper. I roll once, then turn the paper just a few inches, then roll again and repeat. This method helps to roll the Norwegian Lefse out in a nice even circle!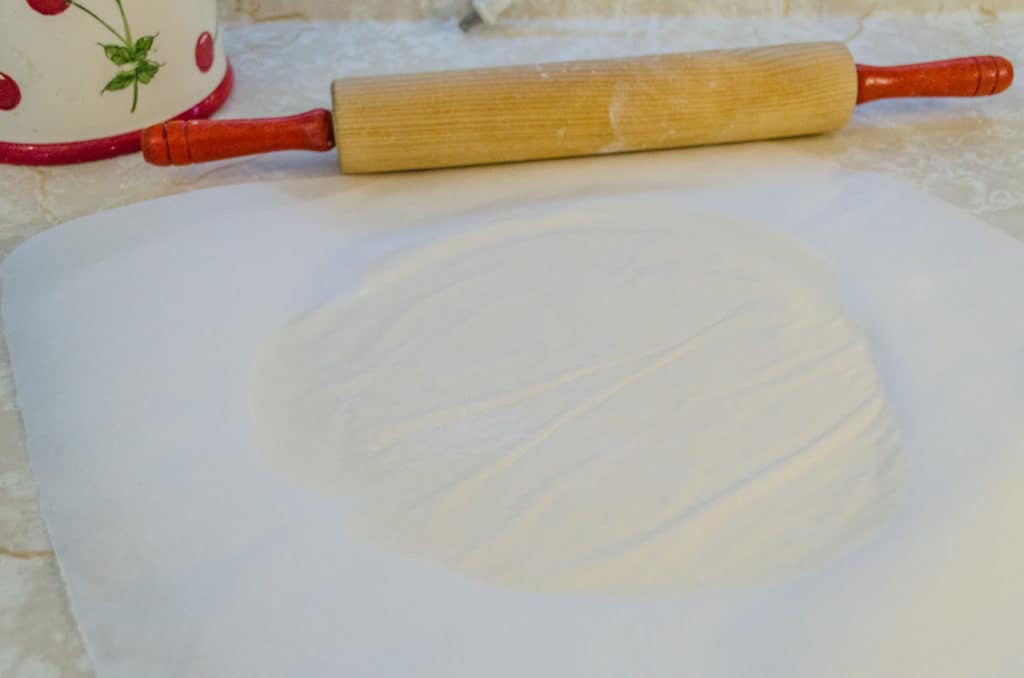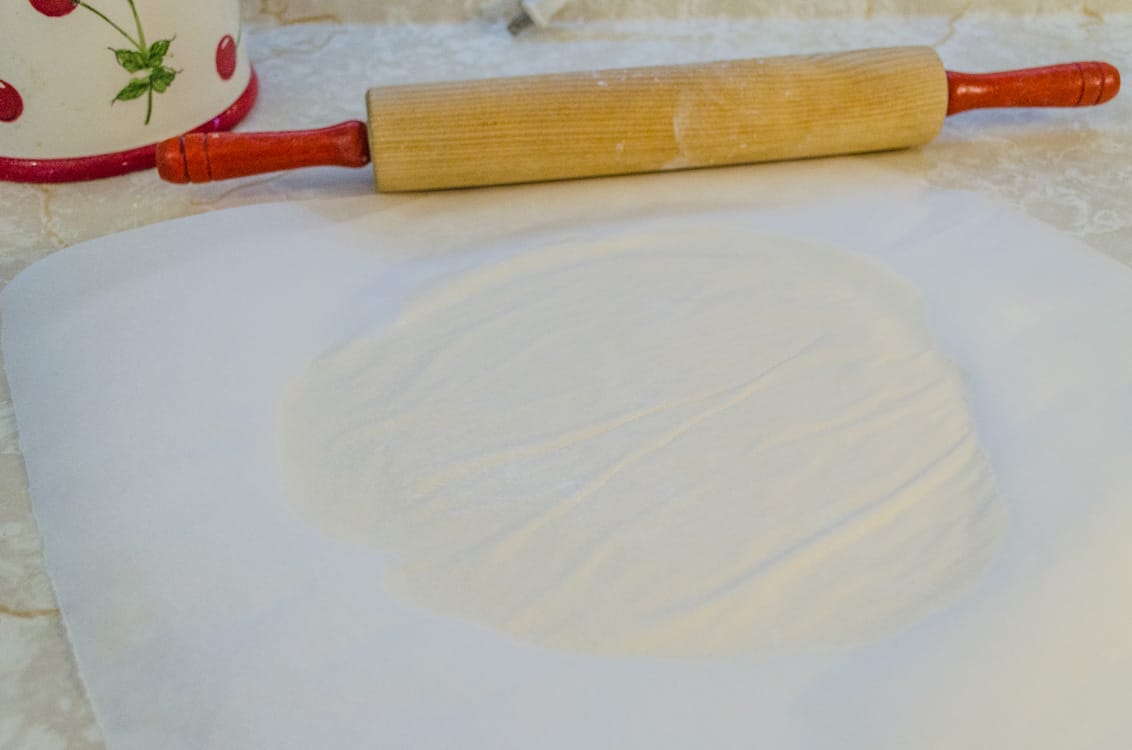 Roll it very thin, something like 1/16 of an inch, thinner than a tortilla for sure; thin like a crépe.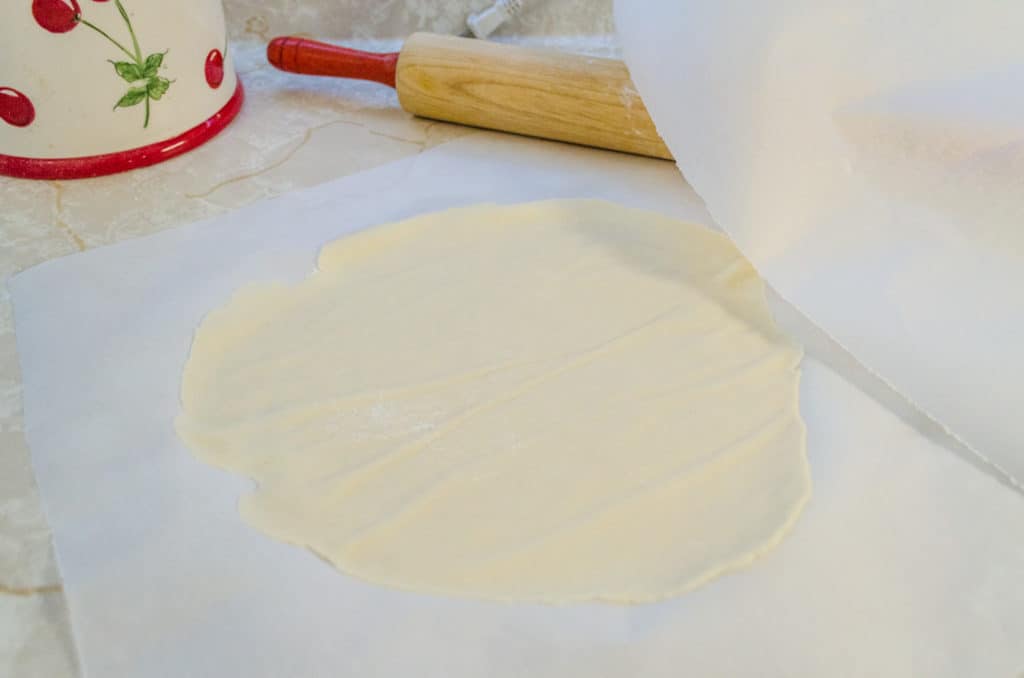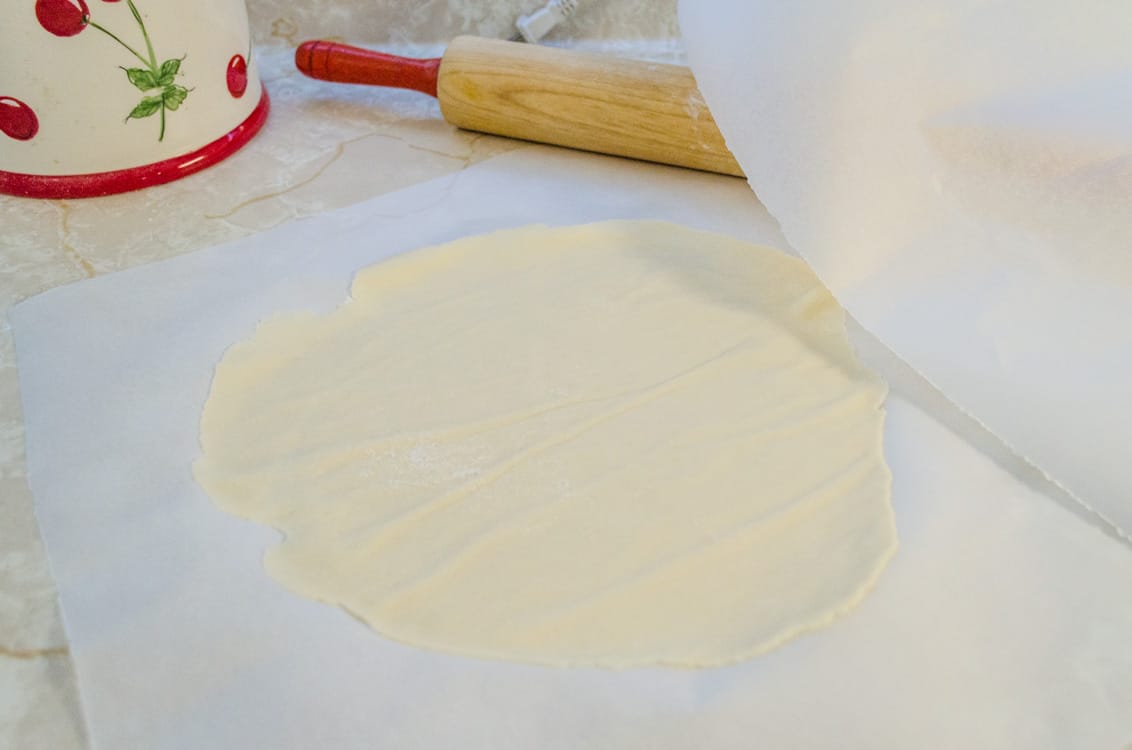 Remove one of the pieces of parchment. It should just gently peel off. Grab your handy dandy off-set spatula and gently slide it under the raw lefse round.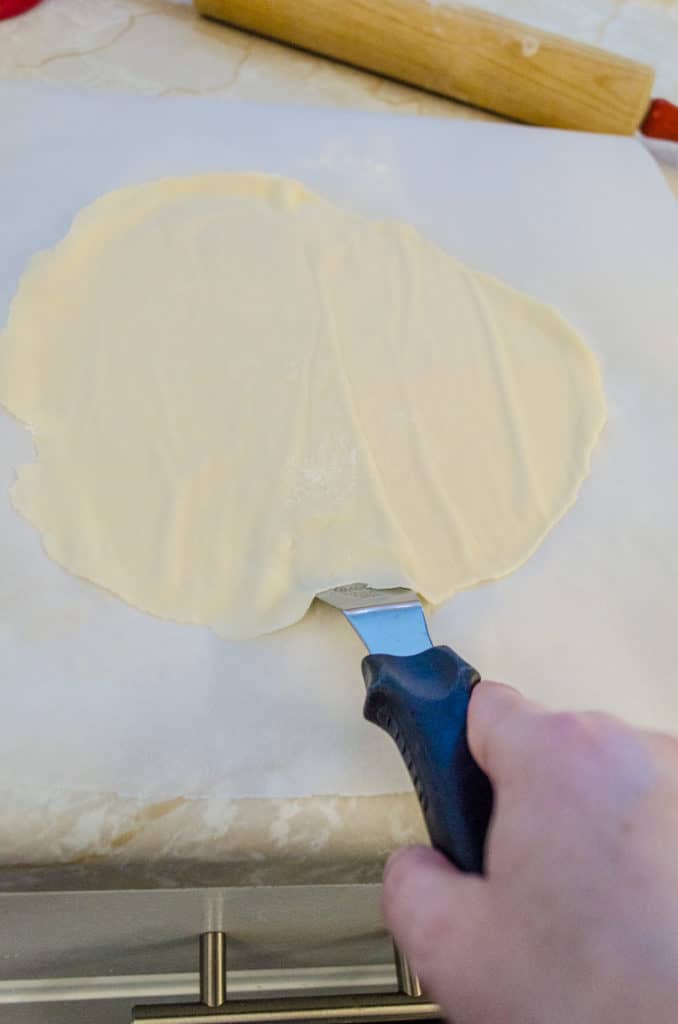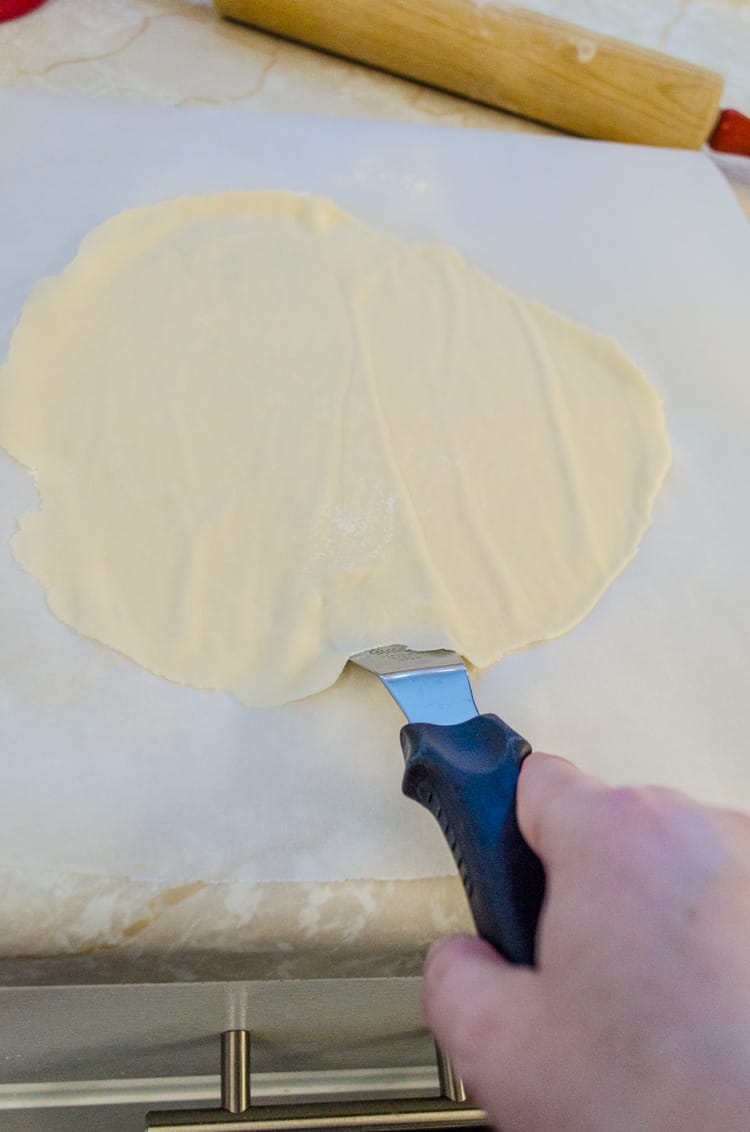 Slowly lift it off the parchment paper, and place it on a very hot griddle or large cast iron skillet, using the rolling motion shown below.
Let it cook for about 30 seconds or until it bubbles, then flip it and brown the other side.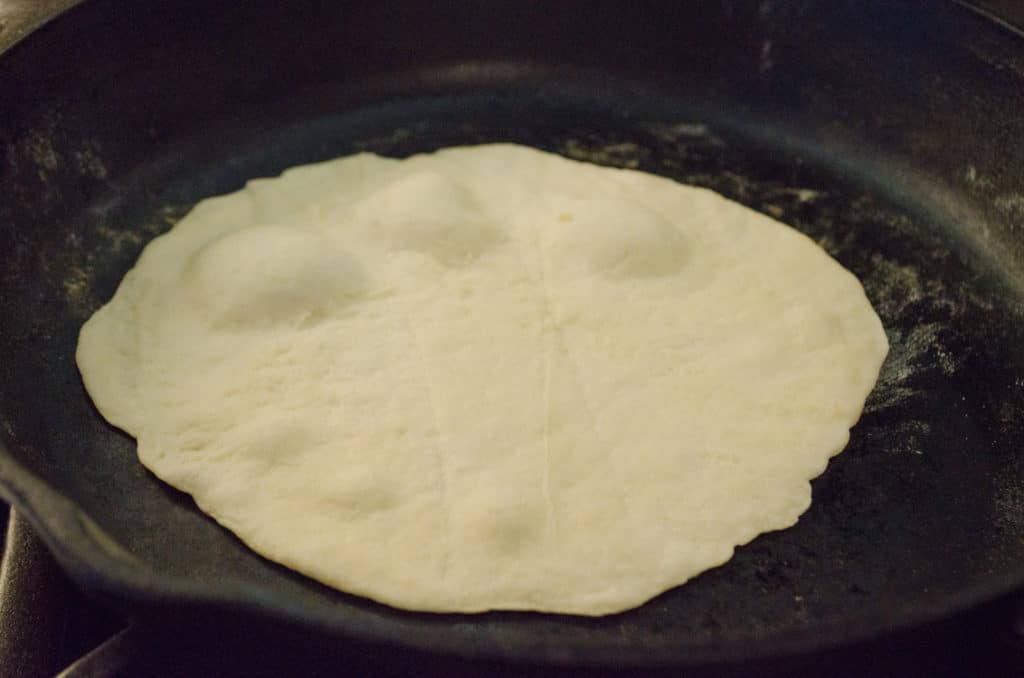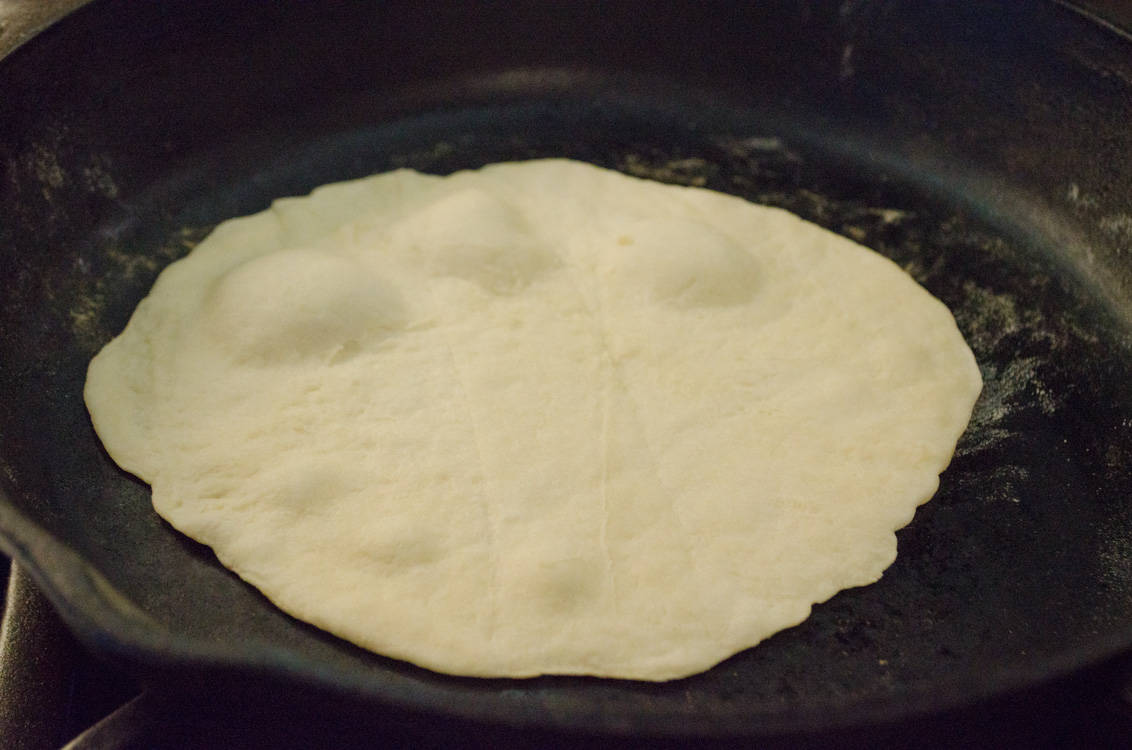 It should be spotty brown and look a whole lot like a flour tortilla! However, Norwegian Lefse tastes nothing like a tortilla, and don't get discouraged if the first few are fails, practice makes perfect, you'll get the hang of it!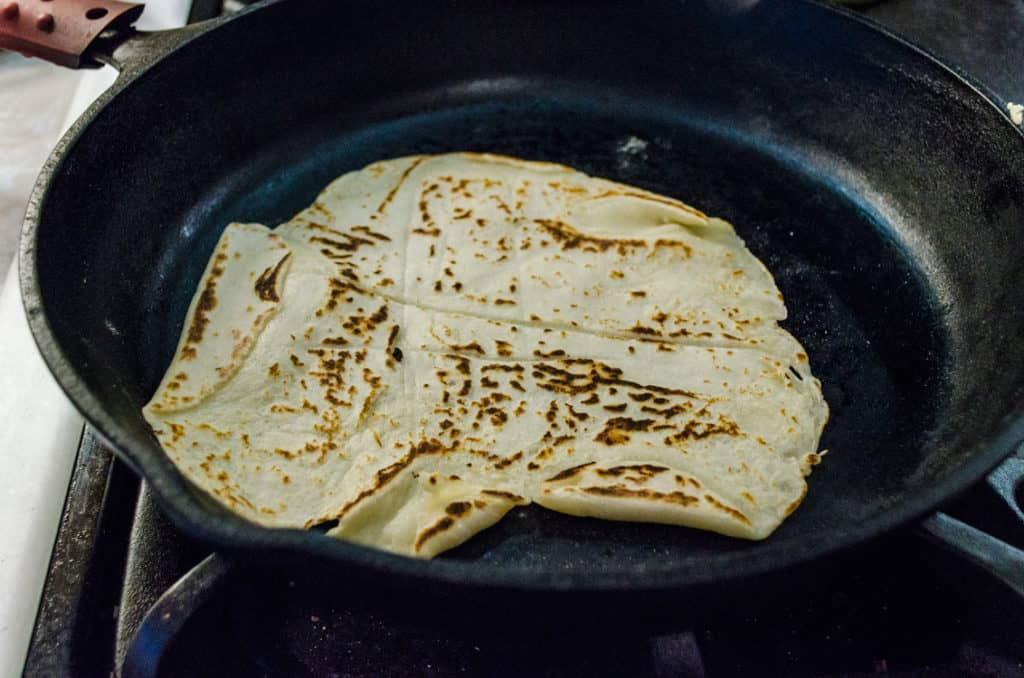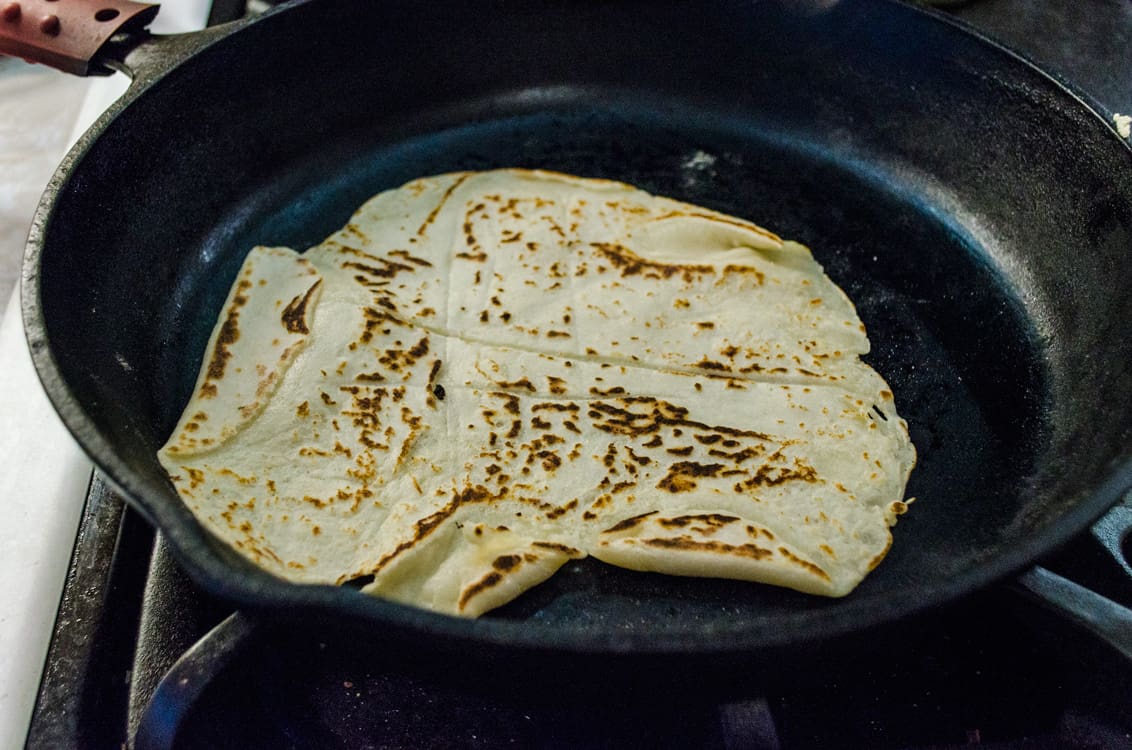 Repeat the process until you have cooked up all your dough. You can adjust the size of the dough balls to fit your own cooking surface, whatever it may be. But it will need to be hot; somewhere in the range of 500 degrees F!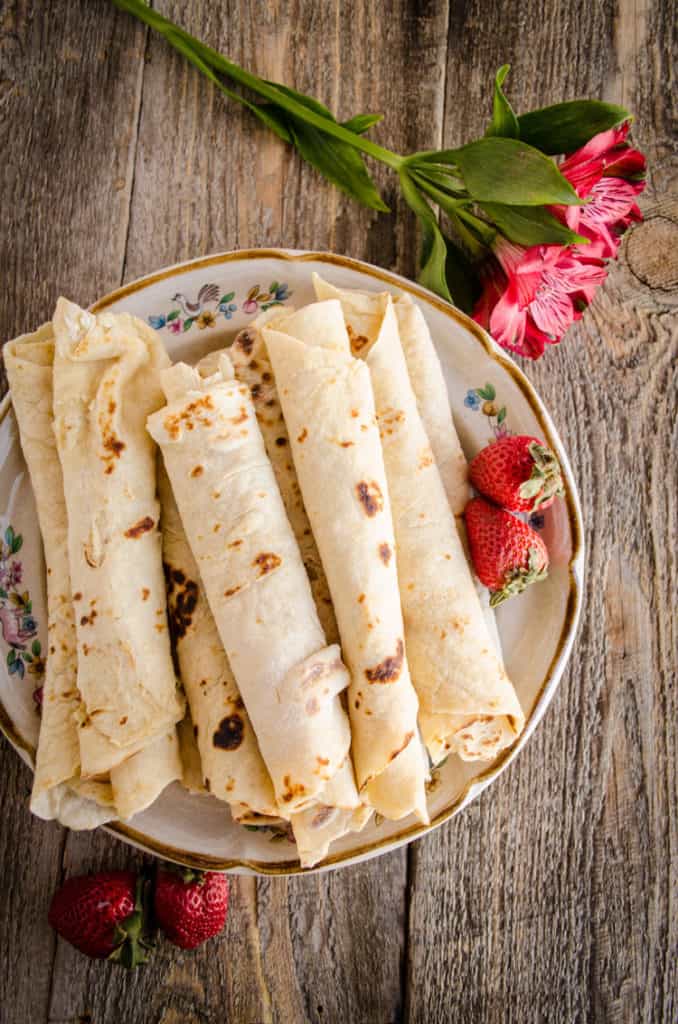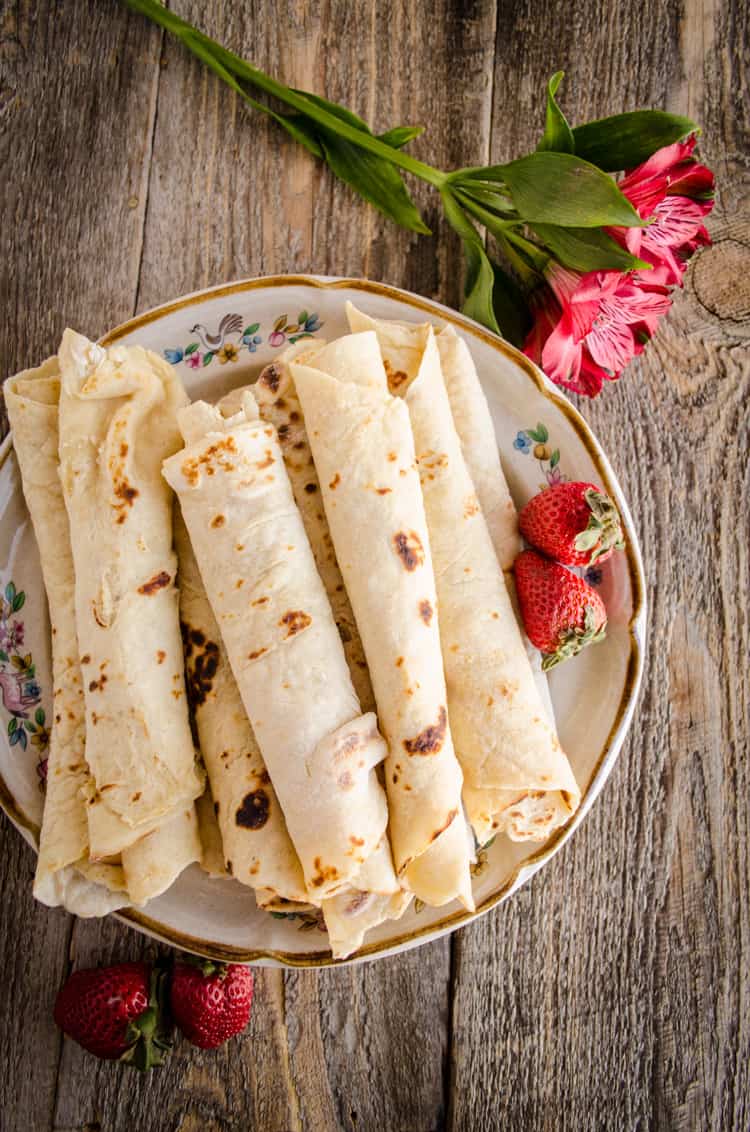 I served these lefse with some fresh Whipped Strawberry Honey Butter. Mmmmmmm…. they didn't last long with all the voracious eaters in this house! Good luck and happy lefse making!
Print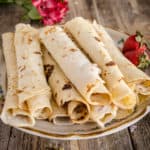 Norwegian Lefse (potato pancakes)
---
Author:

Emily

Total Time:

1 hours 40 minutes

Yield:

12

lefse

1

x
Description
Norwegian Lefse is a cross between a fluffy loaf of potato bread and a tortilla, yet sweeter and eaten much like a crepe on holidays or special occasions. Spread it with sweetened butter, jam, bacon or a combination of the two, and roll it up to eat it. 
---
1 cup

dehydrated (instant) powdered potatoes (or potato flakes)

3 cups

boiling water

1/4 cup

heavy cream

1/4 cup

unsalted butter

1/2 tablespoon

salt

1/2 tablespoon

sugar

2 cups

all-purpose flour
---
Instructions
In a large mixing bowl, mix the potato powder with the hot water until fully absorbed. Mix in the cream, butter, salt and sugar. Chill in the fridge for one hour or until cooled.
Heat a griddle or 12 inch cast iron skillet over medium high heat. Add flour to the cooled potato mixture and mix/knead in by hand until no white streaks remain.
Roll balls of dough by hand approximately the size of a tennis ball. Place them on a plate and cover with plastic wrap. Keep the plate in the fridge. 
Remove one dough ball and cover it with a generous amount of flour. Sprinkle flour in the center of a large piece of parchment paper. Place dough ball in the flour. Sprinkle more flour on top.
Place a second sheet of parchment paper over the dough. Gently press down to flatten it. Roll out the dough ball between the sheets of parchment paper with a rolling pin. Turn the paper (and dough) a few inches each time between each roll to rotate the dough and form an even circle.
Gently pull the parchment paper apart. Slide a large offset spatula or lefse turner under the dough and carefully lift the raw lefse off the parchment paper. Place on the hot grill or skillet for about 20-30 seconds, or until you see bubbles form. Flip the lefse over to cook for another 20-30 seconds on the other side. Lefse should be spotty brown. Remove to a clean plate and repeat with the remaining dough. Serve warm lefse rolled up with sweetened honey, butter sprinkled with sugar, bacon or jam.
Prep Time:

1 hours

Cook Time:

40 minutes

Category:

Breakfast

Cuisine:

Scandinavian
Nutrition
Serving Size:

2 lefse

Calories:

258

Sugar:

1.1 g

Sodium:

643 mg

Fat:

9.9 g

Saturated Fat:

6.1 g

Carbohydrates:

37 g

Fiber:

1.3 g

Protein:

4.8 g

Cholesterol:

27 mg