Need to know how to make turkey gravy? All your questions answered here!
Making homemade gravy, especially turkey gravy, is almost a rite of passage to becoming a great home cook. It can also make a lot of folks nervous, especially on Thanksgiving day, if they have to prepare and serve turkey gravy to lots of guests- after all, it's the unsung hero to many a thanksgiving meal because you can smother a dry piece of turkey meat with it AND make mashed potato volcanoes! Read on to learn how to make a fool-proof, lump-free, incredibly delicious gravy every time! 
You will get rave reviews of this gravy- it's absolutely amazing, and it all starts with the turkey neck and little bag of giblets that comes stuffed inside of the bird. DON'T throw those items away!!! They are there just for the gravy.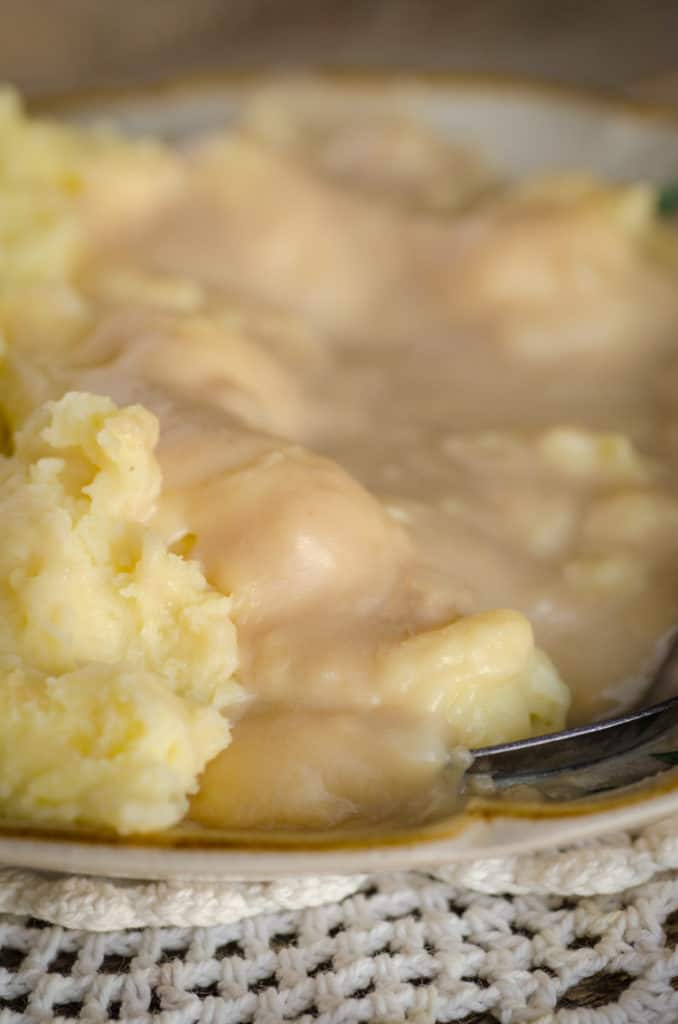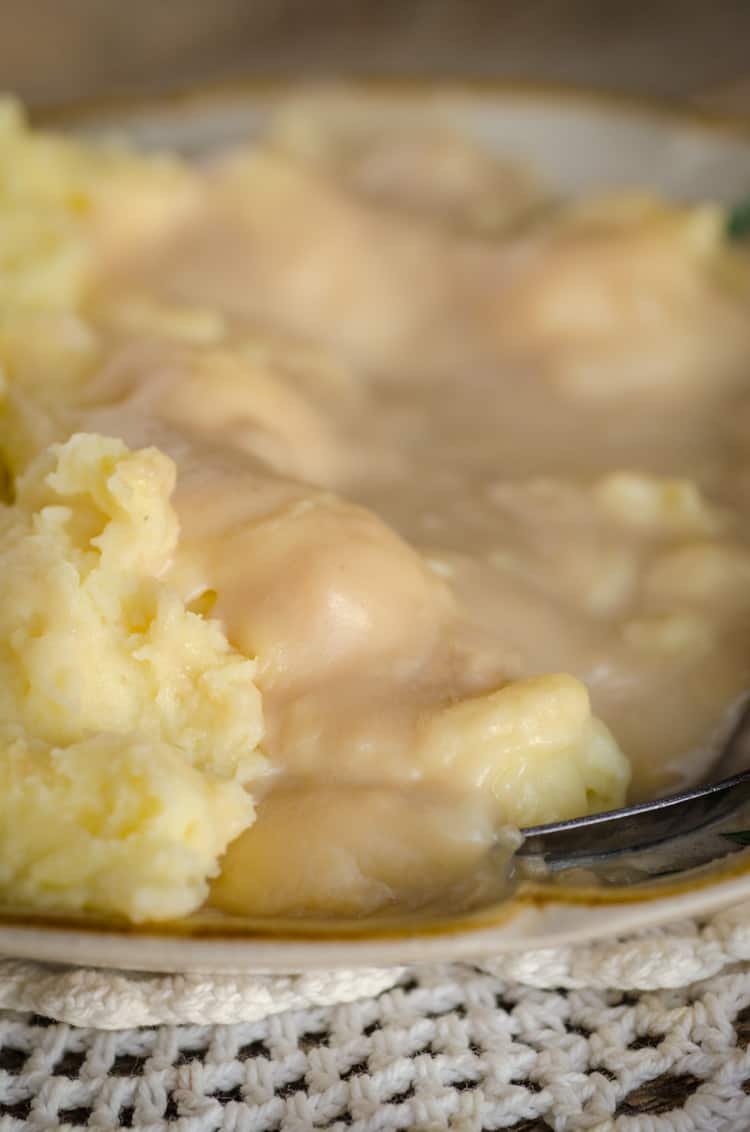 Gently boil the turkey neck and giblets in chicken broth, covered, for an hour or so while your turkey is roasting in the oven. Remove the giblets and neck and discard. You just made turkey stock! When the turkey comes out of the oven, pour all the drippings into a lovely thing called a fat separator, which usually also has a strainer attached at the top. Add the strained turkey drippings to the turkey stock.

Melt 4 tablespoons butter over medium high heat in a large 12″ skillet. Once melted, sprinkle 4 tablespoons flour over it and whisk the resulting paste constantly to cook out the 'flour' flavor. The key to smooth, lump-free gravy is to add the turkey stock to the skillet a little at a time! Pour in about 1/4 cup into the flour paste and whisk quickly. When it disappears into the clumps, add another 1/4 a cup of turkey stock.
Continue whisking in the liquid until there's no more left. As you add the liquid, you'll see less and less clumpiness until you have smooth, silky gravy! Trust me on this- those flour molecules need time to absorb the liquids. If you rush it and pour it all in at once, clumps will form that never go away. Slow and steady is the key!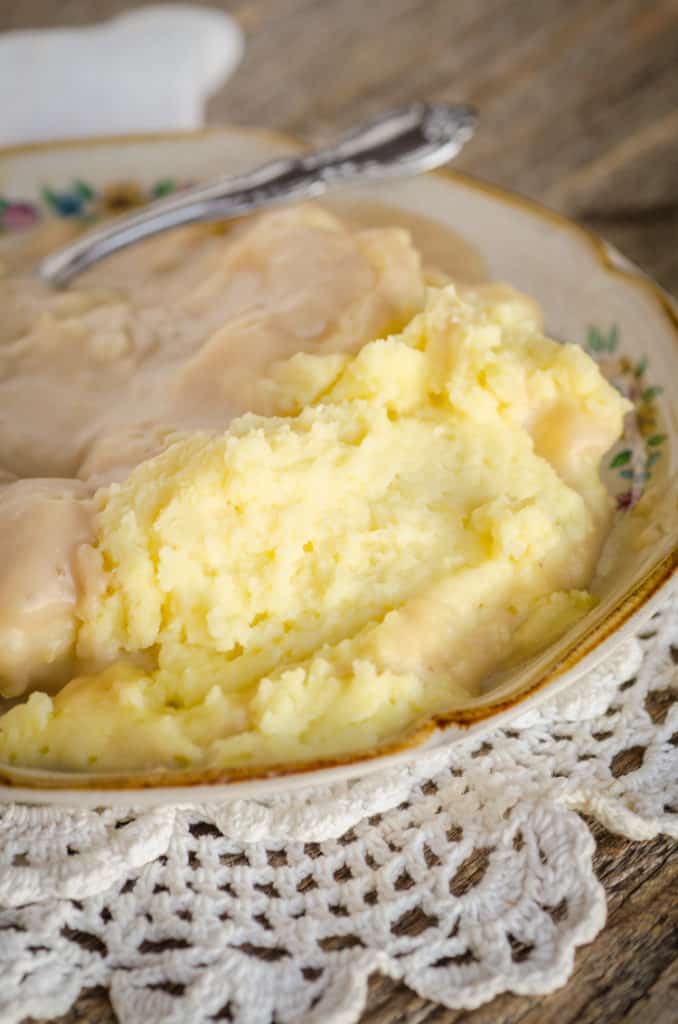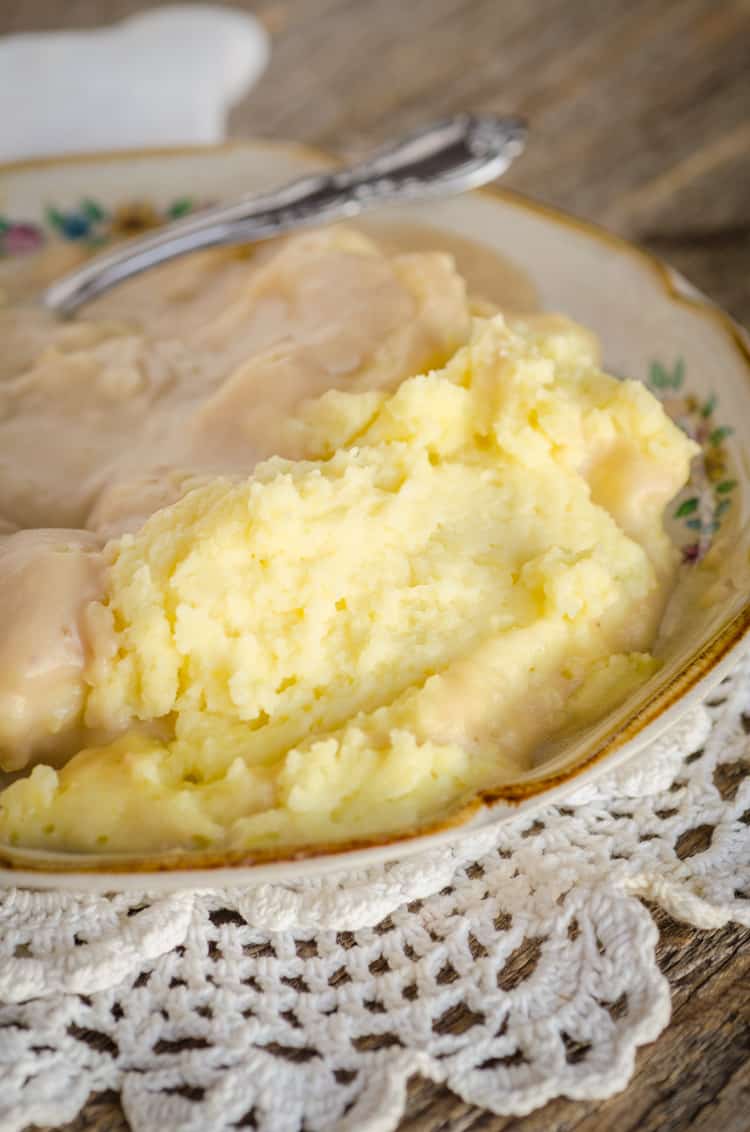 If you wish to 'stretch' the gravy for a larger crowd, I sometimes whisk in a little milk (maybe about 1/2 cup). This makes the gravy even more smooth and rich if you can believe it! Simply bring the gravy back to a simmer after adding it and it should thicken up as it cools. I hope this info was helpful to you and you have a wonderful meal. Enjoy, and don't forget to check out my recipe for The Best Mashed Potatoes to pair with this amazing turkey gravy :0)
Print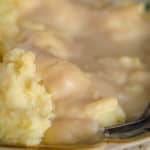 How to make Turkey Gravy
---
Author:

Emily

Total Time:

1 hours 7 minutes

Yield:

4 cups

1

x
Description
Savory and delicious lump-free turkey gravy is surprisingly easy to make. Follow this fool-proof recipe to get smooth rich turkey gravy (and any other type of gravy too) for the perfect addition to your mashed potatoes and turkey meat.
---
3 cups

of chicken broth (or water and bullion) + turkey giblets (neck, heart, liver etc)
Turkey drippings from the bottom of the roasting pan, strained and poured into a fat separator

4 tablespoons

unsalted butter

4 tablespoons

flour
salt 
---
Instructions
While roasting your turkey, bring chicken broth and turkey giblets to a boil over high heat, then cover and simmer on low for 1 hour. Remove from heat. Pour in the drippings from the roasting pan when the turkey is done and stir to combine. 
Heat butter in a large skillet over medium high heat. Once melted, sprinkle flour over the butter and whisk constantly to form a paste. Continue whisking around the pan for about a minute to cook the flour taste out. Whisk in about 1/4 cup turkey liquid to the skillet. It will be absorbed and clump, this is okay, the clumps will eventually disappear.
Continue to whisk in about 1/4-1/3 cup of turkey liquids every time the liquids are absorbed until all the turkey liquids are gone and the gravy is smooth. If you desire a little more gravy, whisk in about 1/3 to 1/2 cup of milk. Bring to a simmer and remove from heat. Gravy will thicken as it cools. Serve warm.
Prep Time:

1 hours

Cook Time:

7 minutes

Category:

Side

Cuisine:

American