Indulge in warm chocolate pudding cake for dessert tonight
When I really want to indulge myself, I whip up a pan of Chocolate Pudding Cake. It's not the prettiest of desserts for serving to guests (unless you bake it up in ramekins as shown below), it's usually baked in an 8X8 square baking dish and is a little lumpy on the surface. But this dessert isn't about looks, it's all about taste!
A chocolate cake with deep chocolate flavor is hiding a secret below, for it rests on a layer of delicious chocolate-pudding-like fudge at the bottom. Plus, this cake will even do a magic trick for you! When assembling the cake for baking, you place the pudding layer on top! Fascinatingly,  this cake inverts itself in the oven. Really it's all about science, and you know I love science :0)
Cooking/baking is all about the science of chemistry. A subject which was actually my least favorite in college. (Funny because it is so intertwined with Geology. I didn't have a problem with it when applied to mineral and magma compositions, but that's for another time…) If those teachers just had us cooking real food for our experiments, instead of random chemical compounds,  I definitely would have taken more interest in it! In a nutshell, a good amount of chemical leavening (baking powder) causes the cake to rise up above the heavier pudding, and it sinks down to the bottom as the cake makes space for it to go there. It's also important to use dutch processed cocoa and good quality chocolate chips in the batter. (I go for Ghirardelli or Nestle chips) 'Dutch processed' is cocoa that has some if it's natural acidity neutralized. In taste tests, products made with dutch processed cocoa vs. natural cocoa won almost every time. You should be able to find it in most supermarkets. For this recipe, the chocolate flavors are magnified, and if poor quality chocolate is used, you will be able to taste it.
It is super important you don't overbake this cake. The pudding will dry up and you'll have little to none for eating. After pulling this cake out of the oven, it's also important to let it rest for at least 10 minutes. The pudding at the bottom needs this time to cool and thicken up a bit. Don't worry, the cake will still be deliciously warm for serving. This cake simply begs for a scoop of vanilla ice cream to go with it too. I just love the combination of hot cake and cold ice cream in my mouth!
Print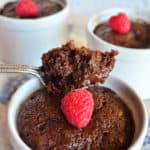 Chocolate Pudding Cake
---
Author:

Emily

Total Time:

35 minutes

Yield:

6

1

x
Description
Rich chocolate pudding encased in deeply flavored chocolate cake all made from scratch.
---
1 cup

sugar

1/2 cup

Dutch-processed cocoa powder

1 cup

all-purpose flour

2 teaspoons

baking powder

1/4 teaspoon

salt

1/2 cup

milk

4 tablespoons

unsalted butter (

1/2

stick), melted

1

large egg yolk

2 teaspoons

vanilla extract

1/2 cup

semi-sweet chocolate chips

1 cup

boiling water
Vanilla ice cream
---
Instructions
Set oven temperature to 350 degrees and move oven rack to the middle position. Spray an 8-inch square baking dish(metal or glass) with cooking spray.
Whisk 1/2 cup sugar with 1/4 cup cocoa in a small bowl. Whisk flour, 1/2 cup sugar, 1/4 cup cocoa, baking powder, and salt in a large mixing bowl. Whisk milk, melted butter, egg yolk, and vanilla in a medium mixing bowl until smooth. Stir the milk mixture into the flour mixture and fold in the chocolate chips.
with a spatula, scrape batter into your prepared baking dish and spread into corners. Sprinkle reserved cocoa mixture evenly over the top. Gently pour boiling water over the cocoa. Do NOT stir.
Bake until the top of the cake looks cracked, sauce is bubbling and toothpick inserted into cake areas comes out with a few moist crumbs attached, about 20 to 25 minutes. It's very important to not over bake this cake, or you won't have any or vary little pudding on the bottom. Cool for at least 10 minutes before serving. Serve with a scoop of vanilla ice cream.
Baby Cakes in Ramekins
Spray eight 6-ounce, ovenproof ramekins with cooking spray. (Can use coffee mugs too.) Fill each cup with 2 tablespoons of batter. Top each with 1 and 1/2 tablespoons cocoa mixture, followed by 2 tablespoons boiling water. (The water turns into pudding, so if you like more pudding, add more water.) Arrange cups on a baking sheet and bake until tops are just cracked, about 20 minutes.
Prep Time:

15 minutes

Cook Time:

20 minutes

Category:

Dessert

Cuisine:

American
Nutrition
Serving Size:

1/6th the recipe