Skinny Oven-Fried Fish with Tartar Sauce
This popular dish is great if you're looking for lots of flavor, but not lots of calories. Typical oven fried fish have anywhere from 500 to 700+ calories per serving and 50 grams of fat! This recipe for Skinny Oven-Fried Fish with Tartar Sauce is just 260 calories and 8 grams of fat per serving (two fillets and 3 tablespoon serving of tartar sauce). Gotta love it!
If you can afford the Halibut this recipe calls for, then go for it. (it's dad gum expensive!!) It's nice and meaty and doesn't release a whole lot of juice when baking, which can sometimes make a crust soggy. Personally I would go with a less expensive alternative like cod or Haddock. The photo above happens to be Swai, since it was on sale that day :0)
Skinny Oven-Fried Fish with Tartar Sauce cuts on the calories and fat in several ways. The fish is only breaded on the top and sides, since the bottom inherently will get soggy anyway, it's just eliminated. Next, the homemade tartar sauce is made with low-fat mayonnaise, and flavored fantastically with sweet pickles, capers, Worcestershire sauce, lemon juice and shallot. It's by far my favorite tartar sauce and I usually double it so I have lots left over for other fish recipes. The fish is then coated with the tartar sauce before being coated with the bread crumbs, so the sauce acts like a barrier to keep the moisture of the fish from ruining the crunchy baked crust. Plus the flavors of the sauce lend themselves to the fish too.
If you've never cooked with capers, or have never even heard of them,
then let me introduce you! I love discovering new foods, and capers
are one of my new favorites. Capers are little edible flower buds that are picked and pickled (by Peter Piper along with his peppers ha ha ha :0). They can be found growing all around the Mediterranean and are a popular ingredient for many ethnic dishes. They have quite a distinct taste, and I especially love them in this recipe and another I make for breaded lemon chicken (which will be appearing soon on the The Goldilocks Kitchen). Don't be afraid to try them! I find them in little jars along side the roasted red peppers and pickles at the grocery store. Make sure you purchase the ones in a brine solution, not packed in salt.
This is a great recipe to practice your chopping skills, since there are a lot of ingredients that need to be chopped finely. Use a very sharp chef's knife. It's actually safer than using a dull one. The blade is less likely to slip and cut you.
 Here is my fish operation: 1. Prepared Fish, 2. Flour Dredge, 3. Egg-Tartar sauce mixture, 4. Bread crumbs
This recipe can also double as a great make ahead freezer meal. Once you've breaded your fish, lay them out flat on a baking sheet lined with parchment or wax paper and place them in the freezer. Once they are frozen you can then gently place them in ziplock freezer bags. Bake them on the wire rack as instructed in the recipe, changing the temperature to 425 degrees and baking them for 30 to 35 minutes or until the fish is fully cooked. Here's a handy food temp chart courtesy of the FDA:
I hope you love this recipe and that it becomes a regular on your table. It's big on taste and small on calories. Enjoy it!
Print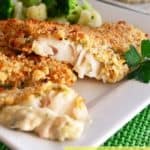 Skinny Oven-Fried Fish with Tartar Sauce
---
Author:

Emily

Total Time:

51 minutes

Yield:

4

1

x
Tartar Sauce

1 cup

low-fat mayonnaise

2 tablespoons

finely chopped sweet pickles, plus 2 teaspoons juice

1 tablespoon

drained capers, minced

2 teaspoons

lemon juice

1 teaspoon

minced shallot

1/2 teaspoon

Worcestershire sauce
Salt and pepper
Oven-Fried Fish

3

slices hearty white sandwich bred, torn into pieces

1/2 cup

all-purpose flour

2

large egg whites

1

tablspoon Dijon mustard

2 teaspoons

finely chopped fresh parsley

1/8 teaspoon

cayenne pepper

1/4 teaspoon

salt

1/8 teaspoon

pepper

1 1/2

pounds Halibut or other white meat fish
---
Instructions
Whisk all ingredients for tartar sauce together in a bowl, adding a pinch of salt and ground pepper.
Pre-heat oven to 400 degrees. Pulse the bread in a food processor to make your own bread crumbs. Bake the bread crumbs on a rimmed baking sheet in the oven for about 6 to 8 minutes watching carefully and stirring often until golden.
Transfer the toasted bread crumbs to a shallow dish. In another shallow dish, combine 1/4 cup of tartar sauce, 1/4 cup of flour, egg whites, mustard, parsley, and cayenne pepper until fully incorporated. In a third dish, place the remaining 1/4 cup flour, salt and pepper and stir to evenly incorporate.
Once you are done baking the bread crumbs, raise the oven temperature to 450 degrees. Prepare to bake the fish by lining a rimmed baking sheet with aluminum foil. Place a wire rack inside the baking sheet over the foil and spray lightly with cooking spray. (Don't forget this step; it's important!)
Pat the fish dry with paper towels. One at a time, dredge fish fillets lightly in flour, then top and sides in the tartar-egg mixture, and lastly press top and sides into the bread crumbs. Transfer the fillet to the wire rack (crumb side up) and continue with the rest of the fillets. Just before popping them in the oven, spray them all lightly with cooking spray. Bake until the crumbs are golden brown and the fish is cooked through, 10 to 12 minutes. Serve with the remaining tartar sauce.
Prep Time:

40 minutes

Cook Time:

11 minutes

Category:

Entree

Cuisine:

Seafood