Dark Chocolate Almond Lacey cookies (Trader Joe's knockoff)
I was recently at work one evening, and a container of cookies from Trader Joe's had been left out on the counter in a break room for anyone to try. Whoever was kind enough to leave it their for coworkers probably didn't intend housekeeping staff to partake as well, but I couldn't help myself. :0) A thin, bumpy wafer type cookie with dark chocolate looked quite appealing. I'd never seen this type of cookie before, but after my first crunchy bite I knew I had found my next love! Cookie love that is!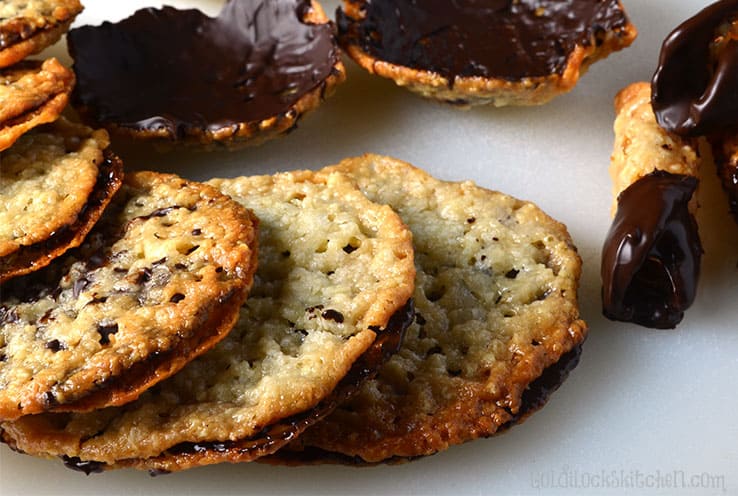 That night after I got home from work I went strait to the computer to see if I could find a recipe for Dark Chocolate Almond Laceys'. There were several for these types of cookies, also called 'Florentines'. I checked one of my recipe books too, and there they were! Bonus~ there are delightful shape variations for the cookies that are very simple to make!
Chopped almonds and flour mixed in with a sugary buttery syrup (not unlike toffee), a little vanilla, a quick chill to solidify the dough and you're ready to go! Parchment paper or a silicone baking mat are essential for this recipe!! Do not attempt without! These little cookies will stick like glue to anything but these. Trust me….
When they come out of the oven you MUST let them cool on the baking sheet for a couple minutes until they set up a bit before removing them. Then if you act quickly, they are mold-able into any shape you can imagine. If they cool too much and become brittle, just pop them back in the oven for a minute or two.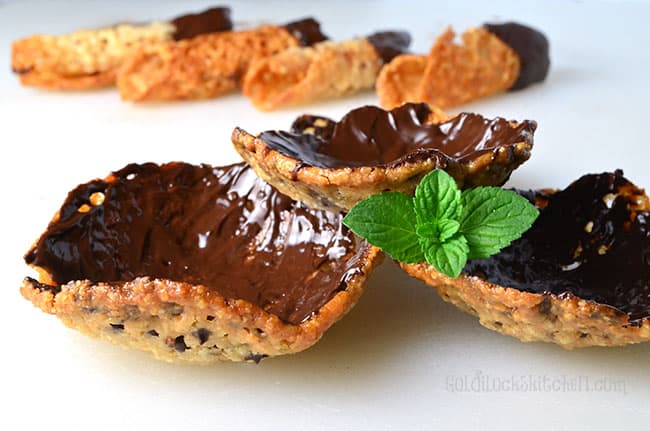 These shapes I created with the top of my pepper grinder (roundish) and a wooden spoon handle. There are endless possibilities for these. The rolled ones could be a lovely addition to your morning coffee or tea. Or as a garnish for a banana split or a slice of pecan pie…
Imagine little Lacey 'bowls' filled with a scoop of homemade ice cream, or a summer fruit compote… Now that I think about it I should have been more prepared with these things to share in my photos… Hind sight is 20/20… anyway I hope you get the picture. I will be adding these to my Christmas cookie baking bonanza for sure. They are wonderful. Try them!
Print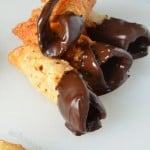 Dark Chocolate Almond Lacey cookies (Trader Joe's knockoff)
---
Author:

Emily

Total Time:

1 hour 26 minutes

Yield:

4

5

1

x
Description
Chopped almonds and flour mixed in with a sugary buttery syrup (toffee) to make these cookies, with a melted dark chocolate center.
---
1 1/2 cups

sliced almonds

3 tablespoons

all-purpose flour

1/4 teaspoon

salt

3/4 cup

white sugar

1/4 teaspoon

cinnamon

2 tablespoons

heavy cream

2 tablespoons

light corn syrup

5 tablespoons

unsalted butter, room temperature

1 teaspoon

vanilla extract

1 cup

Hershey's or other dark chocolate chips
---
Instructions
Pulse almonds in a food processor until finely chopped. Add to a mixing bowl along with the flour, salt and cinnamon. Whisk to combine.
Combine sugar, cream, corn syrup and butter in a small saucepan. Cook over medium heat, stirring occasionally until the mixture comes to a rolling boil and sugar is dissolved. Boil for one minute, then remove from heat. Stir in vanilla.
Pour sugar mixture into the dry ingredients and mix until combined. Chill dough for about 30 minutes.
While the dough is in the fridge, set your oven to heat to 350 degrees. Line a baking sheet with parchment paper or a silicone baking mat.
Scoop round balls approximately a teaspoon in size (or 1/2 to 3/4 inch in diameter) and place on baking sheet at least 2 inches apart. They need plenty of room to spread. Bake one sheet at a time until light golden brown, about 10 minutes.
Let cookies cool for 2 or 3 minutes on baking sheet before removing them and shaping them if desired.
To create classic cookies, melt chocolate chips in a heat proof container in the microwave for 30 seconds at a time until melted, stirring in between. Spread a thin layer of chocolate over the underside of a cookie and squish another cookie of the same size/shape on top. Let chocolate harden and serve.
Prep Time:

1 hour 15 minutes

Cook Time:

11 minutes

Category:

Dessert

Cuisine:

American