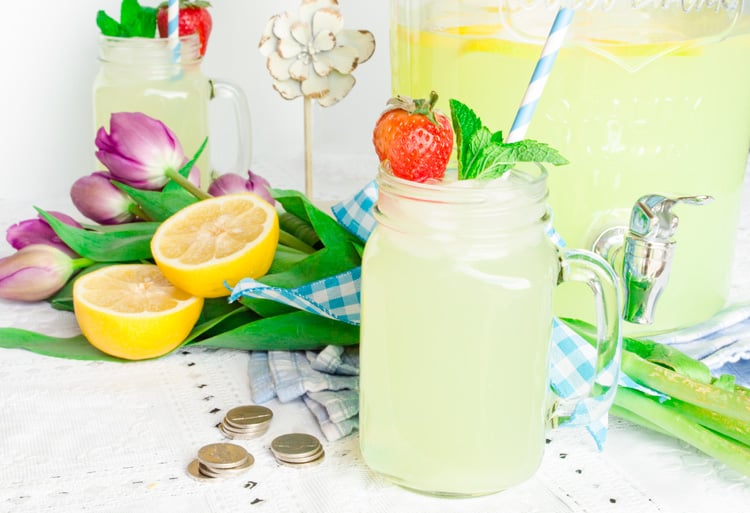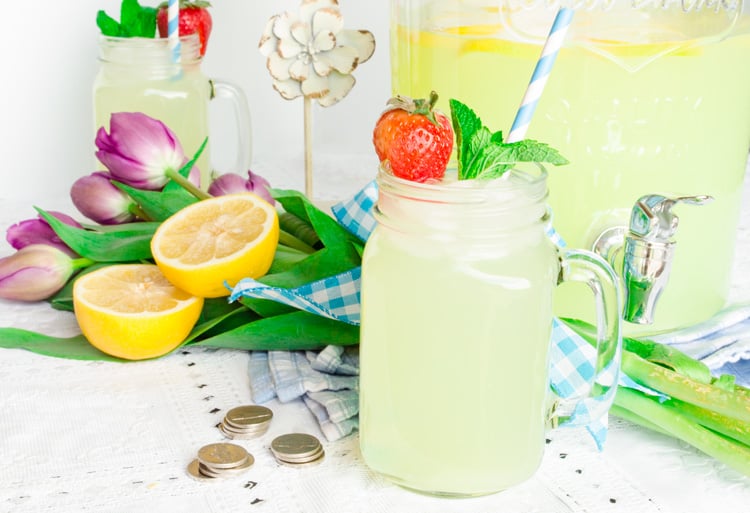 Living in a small college town in Idaho, during the lovely warm summer months, my little boys had several lemonade stands. We lived just a couple blocks from campus, and had lots of foot traffic on the sidewalk in front of our house. We saw other neighborhood children setting up lemonade stands, and my kids went nuts with the idea. They would beg me every day to help them set up a lemonade stand. The times we did we had much success, selling out within an hour each time. (Plus it helps to have two adorable little boys peddling their juice with big signs.) We made lots of flavors, strawberry lemonade, mint lemonade, and ginger lemonade. We even made some with club soda instead of water. (So yummy…) With summer just around the corner, it's time to share my fresh squeezed, all natural, real old fashioned recipes for lemonade, starting with Ginger Lemonade!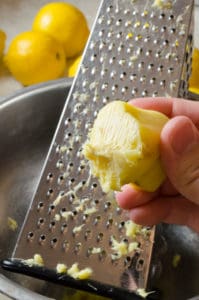 First, you'll start with your flavors, Lemon juice, freshly grated ginger root, and sugar. This lemonade recipe gains extra flavor by smushing a thinly sliced lemon (peels and all) with juicy ginger pulp and a cup and a half of sugar. Yes I know that's a lot of sugar but we're going to be adding a lot of sour lemon juice and a lot of water. So don't freak out…
The lemon peel adds further lemony flavor to our home 'brew'. As you mush everything together, the sugar will absorb all the flavors, so you're basically flavoring the sugar, to which you'll add the lemon juice and water.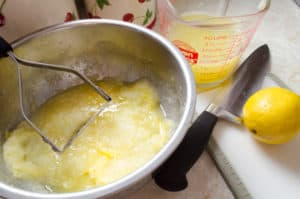 Next, you'll get busy juicing all those lemons! You'll need about two cups of fresh squeezed lemon juice, or about 12 lemons. This is where little hands who are super excited about lemonade stands can really help. I use a juicer attachment made for my KitchenAid stand mixer when I don't have help around. Fresh squeezed lemons are really essential to the taste of any homemade lemonade recipe. I know you can buy large bottles of juice at the store; I would only recommend this as a last resort.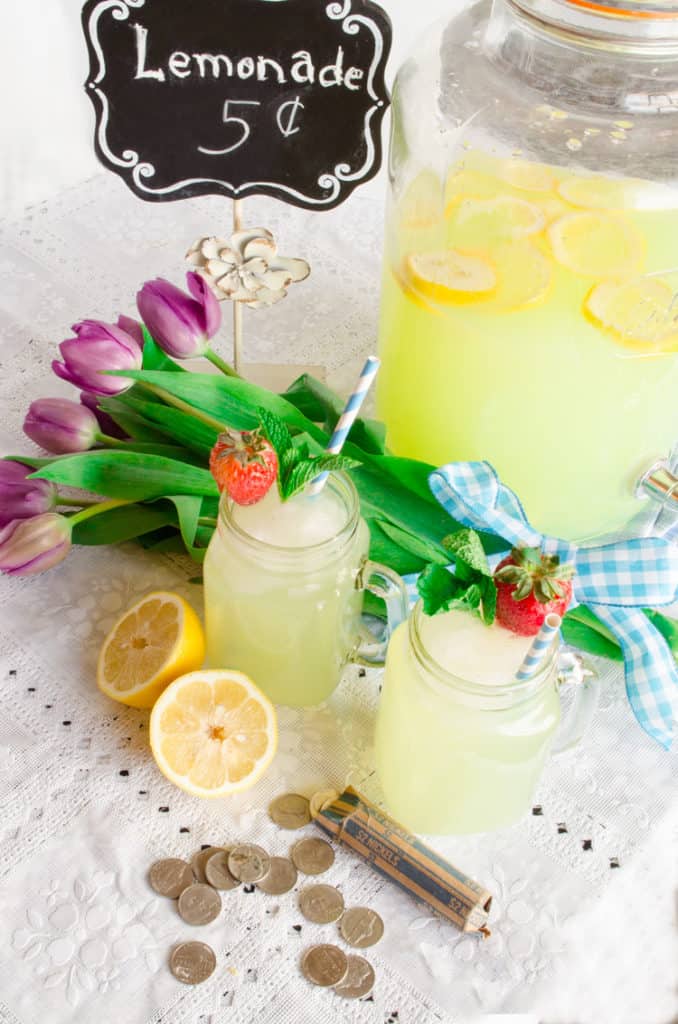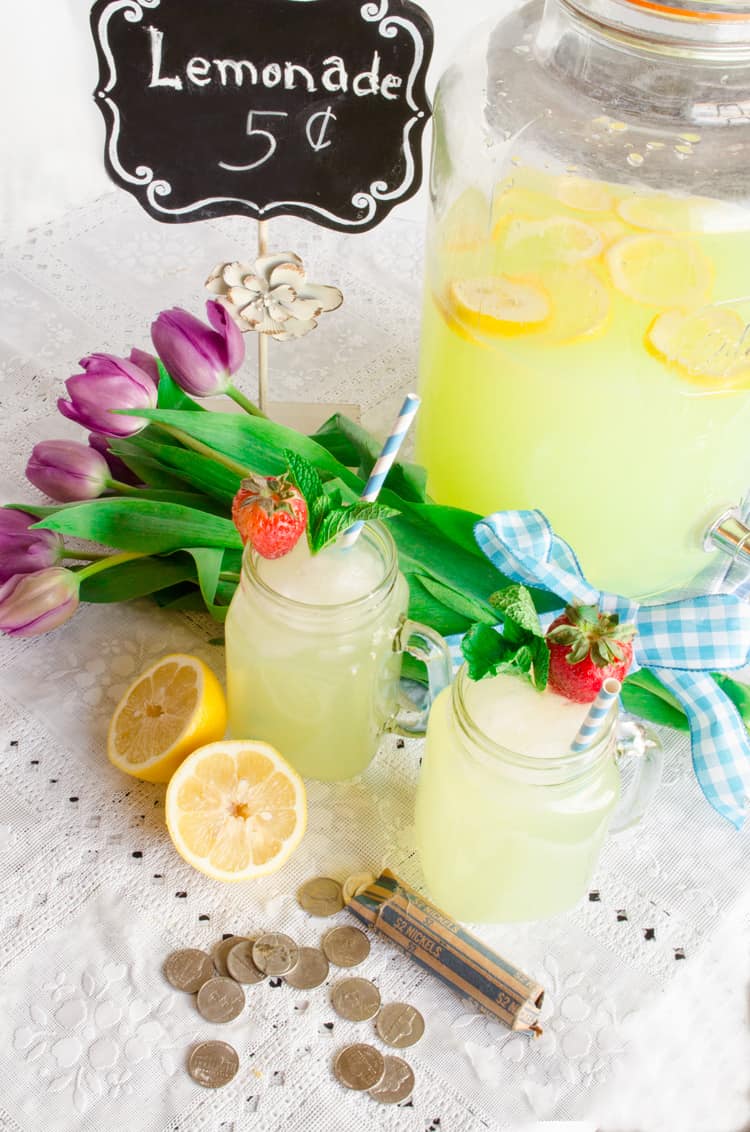 I ready my serving pitcher or container for the lemonade at this point. Place a fine mesh strainer over the top. Now we'll combine everything and strain the mixture. you'll want to do this because there will be lemon seeds and chunks of ginger root you don't want going into your lemonade. Pour the lemon juice into the mixing bowl with your sugar muddle and stir to dissolve the sugar. Then pour the contents through the strainer and into your pitcher. Then slowly add the water, pouring over the solids left in the strainer. At this point I personally like to pick out the lemon slices and add them to the pitcher, but this is optional. Discard the rest of the solids left. Give the pitcher a couple good turns with a long handled spoon and you've got fresh homemade real ginger lemonade!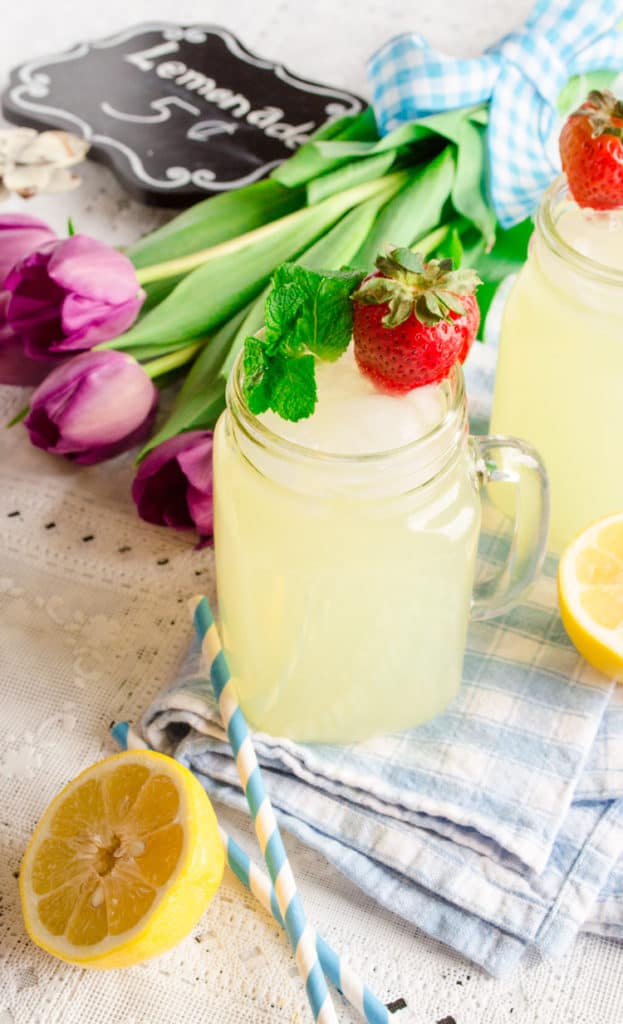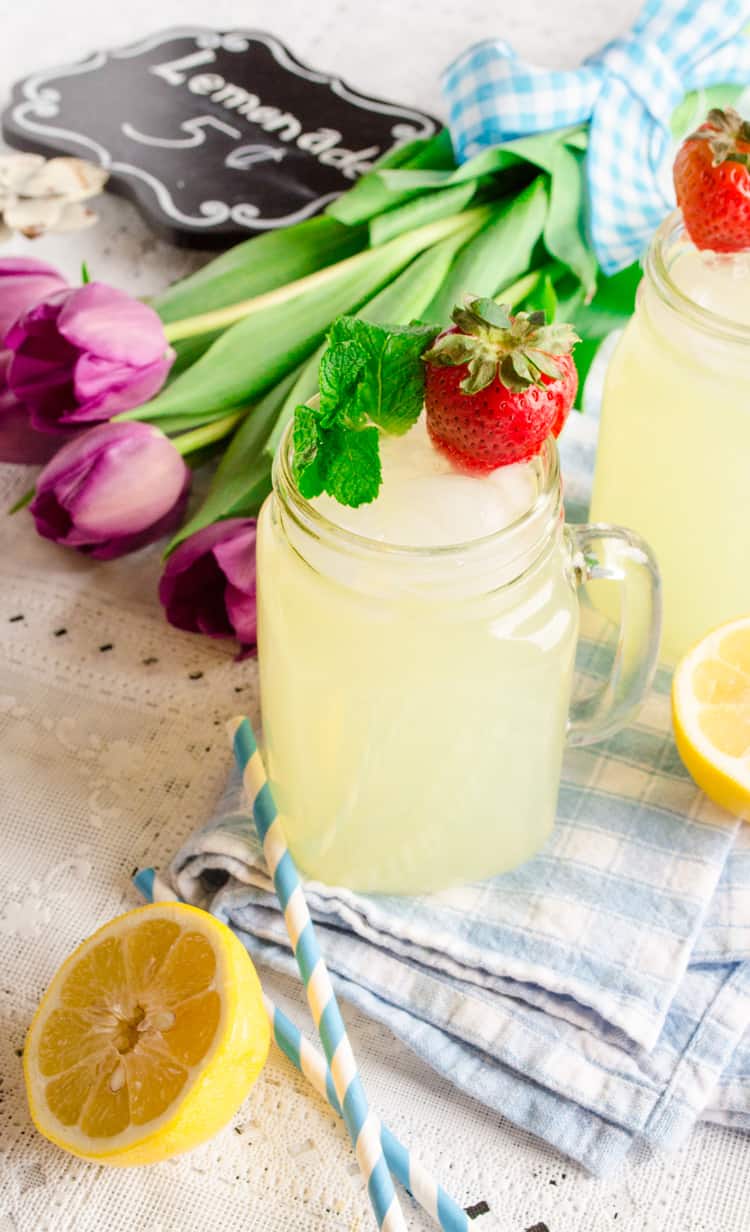 The flavors of ginger and lemon create a fresh, strong, enlivening combination that is a perfect way to enjoy a summer day. A glass of fresh squeezed ginger lemonade is a great pick-me-up too! Just seeing happy yellow and consuming something so fresh will enliven the spirit. I hope you enjoy creating and drinking this recipe for Ginger Lemonade, and that it brings happy times and happy memory to you.
This recipe was inspired by cookscountry.com
Print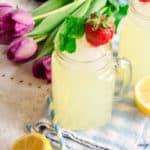 Ginger Lemonade
---
Author:

Emily

Total Time:

20 minutes

Yield:

1

0

1

x
Description
The fresh intense flavors of lemon and ginger are a perfect match in this summertime drink.
---
13

lemons

1 1/2 cups

sugar

3

inch piece of ginger root, peeled

8

to

9

cups of water or club soda
---
Instructions
Slice one lemon thin and add the slices to a medium mixing bowl. Grate the ginger root with a rasp grater or the smallest holes on a box grater over the mixing bowl until you have about 4 tablespoons of pulp. (You'll want some ginger root left in your hand to hold onto during grating.) Add the sugar to the mixing bowl and using a potato masher or similar object, mash and mix the ingredients together. Set aside.
Juice the rest of the lemons until you have 2 cups fresh lemon juice. Add the juice to the sliced lemon and ginger mixture. Stir until the sugar is dissolved.
Place a fine mesh strainer over the pitcher you will use to serve the lemonade. Pour the contents of the mixing bowl into the strainer. With the strainer still placed on top, carefully pour in the water or club soda over the slices of lemons in the strainer.
Next, Pick out the lemon slices from the strainer and add them to the pitcher. Serve individual servings with ice.
Prep Time:

20 minutes

Category:

Drinks