30-minute One-Pot Meatball Stroganoff
One taste of One-pot Meatball Stroganoff and you'll have a new weeknight favorite!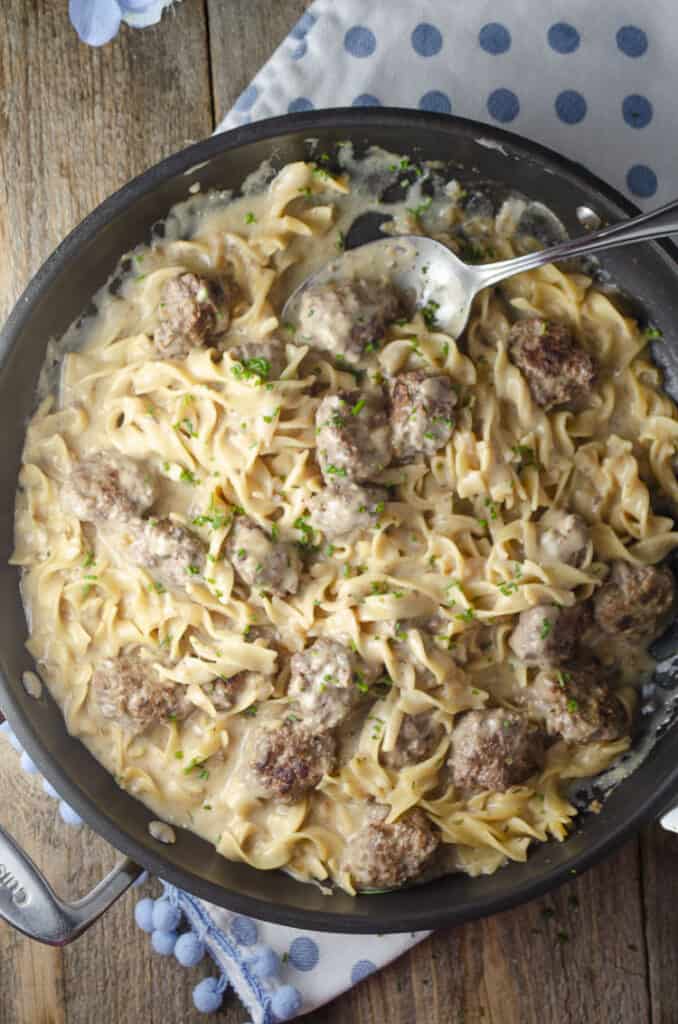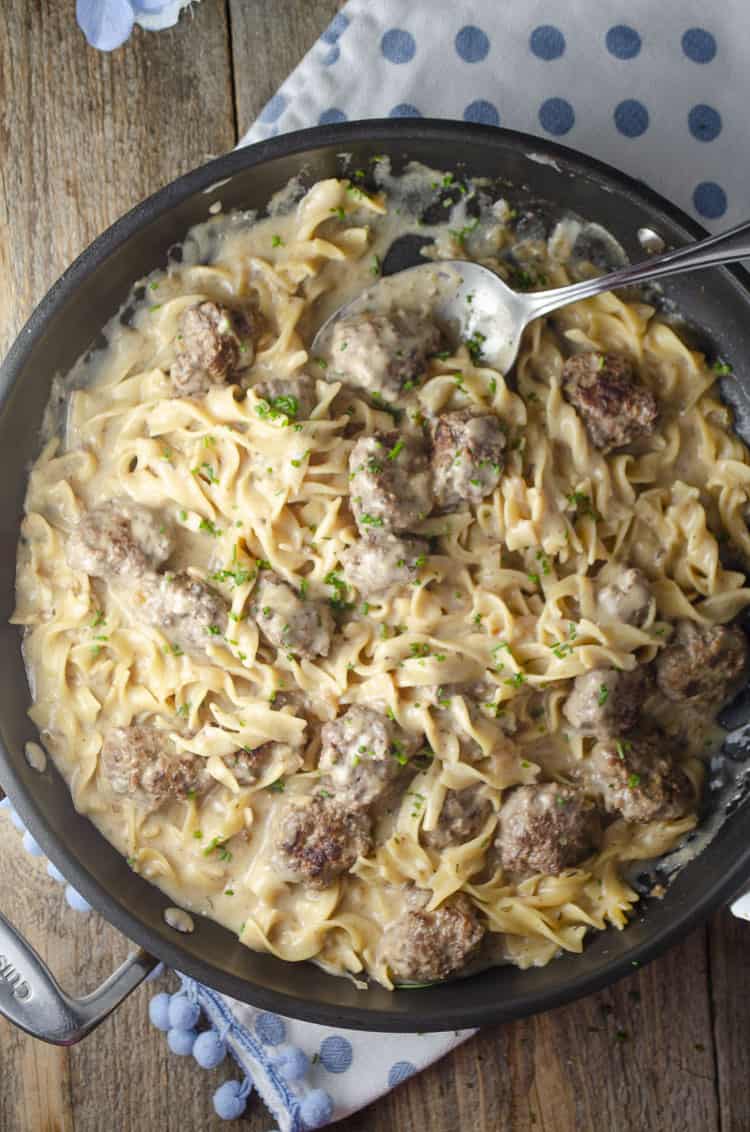 This recipe for 30-minute One-Pot Meatball Stroganoff was so well received by my family I'll be making it again next week– I can't believe how easy and delicious this is, and it's all thanks to one of my favorite cheeses- Boursin Cheese! (No this is not a paid endorsement, I just think Boursin cheese is the bee's knees of soft cheeses :0)
How to make 30-minute One-Pot Meatball Stroganoff
The meatball portion couldn't be simpler, just mix together a pound of ground beef and a few tablespoons of Garlic Herb Boursin cheese. The cheese acts as a binder for the meat while adding tons of fabulous flavor.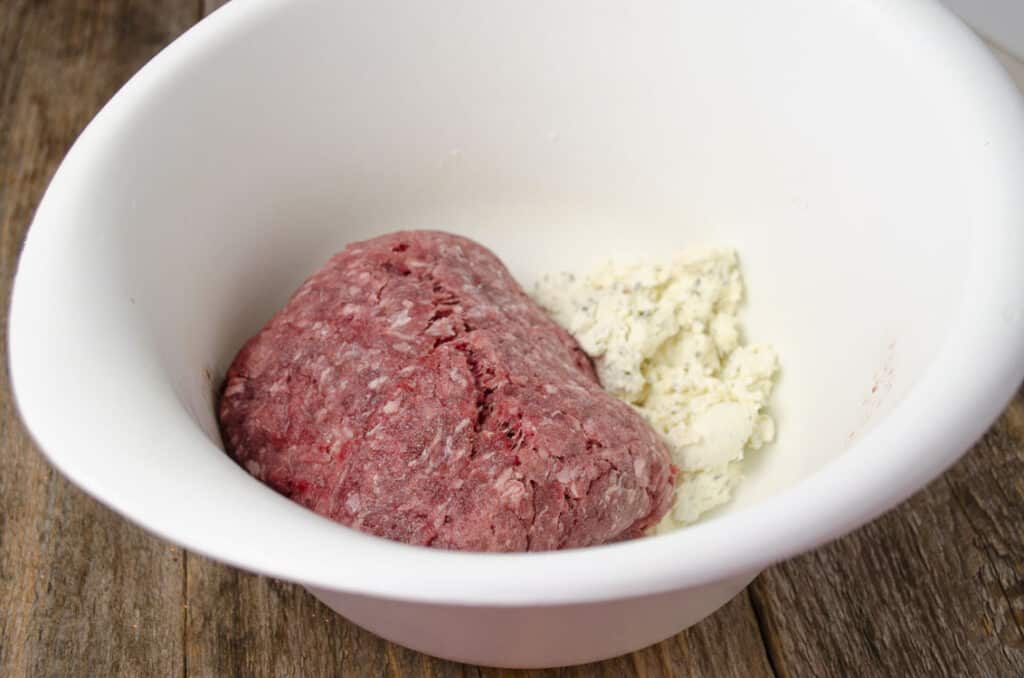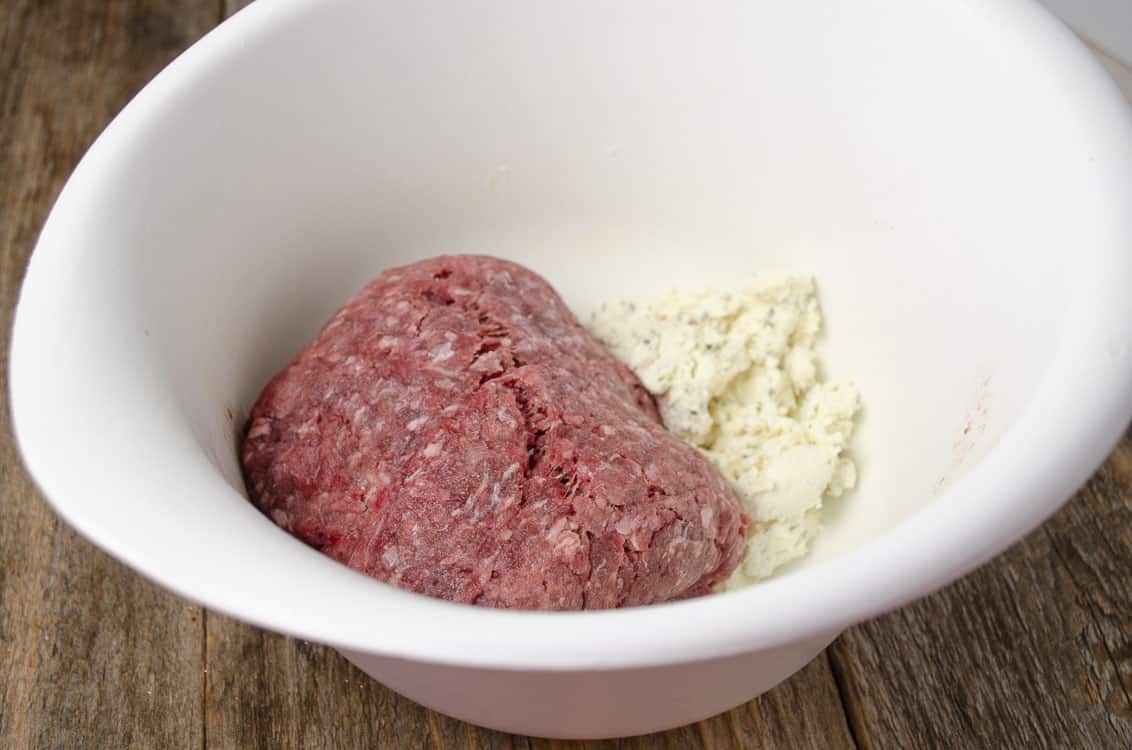 Boursin cheese comes from the Gournay area in Normandy France and can be found in almost any supermarket in the specialty cheese section (you know where all the fancy cheeses are kept). It comes in a few varieties, but I find that I use the Garlic and Herb variety the best. It's absolutely Ah-Maz-ing in Twice-baked potatoes!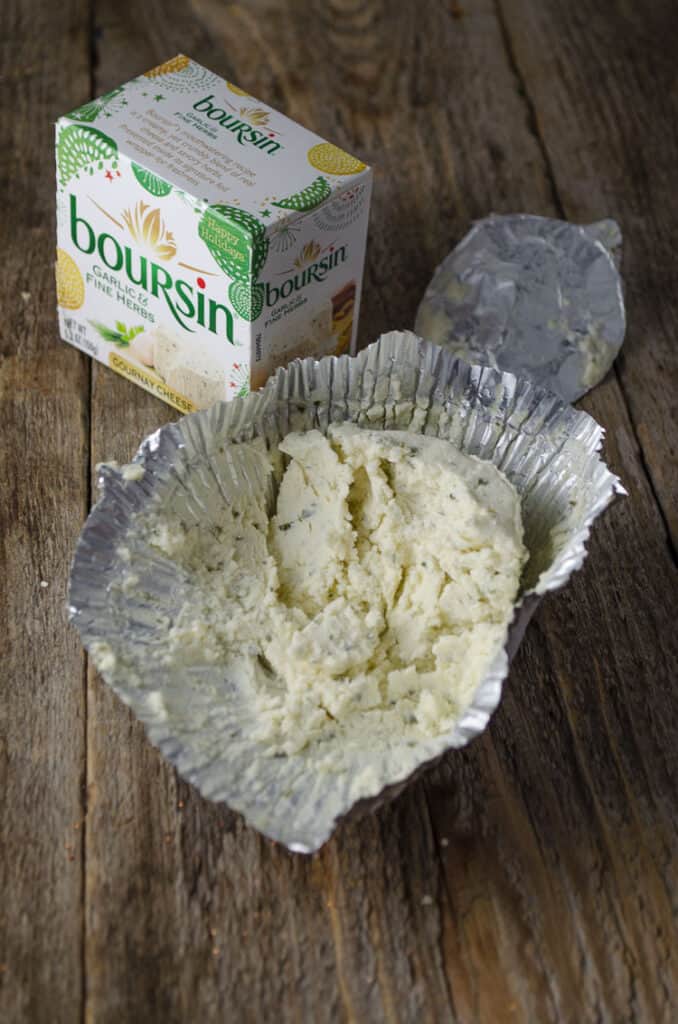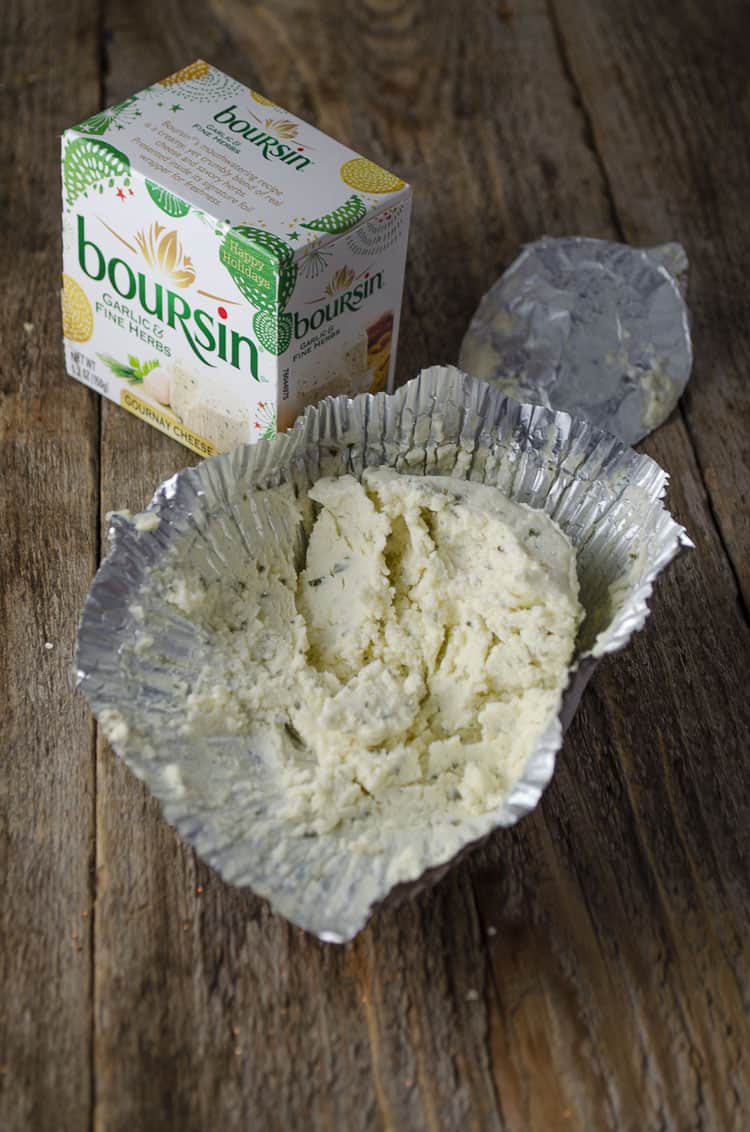 I find that using a small cookie dough scoop works great for getting those meatballs in the hot skillet fast. Brown them on all sides, then remove them for later.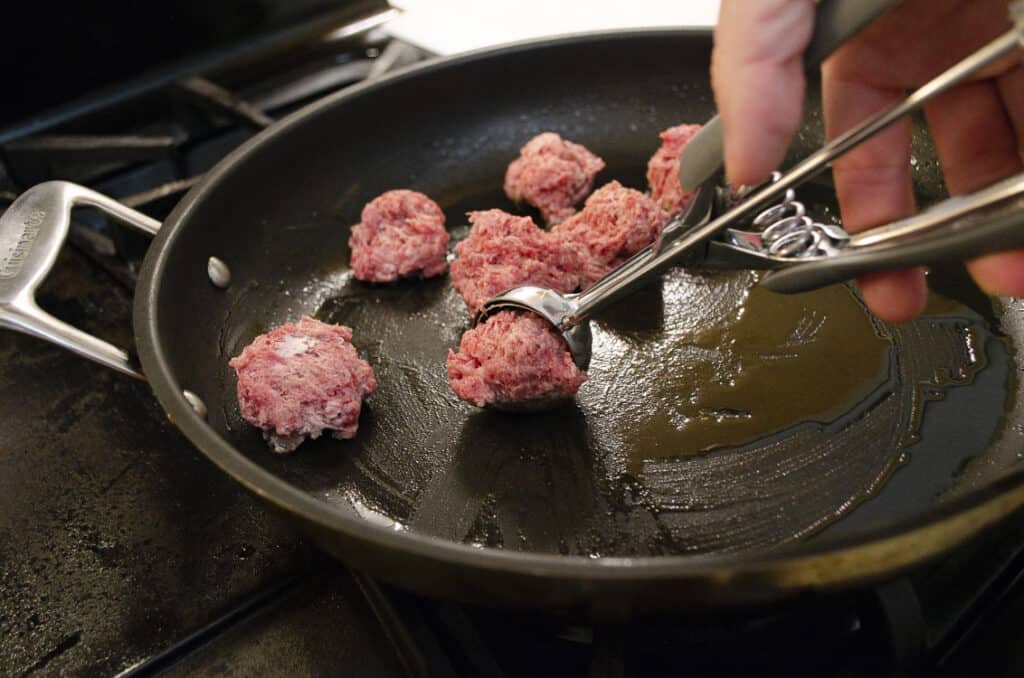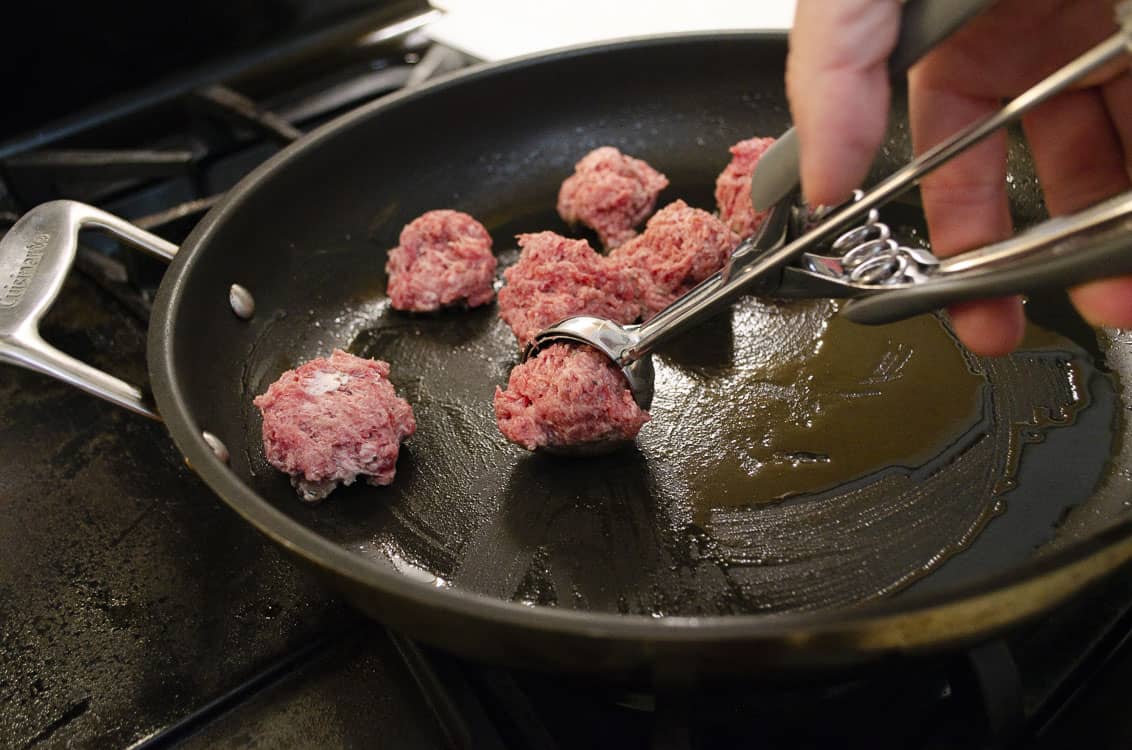 Add chopped onion into the drippings and bits of meat left and cook until soft and translucent and very brown, about 5 minutes, then sprinkle over a little flour and continue to cook for another minute. Cook that flour; don't eat it raw!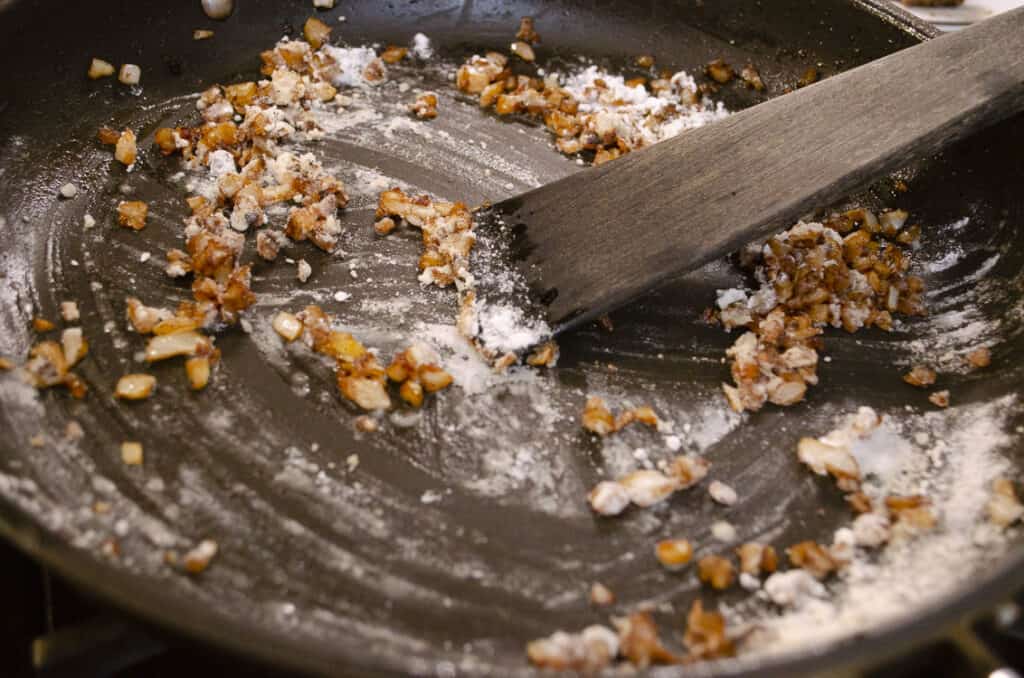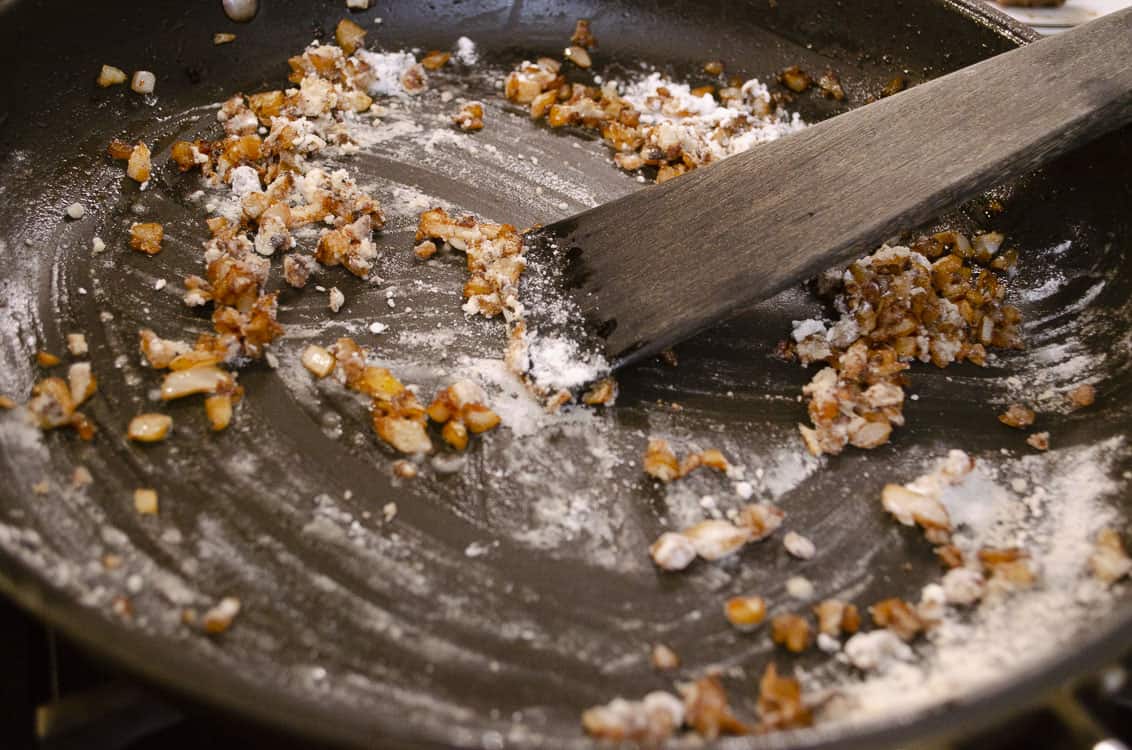 Now we can add in our liquids- chicken broth and a dash of white wine vinegar. I substitute it for actual white wine; I'm not a fan of cooking with wine (I know, don't hate me…). But if you ARE, cut the broth by 1/2 cup and add in 1/2 cup of your choice of white wine instead.
One-pot Wonder Recipes are such a lifesaver!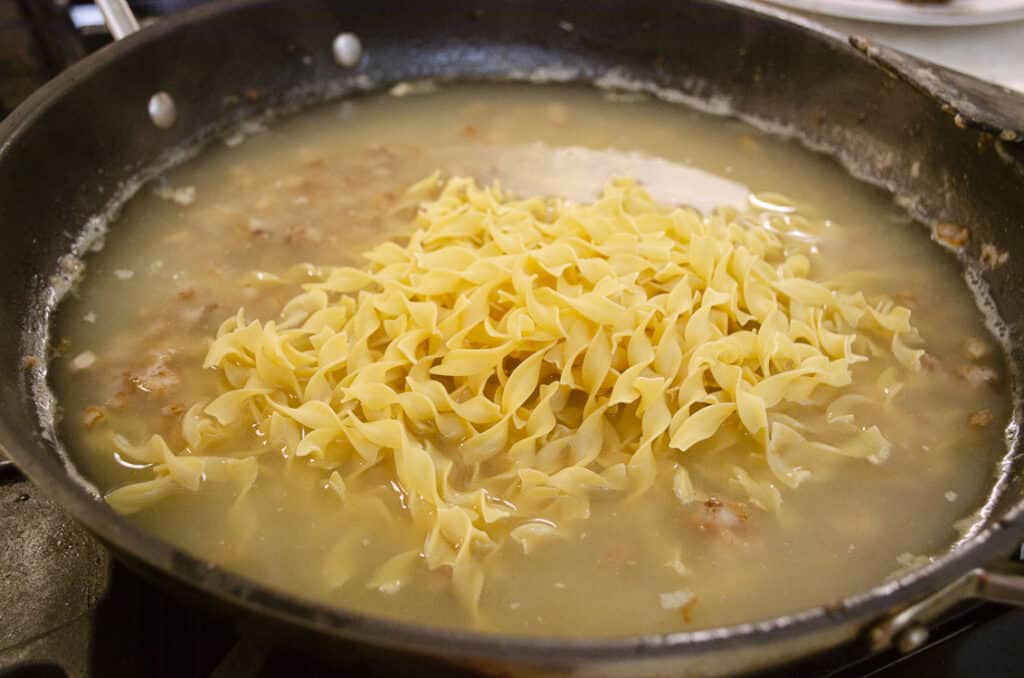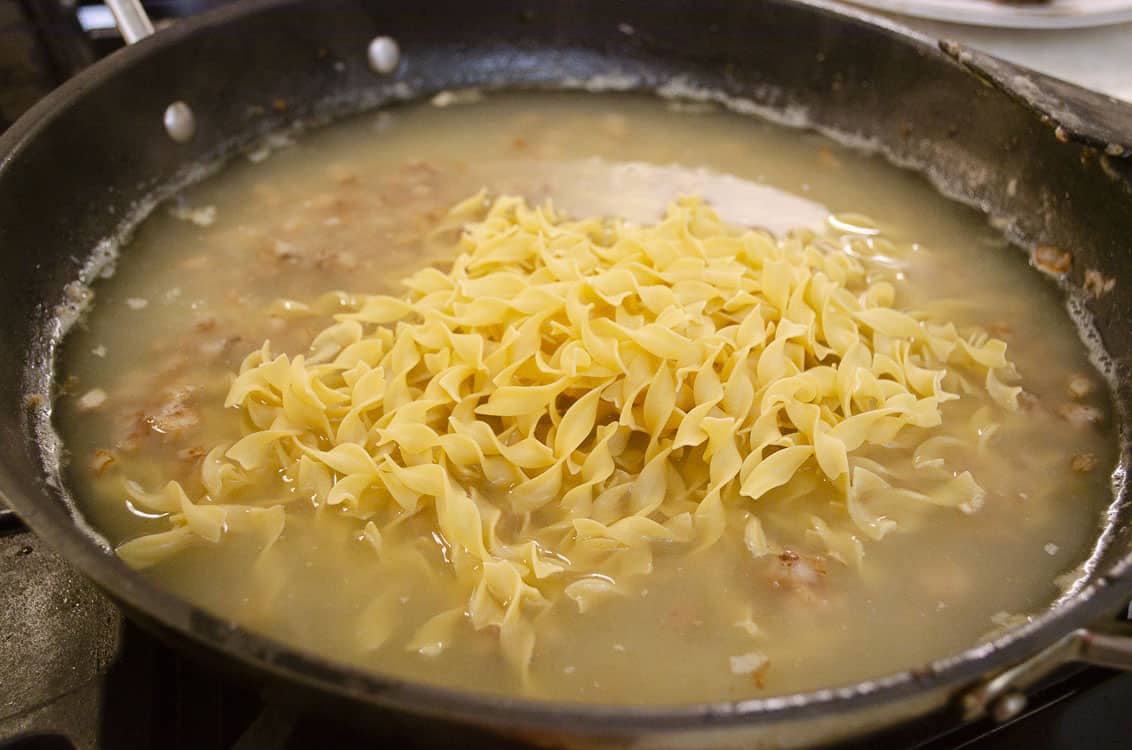 Now we'll cook the pasta right in the pan, and then nestle the meatballs in there too so they can all cook together and marry all those delicious flavors!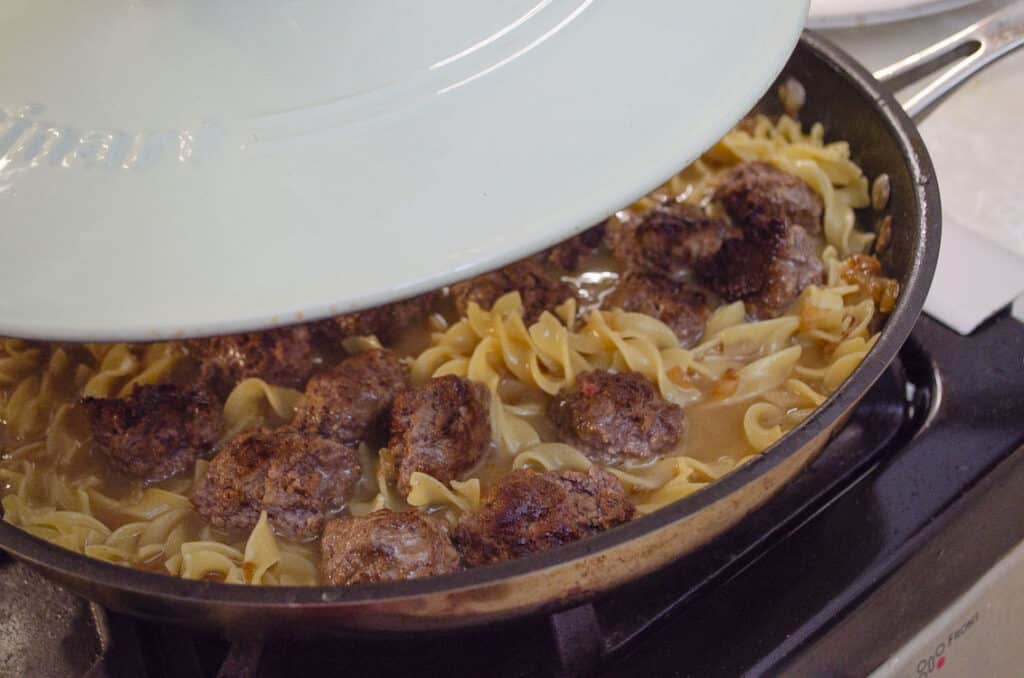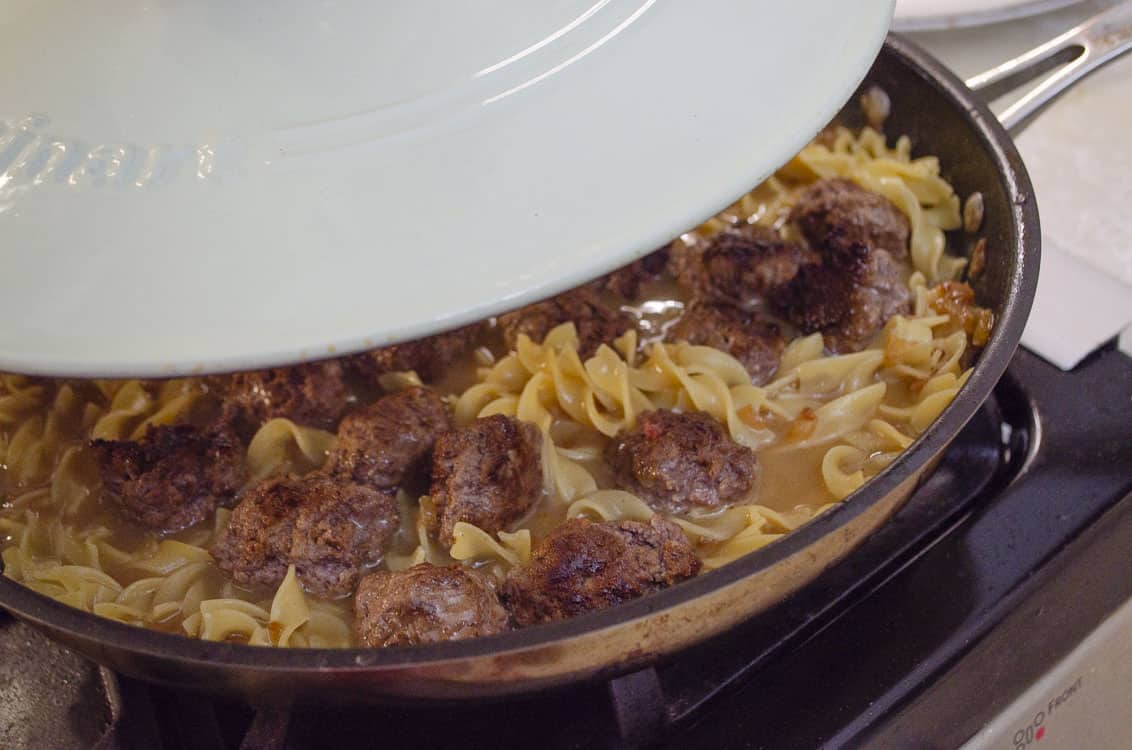 Once everything is nice and tender, simply stir more Boursin cheese right into the skillet, along with a dollop of cream cheese. Garnish with a sprinkle of minced chives for a lovely pop of color and fresh flavor. Dinner is done!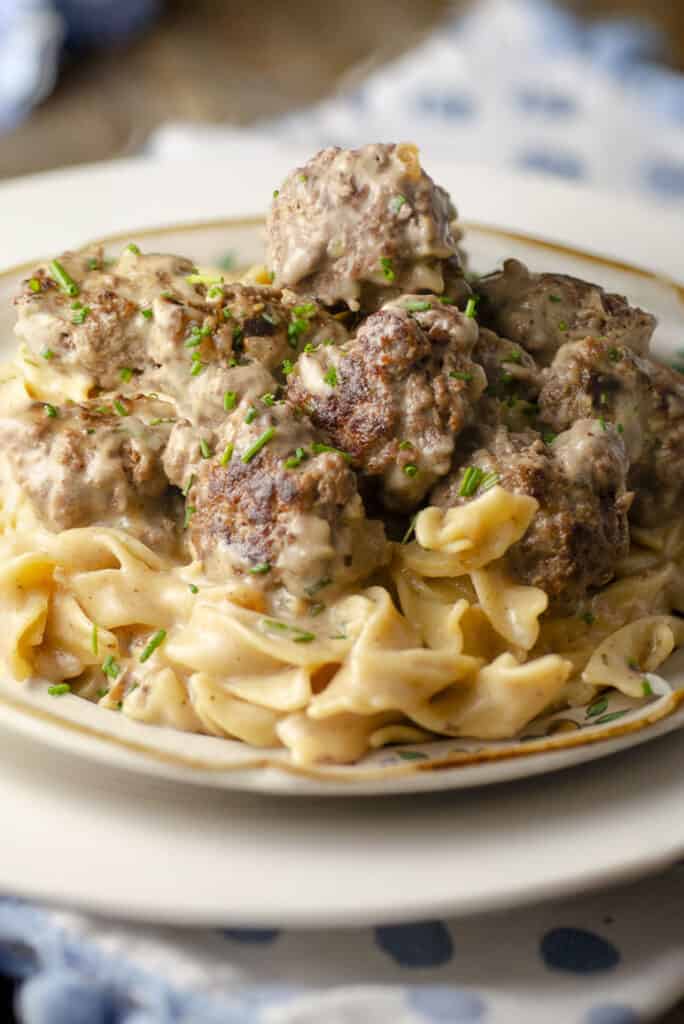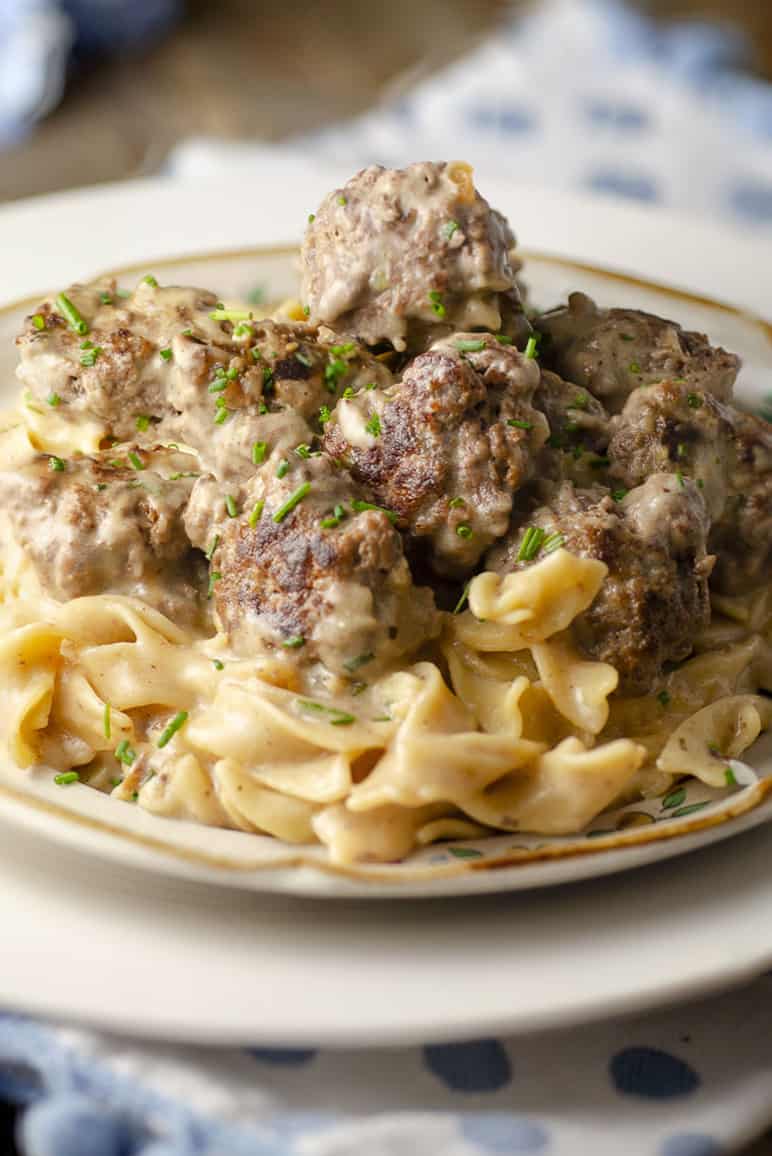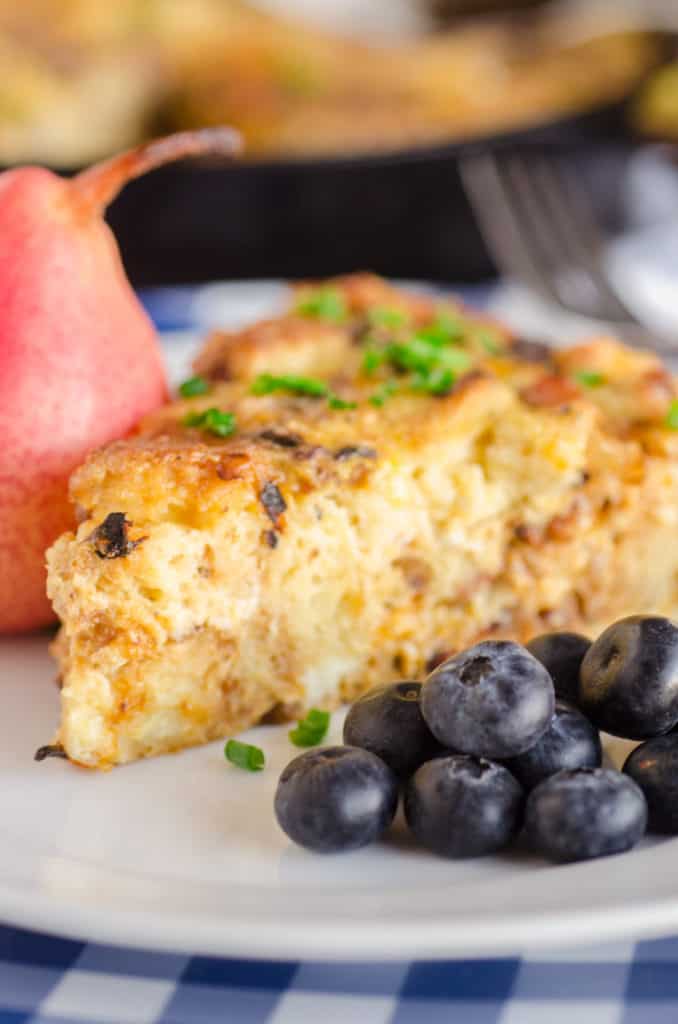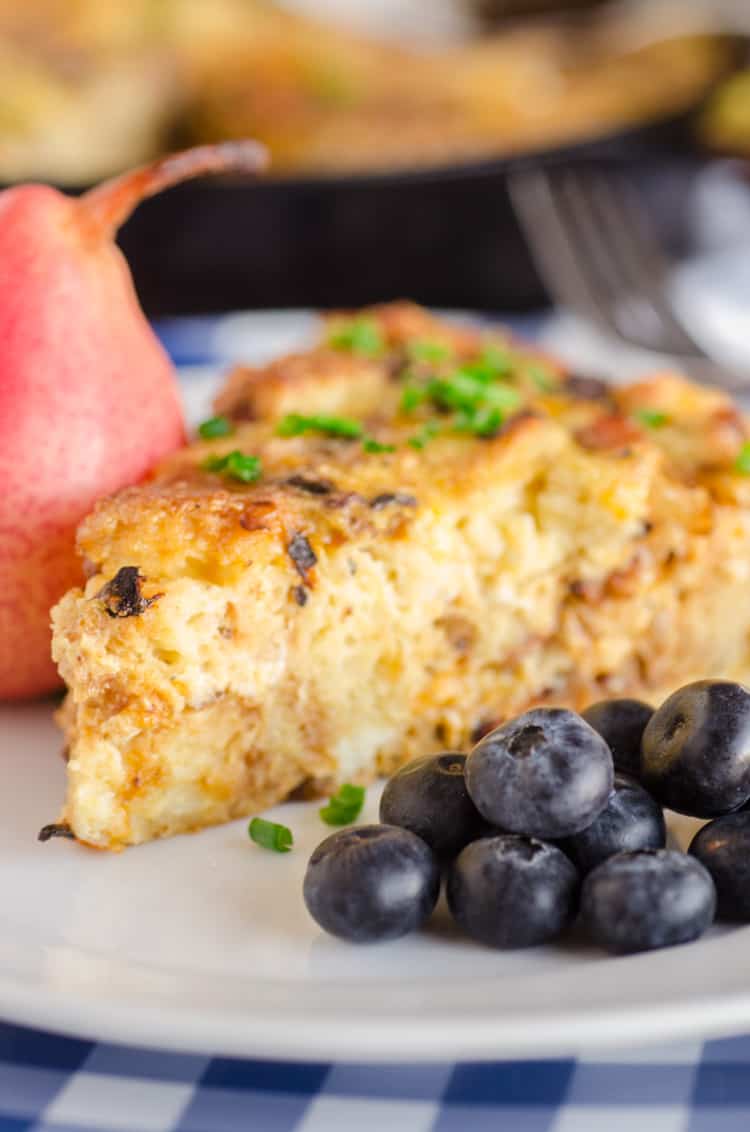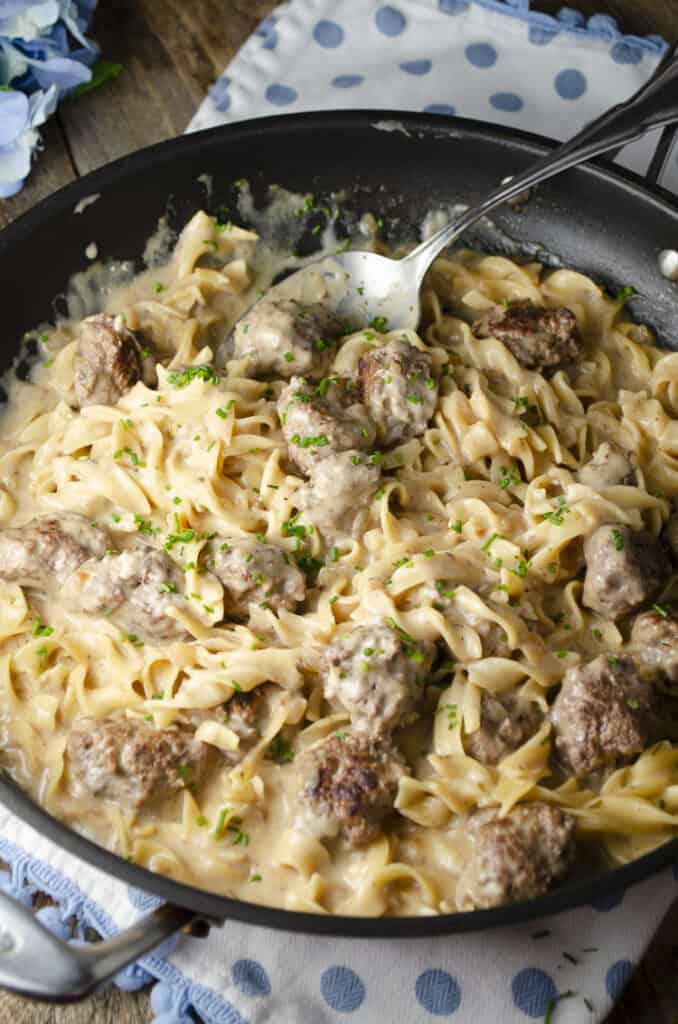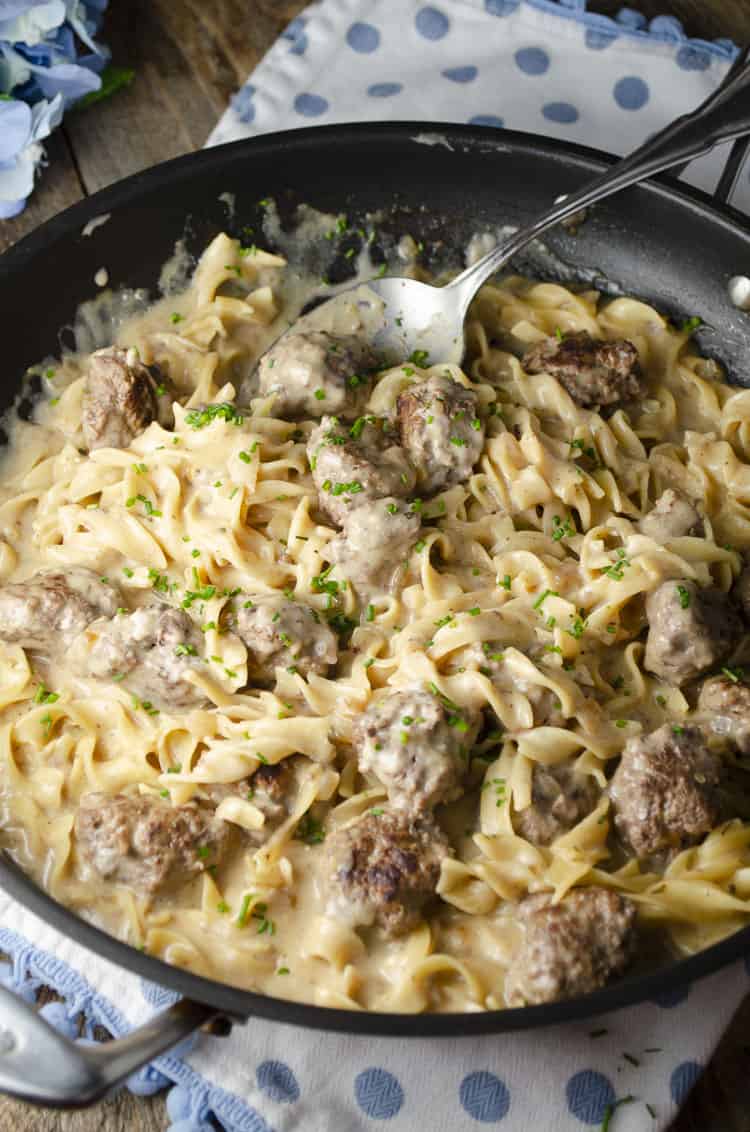 This incredible recipe for 30-minute One-Pot Meatball Stroganoff is a meal that will quickly become one of your favorites. Please help support The Goldilocks Kitchen by leaving a recipe rating and a comment. It's always appreciated. Enjoy the recipe!
Print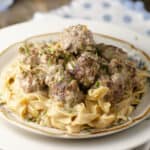 One-pot Meatball Stroganoff
---
Description
This delicious 30-minute dinner comes together quickly thanks to a box of Boursin cheese, which both binds the meatballs together and makes a flavorful stroganoff sauce.
---
1

pound ground beef

1

package of Garlic Herb Boursin Cheese
salt and pepper

1 tablespoon

vegetable oil

1/4

yellow onion, chopped fine

2 tablespoons

flour

4 cups

chicken broth

2 tablespoons

white wine vinegar

8 ounces

egg noodles

1 tablespoon

sour cream
minced chives optional garnish
---
Instructions
Mix beef and a heaping 1/4 cup Boursin cheese, 1/2 tablespoon salt, and 1/4 teaspoon pepper in a bowl until combined and no more white streaks remain.
Heat oil in a large non-stick skillet over medium-high heat. Roll 1-inch meatballs and place in the hot skillet, turning frequently, until browned on all sides, about 5-6 minutes. Remove meatballs and set aside. While meatballs cook, chop the onion.
Add onion to empty skillet and sprinkle with a pinch of salt. Cook until soft and translucent, about 5 minutes. Sprinkle the flour over and cook for another minute, stirring frequently. Pour in the broth, vinegar, and noodles. Bring to a boil, then cover and reduce the temperature to medium-low. Cook pasta for 5 minutes, then add the meatballs back to the skillet and cook covered for another 4-5 minutes, stirring occasionally, until the noodles are tender and meatballs are cooked in the center. Turn off heat and stir in the remaining cheese and sour cream. Sprinkle with optional chopped chives and serve.