Old Fashioned Chicken and Dumplings
Old Fashioned Chicken and Dumpings is classic comfort food at it's finest.
 Classic home cooking at it's best!
Rustic, old-fashioned, made with love comfort food. The kind your grandma used to make. That's what this meal is all about. Sunday dinner on a chilly fall evening with the fireplace lit, cozy and warm. I have loved making this recipe again and again because it's such a classic hearty meal in a bowl, streamlined and foolproof. The timeless combo of chicken simmering with farm fresh herbs and veggies on the stove is the iconic turn of the century American meal. Add homemade dumplings cooked right in the pot and you've got yourself a steamy bowl of goodness and love in every bite!
Alright, fluff aside, this recipe is a step above beginner but can be accomplished by anyone who is willing to spend a little more time in the kitchen to chop fresh veggies and shred chicken :0)
How to make old fashioned Chicken and Dumplings
Bone-in, Skin-on chicken pieces are first browned in a dutch oven to render chicken fat for use later. Browning the skin to a deep golden color adds tons of flavor to the meal. The chicken fat is poured off and saved for the dumpling dough, which also adds flavor.
Then the veggies are sauteed and the stew is built, adding in the chicken that was browned earlier to cook in the broth. Once done cooking, the chicken is shredded and added back into the pot. The bone-in chicken is super hot and will retain heat for a long time. I get impatient waiting for it to cool enough to shred by hand, so I take a knife and fork and cut the pieces open along the bone, even separating whole chunks of chicken off the bone to cool faster. There's a reason for using bone-in though, the meat stays more moist and tender.
At this point, you can turn this recipe into a make-ahead. I highly recommend this~ you can store it in an airtight container for 24 hours if needed. This is so great because the excess chicken fat on the top of the stew will solidify and is easily spooned off. Otherwise, you'll need to get a large spoon and try to spoon it off of a hot stew, without spooning the stew out with it.
Side note: I once kept a sweet family we had invited over to dinner waiting almost 45 minutes for this dish! I had forgotten how long it takes to let the chicken cool before shredding and was so late getting this on the table (sorry Holbrook's!) I was thoroughly embarrassed. My advice is if you're making this for a crowd, definitely make it the day before. Warm it up 30 minutes or so before you wish to serve it to give yourself time to cook the dumplings.
While the chicken cools, I go ahead and make up the dough for the dumplings. Now there are all kinds of different 'dumplings' out there in the world, and this recipe may be different from any you've tried. They're made from a very sticky dough, scooped right out into a small ball and dropped into the stew to steam cook. I recommend a small scoop like a melon baller or a tablespoon for this. Whatever you use to scoop and drop, spray it with cooking spray. The dough won't stick and will come right out in a more pleasing round shape. The finished dumplings double in size and should be light and flavorful. If they are gummy on the inside, they are underdone.
Print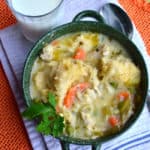 Old Fashioned Chicken Dumplings
---
Author:

Emily

Total Time:

2 hours

Yield:

8

servings

1

x
Description
Old Fashioned comfort food straight from the farm. Bone-in, skin-on chicken gives a great depth of flavor and reserved chicken fat is used to flavor the dumplings too.
---
Stew
4

pounds bone-in, skin-on chicken pieces (split breasts cut in half, drumsticks, and/or thighs), fat trimmed off
Salt and ground black pepper

2 tablespoons

vegetable oil

4 tablespoons

(

1/2

stick) unsalted butter

4

medium carrots, peeled and sliced 1/4 inch thick

2

celery ribs, sliced 1/4 inch thick

1

medium onion

6 tablespoons

unbleached all-purpose flour

5 1/2 cups

low-sodium chicken broth

1/4 cup

whole milk

1 teaspoon

minced fresh thyme leaves or

1/2 teaspoon

dried

2

bay leaves

1 cup

frozen peas

3 tablespoons

minced fresh parsley leaves
Dumplings
2 cups

unbleached all-purpose flour

1 tablespoon

baking powder

1 teaspoon

salt

1 cup

whole milk

3 tablespoons

reserved chicken fat or unsalted butter
---
Instructions
For the stew: Pat the chicken dry with paper towels and season it generously with salt and pepper. Heat the oil in a large dutch oven over medium-high heat until just smoking. Turn the heat to medium and brown half of the chicken on both sides, 6 to 8 minutes per side. You can turn the heat up to medium high if the chicken isn't browning fast enough but if the bottom of your dutch oven begins to scorch, turn the heat back down. Transfer the chicken to a plate, leaving the fat in the pot. Repeat with the remaining chicken.
Pour off any chicken fat and reserve it for later. Add the butter, carrots, celeryk, onion, and 1/4 teaspoon salt to the pot and cook over medium heat, stirring occasionally, until softened, 5 to 7 minutes. Stir in the flour and cook for 1 minute. Pour in the broth, milk, and add the thyme and bay leaves and whisk to incorporate, scraping up any browned bits on the bottom.
Nestle the chicken, along with any accumulated juice into the pot and bring to a simmer. Cover, turn the heat to medium-low, and simmer until the chicken is fully cooked and tender, about 20 minutes for the breasts (165 degrees) or 1 hour for the dark meat (175 degrees). If using both types, simmer the thighs and drumsticks for 40 minutes before adding the breasts.
Transfer the chicken to a plate to cool. If you divide each piece into two it will cool quickly. When it's cool enough to handle, remove the meat from the bones and shred it into bite-sized pieces; add the shredded chicken into the pot and discard the skin and bones. Remove and discard the bay laves. Skim as much fat as possible off the surface of the broth with a large spoon. This step is important~ the dumplings will be cooking at the surface and you don't want excess chicken fat baking into the dumplings. (At this point the stew can be cooled completely and refrigerated in an airtight container for up to 24 hours. The fat will solidify and it's extra easy to remove this way. Re-heat over medium low heat.)
For the Dumplings: Stir the flour, baking powder and salt together in a large bowl. Microwave the milk and reserved chicken fat in a microwave-safe bowl until just warm (do not over heat), about 1 minute. Stir the warmed milk mixture into the flour mixture with a wooden spoon until incorporated and smooth.
Return the stew to a simmer, stir in the peas and parsley, and taste it. Season with salt and pepper if necessary. (This stew has always needed salt when I make it~ make sure you add salt before adding the dumpling dough.) Using a melon baller or small spoons sprayed with non-stick spray, scoop and drop balls of dough into the stew. Leave 1/4 inch of space around each dumpling until there's no more room. You may have excess dough depending on the size of your dutch oven or pot. Reduce the heat to low, cover, and simmer until the dumplings have doubled in size, about 13 to 15 minutes. Serve.
Prep Time:

1 hours

Cook Time:

1 hours

Category:

Dinner

Cuisine:

American