Homemade Egg and Sausage Wraps
Thanks so much to NestFresh Eggs for sponsoring my TV debut!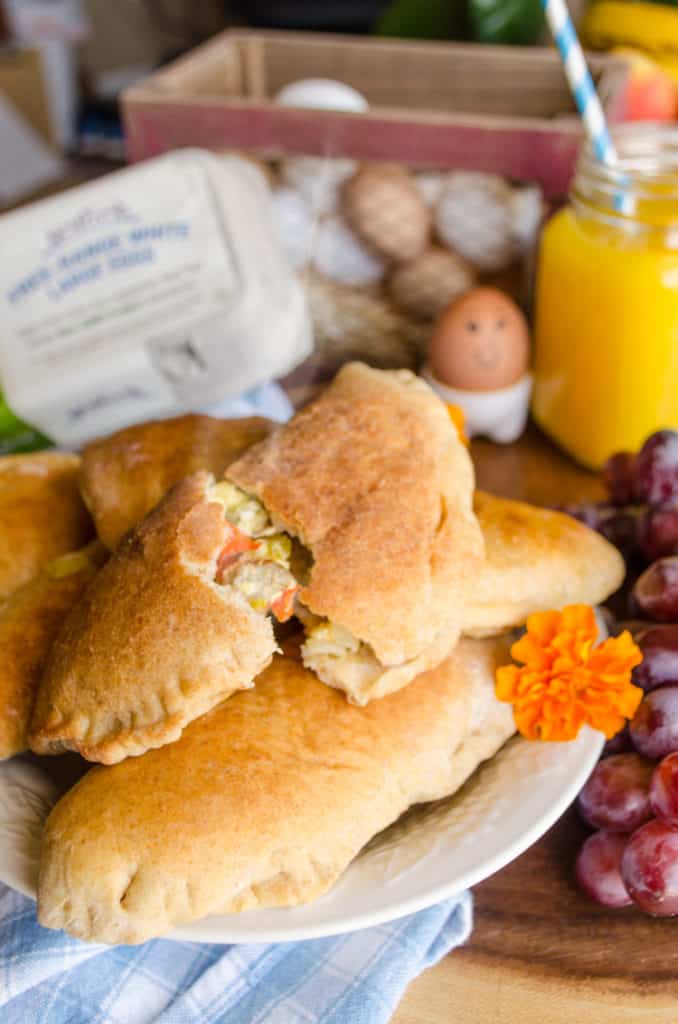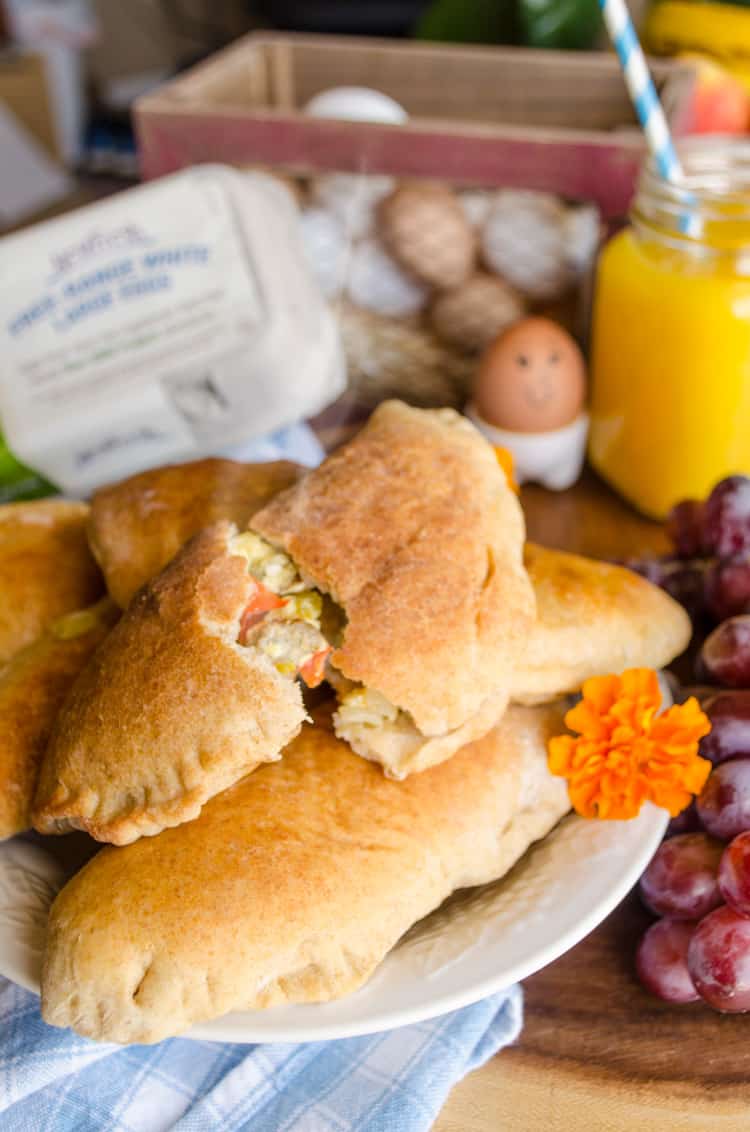 These little Homemade Egg and Sausage wraps were featured on KOB channel 4 on the morning show. They are super easy, tasty and make a perfect healthy on-the-go meal so you can get your morning started off right! Don't skip the most important meal of the day, just get smart about it and make it the night before so it's ready to go.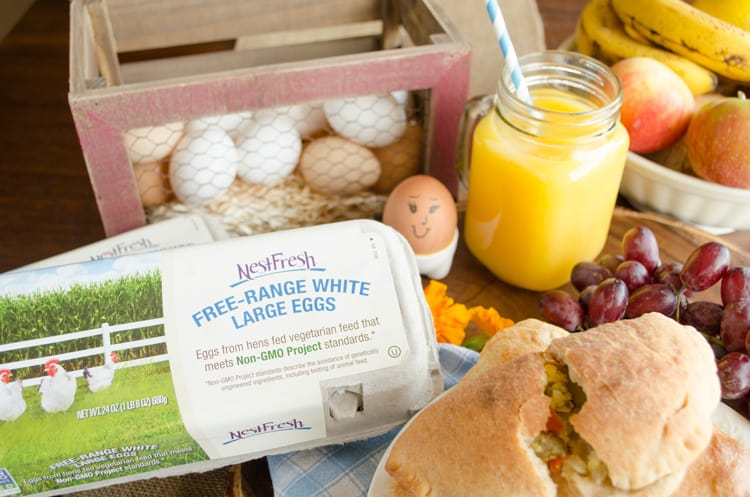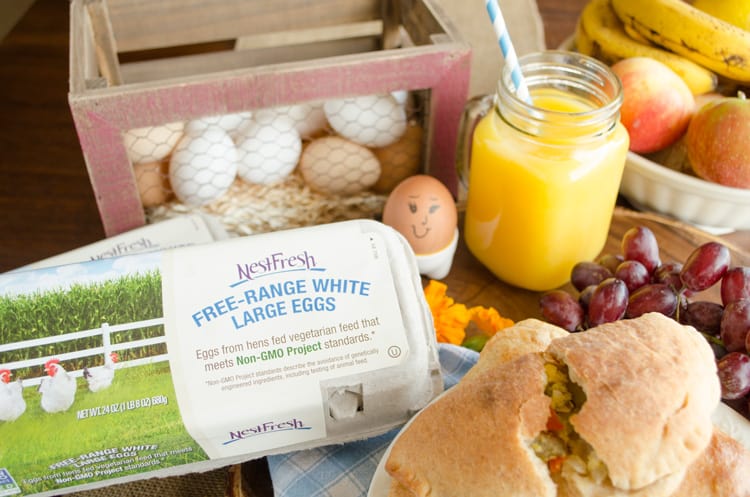 The most important component of this recipe is the eggs. Eggs are a great source of protein which helps you feel full longer. Be sure the next time you have eggs on your grocery list, that you try NestFresh Eggs, the first Non-GMO certified eggs that are 100% cage free. They have a higher nutrient content and less cholesterol and saturated fat than a commodity egg. Happy hens lay healthier eggs! It's really true!
I had a great time over at the studio! Everyone was super friendly and helpful at calming my nerves. I was able to leave most of the food I had prepared, and there were lots of hungry hosts and producers who were more than ready to eat it!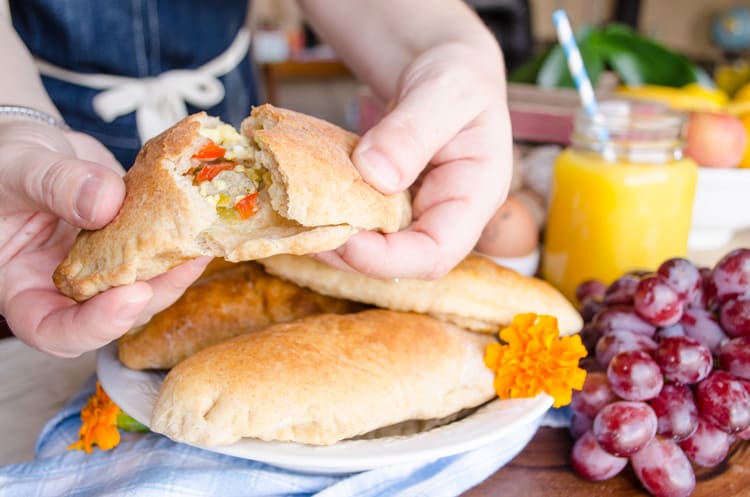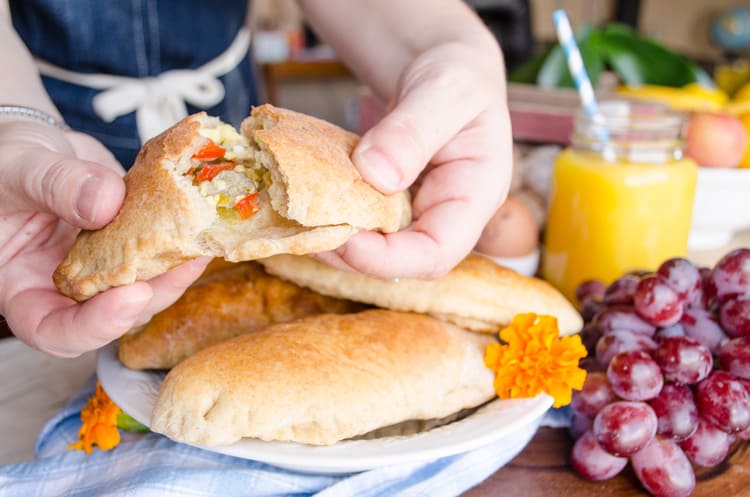 These wraps only take about 30 minutes to make from start to pulling out of the oven done. Let them cool and wrap them in foil and pop 'em in the freezer. Then the next morning you can throw one in the microwave (remove the foil wrapping first!) and you have a healthy 'hot pocket' hand held breakfast perfect for those on-the-go days! They're not too heavy and have lots of protein that's perfect for breakfast.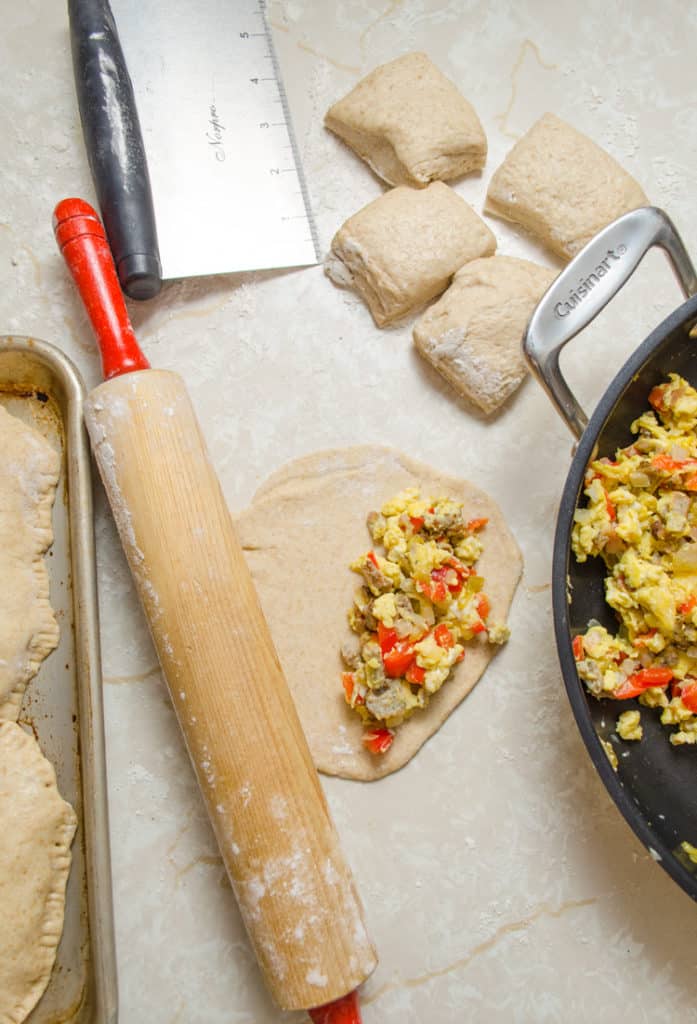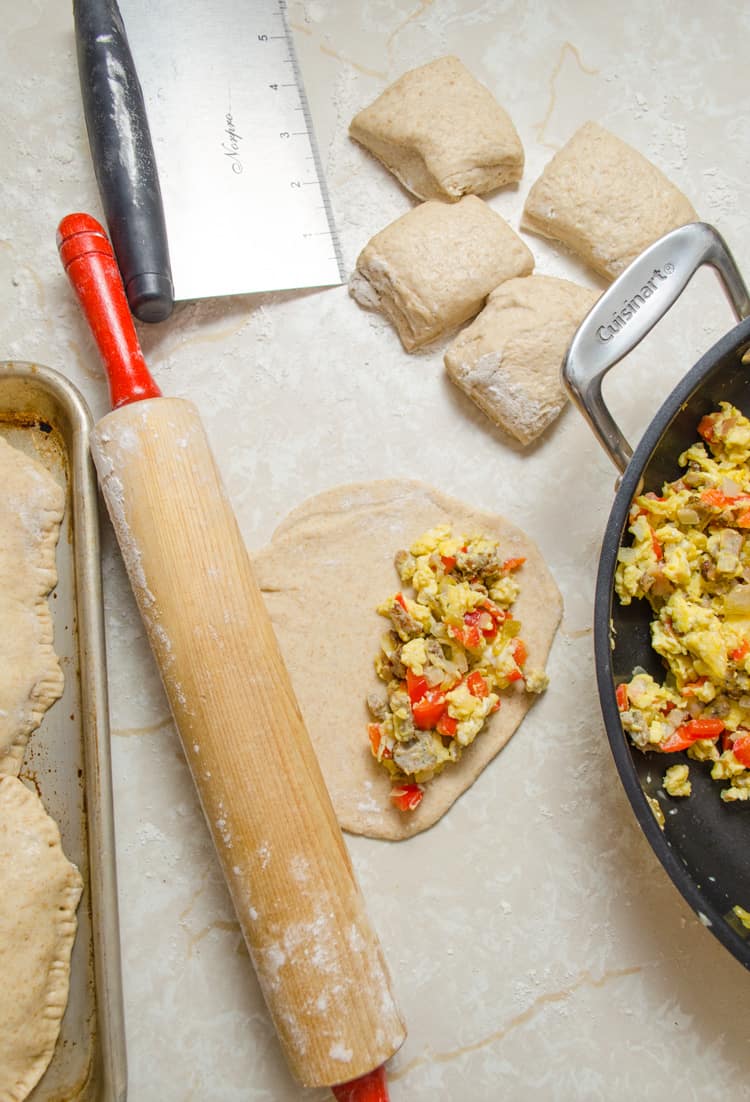 These breakfast wraps are made with store bought whole wheat pizza dough so they're super easy to make and better for you. Remember, protein and whole grains will go a long way to helping you stay full for hours.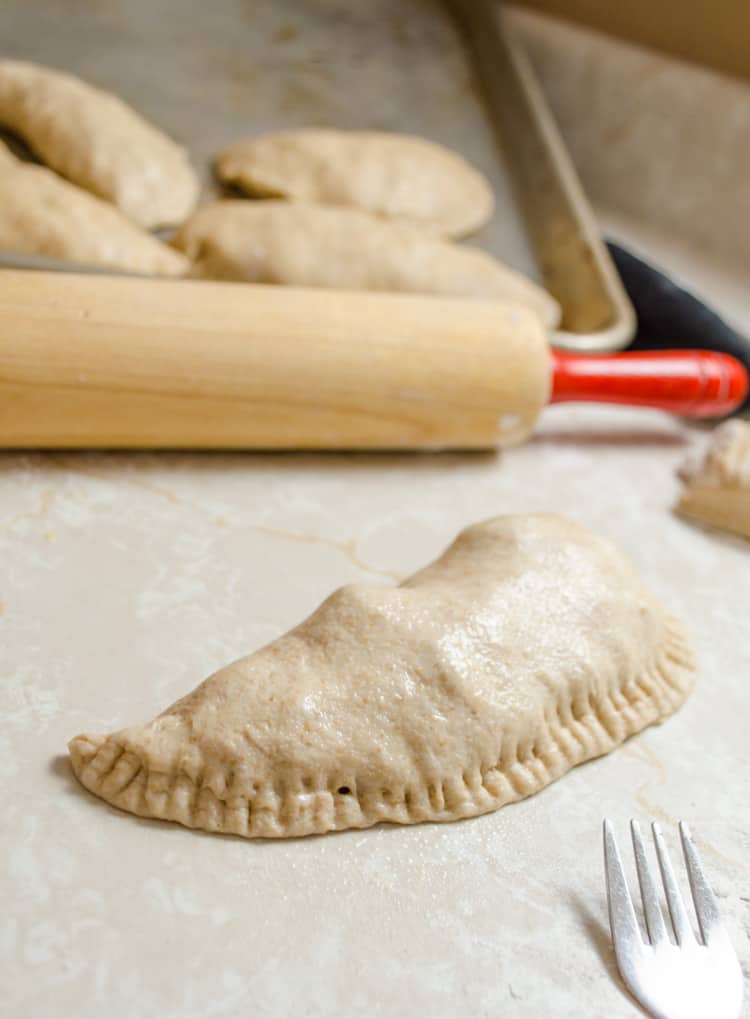 We love making these breakfast wraps, they are just so easy! Be sure to make them with NestFresh eggs. You can find them in Deca commissaries on military bases, Natural Grocers by Vitamin Cottage and Whole Foods. Make the commitment to eating a better breakfast for Better Breakfast Month!
Print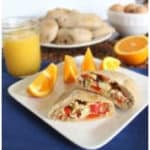 Homemade Egg and Sausage Wraps
---
Author:

Emily

Total Time:

37 minutes

Yield:

8

breakfast wraps

1

x
store-bought whole wheat pizza dough

3

Nestfresh Eggs whites or regular egg whites

3

chicken sausage links, chopped

1

red bell pepper, chopped

1/4

onion, chopped

2 tablespoons

chopped green chile

1 tbsp

olive oil (not evoo)
---
Instructions
Preheat oven to 450 degrees.
In a large nonstick skillet over medium-high heat, saute peppers, onion and sausage with olive oil for about 5 minutes until peppers are softened and sausage is heated through.
Lightly whisk eggs and egg whites and pour into the skillet with the vegetable/meat mixture. Add in the green chile and mix with spatula until eggs are cooked (about 1-2 minutes.) Remove from heat and set aside.
Divide dough on floured surface into 8 equal pieces. Roll each of the eight pieces out into a somewhat round shape.
Fill each piece with about 1/4 cup of the egg/sausage/pepper mixture and fold dough over, sealing closed by pressing together with you finger tips. Crimp edge with fork if desired.
Spray both sides of the pockets with baking spray, and place on a baking sheet.
Bake for 10-12 minutes until dough starts to turn golden brown and is fully cooked.
Remove from oven and let cool completely.
Wrap each pocket in aluminum foil and freeze.
Reheat in microwave or toaster oven when ready to eat.
Prep Time:

25 minutes

Cook Time:

12 minutes

Cuisine:

breakfast