Bacon Wrapped Water Chestnuts (Japanese Rumaki)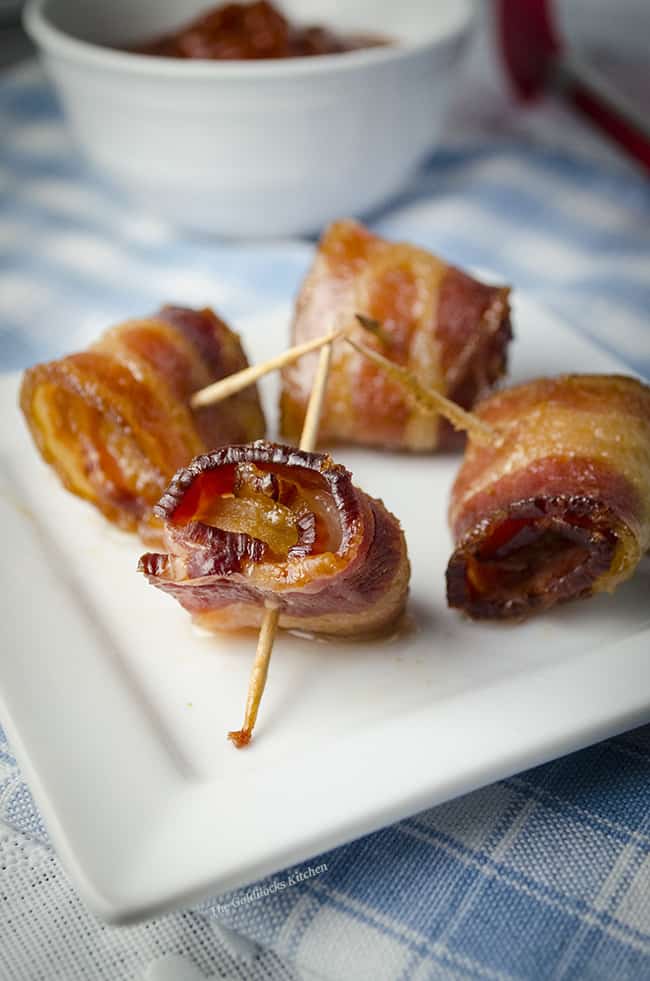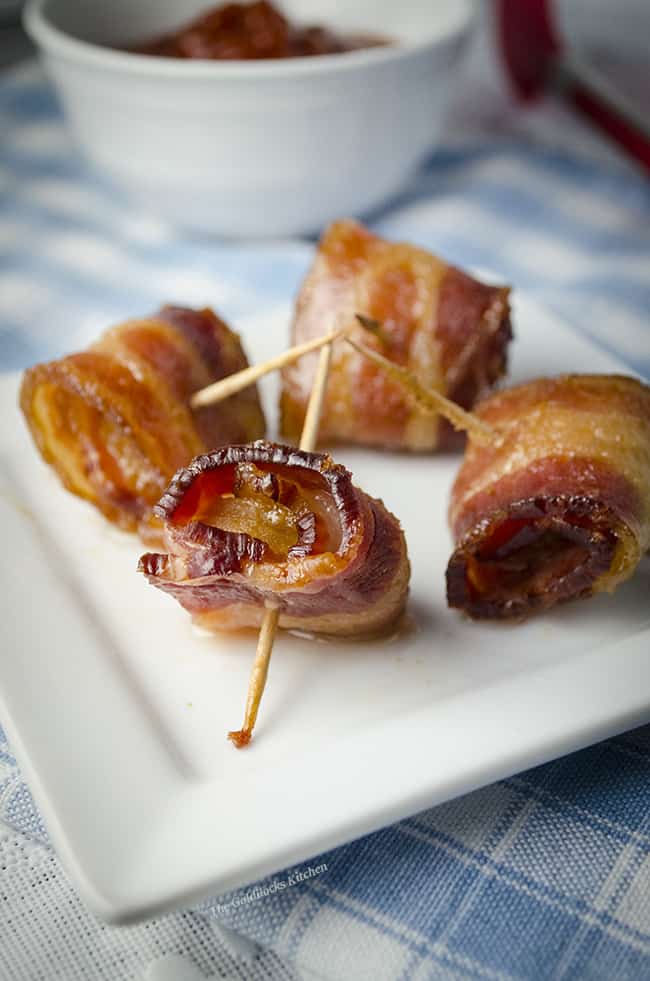 I imagine most of us meat eaters out there (aka not vegetarian) have had a bacon-wrapped 'something'. Bacon can make just about anything delicious… but we'll talk about that later. How many of you recognize this recipe from the photo above? Many of you will; I'm sure of it. (By the way not my most inspiring photo shoot, I wasn't feeling well last night I apologize.)  For my readers who are not familiar with this super popular recipe, I just had to share. It's too good not to! Bacon Wrapped Water Chestnuts are a spin-off of a Japanese inspired hors d'oeuvres called "Rumaki".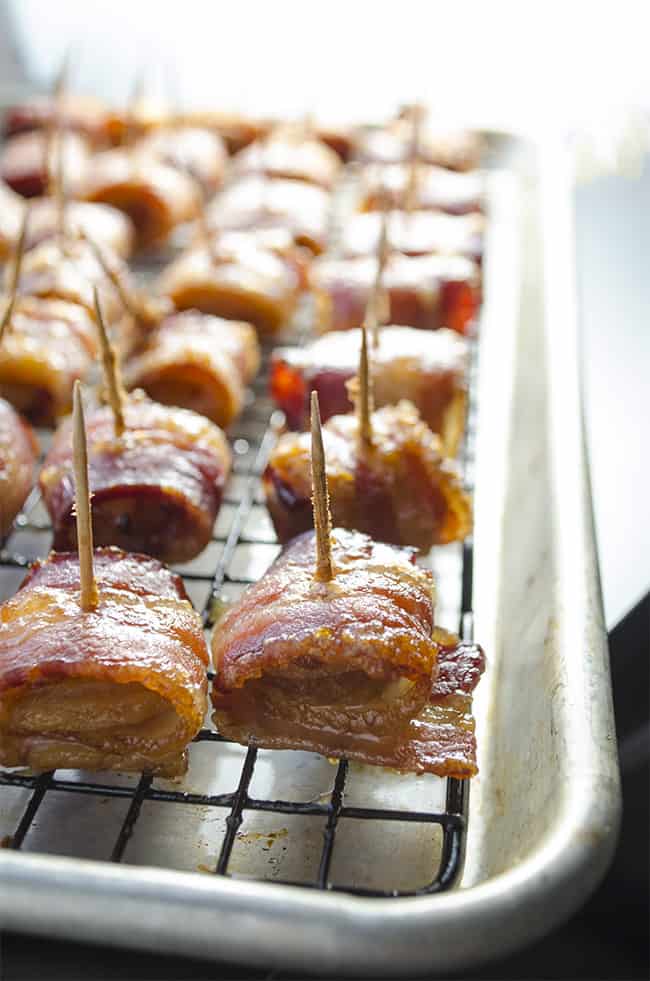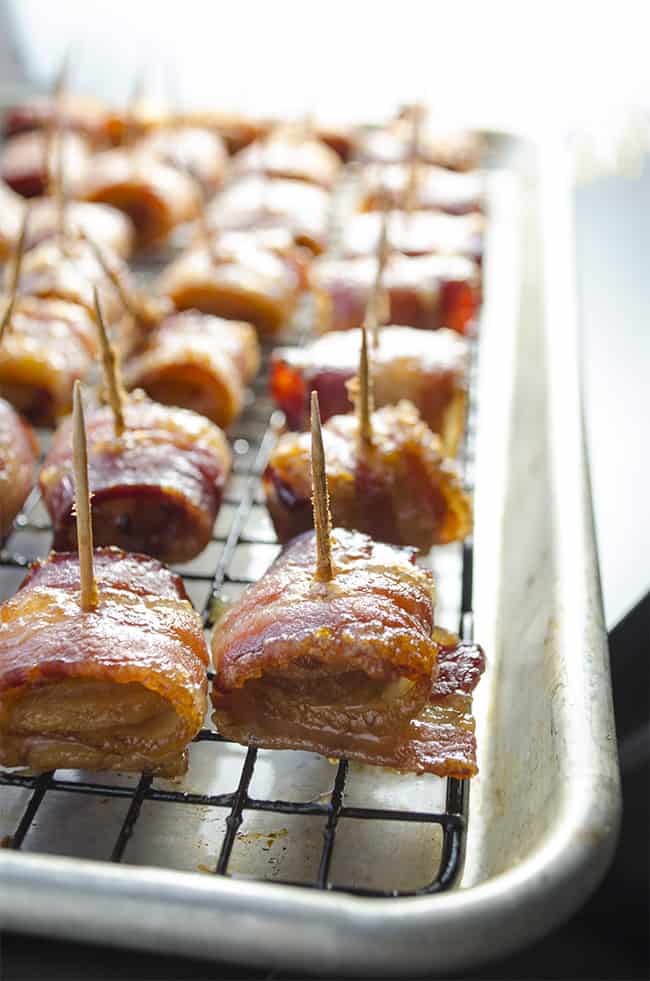 Traditional Rumaki consists of chicken livers and water chestnuts (yes I did say chicken livers) marinated in soy sauce, ginger, brown sugar and curry powder. Then a portion of liver and a water chestnut are wrapped up in bacon and cooked in the oven until the bacon is done. Bacon makes everything better, remember? :0) So quite a few folks have issues with eating chicken liver, (I am one of them) and so most recipes you'll find on Pinterest have removed this item from the recipe. I have removed it from mine as well. (Breathe a sigh of relief!) What are water chestnuts exactly? According to the website Foodfacts.mercola.com, Chinese water chestnuts are, "an aquatic vegetable. Each has a similar size and mildly sweet apple-coconut flavor." They are common in Asia, Australia, tropical Africa and some Pacific Islands. They are often found in Asian foods.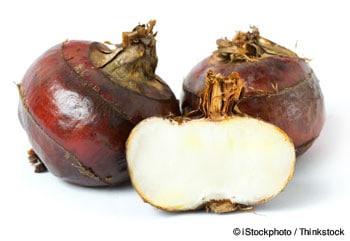 Some recipes skip marinating the water chestnuts and just slather each wrap with a home made sauce consisting mostly of ketchup before going in the oven~ I don't particularly like this version because you can easily drown out the incredibly delicious flavors in an already good recipe. Marinating the water chestnuts is definitely the way to go, skip the sauce. I marinate mine in soy sauce, apple cider, ground ginger (or fresh if you can get it), and a little ketchup. (This is an American adaptation after all :0)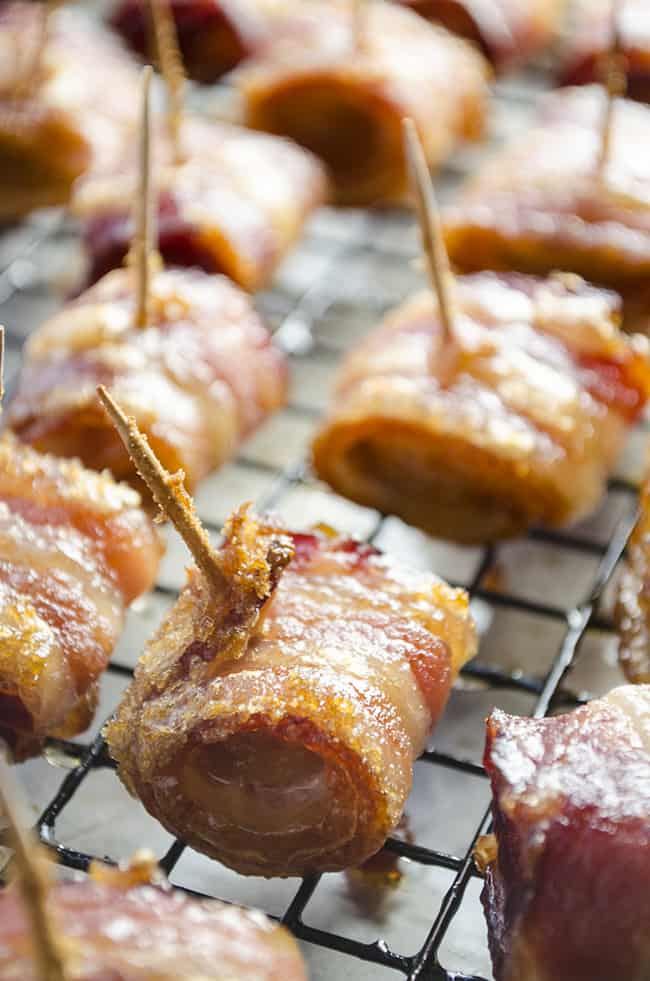 In my version of this recipe I dip each little Rumaki roll in brown sugar. Then you have sweet, salty, savory and crunchy all in one little bite. When I first tried these at a friends house long ago, I was very skeptical when I saw these~ their not the prettiest looking appetizer. But holy cow are they delicious! And definitely worth the effort of making them. They will be eaten up within a matter of minutes if you're serving them to a crowd. They would make a fantastic addition to a super bowl party feast, or any party.
Print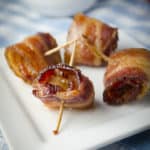 Bacon Wrapped Water Chestnuts (Japanese Rumaki appetizer)
---
Author:

Emily

Total Time:

4 hours 6 minutes

Yield:

2

4

1

x
Description
Sweet, salty, savory and crunchy all in one little bite, these little appetizers are deliciously addicting.
---
2

cans Water Chestnuts

2

packages of your favorite bacon

1/4 cup

low-sodium soy sauce

1/4 cup

apple juice

2 tablespoons

ketchup

1 teaspoon

ground ginger (or

1 tablespoon

freshly grated)

3/4 cup

brown sugar
toothpicks
---
Instructions
In a medium mixing bowl, combine the water chestnuts, soy sauce, apple juice, ketchup and ginger. Stir to combine. Cover and refrigerate for 2 hours or up to 4 hours. Place toothpicks in water to soak while the water chestnuts marinate.
Cut each package of bacon in half with kitchen scissors (cross wise, not lengthwise). Drain the water chestnuts of marinade. Line a rimmed baking sheet with foil. Place a wire rack inside and spray with cooking spray. Fill a small container with the brown sugar.
Heat your broiler on low and set an oven rack at least two inches below. Wrap each water chestnut in 1/2 slice of bacon and secure with a toothpick. Dip into the brown sugar and press to adhere. Place on the wire rack set in the baking sheet. When finished wrapping, place in the oven and broil for about 5 or 6 minutes or until the bacon is cooked and fat is rendered. Serve warm.
Prep Time:

4 hours

Cook Time:

6 minutes

Category:

Appetizer

Cuisine:

Japanese