Berry Chantilly Cake and Cupcakes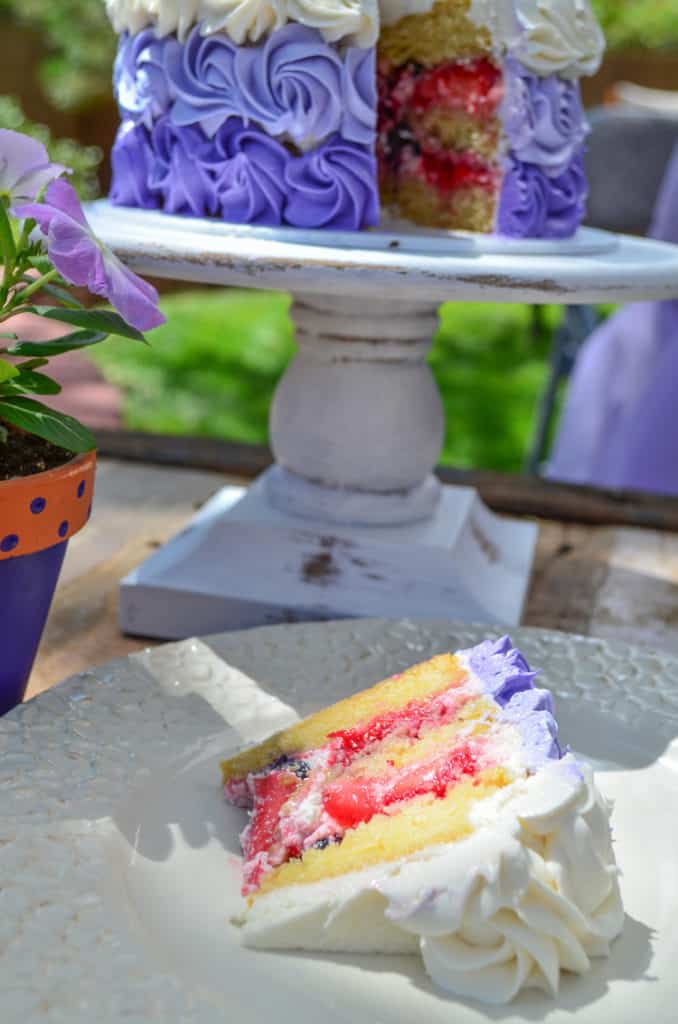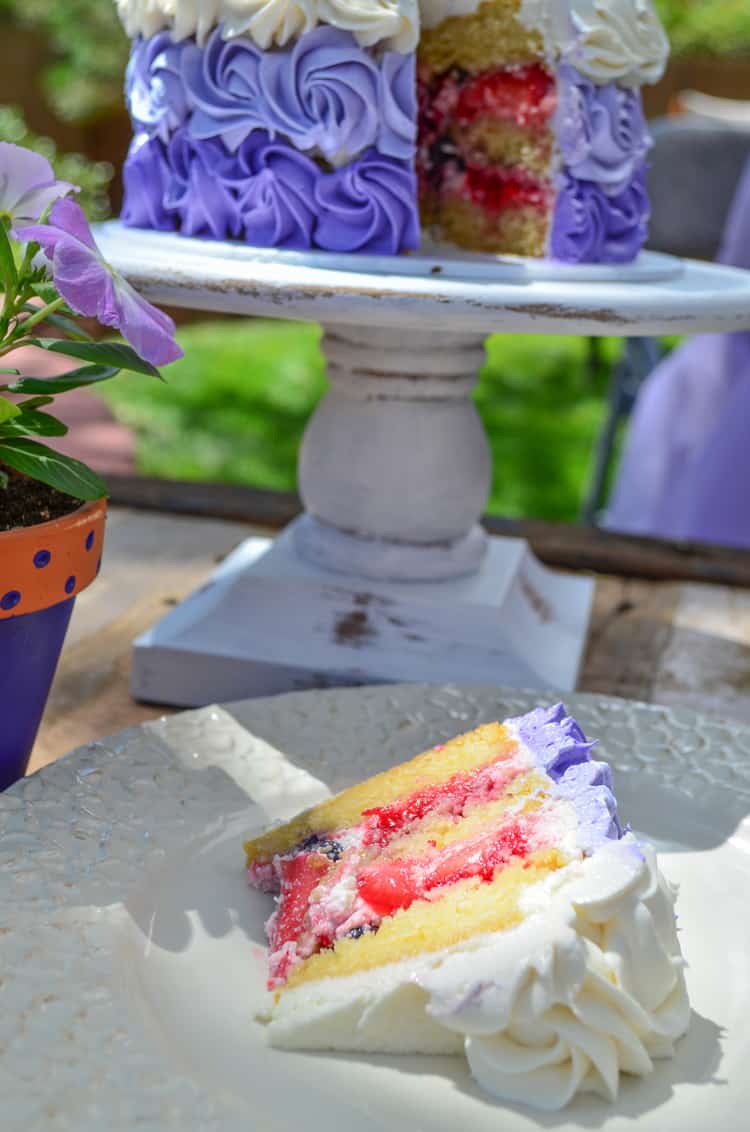 I recently had the privilege of creating Berry Chantilly Cake and Cupcakes for my sister in law's baby shower.  Berry Chantilly Cake consists of layers of moist white vanilla cake surrounded with Chantilly frosting and layered with fresh berries. It's an incredibly delicious, and decadent cake. Creating the cupcakes and center piece cake was quite a learning experience for me, and I almost decided not to blog about it. I felt they could have turned out much better than they did. But later I had a change of heart, thinking some of you may learn from my mistakes. So here goes! :0)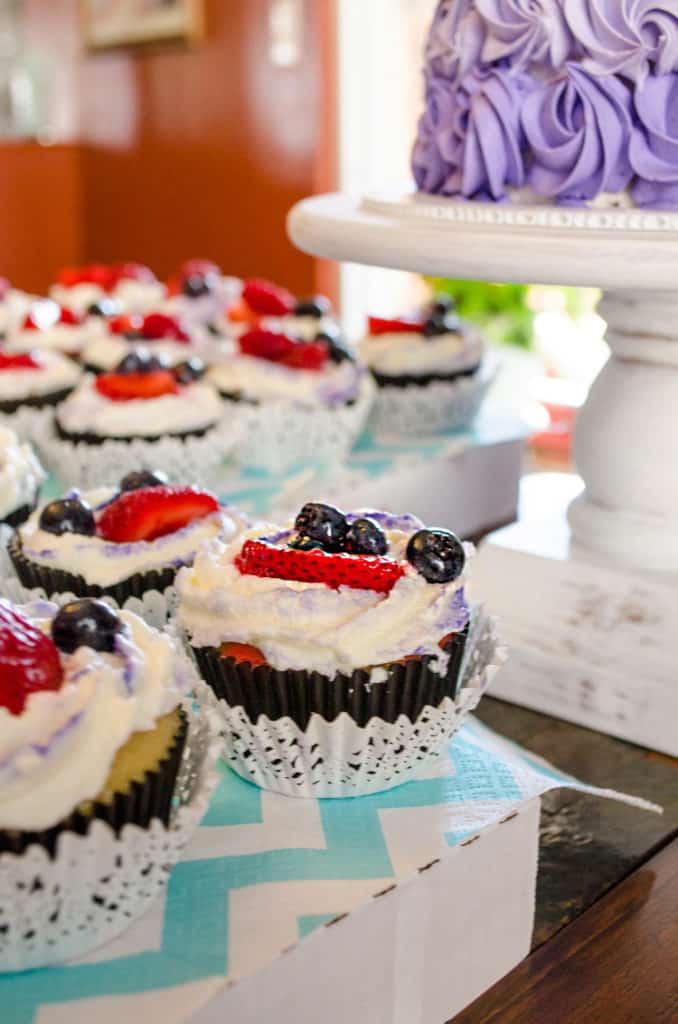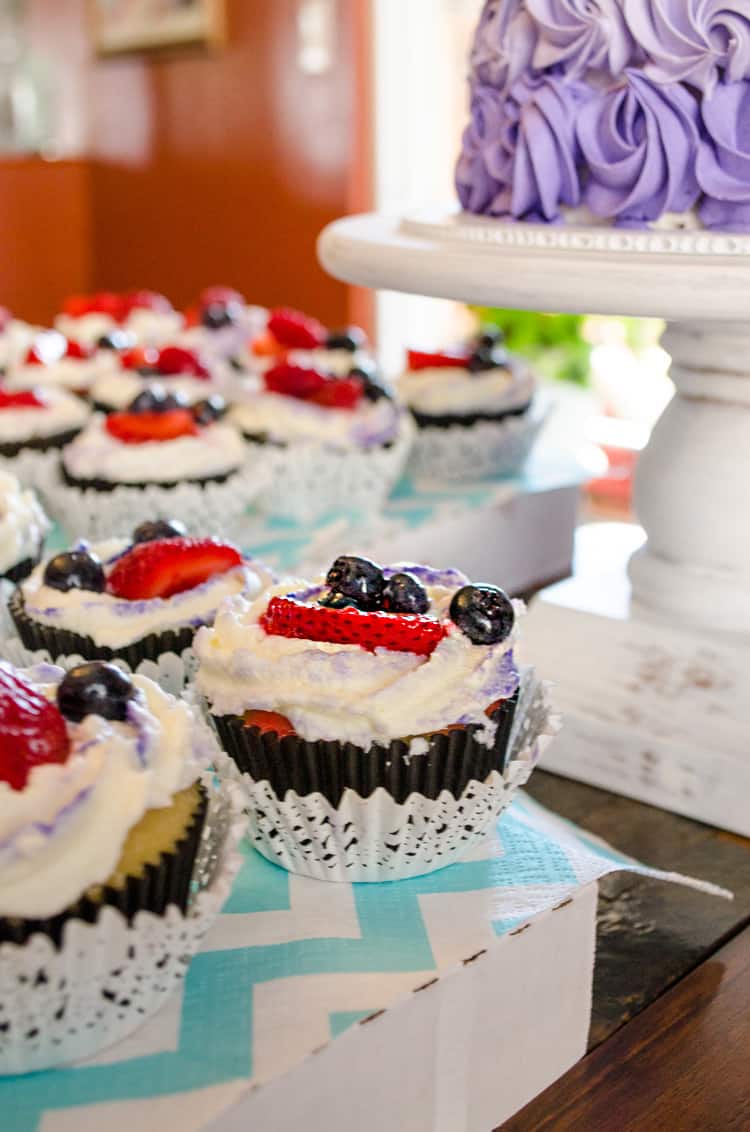 The cupcakes and cake tasted amazingly delicious (a given with all the yumminess that goes in it), but didn't look as refined as I imagined they would in my head. Turns out Chantilly cream doesn't pipe so well. At least for me. I used a 1M piping tip and violet icing color, both from Wilton brand.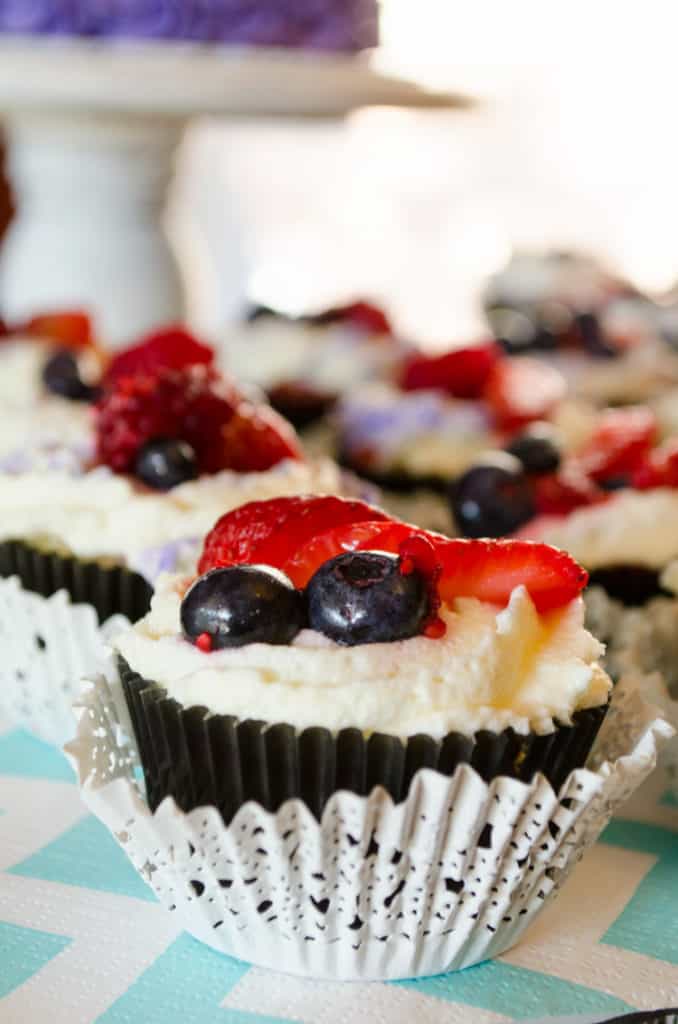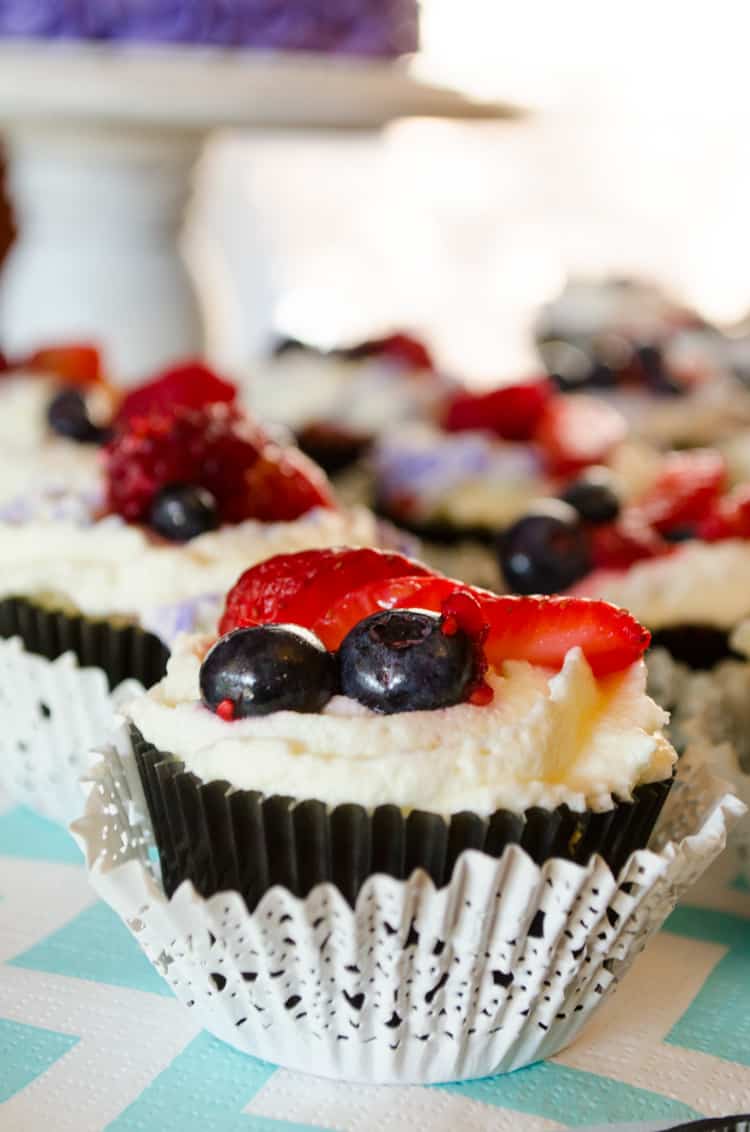 Chantilly cream is amazingly delicious; it's made with heavy cream, sugar, cream cheese and creamy mascarpone cheese. Most pictures I found of this cake did not have the frosting piped on, it was applied simply with a spatula or knife. Big clue there, but I was oblivious! Well, me being the ambitious one that I am, I wanted to pipe it on both the cupcakes and centerpiece cake so it would be extra pretty. In hindsight, maybe if I had stabilized the frosting with gelatin it might have worked??? Does anyone have an answer for this? I have stabilized traditional whipped cream frosting before using the gelatin method. I made the mistake of creating these the night before the party without any experimentation beforehand. I had intended too, but just ran out of time!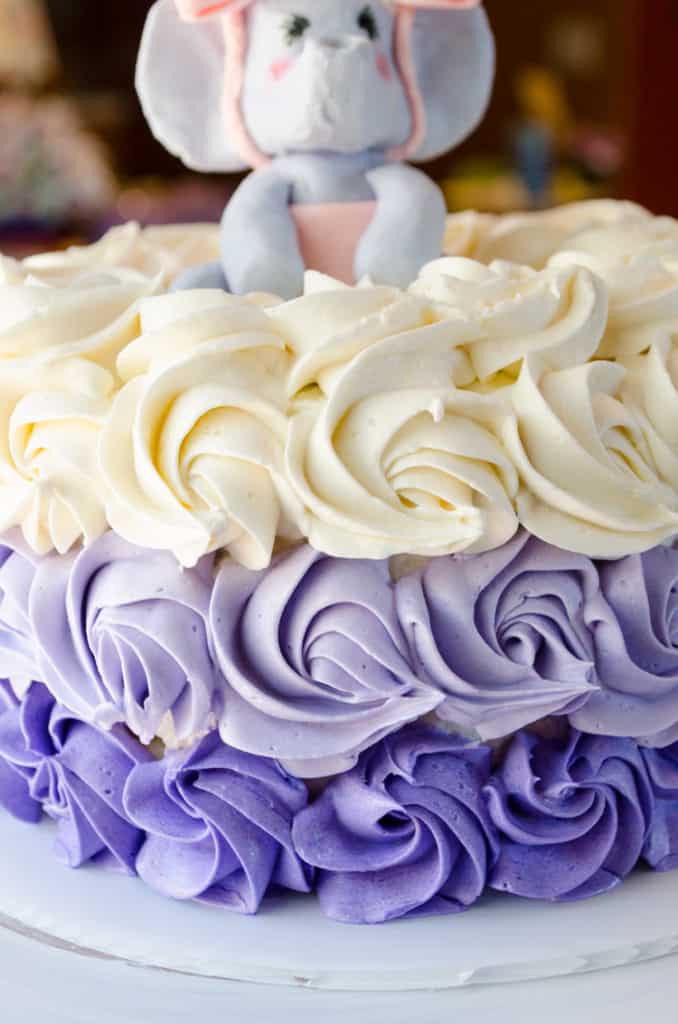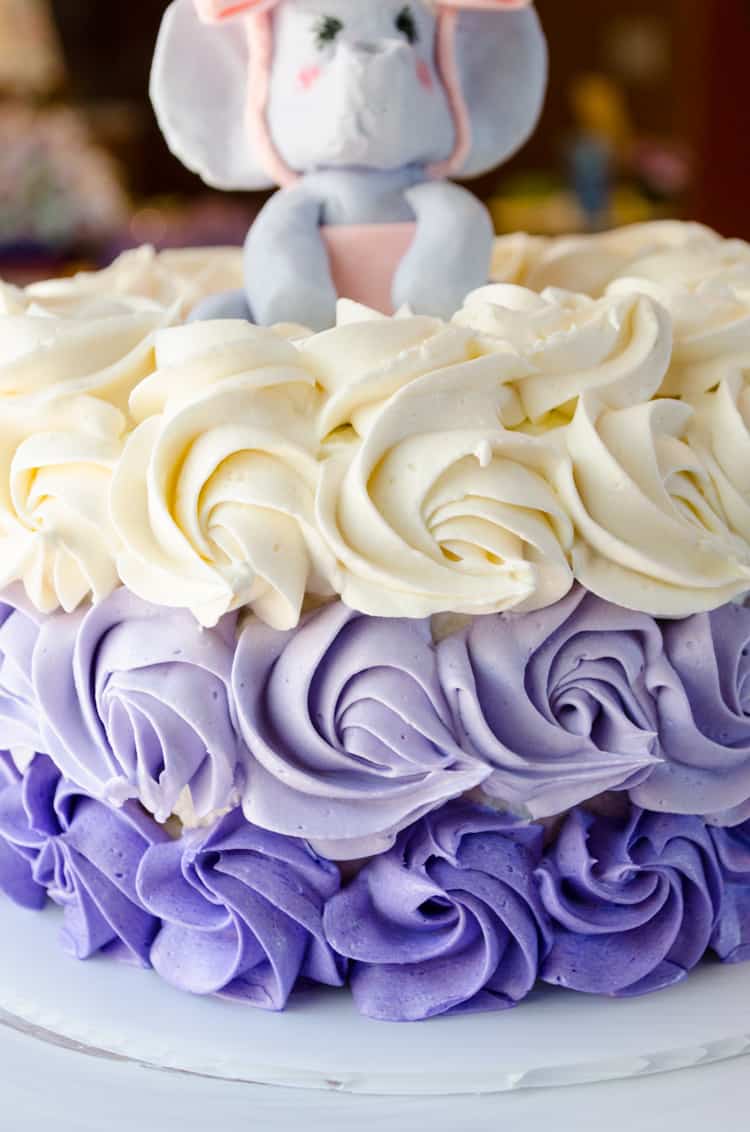 I woke up the next morning (morning of the shower), determined to give my sister in law the pretty cake she requested! So I whipped up a batch of classic buttercream frosting and piped it on the Berry Chantilly cake. I could be tried for blasphemy here, I know. I didn't know how the two frostings would taste with each other, but I took a chance. I had already crumb coated it with the Chantilly cream the night before and put it in the freezer, so it was ready to go the next morning. The frozen cake took the buttercream well and I was able to pipe it onto the sides no prob! However it was a whole lot of work and hopefully I'm saving you some trouble by sharing my cake woes with the world!
The Recipe
My father in law discovered Berry Chantilly Cake at Whole Foods several years ago. Each time there was a birthday in the family, he would purchase a whole cake and bring it home for the party. It was always a huge hit and I knew someday I'd have to learn how to make one myself.  And now I know!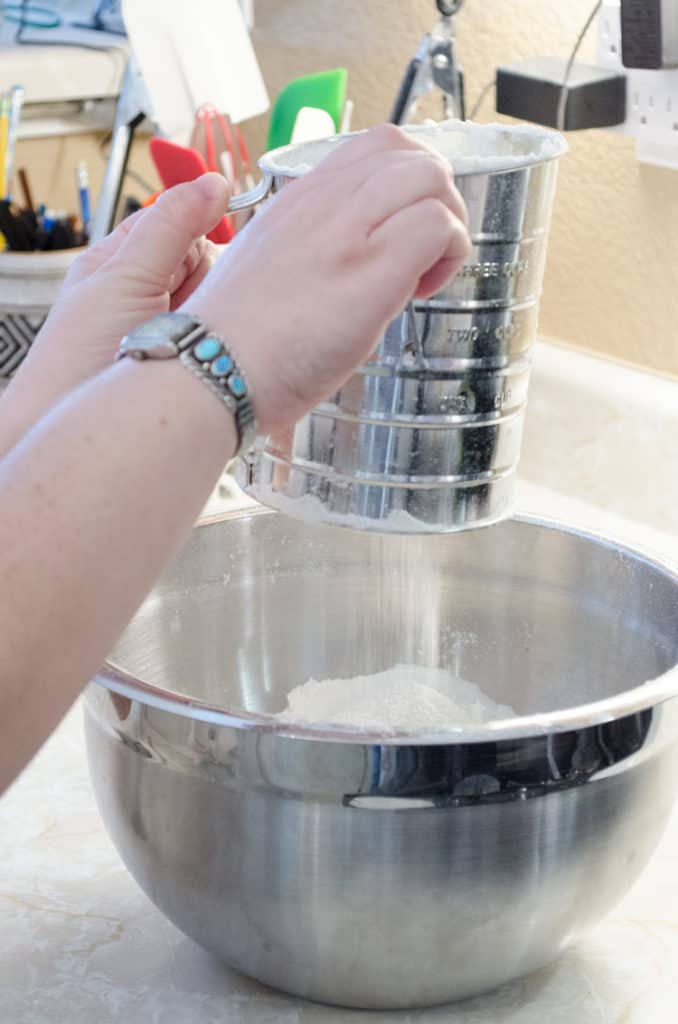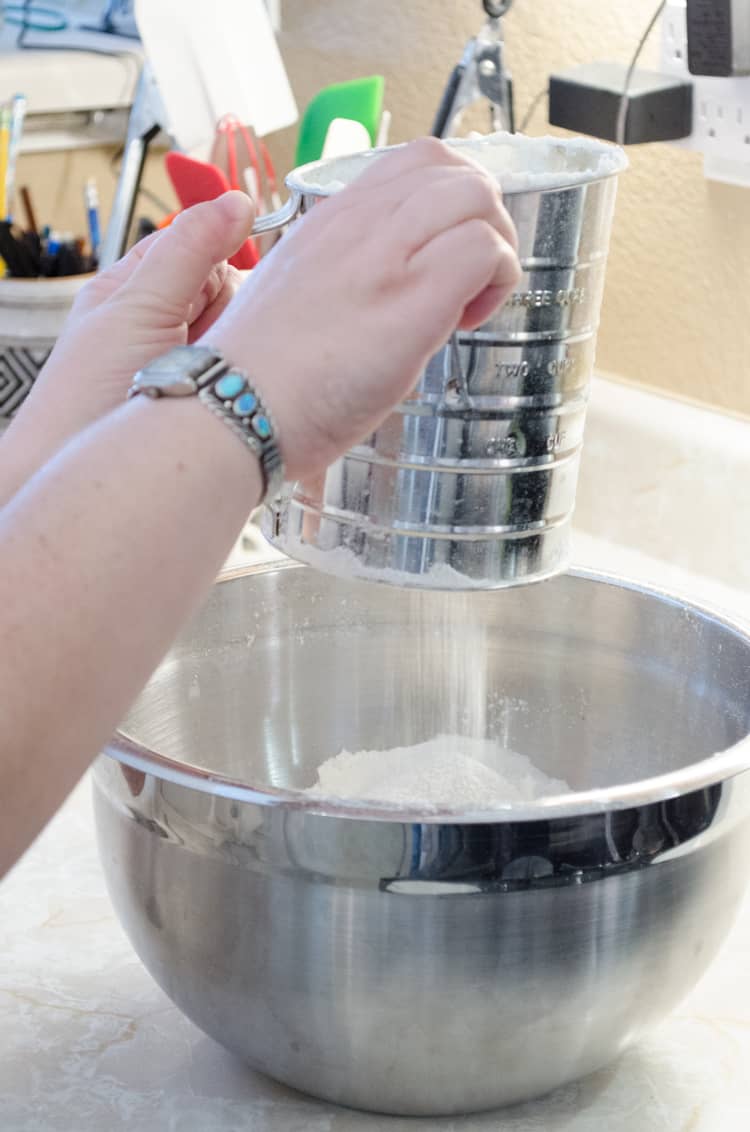 It starts with a vanilla cake made from scratch. There are many recipes out there, you can use your favorite, or use the one included in this recipe.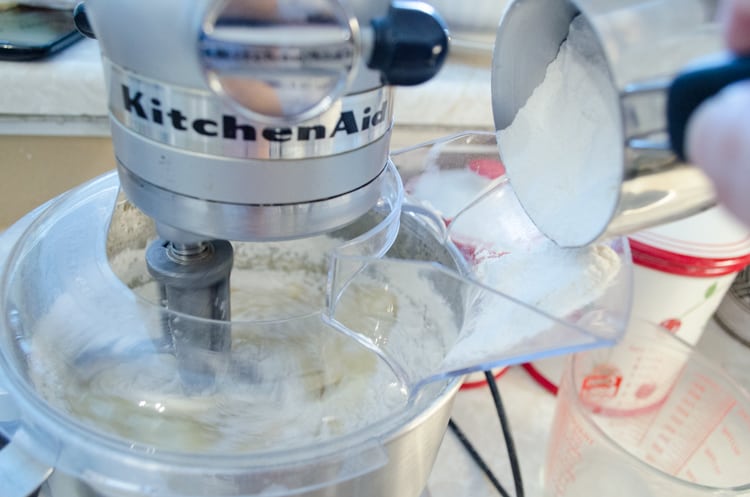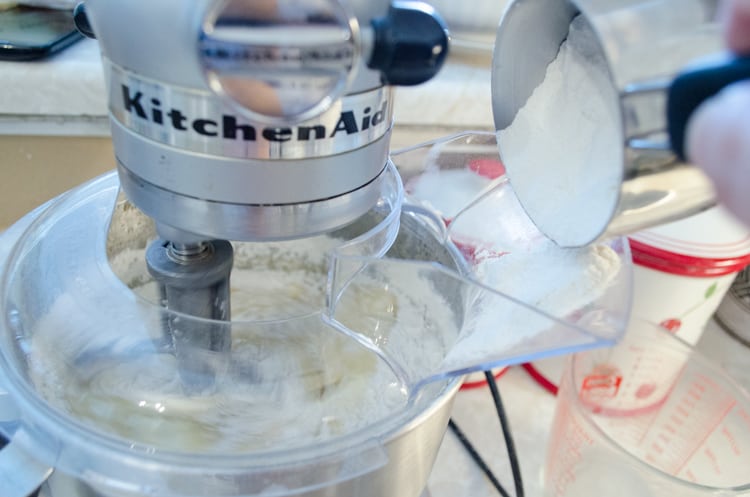 Then you get to whip up the Chantilly cream frosting! Soo amazing delish. I will say the ingredients for this will probably put a dent in your wallet. Unless you have your own milk cow and make your own cheeses. (One of my dreams someday!)
Assembling the cake is fairly straightforward. Along with the frosting and berries, you'll also have layers of a simple berry syrup. (Recipe also include below.) This is the key or 'secret' to a truly amazing Berry Chantilly cake. The cake soaks up the syrup and boy is it yummy!!! For the cake, I baked two 6 inch rounds and once cooled, cut them in half (very carefully use a long serrated knife or floss and go slow).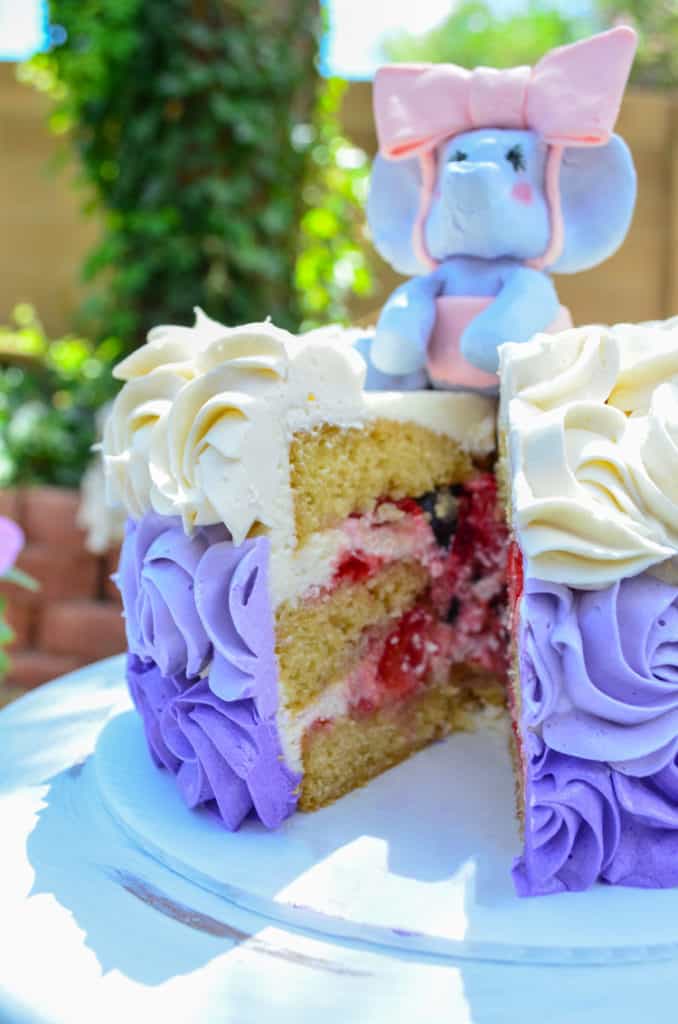 Once you have your cakes cut, apply the layers in this order: cake, berry syrup, frosting, fresh berries. Repeat, flipping the top portion of the cut cakes over so the flat cut sides are facing up. Then coat the whole thing in a thin layer of frosting (does NOT have to be pretty, this is the crumb coating, just try to make it flat and even on the top and sides) and freeze it for at least 20 minutes before putting the final layer of frosting on the outside. Then decorate the top with mounds of more fresh fruit. For an even more beautiful effect, lightly dust the top berries with powdered sugar and garnish with a few green mint leaves. So pretty and so yummy!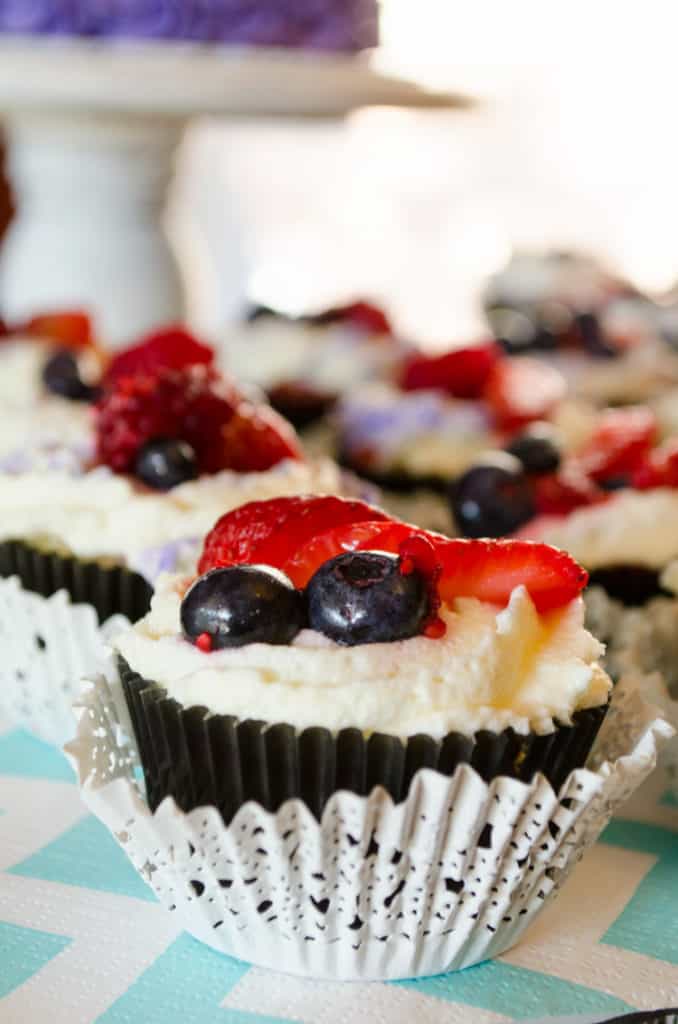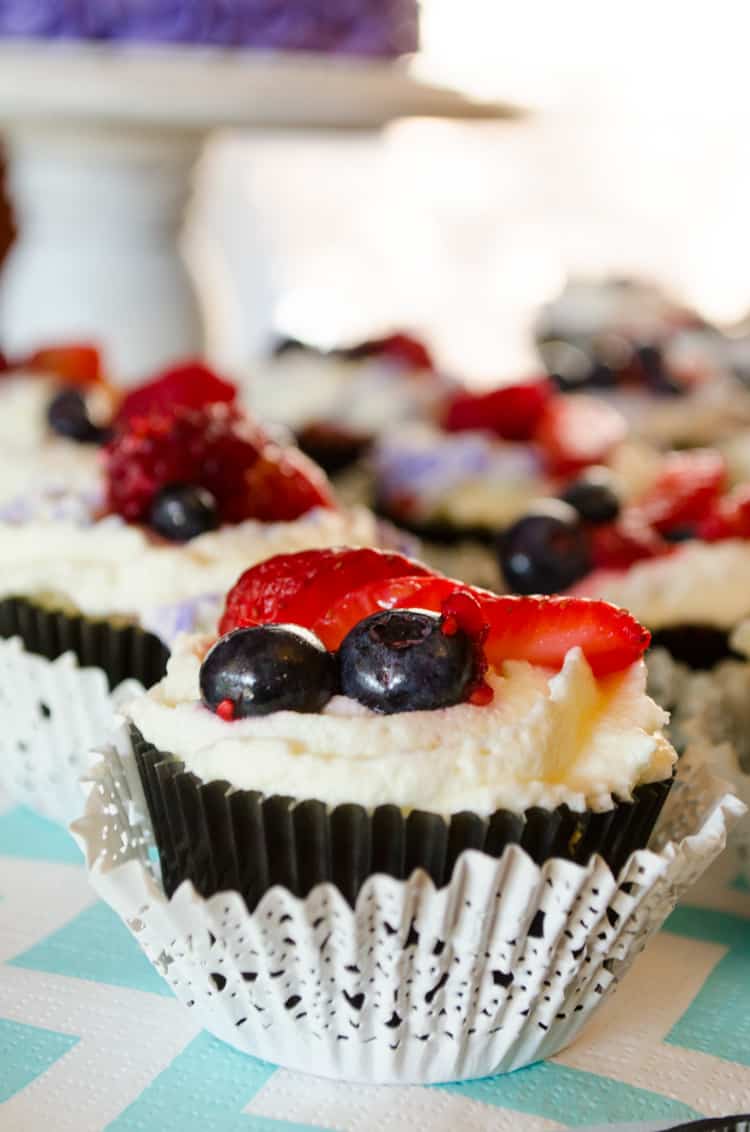 The cupcakes were simple. Fill a cupcake tin with paper liners. Fill the liners up about 1/3 the way to the top with batter and bake for about 20 minutes. Let them cool and drizzle the tops with berry syrup. Pipe on a swirl of frosting to make a 'nest' for a few fresh berries. Garnish the same as the top layer of the cake! If you're interested in how I created the little elephant on top, she'll be the topic of my next post, and she's made out of modeling chocolate!
Berry Chantilly Cake and Cupcakes Lessons Learned
Lesson #1.  Apparently Chantilly cream doesn't pipe well.
Lesson #2. Adding food coloring to chantilly cake frosting is a BIG no no. The whipped cream and cheeses somehow separated and wouldn't take the color. I ended up with Icky!
Lesson #3. Always do a test run of a new recipe beforehand when catering to a large party.
Lesson #4. Don't toss the berries together before you put them on. We did this and the pretty raspberries totally got smashed against the other fruits!
Lesson #5 Don't overmix from scratch cake batter. Stop mixing just after all ingredients are combined, or else you'll end up with a dense, gummy cake that is very likely to 'fall' in the middle. This rule doesn't apply so much to boxed cake mixes- just from scratch cakes/cupcakes.
Lastly, I must credit A Sue Chef for sharing her great knowledge on how to make this cake. Enjoy!
Print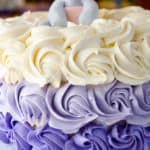 Berry Chantilly Cupcakes
---
Author:

Emily

Total Time:

2 hours 5 minutes

Yield:

3

dozen cupcakes or

one

4 layer 6-9 inch cake

1

x
Description
This decadent and pretty cake is perfect for wedding or baby showers and can easily be converted into lots of delicious little cupcakes.
---
Yellow Vanilla Cake
3 cups

cake flour

1 teaspoon

baking soda

1 teaspoon

baking powder

1 teaspoon

salt

2 cups

granulated sugar

1/4 cup

vegetable oil

1/2

stick unsalted butter, melted

2

eggs

1 cup

buttermilk (use the real thing, no powdered mix)

2 teaspoons

of vanilla

1 cup

whole milk
Chantilly Frosting
1

stick unsalted butter

16 oz

mascarpone cheese

8 oz

. cream cheese

2 1/2

–

3

cups confectioner's sugar

1/8 teaspoon

salt

1 cup

heavy whipping cream
Berry Syrup
1/2 cup

water

1/2 cup

sugar

3 tablespoons

of strawberry jam.
Garnishes: Fresh berries (most likely sliced strawberries, raspberries and blueberries) with a dusting of powdered sugar and fresh mint leaves on the very top. (Leave a few strawberries whole for the top layer.)
---
Instructions
For the Cake
Preheat the oven to 325 F. Set aside all ingredients for the frosting so they will come to room temperature while you bake the cake. Grease two 6 inch or 8 inch cake pans. Place a round of parchment paper in the bottom, grease it and flour the entire pan. Set pans aside.
In a mixing bowl whisk together the flour, baking soda, baking powder, salt and sugar.
In the bowl of a stand mixer, mix together the melted butter, oil, buttermilk, whole milk, and eggs with the paddle attachment.
Running on the lowest speed, slowly add the dry ingredients into the wet, one cup at a time, stopping to scrape down the sides of the bowl half way through. Mix until just combined. Pour evenly into prepared cake pans.
Bake for 30-35 minutes, or until a knife inserted in the center comes out clean. Bake cupcakes for about 20 minutes.
Chantilly Frosting
With the whisk attachment on your stand mixer, cream the butter, cream cheese, and mascarpone until light and fluffy. Then add the salt and confectioners sugar and mix to combine. Empty out and wash the bowl.
With a clean bowl and whip attachment, whip the heavy whipping cream just to stiff peaks.
With a large spatula, gently fold the whipped cream into the mascarpone cream cheese mixture until fully incorporated.
Berry Syrup
In a small pot, mix together the water, sugar and jam. Bring to a boil and cook for about 5 minutes, or until the mixture thickens slightly. Remove from heat and let cool.
Assembly
If making a 4 layer cake: Divide each cake layer in half horizontally, either with a serrated knife or floss. The first bottom layer of your cake should be the bottom of one of the original cakes, cut side up. Place this first layer onto either a cardboard cake round or a cake stand (whatever you're going to serve it on.)
Spread a layer of the berry syrup on top of the first layer of cake, then pipe or spread a thin layer of icing on top of the berry syrup. Evenly distribute some berries on top of the icing layer.
Repeat this process, making sure to layer the cut sides of the cake up. Skip the berry syrup on the top layer.
Roughly spread the frosting all over the cake to create a crumb coating. Freeze the cake for at least 20 minutes or can be frozen up to overnight. Place the second decorative layer of icing over the cake and garnish with fresh berries on top, followed by a dusting of powdered sugar and mint leaves.
Prep Time:

1 hour 30 minutes

Cook Time:

35 minutes

Category:

Dessert

Cuisine:

French