Carpe Diem With Make Ahead Fiesta Breakfast Tacos
This post has been kindly sponsored by The Hatch Chile Store. All thoughts and opinions are my own.
I know that most readers just want the recipe when it comes to recipe blog posts and have no desire whatsoever in reading the "blah blah blah" from the food blogger. But this recipe's blah blah blah back story is pretty darn cool. So you'll forgive me for blah blah blah-ing all about it. :0)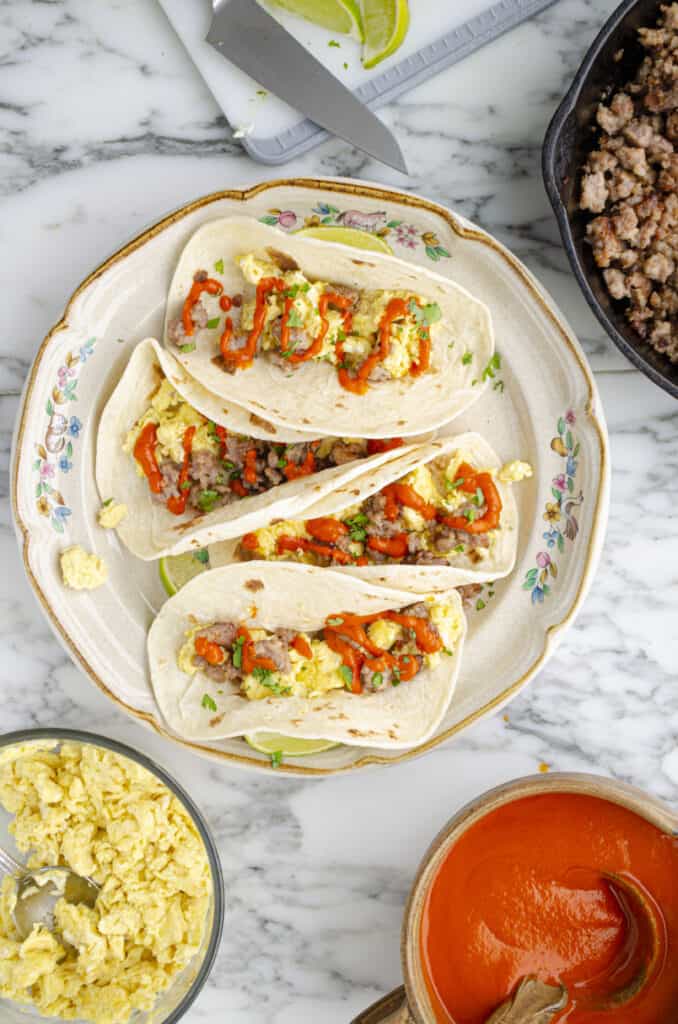 Those of you who follow my blog know that I love hot air ballooning, and each October I dedicate a week of my life to participating in The Albuquerque International Balloon Fiesta. It should be on your bucket list of things to do, trust me.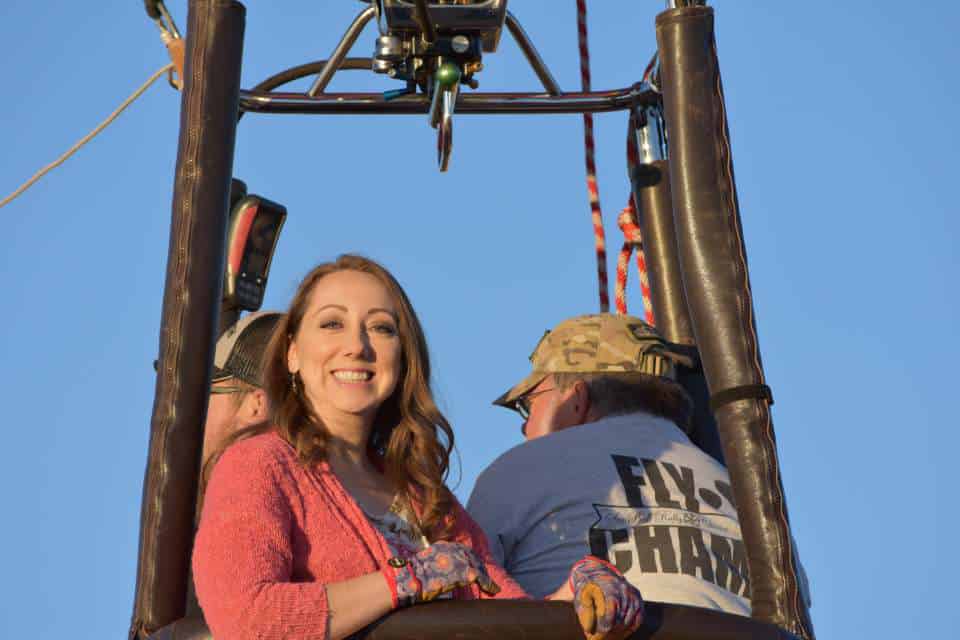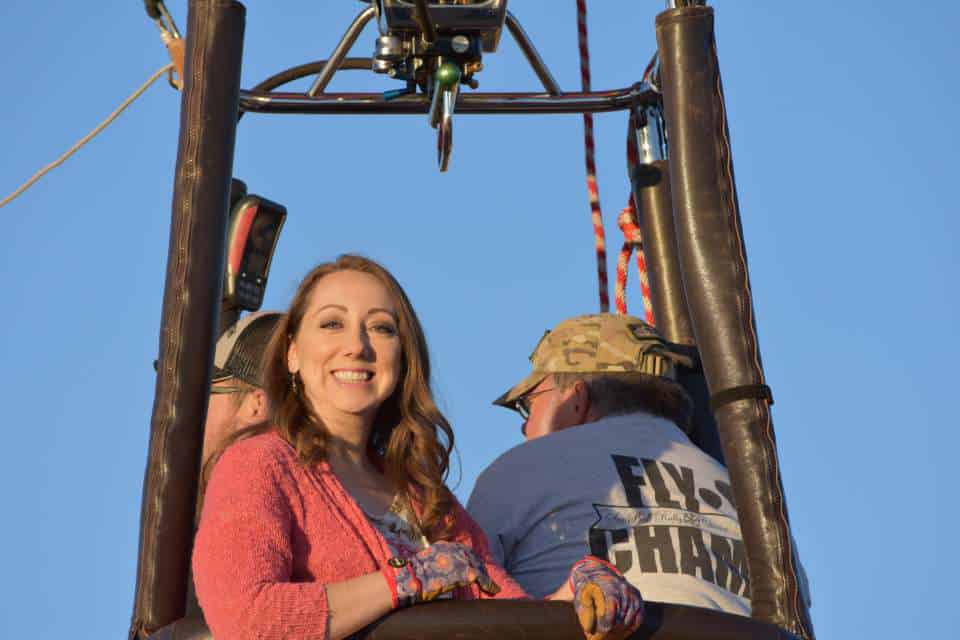 You have to get up pretty early to fly hot air balloons, because the flight conditions are optimal at dawn. After each glorious flight and sometimes 'spicy' landing, it's time to gather together to tailgate and eat breakfast!
We often tailgate near a Mexican restaurant that serves up very tasty soft breakfast tacos, which we enjoy almost every time we go ballooning. (Thanks to Wanda!) I have been wanting to recreate these tacos for a while at home, and since it's balloon fiesta season once more I thought this would be the perfect time!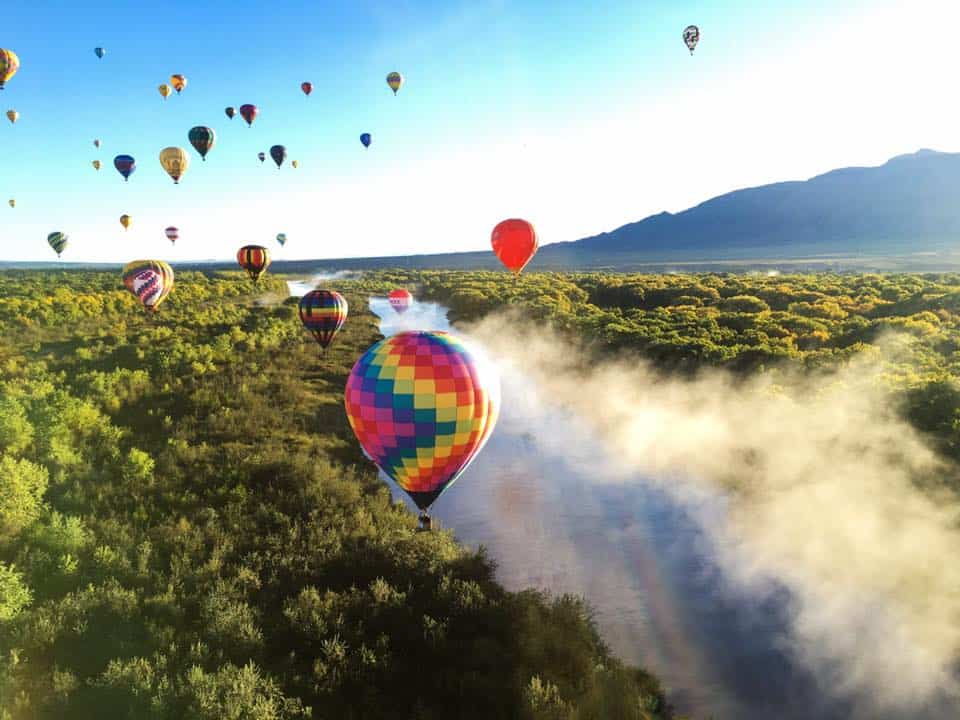 These delectable little tacos will always remind me of my mornings hot air balloon wrangling; they really are the perfect breakfast for special early mornings!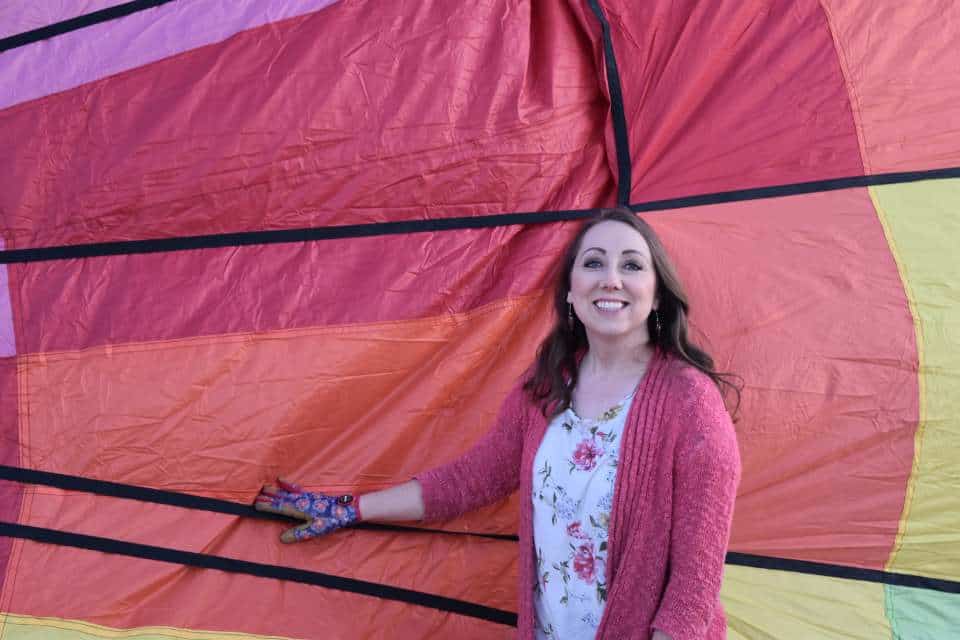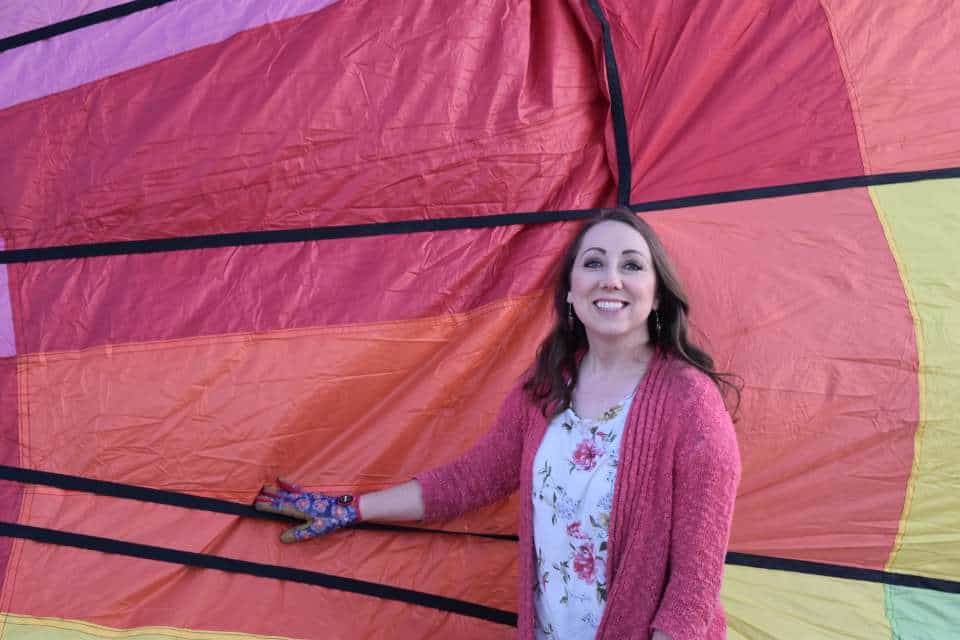 Breakfast tacos gotta have some spice
So recently I experimented with making red chile sauce with fresh red Hatch chiles instead of the traditional dried chile. I thought this recipe for breakfast tacos would be a perfect one for using my new "awesome sauce". And boyo, it really elevated these already tasty tacos to the next level! Any morning you eat these tacos will be a "Carpe Diem" kinda morning!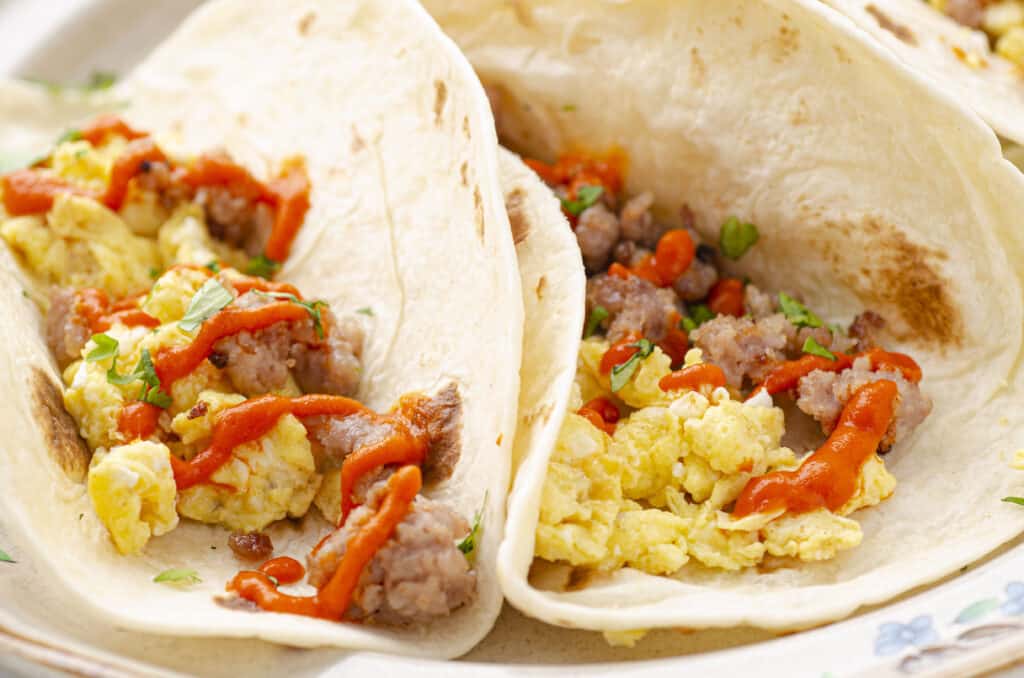 These Fiesta Breakfast Tacos are full of superfoods to fuel you through the morning! Eggs have many health benefits, such as being high in protein, which will help you feel full longer. Hatch chiles are also a superfood- packed with TONS of vitamins and nutrients and a long list of health benefits which you can find in this article here.
What makes a breakfast taco different?
Breakfast tacos are usually made with soft flour tortillas and scrambled eggs. After that you can really put anything in there that you like, such as sausage, salsa, or cheese. Don't forget the fresh squeeze of lime juice- it's simply amazing with the breakfast taco.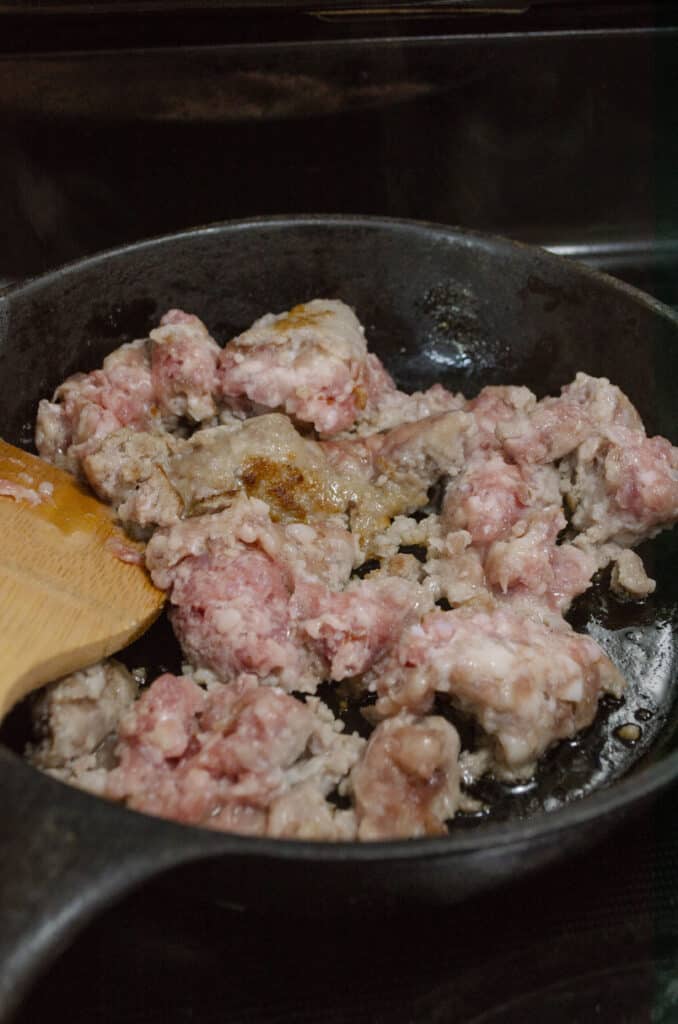 Above I am cooking up some simple pork sausage to stuff into my Fiesta Breakfast Tacos. Bacon works great too, or chorizo or whatever rocks your boat really.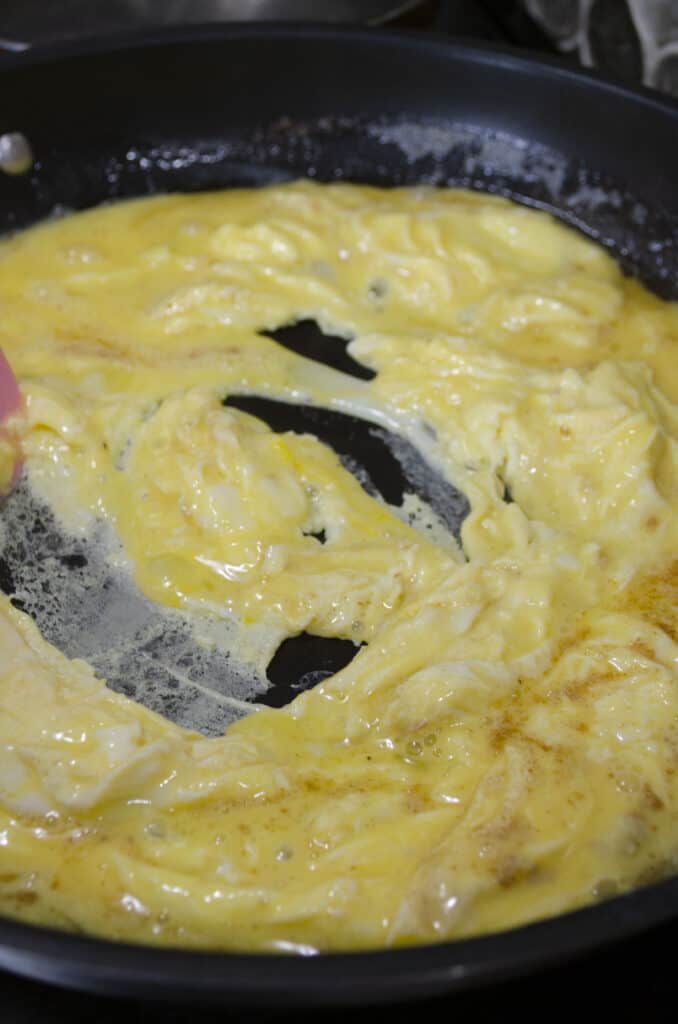 Taking a bite of a warm flour tortilla filled with fluffy, perfectly cooked and seasoned scrambled eggs is just joy. Pure joy. I have a recipe for PERFECT scrambled eggs, check it out here. One of the secrets is to add in an extra yolk.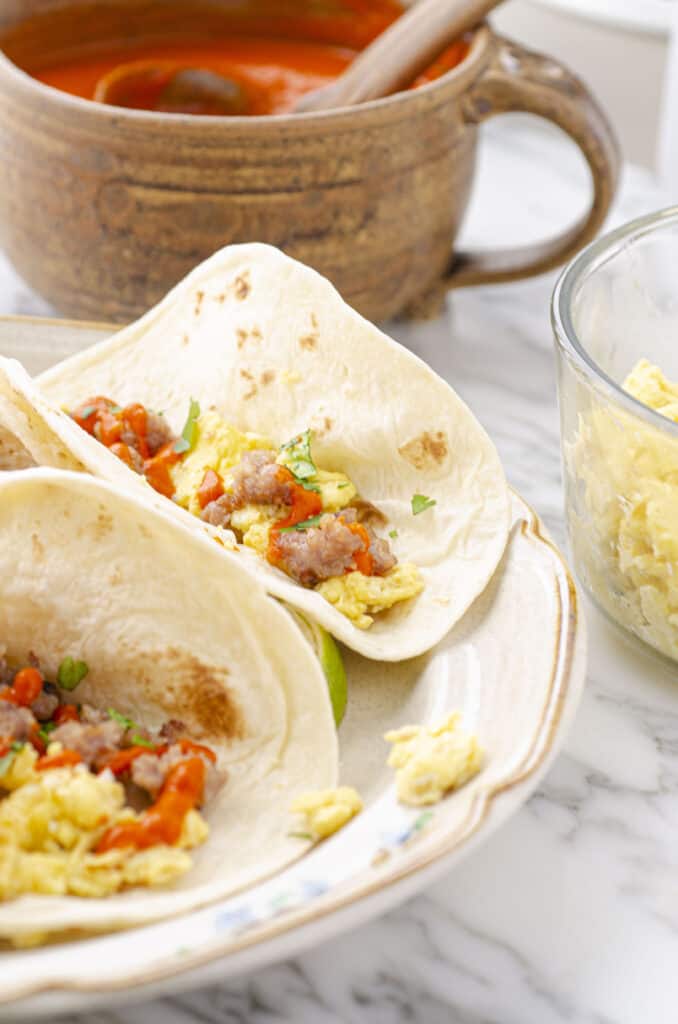 These tacos can easily be made ahead the night before, and just re-heated in the morning if you need a quick breakfast on-the-go. It only takes about 15 seconds to warm one up in the microwave!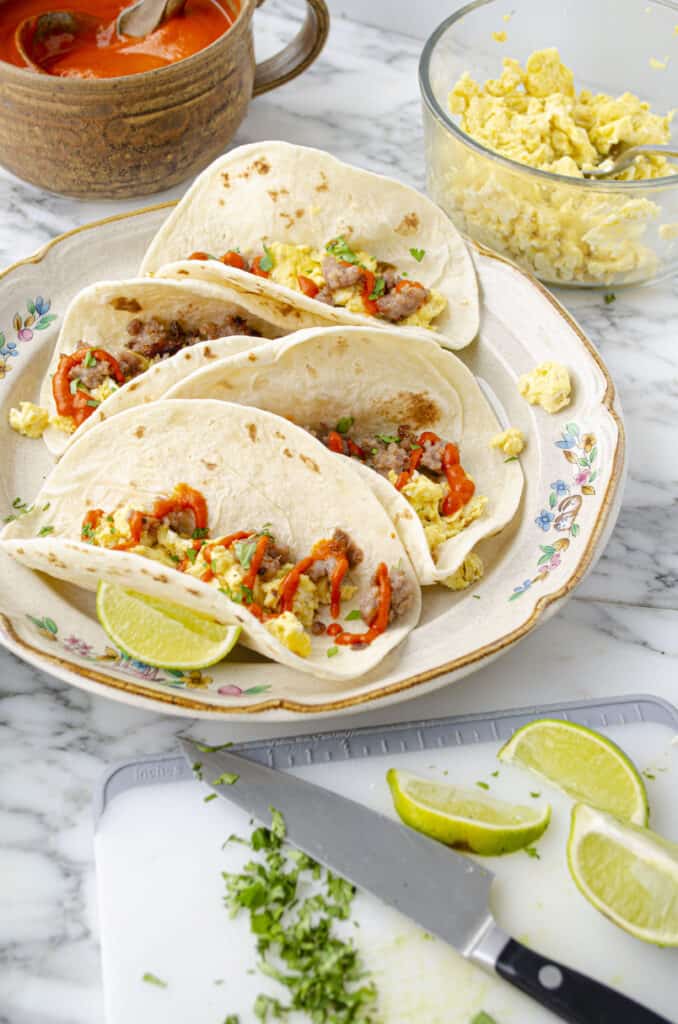 So skip those Taco Bell breakfast tacos in the morning and make these the night before instead! You'll save money, time, and they taste better anyway! These Fiesta Breakfast Tacos are so hekkin' delicious, I totally ate them up right after this photo was taken, I could not resist, they were just too fantastic!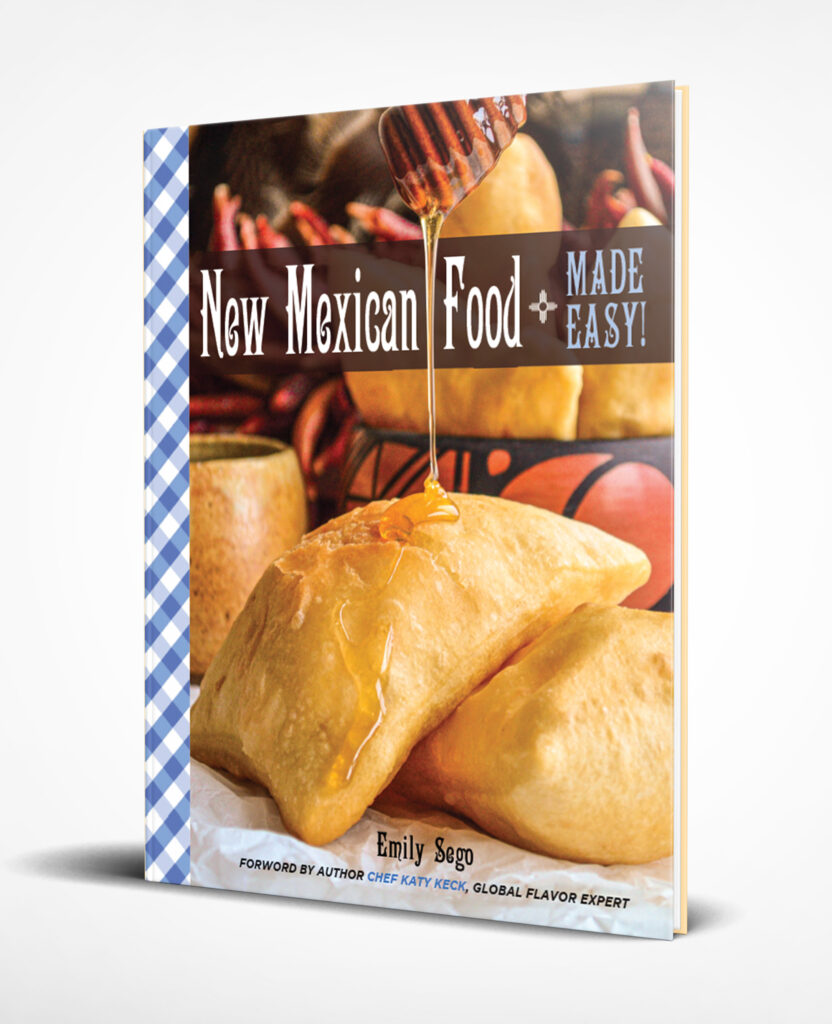 Did you know I have a full-color cookbook with lots more easy and delicious New Mexican recipes? You can learn more about it here!
You know what else is fantastic? Simply giving this recipe a star rating and a comment below! Your comments and ratings are greatly appreciated by me AND the Google algorithm. Thank you!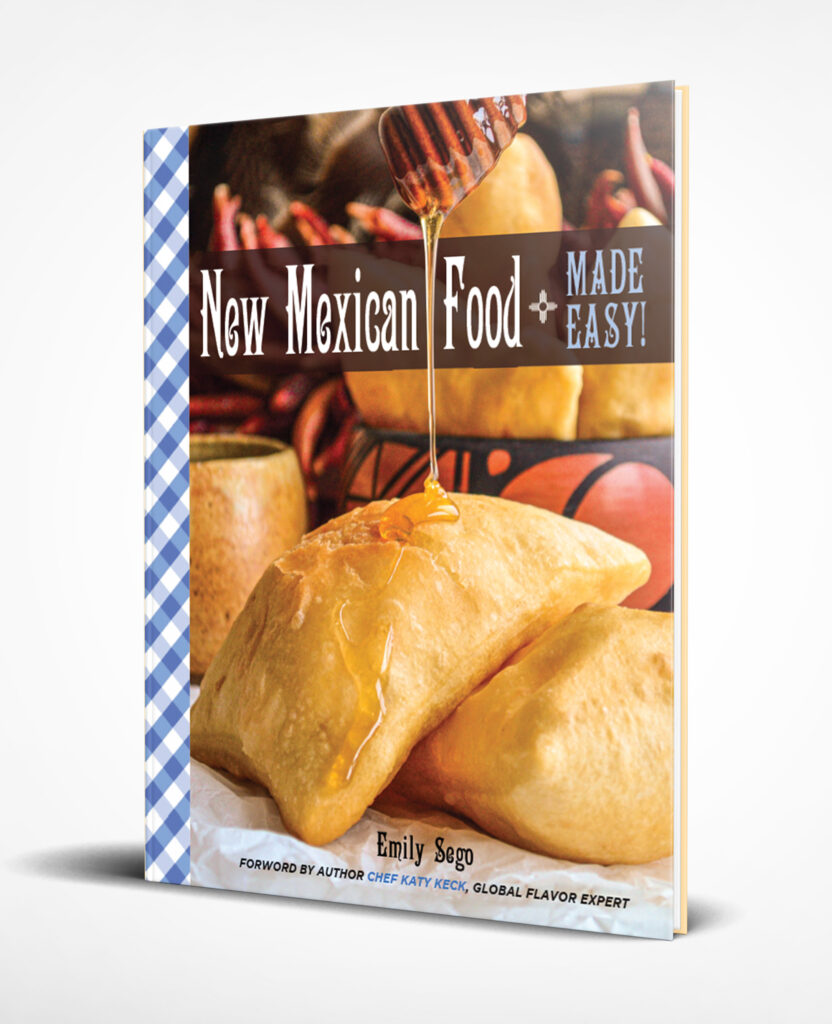 Did you know I have a full-color cookbook with lots more easy and delicious New Mexican recipes? You can learn more about it here!
Print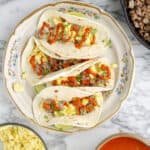 Make Ahead Fiesta Breakfast Tacos
---
Description
Have a great start to your day with warm Soft tacos filled with delicate scrambled eggs, savory pork sausage, red chile pepper sauce and a splash of freshly squeezed lime juice. Cook the ingredients the night before, assemble tacos in the morning, and throw them in the microwave for just 15 seconds for a delicious on-the-go breakfast.
---
1/2

pound

pork sausage (or 5 slices of bacon, diced)

7

eggs
pinch of salt

1/2 tablespoon

butter

6

flour tortillas, fajita or soft taco size

1

fresh lime, sliced into

six

wedges

1/2

cup

Red Chile Sauce
fresh cilantro (optional) to garnish
---
Instructions
Place ground sausage in a skillet set over medium-high heat and break it apart as it cooks.
While the sausage is cooking, add 6 eggs and one egg yolk to another mixing bowl. Sprinkle with a generous pinch of salt and vigorously mix with a fork or whisk until uniform.
Place a nonstick skillet over medium-high heat. When it is warm, add the butter. Swirl the melted butter around the pan. Pour in the eggs and stir quickly with a silicone spatula or wooden spoon, scraping the bottom often, until eggs are just set but still moist, about 2 – 3 minutes. Transfer to a bowl and cover with foil to keep warm.
Dampen about 4 paper towels and layer individual tortillas between paper towels on a plate. Microwave for 20-30 seconds to warm the tortillas.
When the sausage contains no pink spots and has many dark speckles, remove from heat. Assemble tacos by filling each with a portion of scrambled egg, sausage, red chile sauce, and minced cilantro (if using.) Serve warm with a lime wedge to spritz each taco.
Notes
Bacon can easily be substituted here in place of the sausage. You can customize these tacos to your heart's content with anything you like really; green chile sauce, chorizo sausage, pulled pork, or cheese are just a few suggestions :0)