What is the Tamale tradition?
The delicious little packages of corn masa stuffed with filling and wrapped in a corn husk appear around Christmas AND New Year's; but why are they such an integral part of Latin culture? I have all the answers for you below.
This post has kindly been sponsored by The Hatch Chile Store. All thoughts and opinions are my own.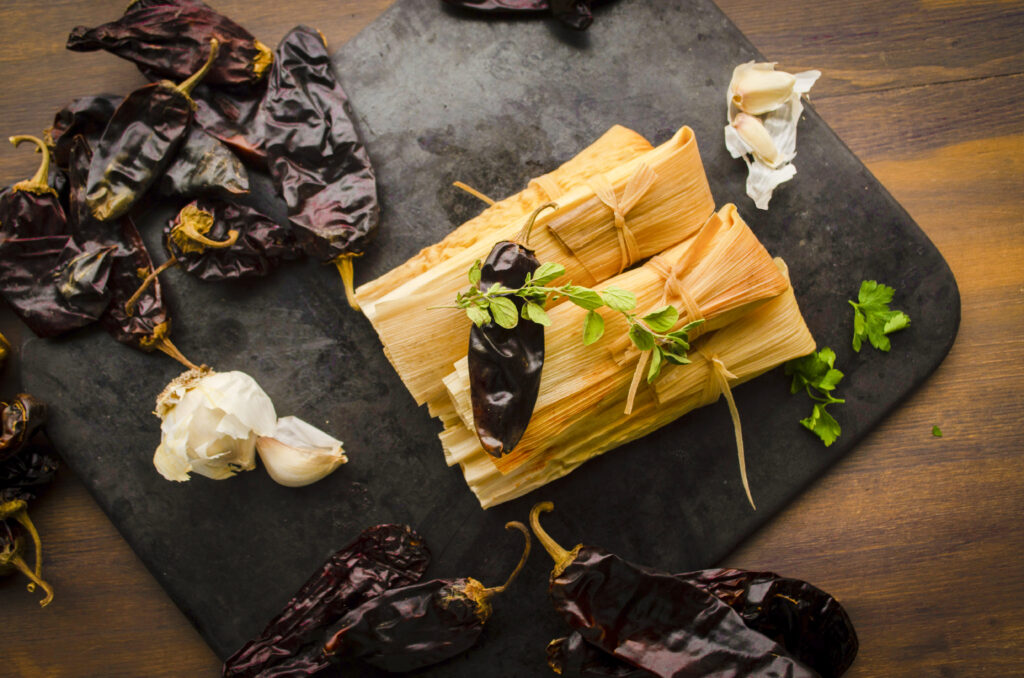 In order to dive deep into Tamales and their traditions, we first need to understand what Tamales are exactly. I grew up surrounded by them and can assure you, Tamales are delicious! If you haven't tried one yet, you need to ASAP 😁. (And NO, you don't eat the wrapper.)
What is a Tamale?
Tamales are a type of steamed dumpling, originating in ancient Mesoamerica, individually wrapped in a softened corn husk to give it shape. Fillings consist of beans, cheese, meat or veggies mixed with a chile sauce (made from hot chile peppers) or mole sauce (peppers and cocoa). The filling is surrounded with a corn dough (called "masa") made from corn that has been "nixtamalized" by soaking it in pickling lime. This process boosts the corn's flavor and softens it for easier grinding. Then it is ground and mixed with broth for flavor and lard to make a soft sticky dough.
Tamales can be served plain and eaten right off their corn husk wrapper, but are usually served in restaurants smothered in more chile sauce and melty cheese garnished with a dollop of sour cream and a side of refried beans.
Ever heard of "Hot Tamales"? The phrase came about because tamales are often made with hot chile peppers, so beware if you have a low tolerance for spicy foods!
It's amazing that there are many people in the US that still have not tried a Tamale! Are you one of them? If so, I highly recommend trying some from The Hatch Chile store! They specialize in growing and selling world renown chile peppers, and all things chile sauce related, which is of course Tamales. Try some out right here.
What is the Tamale tradition?
There are three traditions that specifically involve eating Tamales. Firstly, Tamales are made and eaten during Las Posadas, a Hispanic festival celebrated in Mexico and surrounding countries leading up to Christmas. Second, Hispanic families often gather to make Tamales on Christmas eve, to get lots of help with the labor intensive recipe. Thirdly, Tamales are eaten on New Year's day for good luck and to have a prosperous new year; the golden corn masa (dough) representing wealth and a pork filling representing the pigs tenacity to press forward and root out (or find) what it's looking for. Let's dive a little more into each of these traditions that give us an excuse to eat tamales!
What is Las Posadas?
Las Posadas is a time for communities to gather for the nine evenings before Christmas to re-enact Joseph and Mary's difficult search for an inn (posada) in Bethlehem. People dress up as the couple, shepherds, angels, etc. and participate in a processional each evening, knocking on neighbors doors where they ask to enter with song. They are sent away and continue with several more homes until coming to a designated home where they are welcomed in and a Fiesta begins. The group walks with candles and/or luminarias, songs and high spirits along the way.
When the last home is reached, a feast is waiting, including traditional Tamales. Their are more songs, dancing, rejoicing, and feasting, followed with a colorful star-shaped piñata representing the star of Jesus. The children delight in breaking this piñata and scrambling for the Christmas candy inside. This whole event repeats itself each night from December 16 to the 24th.
Christmas Eve Tamales
Classic or traditional Tamales are very time consuming to make. They become very easy, however, when you can get a lot of people together to help; and what better time than the Christmas holiday when tons of people are around? This is why Tamales are often made around Christmas eve.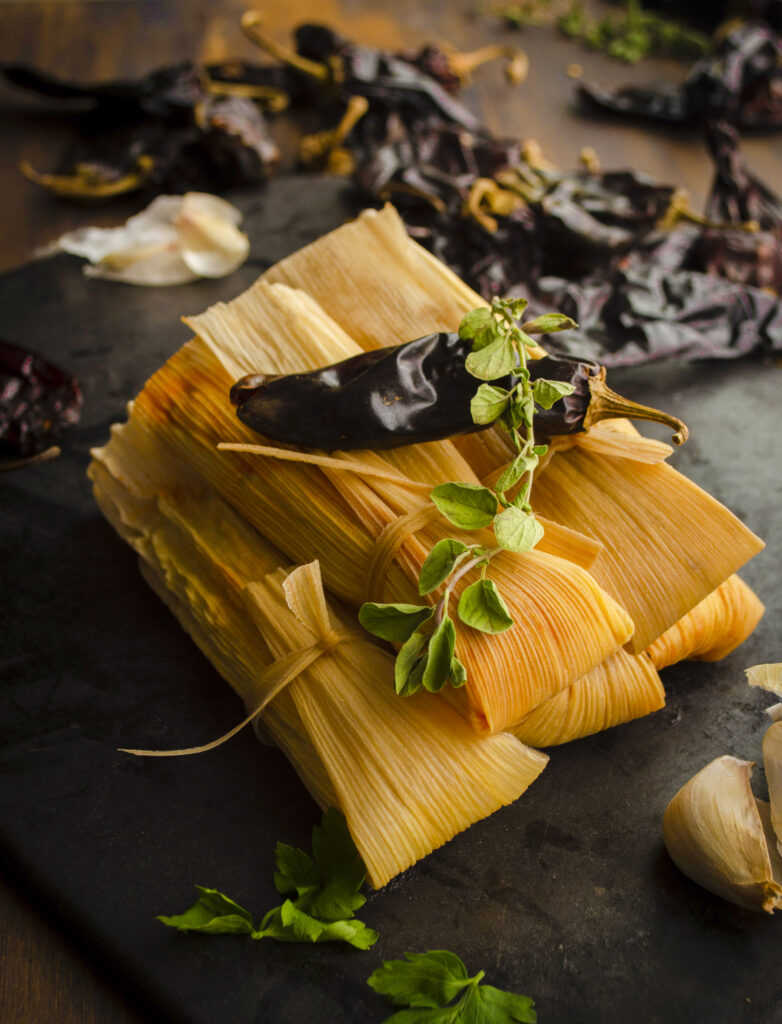 As extended families come into town, often they will gather at abuela's (grandma's) to fill, stuff, and steam Tamales. It takes about an hour to steam a batch of tamales, and if a traditional tamale steamer pot is used (larger than a regular steamer), 30-40 tamales can be steamed at once (depending on how big you want to make them). If you've got a large family, hundreds are often made!
The Tamales are enjoyed both on Christmas Eve, and included in Christmas day feasting as well. Extra Tamales are taken home by each family and frozen for eating later, like for the traditional Tamale on New Year's day.
New Year's Day Tamale tradition
Eating Tamales on New Year's Day is traditional in Mexico. The deeply golden yellow of the nixtamalized corn in the masa symbolizes golden wealth for the future. Tamales also represent prosperity and family unity, since both are required to make large batches of them. These virtues are very important to the people of Mexico!
Pork filling also represents good luck and the tenacity of the pig to press forward and find (or root out) what it wants.
But the tradition could also stem from the fact that leftover Christmas tamales are easy to reheat and eat and spare us from cooking when we may be feeling a bit hung over from the night before….ahem…..ahem…..
What's it called when people gather to make tamales?
Fun Fact: A "Tamalada" is a tamale making party, where a large group of friends and family gather to make Tamales!
Another fun fact about Tamale making: the person in charge of the Tamalada is called the "Tamalera" or "Tamalero". These words can also be used for anyone making Tamales or an entire Tamale factory.
The History of Tamales
Tamales originated as an ancient and sacred central American food prepared each year in honor of the Gods and their creation of life (including humans) from corn. They were so much a part of the indigenous culture, that when Christianity was introduced they were adapted to their new faith: Tamales then represented the virgin Mary, pregnant with the Christ child. Some tamales are even made with an olive in the center as further representation of Jesus in the womb.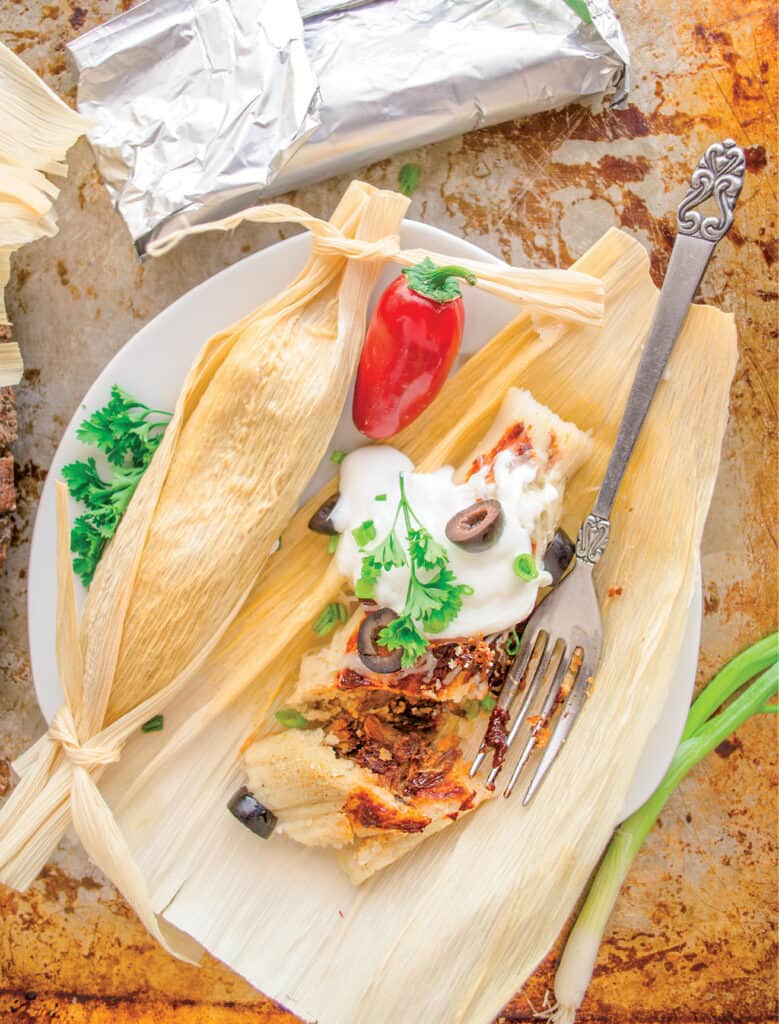 Many Latin American foods, especially Mexican, have been changed or "commercialized" by the US over the last 60 years or so. When visiting Mexico, you'll have a hard time finding the crunchy corn tacos and flour-tortilla-wrapped burritos we enjoy in the United States as "Mexican Food". However, Tamales for the most part have remained unchanged for hundreds of years, due mainly to the labor intensive process for making them.
How Do You Make Traditional Tamales?
Tamales are made by spreading masa (corn dough) onto a dried corn husk, followed with a strip of filling over the center of the masa. The corn husk is then folded and wrapped around itself, encasing the filling in dough, then folded and sometimes tied to close. Then it is steamed to cook.
Today tamales can be steamed inside softened corn husks, large banana leaves, and even aluminum foil. Historically, Tamales were only steamed with corn husks; banana leaves didn't exist in the Americas until banana trees were brought over by Portuguese explorers.
Fillings haven't changed much though since the Spanish arrived. They introduced beef, chicken, and domesticated pig which remain popular to this day. Fillings anciently consisted of beans, vegetables, roasted squash seeds and even squash blossoms. Sometimes the Aztec also filled tamales with cooked game meat (anything from flamingo to frog-o) or fish.
It often takes days to carefully craft each individual ingredient to build the fabulous and complex taste of a homemade tamale. Nixtamalization of dried corn takes a day of soaking, then it is ground up, then mixed with broth and lard to make the masa. Thankfully you can buy MaSeCa, which is commercially made dried masa mixture. The chiles for the chile sauce often need to be rehydrated and blended with spices and broth, then simmered to meld the flavors together. Meat fillings are seasoned and slow cooked to build flavor and tenderize the meat. There is A LOT of work that goes into making a great tamale.
Where to order Tamales?
You can take some shortcuts in our modern age by purchasing ready made masa, chile sauce and even carnitas. Or you can skip all the work and purchase fresh tamales from The Hatch Chile Store!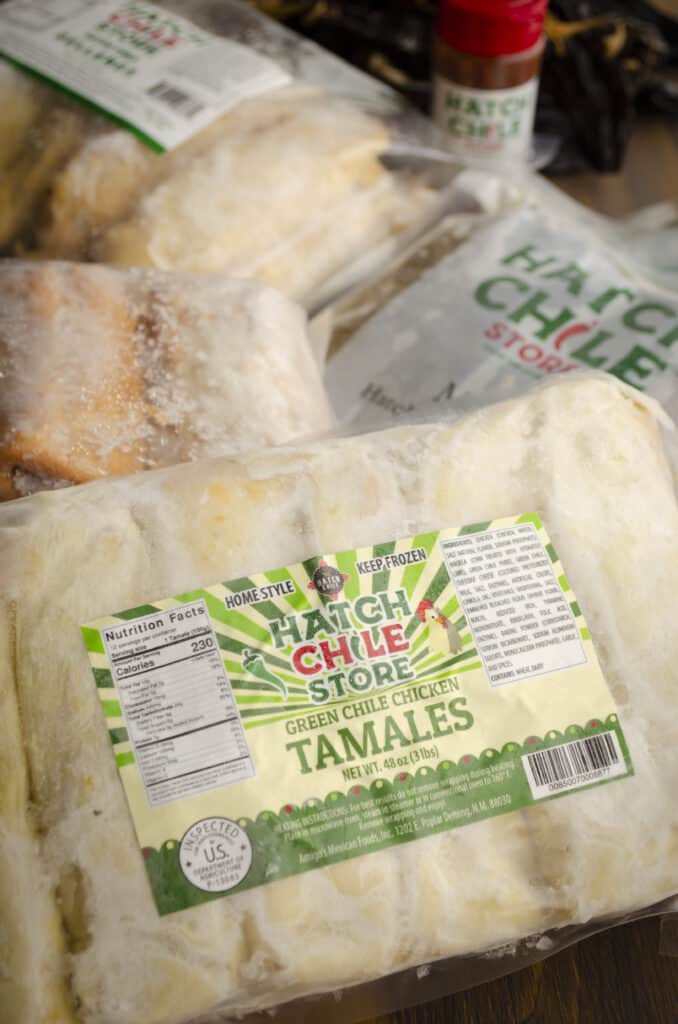 The Hatch Chile Store sells Tamales year round, along with lots of other fabulous ready-made goodies. They will also DEEPLY discount your order if you purchase one of their Christmas Bundles. I did, and now I have all the traditional Tamales I need to celebrate Christmas and New Years eve.
What are Hatch Chile Peppers?
Hatch Chile peppers are world famous for their delicious flavors, produced by the unique climate and soil composition that exists only in the Hatch Valley of Southern New Mexico. These factors combine to grow exceptional-tasting chile peppers with smoky, sweet, and hot flavor notes. More people discover Hatch Chiles each year, and their popularity continues to grow.
Growing up in New Mexico where chile peppers are an integral part of the culture, I know that Hatch chiles have earned a reputation for being the best of the best. I personally only use authentic Hatch in all my cooking because it simply tastes amazing. You should be able to find canned Hatch chile in any supermarket these days, or you can order it directly like I do. Frozen chile is much, much better tasting than canned!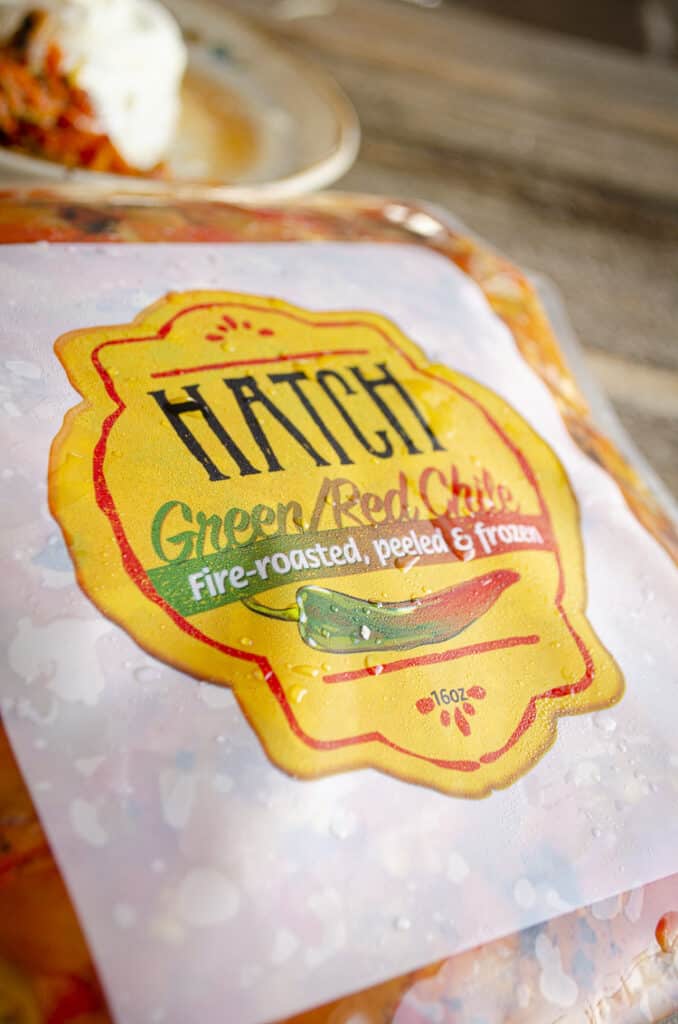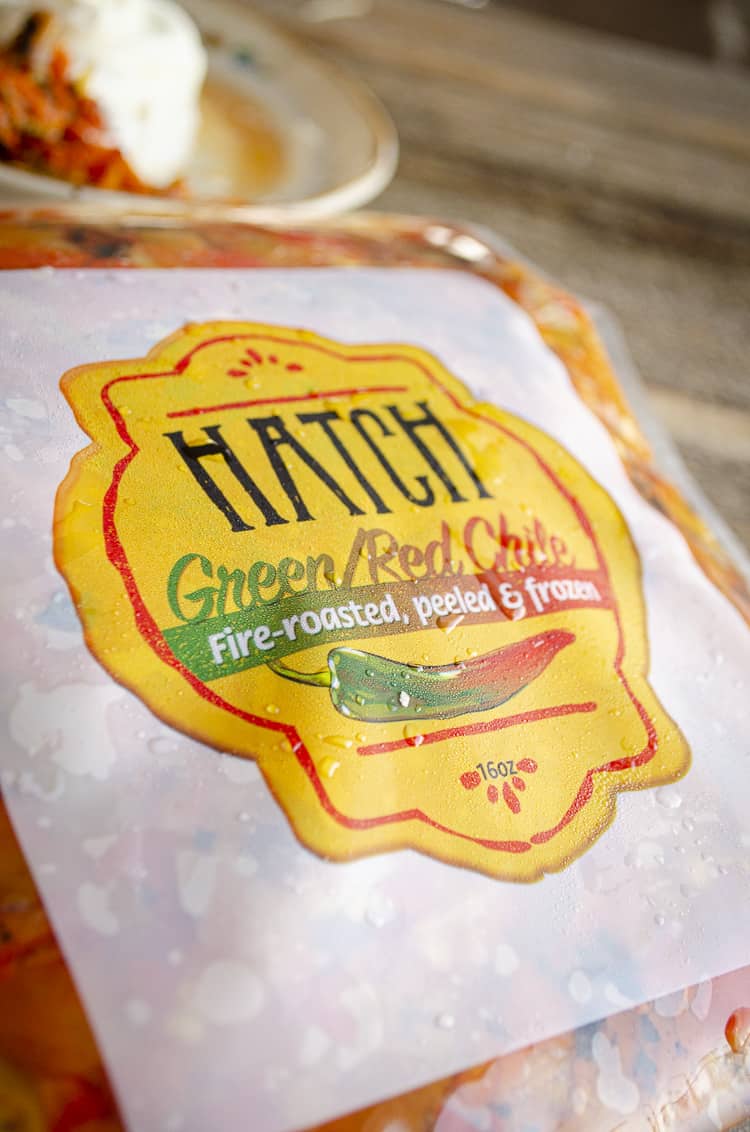 The Hatch Chile Store is the premiere website for ordering your Hatch chile– they are incredibly good at shipping fresh authentic chile right to your door, whatever variety and hotness lever you prefer. It's where I get all my Hatch Chile, and I must say the flavor really does stand out above any other chile pepper variety.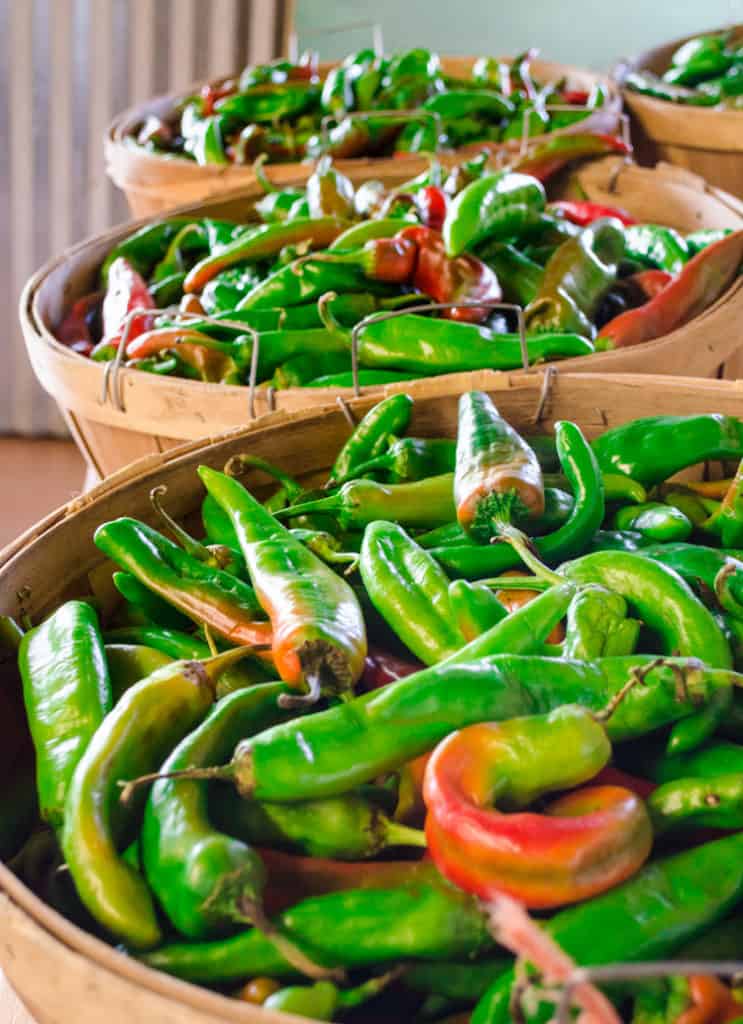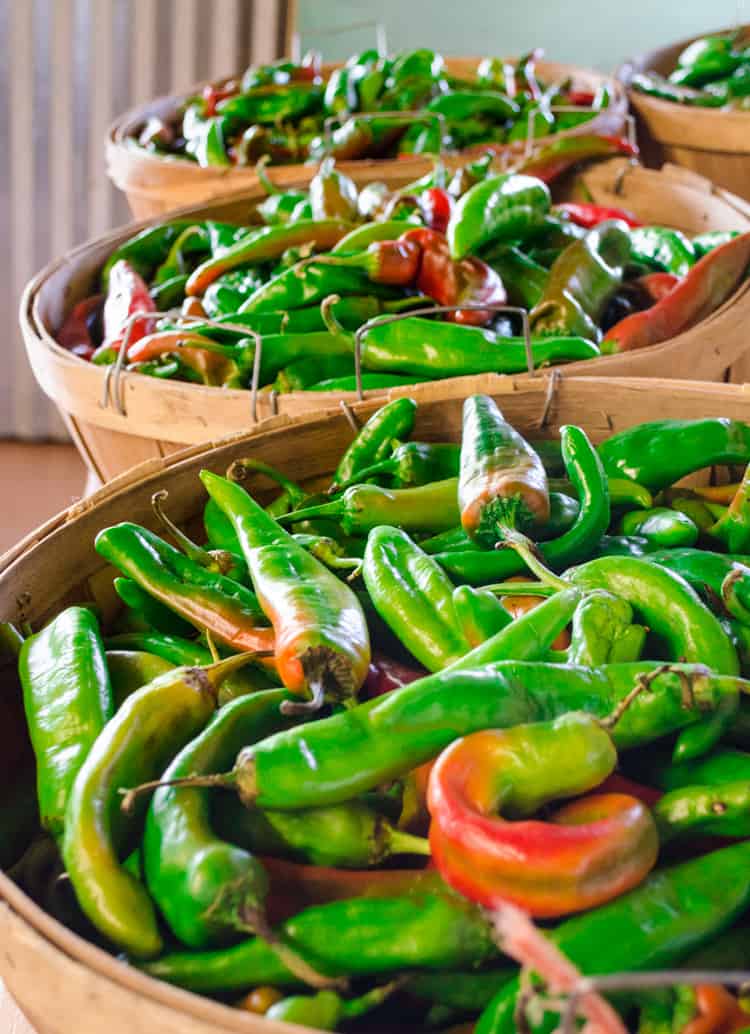 Head on over now to The Hatch Chile Store to stock up on the most delicious Hatch chile you can buy anywhere- they've always got great deals on your favorite products!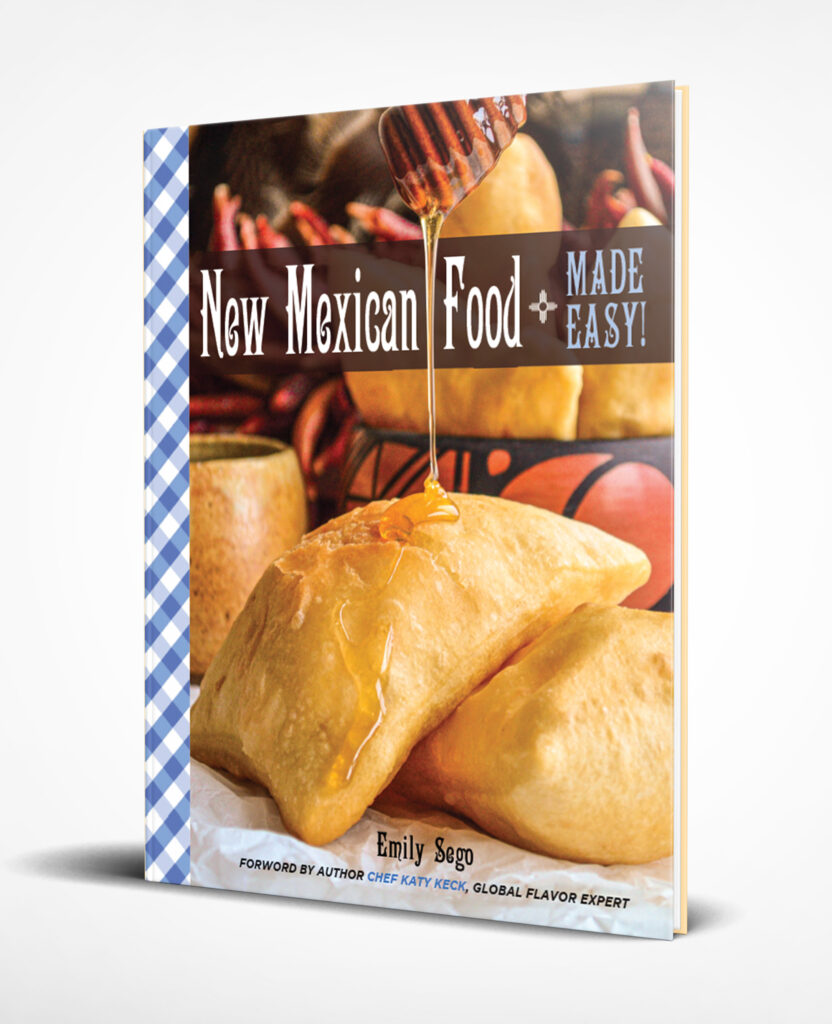 Did you know I have a full-color cookbook with lots more easy and delicious New Mexican recipes? You can learn more about it here!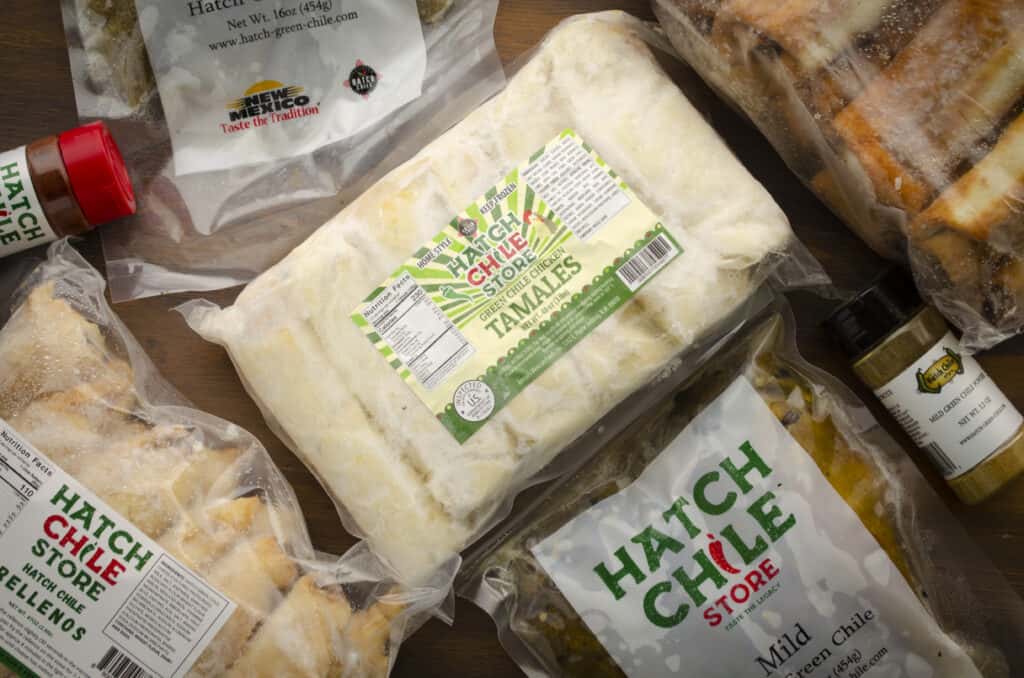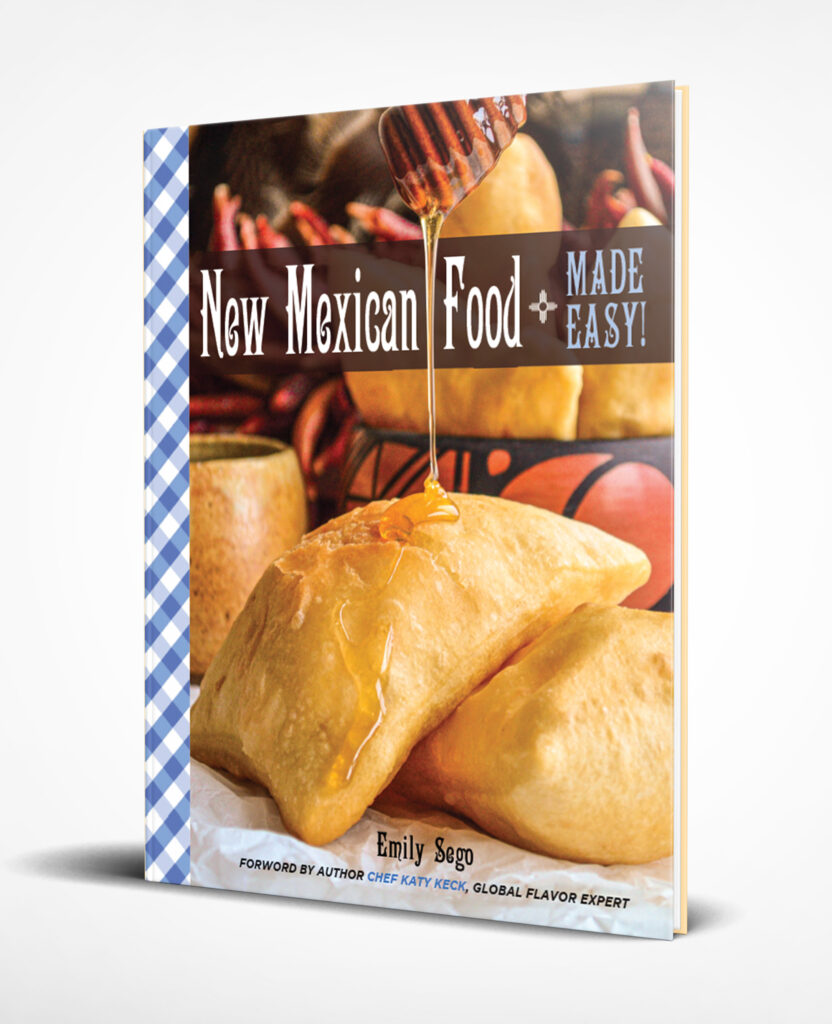 Did you know I have a full-color cookbook with lots more easy and delicious New Mexican recipes? You can learn more about it here!
You know what else is fantastic? Simply giving this recipe a star rating and a comment below! Your comments and ratings are greatly appreciated by me AND the Google algorithm. Thank you!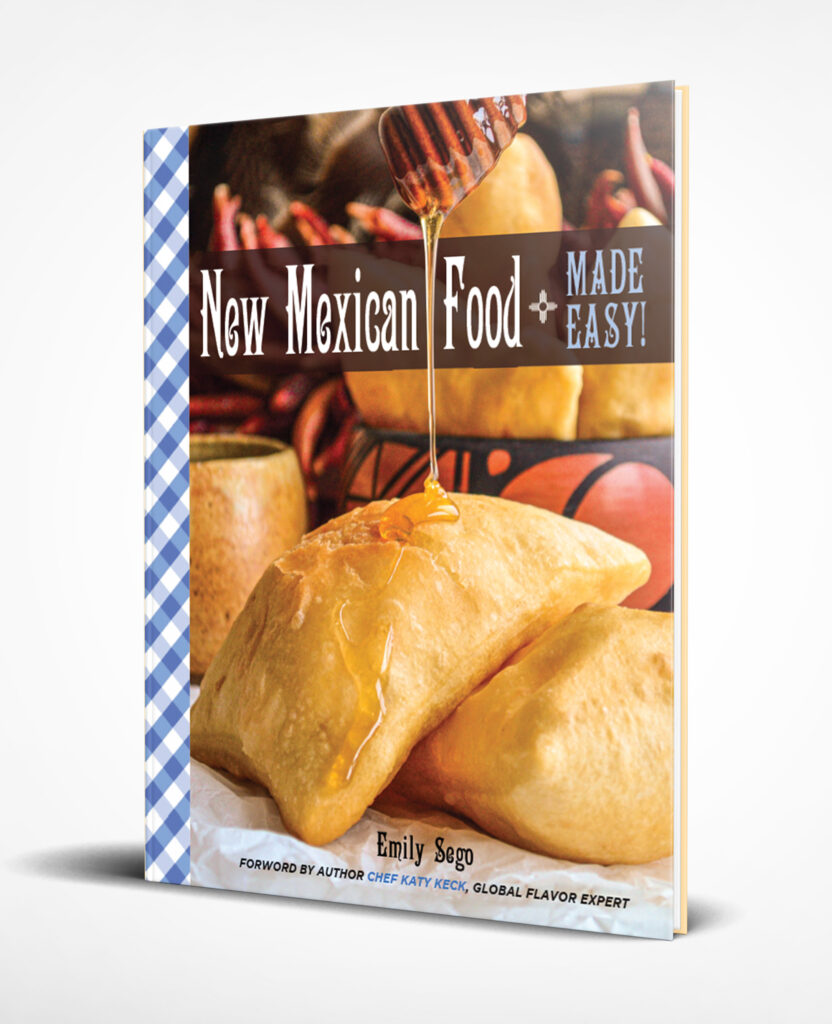 Did you know I have a full-color cookbook with lots more easy and delicious New Mexican recipes? You can learn more about it here!
Print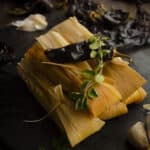 Traditional pork Tamales
---
Author:

Emily

Total Time:

6 hours

Yield:

20

–

30

Tamales

1

x
Description
 Learn the ancient Latin tradition of Tamale making with this classic pork tamales recipe stuffed with pork carnitas and red chile sauce.
---
3

–

4

lbs. pork roast (Boston butt is good)

6 tablespoons

vegetable oil

1

onion, coarsely chopped

6

garlic cloves, each sliced in half
salt

2

bay leaves

1

2-inch cinnamon stick

3 Tablespoons

dried oregano or

4

sprigs of fresh

8

dried ancho red chiles

2 tablespoons

cumin

1 teaspoon

ground coriander

6 cups

Maseca corn masa flour

2 teaspoons

baking powder

1 1/2 tablespoons

salt

2 cups

room temperature lard 

1

to

2

packages of dried corn husks
---
Instructions
Preparation
Set your oven to 300 Degrees F. Pat roast with paper towels to remove excess moisture. Slice roast into 2-3 inch chunks. Season generously with salt and pepper.
Heat 4 tablespoons vegetable oil in a large Dutch oven or heavy bottomed stock pot over medium high heat. Place pork in pot in batches and cook until lightly golden brown on all sides. Remove meat chunks and set aside on a platter for later.
Add the two remaining tablespoons of vegetable oil to the pot. Place onion and garlic in the pot and sprinkle with a generous pinch of salt. Sauté until onion is translucent and beginning to brown, about 3-5 minutes.
 Add in the bay leaves, cinnamon stick oregano, the browned pork and any accumulated juices to the pot. Cover with water. Bring to a boil, then cover and place in the oven for three hours. 
When the pork is done, remove the meat and set aside. Save the broth but discard the bay leaves, cinnamon stick and oregano sprigs if you used them. Shred the meat.
Take the dried chiles and tear off the stems and dump out the seeds. Place them into a bowl an pour in just enough reserved pork broth (with some onion and spices in it) to cover the chiles. Place a lid over the bowl or press plastic wrap down onto the chiles and broth to seal the moisture in and let sit for about 15 minutes to soften.
Place the softened chiles and the broth they were in into a blender. Add a few pieces of reserved cooked onion if needed (you should have about 1/4 a cup of onion in with the chiles) and about 6-8 pieces of cooked reserved garlic. Add in the cumin, coriander, and 1/4 teaspoon of salt. Blend until uniform, adding more broth in if necessary to adjust the chile sauce to the consistency of thick gravy. Stir in enough red chile sauce to coat the shredded pork. This is up to personal taste. Set aside.
Place corn husks in a large bowl and cover with hot water. Place something heavy over them to press them down into the water to soak while proceeding through step 9.
To make the masa, whisk Maseca, baking powder and salt together. In a separate large mixing bowl, whisk lard until smooth and soft, (it should drizzle off the whisk), about 2 minutes. Stir the corn flour mixture and 5 cups pork broth into the lard. Knead together by hand. The masa should be wet and sticky-smooth and allow your hand to easily press all the way down to the bottom of the bowl with little effort. Add more broth if needed to obtain a consistency similar to the consistency of moist mashed potatoes. (Able to stir with a spoon yet hold its shape.) You are now ready to assemble!
Assembly
Take a large clean corn husk, broad end facing toward you, and spread masa inside in a somewhat rectangular shape and a little thick, leaving clean space around all sides. Place about 2 tablespoons of meat filling down the center (try not to overfill), leaving space on either end. Fold the corn husk in half to surround the filling on all sides with masa, pressing gently to close.

Lifting one side of corn husk slightly away from the masa, insert the other side of the corn husk over the tamale, followed by wrapping the other side of the husk around the tamale. Fold the pointy end of the corn husk, where the masa ends, up towards the open end. Some will tie the tip to the tamale with a strip of corn husk, and some won't. Its really personal preference. In the top of the Tamale, tamp the masa down with your finger to complete encase the meat.

Place the wrapped tamale into a steamer basket, open side up and repeat until the steamer basket is filled with tamales. Fill the bottom of the steamer pot with water , ensuring it does not touch the tamales, then place the steamer basket full of tamales inside and cover. Steam on medium low for about an hour to an hour and a half, depending on how large your tamales are. It's best to try to make them in a uniform size, so they all cook at the same rate.

Tamales are done when the masa easily pulls away from the corn husk and doesn't taste, well, dough-y. You just have to pull a tamale out and test it to really know for sure if your batch of tamales is done.

Serve warm smothered in reserved red chile sauce and sprinkled with cheese and a dollop of Mexican crema or sour cream.
Notes
To make shredding meat super easy, I place it in my stand mixer bowl with the paddle attachment and run it on medium low.
Cool Tamales can be frozen up to 6 months wrapped tightly in foil and placed in freezer bags. To reheat: Let them sit overnight in a fridge to thaw. You can steam them again in your steamer pot for about 10 minutes, or until heated through, or wrap them in a wet paper towel (still in the corn husk) and microwave them individually for about 30 seconds.
Prep Time:

5 hours

Cook Time:

1 hour
Keywords: Pork Red Chile Tamales