Hey guys! I thought I'd share a couple more zucchini recipes with you in case you've got a few left over from this summer's growing season. There is so much more to Zucchini then just baking bread or even whipping up a batch of Ratatouille. Why not fry up some zucchini fritters? They make a great appetizer for any occasion. Served hot with creamy cool Cucumber Yogurt Sauce they are a unique and delicious way to enjoy zucchini!
For this recipe the zucchini is shredded and moisture removed in order to allow the binder to hold it all together. If there's too much water in the shreds of zucchini they will fall apart in the pan when you fry them up. (Ask me how I know.) So how do you remove the water? Simply dump your shredded zucchini into a thin dish towel, wrap it up and 'wring' it out. It's the same method I use for my Great Zucchini Bread. Wring it tightly and squeeze as much green juice out as you possibly can. (When my husband is around I ask him to do it.) Do not use cheese cloth!!!! Unless you plan on throwing it away after you use it! (Again, ask me how I know.) Zucchini has a ridiculous amount of water, something like 95%! So, here we get rid of the water but leave the flavor :0)
Feta cheese is added to give every bite a bit of tangy creaminess. Dill and fresh ground pepper add some great flavor and give a little kick. I also noticed that there's a 'just right' amount of oil to use when frying your zucchini fritters. Too much was just a waste, and too little will burn your fritters. Make sure you stick to the three tablespoons of oil per batch and wipe out the skillet in between batches so the little burnt bits don't get incorporated into your fritters.
Print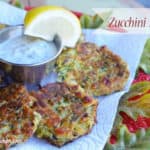 Zucchini Fritters
---
Author:

Emily

Total Time:

30 minutes

Yield:

4

1

x
Description
A fun way to enjoy summer zucchini!
---
1

pound Zucchini (about

2

medium) trimmed, halved and seeds scooped out

8 ounces

feta cheese, crumbled (about

2 cups

)

2

scallions, minced

2 tablespoons

minced fresh or dried dill

2

large eggs, lightly beaten

1

medium garlic clove, minced or pressed (about

1 teaspoon

)

1/4 teaspoon

ground black pepper

1/4 cup

all-purpose flour

6 tablespoons

olive oil (not extra-virgin)
Lemon wedges, for serving
---
Instructions
Adjust your oven rack to the middle position and set the oven to 200 degrees. Shred the zucchini on a box grater or with a food processor (that has a shredding disk attachment). Dump it out onto a dish towel, wrap it up and wring out the juice as tightly as you can.
Combine the dried zucchini, feta, scallions, dill, eggs, garlic, and pepper into a bowl. Then sprinkle the flour over it and stir it in.
In a 12-inch NONSTICK skillet heat 3 tablespoons of olive oil over medium heat until shimmering. Using a spoon or cookie scoop, drop 2 tablespoon sized portions into the oil, flattening out the mound with the back of your spoon or scoop. Your fritters should be approx 2 to 3 inches wide. You should be able to fit 6 fritters in your pan all at the same time. Fry until golden brown on both sides, about 2 or 3 minutes per side.
Remove the fritters carefully with a spatula and place them on a baking sheet lined with paper towels. Put the baking sheet in the pre-heated oven to keep the fritters warm while you cook the second batch. Wipe out the skillet with a large wad of paper towels. Re-heat 3 more tablespoons of olive oil over medium heat and fry the second batch of zucchini fritters. Serve warm with optional lemon wedges.
Prep Time:

15 minutes

Cook Time:

15 minutes

Category:

Appetizer

Cuisine:

Middle Eastern